Amazing road trip in Andalusia, Spain | 7 Day Southern Spain Itinerary

A road trip in Andalusia. Even the name sounds pretty. Andalusia is actually Arabic and means land of the vandals. And when you travel through this part of Spain, it's easy to see the many Muslim and Arabic influences.
This summer, Thomas, Theo and I packed our bags and flew to Malaga. I'd planned a road trip in Andalusia for us, and since this was my first trip to Spain, I was super excited. For me, Spain has always been synonymous with tapas, flamenco, bullfighting, margaritas and fiesta. In other words, lots of culture, great food and just a short cheap plane ride away. Spain is basically the most popular destination for Danes. So…. why haven't I gotten around to visiting sooner?
While that remains a mystery, let's take a look at Southern Spain and what it has to offer. Here is our full one-week itinerary for Andalusia.
Read next: Why you should visit magical Ronda
This post contains referral links for products I love. Adventurous Miriam earns a small commission at no extra cost to you if you make a purchase through my links. Thank you for your support ♡ Learn more
ROAD TRIP IN ANDALUSIA – 1 WEEK ITINERARY
The most logical starting point for your trip would be Malaga, but you can begin in any of the towns on the map. Only Malaga and Seville have an airport, though. Below is the itinerary we followed, except Cordoba which you can also skip if you feel short on time.
Day 1: Costa del Sol (beaches)
Day 2: Costa del Sol (beaches)
Day 3: Ronda (cliffside town)
Day 4: Seville (Game of Thrones location)
Day 5: Seville (Game of Thrones location)
Day 6: Cordoba – Granada
Day 7: Granada (The Alhambra)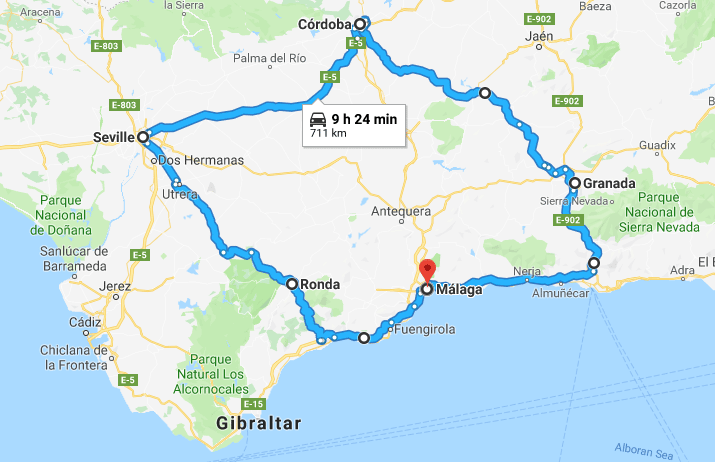 HOW MUCH TIME TO SPEND IN ANDALUSIA
Speaking of time…
Andalusia covers quite a large area and there's a lot of things to do and see there. We spent a week, which was actually a bit too short. A week and a half would have been perfect, and if you want to soak up the towns or beaches a bit more, I would even stretch it to two weeks.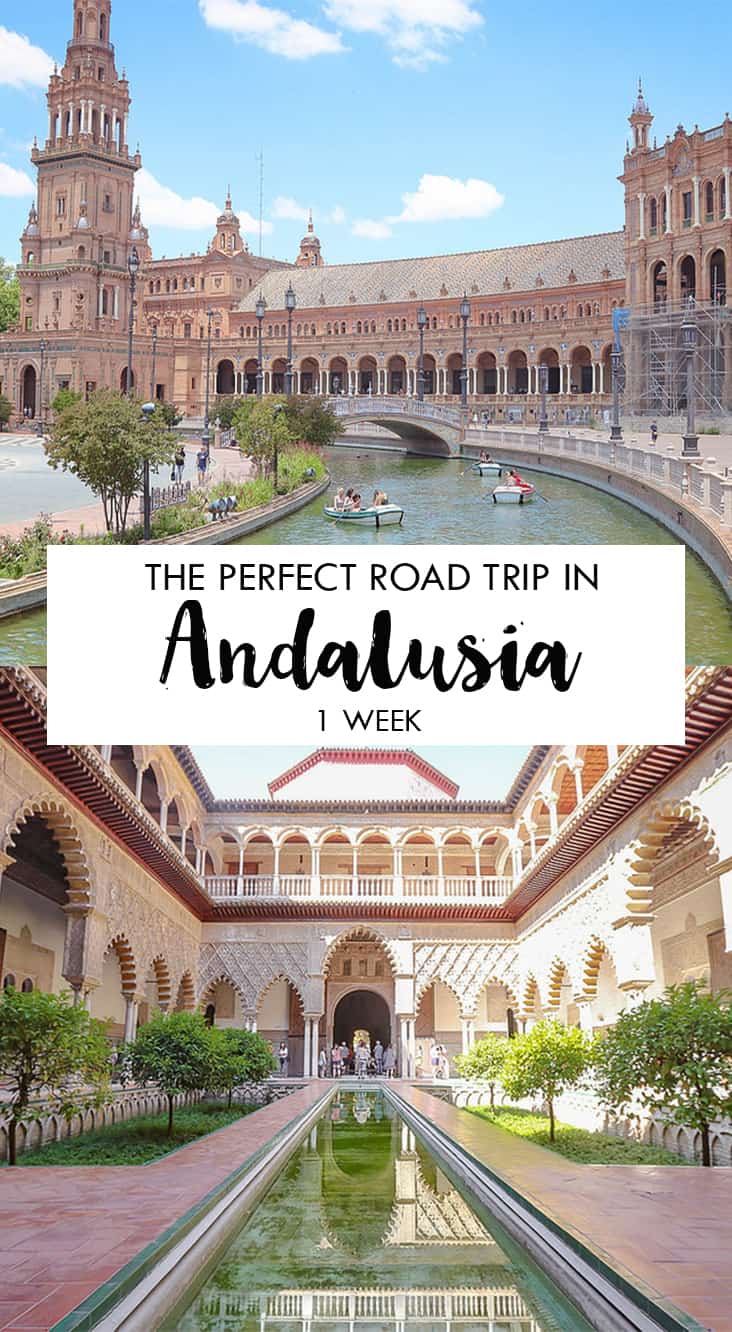 RENT A CAR IN MALAGA
We started and finished our road trip in Malaga, the most important airport of the region. This is also where we picked up our rental car
. It was super easy – they just picked us up at the airport with a free shuttle bus.
Read next: How to Rent a Car in Malaga
Insurance and hidden costs
There's one thing you need to be wary of and that's car insurance. See, when we arrived at the rental company, they hit us with a lot of hidden costs. We figured the standard covered charge was enough, but they bullied us into taking their expensive extra insurance otherwise we'd look at potential hefty damage costs. We've afterwards spoken to friends who also experienced this in Spain. Apparently, it's a common scenario, so a word of advice is to only rent cars that have an all-inclusive insurance added.
Oh, and one insurance you want for sure is the excess cover car insurance. After driving and parking in Spain, we learned that scratches or dents are a bit too easy to get in the narrow historic streets or underground parking lots.
Get Automatic transmission
And that also goes for automatic transmission. On those narrow and often steep streets you'll be thankful for not having to shift gear manually.
GPS
If you have a GPS or can borrow one, bring it! We rented one and it gave us access to maps, gas stations, emergency services, and local weather. A GPS is a must if you ask me.
ON THE ROAD
Avoid toll roads
In Spain, they have paid (toll) roads and free roads. The toll motorways are identified by the prefix AP (Autopista Paeje) and the non toll motorways are just A. You can avoid the toll roads if you just follow the A motorways – that's what we did.
Gas stations
Gas stations are scattered generously around Andalusia, but as a rule of thumb you should fill up when you see a station.
PLANNING
Planning a road trip in Andalusia is actually quite easy. Once you've booked the car and hotels, you just need to decide for an itinerary.
Book accommodation and tours in advance
During the summer months I would recommend booking accommodation and tours in advance. Personally, I don't like arriving to a new town without a place to stay. I'd rather spend my time exploring and kicking back.
Weather and road conditions
The average temperature in Andalusia is 36°C (97 °F) in the summer. These scorching temperatures are not ideal to explore cities, but April and May, September and October are lovely month to visit Andalusia. Roads are really great, but city streets, especially in smaller cities or in historic areas, can be very narrow (hence the need for insurance).
Have a detailed plan
To get the most out of your road trip in Andalusia, you should have a list of things to see and do. I've made it easy for you and linked to the towns I've written about. You can find them below.
DAY 1 AND 2
THE BEST COSTA DEL SOL BEACHES
With more than 325 sunny days per year, the Costa del Sol is a great destination all year round. If you're coming from Malaga, you'll pass all the beaches mentioned below (except Nerje, which is on the way to Granada). We stayed in Marbella, which was perfect. It's fairly close to the other beaches so you can always take a drive up the coast if you'd like.
On that note, here's a list of the best Costa del Sol beaches for your road trip in Andalusia:
Marbella (Playa del Cable) – My favorite because it's a bit more upscale. Plus, the fine golden sand and calm clean water make it a nice seaside retreat.
Fuengirola (Playa Torreblanca) – It's popular (especially for young people) yet not crowded.
Torremolinos (

Playa de la Carihuela) – A nice place for families.

Nerje (Maro Beach) – The incredibly clear water, idyllic scenery and marine life explain why this beach was chosen as the best beach in Andalusia in 2013 by Antena 3 (a Spanish television channel). Visit on your way from Granada.
Benalmadena (Playa Las Viborillas) – will make you feel like you're on a Caribbean Island. It's less known, which is already a win if you ask me.
Costa del Sol Hotels
My favorite place in Costa del Sol is Marbella so I'll give you a few hotel suggestions in Marbella Old Town:
Heart of Old Town Apartment – This apartment is, as the name states, located in the heart of the Old Town, and it's just 5 minutes walk from the beach. The apartment is really nice and there's smart tv so you can watch shows in English (muy importante!) Click here to see the latest prices.
Hotel San Cristóbal – If you're more into staying at a hotel, this is a great pick! It's also located in the Old Town and comes with a super friendly and helpful staff. Click here to see the latest prices.
DAY 3
RONDA
On your way from Costa del Sol to Seville, you'll pass through the cliffside town Ronda. THIS, my dears, is such a unique place that if you could only visit one place in Andalusia, Ronda should be it.
What makes Ronda amazing is the views. The town is built above the deep El Tajo gorge on a steep cliffside. From quaint tapas bars and cobbled streets, to Spain's first bullfighting arena, the world-famous bridge and sweeping landscapes, it's easily one of the most photogenic cities in Spain. Make sure to spend at least 3-5 hours here – it's such a beautiful place.
Read next: The best things to do in Ronda.
Ronda Hotels
If you decide to stay the night before moving on to Seville, you have some great options on your hand:
Apartamentos Turísticos Espinel is an apartment in the centre of Ronda, surrounded by restaurants and shops, 150 m from the Puente Nuevo. It features a private terrace with city views and free parking. You'll find Ronda Train Station just 10 minutes' walk away. Click here to see the latest prices.
Parador de Ronda – if you want to splurge, this is the place. The hotel has (and I'm not exaggerating) the best location with a private view of Ronda's gorge and Puente Nuevo Bridge. It's located right next to the bridge and there's also a pool. Click here to see the latest prices.
DAY 4 AND 5
SEVILLE
Seville requires more than a day. In fact, you could easily spend 4-5 days here, but two days is perfectly doable, too. Before going there, people kept telling me how hot and humid Seville gets in the summer. We planned to visit in June, but I decided to go despite their warnings, because hey. Seville is home to Game of Thrones and Star Wars film locations, and I was not about to miss out!
After having visited during – what must have been the hottest summer ever across Europe – I'm SO glad I went. Seville was around 26 degrees, but it wasn't anything we couldn't handle. I'm sure July and August would be HOT hot hot, but still… it's worth going to Seville.
In Seville, you'll find amazing tapas bars, world-famous film locations, bullfighting, culture and Insta-worthy sights.
Read next: Amazing things to do in Seville
Where to stay in Seville
Since Seville gets hot in the summer, you'll want a hotel with air conditioning and swimming pool. Also, I recommend staying in the Old Town because it's in walking distance of most sights and attractions.
Here are a few of the best hotels:
Hotel Fernando III offers spacious rooms and a roof top terrace with seasonal pool. The hotel has a beautiful decor and very helpful staff. Click here to get the latest prices.
Vincci La Rabida – no swimming pool, but for one of the best views in Seville, this is the place to stay. The hotel is set in a charming mansion from the 18th century and it's located in the old town – perfect location. Click here to get the latest prices.
Hotel Bécquer comes with a lovely pool, view and location. The hotel is located in the Old Town, the heart of Seville and has nice rooms. Click here to get the latest prices.
HALF-DAY 6 (OPTIONAL)
CORDOBA
Cordoba is another of Andalusia's popular towns. Highlights include the Mezquita (see photo below), the Roman bridge, Alcazar de los Reyes Cristianos and its beautiful gardens, Casa Andalusi (a 17th century house) and just wandering around the Mezquita (this area is called Calleja de las Flores).
Unfortunately, we didn't have time to visit Cordoba, but if you have time – go for it. If not, go straight to Granada.
DAY 6-7
GRANADA
Granada is the perfect place to end your Andalusia road trip. It's located in the mountains, which means fabulous views and it's also home to the world-famous Alhambra.
Alhambra is the most-visited site in all of Spain and not without reason. Plus, Granada has a completely different vibe than any other Spanish town we visited. Maybe because it's in the mountains, who knows. But Granada is a lovely town worth visiting for 1-3 days.
Read next: magical things to do in Granada
Granada hotels
It's always better to stay in the city center and that also goes for Granada. Here are a few of the best hotels/apartments:
Marquis Hotels Issabel's is located in the centre of Granada. This fancy hotel with ultra-modern rooms and a spa is a great oasis where you can relax and rejuvenate after exploring the city and Alhambra. Click here to get the latest prices.
Siloe Plaza is another great option, also in the city centre. This is a self-catered apartment with a balcony and a stylish vibe. Click here to get the latest prices.
Have you been to Andalusia? Did I miss anything?
More Spain posts you might like