How to rent a car in Malaga: Everything you should know in 2023
Malaga is one of those true paradise holiday destinations. You've got the open ocean on one side and rugged landscapes on the other. If you're looking to rent a car, Malaga is a great choice with so much nearby to explore.
From here, you can easily get to Gibraltar, Seville, and even over to Portugal in your rental car. The best place to rent a car in Malaga is Discover Cars: a reliable company that offers great prices for Malaga car hire.
Ready to learn the ins and outs of renting a car in Malaga?
Let's get to it!
This post contains referral links for products I love. Adventurous Miriam earns a small commission at no extra cost to you if you make a purchase through my links. Thank you for your support ♡ Learn more
Rent a car in Malaga
I always go with Discover Cars, because they're the best deal finders for rental car companies in Spain (and the rest of Europe). I feel in very good hands with them, which I why we've rented through them the last many times.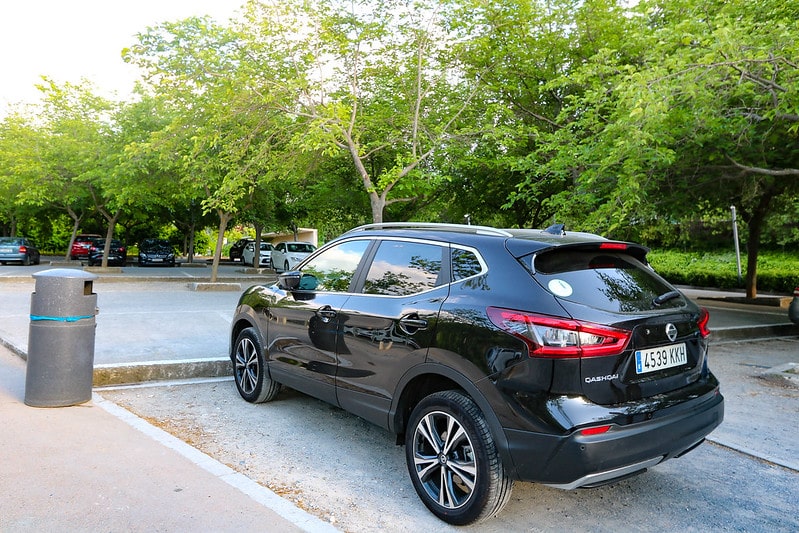 Best Car Rental Company:
DISCOVER CARS
When booking your car rental online, I recommend Discover Cars. They search both international corporations and local companies, so you get the best deal.
Where to pick up your rental car
You can fly into Malaga Airport and leave the building in your rental car, stress-free! So, for car rental, Malaga Airport has you covered.
You can also pick it in other places around town:
Budget for your road trip in Andalusia
When choosing to rent a car, Malaga offers car rental fairly cheaply, but you'll also want to budget everything else to make sure your trip is clear and well-planned.
So, here's a little list of things to consider when it comes to Malaga car rental and doing a road trip in Andalucia or the rest of Spain.
Accommodation: $70-90 per night for a mid-range apartment
Food: $10-20 per day for eating out
Car rental: $50-70 per day for a car
Fuel: $1 per litre
Driving in Spain
Speed limits
If you're worried about speed limits when you rent a car, Malaga is very straightforward. As is all of Andalusia and the rest of Spain. In cities and urban areas, the speed limit is always 50km/h, On country roads, it's usually 90km/h.
For dual carriageways (or Autovia as they're known in Spain), it's 100km/h, and on motorways (or Autopista) it's 120km/h. Remember these and you're good to go!
Which lane is used for driving?
In Spain, as in all of mainland Europe, driving is done on the right side of the road and the driving is located on the left side of the car. If you're coming from the US, this is no problem.
Coming from the UK, this can be a little jarring. But it is actually quite fun and injects some new excitement into driving, which is always good when you're on a road trip!
Toll roads
When thinking about car hire, Spain has eleven toll roads. Each of them also has a different price. You can see a rundown of those roads, where they go, and how much the toll is right here.
So, keep this in mind when you head out onto the motorways across Spain, and factor these tolls into your budget if you plan on using motorways to get around.
Road conditions
Roads in Spain are really well maintained and signposted. If you're worried about road conditions when it comes to car hire, Spain has very safe and reliable roads. It's a fairly well-off country with good maintenance and safety laws. So, for safety with regards to car hire, Spain has you in good hands.
What's it like to drive in Spain
Pretty good! The motorway toll roads I've mentioned have tolls because they can get very busy very quickly, and traffic jams can be a real annoyance.
But that's not a problem for you if you avoid the motorways and take the scenic routes. Even the more rural roads are in good condition, and people in Spain drive very calmly.
It's a relaxed, warm country full of warm people after all! When you're planning your car rental, Malaga is a great place to start. From there, you have the rest of southern Spain at your fingertips and the roads are a joy to drive around!
How to choose the perfect car in Spain
Are you going on a short trip or a long road trip?
This question will essential determine what kind of car you should get. In Spain, smaller cars are more common, just like in France and the UK. Compact economy cars are the norm, and they make for cheap car hire; Malaga rental places will have plenty of economy options.
But, if you're going on a long road trip, which is of course very tempting in Spain and Portugal, maybe consider something sturdier. Something with six gears, a bigger petrol tank, and more room for your things.
Manual or automatic
This is, of course, a personal preference. But if you're looking for cheap car hire, Malaga's rental places are going to offer manuals at a lower price. They're more common in Spain, and in Europe in general.
For people from the UK, this won't be a problem. But if you're coming from the US, fair warning that driving a manual is more common and usually cheaper to hire.
However, if you really need an automatic, car hire places do supply them, so you can still hire an automatic if you need to. It just might cost a little extra.
Car rental in Malaga
Where to rent a car
As I mentioned earlier, you can pick up your rental car from several locations around Malaga. One thing, though, is that you should always book in advance!
Especially if you're planning to visit during the high season (summer). Booking in advance ensures that you get the car you want – and at a better price. So, in short: Book your car online before your trip.
One-way rental fee
This basically means picking the car up in one place and dropping it off in another. You can do this, BUT is will cost you.
You can more of less double the fee for returning the car to the place where you got it. This double fee exists because, if you drop your car off somewhere else, the company has to get the car back to where it belongs.
If you're happy to pay double for that freedom, go for it! However, if you're looking for cheap car hire, Malaga should be where you start and where you end.
Read next: 10 amazing things to do in Seville
Costs and extra charges
Most of these extra costs have been covered already, but the key things to keep in mind are the following: automatics cost extra, one-way rental doubles the rental cost, and Spain has toll roads.
You'll also need to pay for insurance when you rent your car.
Minimum age
You need to be 21 to rent a car in Spain. And anything under 25 will also incur a young driver fee which will be added to the rental price (though it's not much).
Documents you need for renting a car in Malaga
If you're coming from the US, UK, or any EU country, you just need a valid driver's licence to rent a car in Malaga. Also bring your credit card or Mastercard because debit cards are not accepted.
Do you need a special border-crossing card to enter other countries?
You don't need a card. But you should inform the rental company of your plans to cross into France or Portugal when you rent.
They will then add a cross-border fee to your insurance that basically covers it more extensively. This fee should cost you an extra $30, roughly.
So, when to visit Andalusia, Spain?
Spain is a fairly warm country all year round, and Andalusia is right at the bottom. So, if you're thinking to rent a car, Malaga is best avoided during high summer. There's always a good ocean breeze but still, the heat is dry and can be stifling.
It's best to visit Andalusia around April-June or in September. This way you get all the sun and blue skies and less of that oppressive heat.
Essential packing list for visiting Spain
Pack for warm weather! Essentials include a good pair of excellent sunglasses, some paraben-free sunscreen, and a day bag to carry it all in.
If you make sure to bring a spacious bag that's easy to carry, you can always have water, sunscreen, spare shoes, phone charger, and maybe some medicine with you at all times.
Andalusia Road Trip Itinerary
Day 1: Costa del Sol
Day 2: Costa del Sol
Day 3: Ronda
Day 4: Seville
Day 5: Seville
Day 6: Cordoba – Granada
Day 7: Granada (The Alhambra)
Read next: Ultimate road trip in Andalucia
Day 1: Costa del Sol (beaches)
When you arrive and rent a car, Malaga then provides you with a short and easy drive to Costa del Sol. This area of Spain is the best beach destination in the whole country.
When you first arrive, make sure to visit Marbella and Fuengirola beaches. Then stay the night at Heart of Old Town Apartment, an aptly-named apartment that's just five minutes' walk from Marbella beach.
Day 2: Costa del Sol (beaches)
After waking up, head out to explore more beaches! Make your way to Maro Beach in Nerja, one of the best beaches in Spain – it's so pretty.
And then to the lesser-known Playa Las Viborillas in Benalmadena. You'll have a lot more room to relax at this quiet beach.
Day 3: Ronda (cliffside town)
Now you're off to Seville! But it's quite a long drive with lots to see on the way. So, stop at the cliffside town of Ronda. The views here are amazing! The whole town is built at the edge of a sheer drop down into the El Tajo gorge.
You can easily spend an afternoon here exploring, taking photos, and checking out the most unique and spectacular views in southern Spain.
Day 4: Seville (Game of Thrones location)
After arriving in Seville and spending the night at the Hotel Fernando III, head out into the city.
The first thing you'll probably want to do is visit Alcazar, one of the amazing filming locations for Game of Thrones. Alcazar was used as the setting for the island of Dorne, and it's exactly as much of a paradise as they made it look in the show! After that, you can visit the equally stunning Seville Cathedral.
Day 5: Seville (Star Wars location)
Spend another night at the Hotel Fernando III, then go on exploring Seville! If you love filming locations, Seville has more than Game of Thrones! You'll also find a Star Wars filming location if you head to the Plaza de Espana.
This almost hundred-year-old plaza was used as the setting for Naboo in Star Wars Episode 2!
Read next: 10 amazing things to do in Seville
Day 6: Cordoba – Granada
Now you're heading to Granada with a half-day stop at Cordoba. This lovely town is full of fantastic photography spots like the 17th century Casa Andalusi and the Alcazar de los Reyes Cristianos.
It's a gorgeous place to spend a day before heading on to Granada.
Read next: 10 amazing things to do in Granada
Day 7: Granada (The Alhambra)
After staying the night at the Marquis Hotels Issabel's – a central hotel with a spa – make your way to the world-famous Alhambra. It's a 9th century fortress set against a gorgeous backdrop of snowy mountains. A truly magical and must-see sight.
Read next: 10 essential tips for visiting The Alhambra
Ready to book your car rental in Malaga?
There you have it.
I hope this answered all your questions about Malaga car rental. And if not, ask me anything in the comments or send me an email.
FAQ about Malaga car rental
Can you rent a car in Spain as a tourist?
Renting a car in Spain requires you to be at least 21 years old and provide a valid driver's license from your home country, a credit card, and an international permit.
It is also advisable to have a printed confirmation or voucher with you.
How much is car hire in Malaga airport?
If you book a car with Discover Cars, these are the prices from Malaga Airport:
Small car: from US$ 47.07
SUV: from US$ 54.05
Van: from US$ 53.37
Station wagon: from US$ 56.42
Is it worth renting a car in Malaga?
Renting a car in Spain provides an enjoyable freedom to create your own itinerary and explore at your desired pace.
Spain boasts well-maintained roads that reach every corner of the country, making it convenient to travel anywhere you desire.
Why has car hire in Spain got so expensive?
Car rental companies in Menorca charge high rental fees due to limited supply. In the pandemic era, the tourism industry worldwide, including Menorca, was severely impacted, leading to low demand for rental cars.
As a result, many car rental companies sold most of their vehicles, leading to a limited number of available rental cars and subsequently increasing rental costs.
Is it cheaper to rent a car from an airport or a local location?
No, on the contrary. With Discover Cars, it's up to $20 cheaper to pick up the rental car at the airport in Malaga than other places in Malaga.
More Spain posts you might like
Save it!