43 unique things to do in Copenhagen (by a Dane)
Are you looking for the best things to do in Copenhagen? I'm a Dane so this guide has you covered – keep reading for more!
Plan your trip to Copenhagen
👩🏻 Best guided tours in Copenhagen
🏡 Where to stay in Copenhagen
Copenhagen. It's scandi-cool, bike-friendly, and has one of the world's most exciting food scenes.
I lived here before settling down in Jutland, north of Aarhus. And if there's one thing I'll say about Copenhagen, it's this: you should visit!
Copenhagen is the capital in Denmark. It's both charming and raw and filled with contrasts.
Whether you're looking for great restaurants, buzzing nightlife or charming historic buildings, Copenhagen is the place.
I've included the city's main attractions here, but you'll also find local tips for places that are off the beaten track.
Let's dig in!
Read next: 23 cozy things to do in Copenhagen in winter
This post contains referral links for products I love. Adventurous Miriam earns a small commission at no extra cost to you if you make a purchase through my links. Thank you for your support ♡ Learn more
The best things to do in Copenhagen
1. Walking tour of Copenhagen
A great way to discover a new city is by joining a walking tour.
Like on this private walking tour of Copenhagen, you'll get a personal guide showing you the city's highlights.
You'll learn about local history, culture, and see key landmarks.
What I really like about walking tours is that you get insights from a local perspective and you'll discover places and facts you'd never find on your own.
Book here – Private Walking Grand Tour of Copenhagen (⭐ 5/5)
2. Tivoli Gardens Amusement Park
Tivoli Gardens is one of the landmarks of Copenhagen.
Open since 1843, it's the world's second-oldest operating amusement park! Once inside, you can try roller coasters, arcade games, and enjoy the beautiful gardens that are decorated according to the season.
Tivoli is open daily from 11 a.m., but closing times vary. It costs around 169 DKK / $24 to get in.
The COPENHAGEN Card covers 80 attractions, incl. Tivoli. Get it here.
3. Copenhagen Town Hall
Copenhagen Town Hall (Rådhuspladsen) is the central square in Copenhagen. It's busy, with the City Hall as its main feature. Lots of events happen here, like New Years Eve.
It's surrounded by shops and restaurants. A good spot to feel the city's buzz, take some photos, and plan your next move.
4. Magstræde
Copenhagen has many beautiful streets, and Magstræde is one of them. This small street with colorful, old houses is like stepping back in time.
5. Gammel Strand
Gammel Strand is a street and a harbor area in Copenhagen. It's right by the water, lined with old, colorful houses.
Here, you can catch a canal tour, see the old fish market area, or just enjoy the view.
6. Canal cruise
Taking a canal boat tour in Copenhagen is a relaxed way to see the city. You hop on a boat, and it glides through the city's waterways.
You'll see iconic spots like The Little Mermaid statue, Amalienborg Palace, and Christianshavn.
It's usually chill, with a guide explaining what you're seeing. A great way to spend an hour or two seeing the main sights, especially if you're in a hurry.
Book your tour – Copenhagen Canal Tour With Live Guide
7. Christiansborg Palace
Christiansborg Palace in Copenhagen is where the country's big decisions get made. This is where you'll find the Danish Parliament, Supreme Court, and Ministry of State.
You can take a tour, check out the royal reception rooms, and see some fancy interiors.
The tower is a bonus – it's the city's tallest, and you can go up for free to get a good look at Copenhagen from above.
Book now – Copenhagen Walking Tour: Highlights and Hygge (⭐ 5/5)
8. The University Library in Fiolstræde
The University Library on Fiolstræde is a hidden gem and one of my favorite places in town.
It's an old, impressive building with tons of books and study spaces. Looks like something from Harry Potter.
And the best part? Not many people knows about it.
9. The Round Tower
The Round Tower in Copenhagen is an old observatory with a unique spiral ramp leading to the top.
Built in 1642, it's one of Europe's oldest functioning observatories. A walk up will give you a panoramic view of the city.
10. Rosenborg Castle
Every day at noon, the guards march from the barracks outside Rosenborg through the city to the royal residence, Amalienborg, for the changing of the guard.
The surrounding park, King's Garden, is very beautiful in summer, so make sure to visit.
11. The Marble Church
The Marble Church, or Frederik's Church, is the most beautiful church in Copenhagen.
It has the largest dome in town, and inside, it's peaceful with nice decor. Make sure to visit.
12. Amalienborg
Right across from the Marble Church is Amalienborg – Queen Margrethe II's autumn and winter residence in Copenhagen.
Amalienborg is made of four identical buildings around a square. You can watch the Changing of the Guards at noon.
It's a great place to learn about Denmark's monarchy and see Scandinavian, historic architecture.
13. Nyhavn
Nyhavn's colorful canal scene is a postcard favorite.
Once a sketchy spot till the 1970s, it's now a cozy haven of pastel townhouses and friendly cafes.
It also has a literary past with H.C. Andersen writing famous tales while living here.
He wrote The Tinderbox, Little Claus and Big Claus, and The Princess and the Pea while living at number 20.
14. Shopping at Fisketorvet or Fields
Copenhagen is great for shopping. Try Zara, Mango, Vila or ONLY if you're looking for minimalist Scandinavian fashion.
While you'll find many shops on Strøget (the main walking street), this isn't the best place to shop.
Better go to one of the malls, like Fisketorvet (near Vesterbro and Dybbølsbbro), Fields (on Amager) or Magasin (at Kongens Nytorv). My favourite shopping mall is Fields.
15. Glyptoteket
Ny Carlsberg Glyptotek is a unique museum right next to Tivoli.
It has over 10,000 pieces, including a big collection of ancient Mediterranean cultures and French and Danish art.
My favorite part of Glyptoteket is the lush winter garden – it's the first thing you see when you enter.
16. Tivoli Street food
Tivoli Food Hall in Copenhagen is also right next to Tivoli Gardens and the Main Train Station.
You'll find 15 food stalls serving everything from burgers and pizzas to ramen and smørrebrød.
It's a great place if you're looking for a quick bite, especially because it's so centrally located.
17. Harbor bath at Islands Brygge
If you visit Copenhagen during summer, head to the Harbor Bath at Islands Brygge.
It's an outdoor swimming area in the canal, with pools, diving boards and lounging areas.
In the winter, you can try winter swimming and head to the saunas (the blue wagons on the image below).
Read next: 23 amazing things to do during summer in Denmark
18. The Circle Bridge
Copenhagen's Circle Bridge is maybe not so much an activity unless you've got a drone. It's circular design looks super cool from above!
If you're into architecture, you'll like this unique bridge.
19. Church of our Savior
The Church of Our Saviour in Copenhagen is the prettiest church in Copenhagen – at least from the outside.
You'll notice it from allover town for its helix gold spire with an external winding staircase.
You can climb to the top – it's 400 steps but the view is worth it.
Inside, the wooden organ is pretty impressive, too. Make sure to notice the elephants – there are 40 in total around the church, symbolising the absolute monarchy and the Order of the Elephant, the highest order in Denmark.
20. Freetown Christiania
Close by is Freetown Christiania, a self-proclaimed autonomous neighborhood. It's known for its alternative lifestyle, colorful murals, and handmade houses.
It's different from the rest of the city, they even have their own laws here. Christiania is a place to see a different way of living right in the heart of Copenhagen.
21. Stay at Manon Les Suites
The most unique and fantastic place to stay in Copenhagen?
It's known for its tropical-themed courtyard pool, jungle gym and stylish rooms. If you're looking for Bali vibes, this is the place to stay.
Book your stay – Manon Les Suites Guldsmedegade
22. The Little Mermaid
I'm sure, you've heard of The Little Mermaid – the famous statue in Copenhagen, perched on a rock by the water.
It's small but iconic, and it symbolizes the city and the fairy tale by Hans Christian Andersen.
It's a quick stop, so snap a photo and enjoy the seaside view. It's one of those must-see spots in the city.
23. Kastellet
Next to The Little Mermaid is Kastellet, a well-preserved star fortress, with a scenic area surrounded by moats.
If you go inside, you can check out the historic buildings, a church, and a windmill.
It's a great place for a walk, to learn a bit about Danish military history, or just enjoy some green space.
24. Børsen
Børsen is one of the most noticable buildings in Copenhagen.
It's an old stock exchange building and you'll recognise it by its spire with dragon tails. While the inside isn't generally open to the public, the exterior is worth a look.
25. The Potato Rows
The Potato Rows is an iconic Danish area with lined-up houses. Again, if you've got a drone, you can really see the neat, organized look.
26. Olufsvej
Olufsvej is the prettiest street in Copenhagen.
If you're looking for those colorful, quaint houses that Denmark is known for, this is the perfect place for a stroll.
The houses are painted in different colors so it's really photogenic. Just remember that people live here, so be respectful.
27. Superkilen at Nørrebro
Superkilen is a public park in Copenhagen's Nørrebro district. It's split into three areas: The Red Square, The Black Market, and The Green Park.
Each section has different facilities and vibes, so you'll find playgrounds, exercise equipment, and spots to relax.
It's a diverse place, with items from around the world, like these palm trees.
28. Cherry blossoms at Bispebjerg Cemetery
The Cherry blossoms at Bispebjerg Cemetery make people flock here in springtime (from the last week of March until the middle of April).
When in full bloom, the trees create a pink tunnel that's really photogenic and Instagram-friendly.
Read next: 10 magical places to find Copenhagen cherry blossoms
29. Torvehallerne
If you're looking for more food markets with Danish delicaties, mouthwatering chocolate, or liquirice, then visit Copenhagen's Torvehallerne.
It's located 100 meter from Nørreport Station and has more than 80 shops.
You can also take a food tour where you'll get to taste everything from artisanal cheeses to open sandwiches, organic hot dogs, apple wine and delicious craft beers.
Book a tour – Copenhagen Culinary Food Tour (⭐ 5/5)
30. Reffen Street Food
Another street food market in Copenhagen is Reffen. With 33 stalls, it has a wide range of options from burgers to Asian street food.
Reffen is also about creativity so you'll find workshops and events happening there.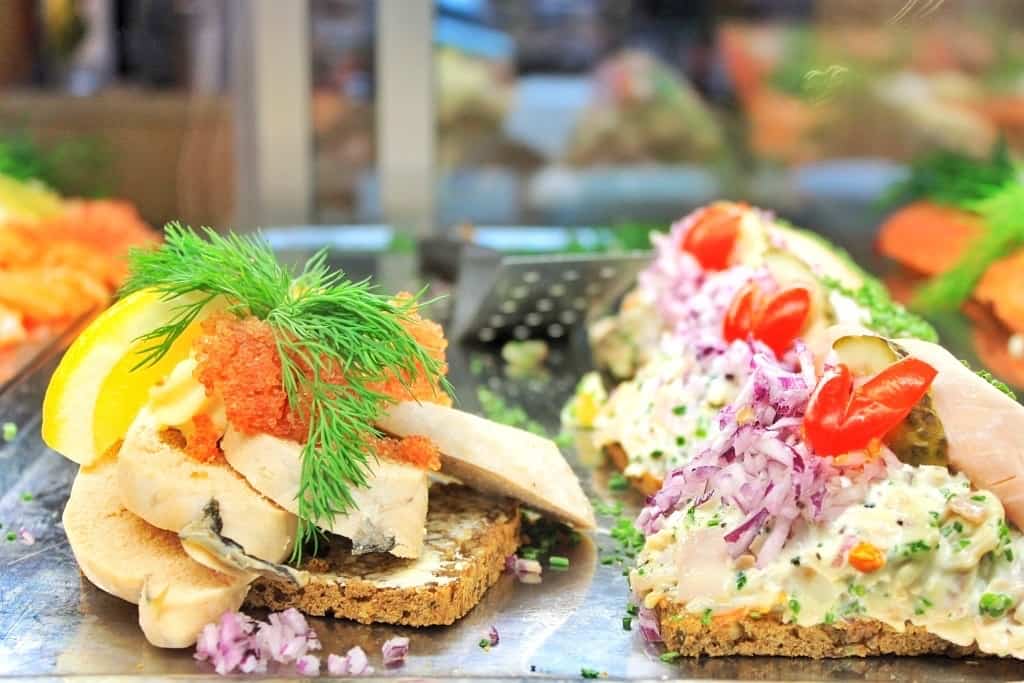 31. Hop on/off bus
The Hop On/Off bus in Copenhagen is a convenient way to see the city. It stops at the must-see attractions like the Little Mermaid, Rosenborg Castle and Nyhavn – all the classics.
You can get off, explore, and catch the next bus when you're ready. Super easy.
Book here – Copenhagen Highlights Hop-On Hop-Off Bus
32. Arken Museum
Arken Museum of Contemporary Art is a spot for modern art. It has a variety of exhibits, including some by well-known artists.
Arken is located in Ishøj, 25 minutes from the Central Train Station (city center). It's near the beach, so it's also a chance to see a different area.
33. Nyboder
The Nyboder barracks in Østerbro are great to photograph!
These yellow houses were once for naval personnel and their families, but now regular people live there.
34. The Blue Planet – National Aquarium Denmark
Den Blå Planet is the largest aquarium in Northern Europe, and it holds more than 20,000 fish and ocean animals.
Here, you can experience hammerhead sharks swimming with rays and moray eels in 4 million litres azure seawater.
35. Planetariet
Planetariet, or Tycho Brahe Planetarium, is where you can dive into space and science.
It has a large dome screen where you can watch films about astronomy and the universe. There are also exhibits on space, technology, and the earth.
36. Strøget /Walking street
Strøget is the longest pedestrian street in Europe and stretches from Kongens Nytorv to the City Hall Square.
Here, you'll find shops, cafes and street musicians.
If you're looking for a quieter cafe area, you might find Strædet more pleasant. It runs parallel to Strøget from Amagertorv, the square with the stork fountain.
37. Louisiana
The Louisiana Museum of Modern Art in Humlebæk is a leading international art museum and an absolute top attraction in Denmark.
Art, nature and architecture combine in a total experience that attracts guests from all over the world year-round.
The Copenhagen City Card covers 80 attractions – also Louisiana. Get it here.
38. Kronborg Castle
Kronborg Castle in Helsingør is famous as the setting for Shakespeare's Hamlet. It's a big, well-preserved Renaissance castle.
You can explore the rooms, ramparts, and learn a bit about Danish history. On this day tour from Copenhagen, you'll visit both Kronborg and Sweden.
Get your ticket – Hamlet And Sweden Tour from Copenhagen (⭐ 5/5)
39. Enjoy classy cake from La Glace
Conditori La Glace from 1870 is a historic pastry shop, known for its quality cakes and pastries.
It's Denmark's oldest, and probably also best patisserie. The place has a classic, old-world charm with a cozy atmosphere.
Be warned, though: it's popular, so you'll be standing in line!
40. CPH Zoo
Copenhagen ZOO has more than 4,000 animals from all over the world, and it's one of Denmark's most visited attractions.
It's a fun day out, especially if you're interested in wildlife. There's also a nice children's zoo where the younger ones can get close to farm animals.
The COPENHAGEN Card covers 80 attractions, incl. the ZOO. Get it here.
41. The Black Diamond
The Black Diamond in Copenhagen is a modern addition to the Royal Library right on the water.
It has a bookshop, restaurant, cafe, and concert hall inside.
A great place to see modern architecture, grab a book, or catch a concert.
42. Grundtvig's Church
Grundtvig's Church in Copenhagen is known for its unique Gothic style.
It's big, has a striking appearance with tall, sharp lines. Inside, it's spacious and very simplistic.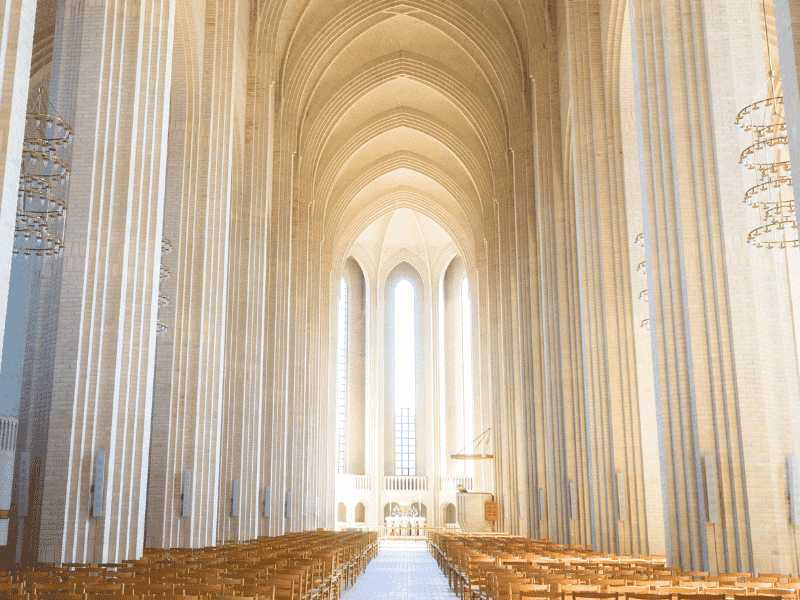 43. Watch a movie in Palads
Watching a movie in Palads, Copenhagen, is a fun experience.
Palads is a colorful cinema known for its vibrant exterior, and it has many screens showing a range of films, so you have choices. We just went there this weekend and loved the candy selection!
FAQ – Things to do in Copenhagen
What should you not miss in Copenhagen?
In Copenhagen, don't miss the Tivoli Gardens, the Little Mermaid statue, Nyhavn's colorful harbor, and the historic Kronborg Castle.
Take a stroll in the Freetown Christiania, explore the National Museum, and enjoy a canal boat tour.
What is Copenhagen best known for?
Copenhagen is best known for its historic architecture, Tivoli Gardens, the Little Mermaid statue, and its bicycle-friendly streets.
It's also recognized for its design scene, sustainability initiatives, and a high quality of life. The city's harbor and canals are iconic, showcasing a blend of old and modern Danish culture.
Can you do Copenhagen in 3 days?
Yes, you can cover Copenhagen's main attractions in 3 days.
Plan your itinerary to include top sites like Tivoli Gardens, the Little Mermaid statue, Nyhavn, and a canal boat tour.
Is 2 days enough in Copenhagen?
Yes, 2 days can be enough to catch the highlights of Copenhagen.
It'll be a whirlwind tour, but you can visit iconic spots and enjoy the great Nordic cuisine.
Read next: 2 days in Copenhagen itinerary (+ hidden gems)
More posts about Copenhagen you might like
Save it!