17 beautiful small towns in Denmark you should visit (2023)
Are you looking for the most charming and quaint small towns in Denmark? I've handpicked my favorite Danish villages with a fairy tale vibe.
Plan your trip to Denmark
👩🏻 Best guided tours in Denmark
🏡 Where to stay in Denmark
Denmark is a small country with only a handful of large cities, like Copenhagen and Aarhus.
The rest are small quaint towns with half-timbered old houses and historic charm. Most of these are lesser-known, which means you can discover in peace and experience real local life.
From charming fishing towns to the oldest Viking town in Scandinavia, here's my guide to the best small towns in Denmark.
Read next: 17 bucket list Danish islands you should visit
This post contains referral links for products I love. Adventurous Miriam earns a small commission at no extra cost to you if you make a purchase through my links. Thank you for your support ♡ Learn more
Most charming small towns in Denmark
1. Ribe
Ribe is the oldest town in Denmark, and it's one of my favorites.
Here, you can step back into Viking times, especially at the Ribe Viking Center. You can also climb the beautiful cathedral tower for a town view and explore the wetlands of the Wadden Sea National Park.
One of the things that make Ribe quaint is the town's watchman. Every night, he walks through town, continuing a centuries-old tradition and sharing tales of Ribe's past.
2. Dragør
Dragør is a charming old fishing village close to Copenhagen.
Its quaint, narrow streets are lined with well-preserved yellow houses from the 16th and 17th centuries.
The lovely fishing town of Dragør is an easy day trip from Copenhagen. In the old town, you can explore its maritime history in local museums, and have a traditional Danish fish cake (fiskefrikadelle) at the harbor.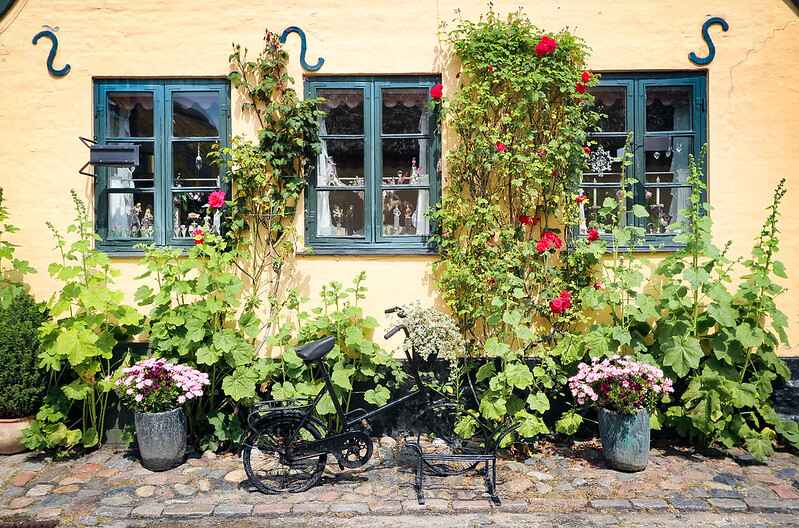 3. Ebeltoft
Ebeltoft is a cozy town on Djursland with narrow streets and half-timbered houses.
It has a big wooden ship, the Fregatten Jylland, which is one of the world's largest wooden warships.
Strolling around, you'll get a feel of its old maritime vibe. Ebeltoft is for sure one of the most charming small towns to visit in Denmark!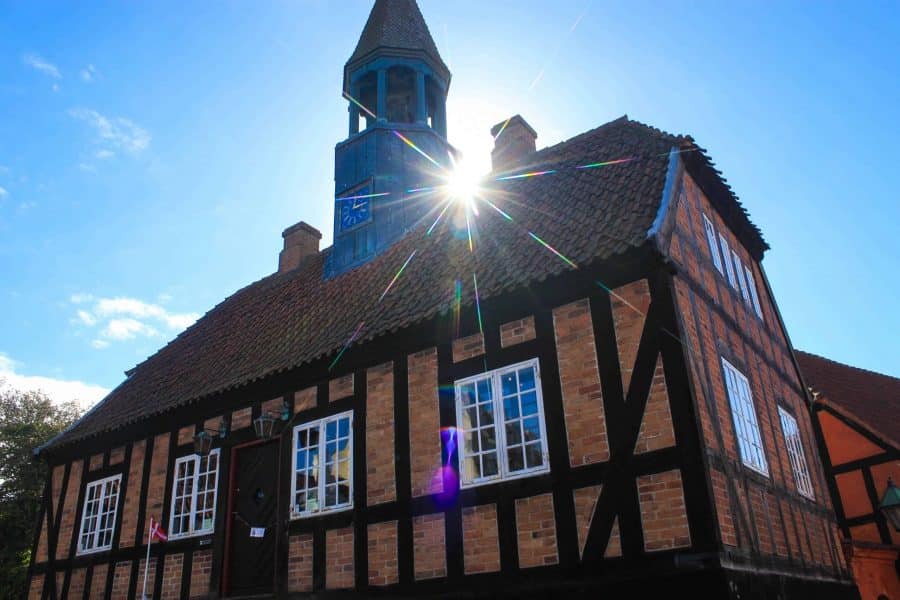 4. Ærøskøbing
Visiting Ærøskøbing on the island of Ærø is like a step back in time with its well-preserved houses and cobblestone streets.
This historic city is known in Denmark as a fairy tale town, rich in maritime history.
Make sure to visit the Bottle Peter Museum to see the oldest collection of bottle ships in the world, or stroll along the harbor, soaking up the peaceful, old-world atmosphere.
5. Fåborg
Oh, how I love Faaborg – it's absolutely worth visiting!
This charming town on the south coast of Funen Island has a rich history dating back to 1229.
Once a bustling market town, you'll see the charm in historic buildings and the old harbor. The Faaborg Museum is a great place to discover the area's art and history.
Take a stroll down the ancient streets and visit the iconic Bell Tower for a panoramic view.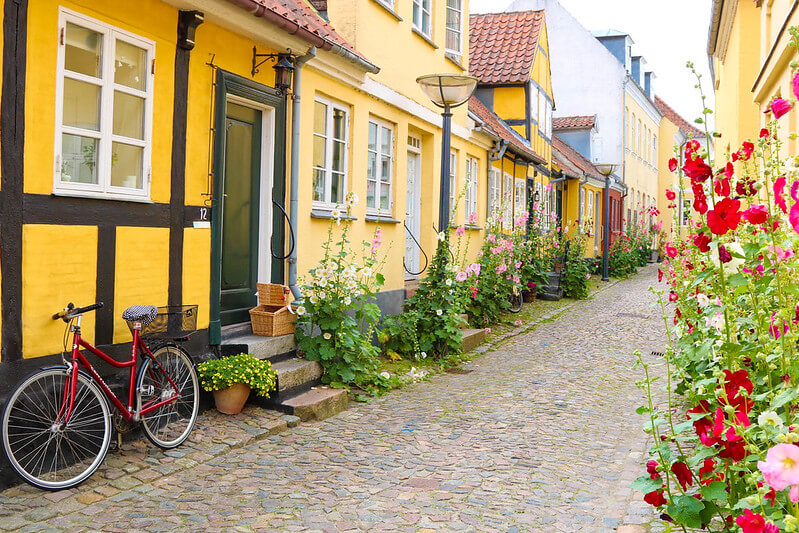 6. Møgeltønder
In the far south of Denmark, you'll find the small village of Møgeltønder.
Møgeltønder is a charming village with quaint thatched-roof houses lining the main street.
It's home to Schackenborg Castle, which was the former residence of the prince of Denmark, and it has a beautiful park to wander around.
The village's old church, with its unique frescoes, is another highlight.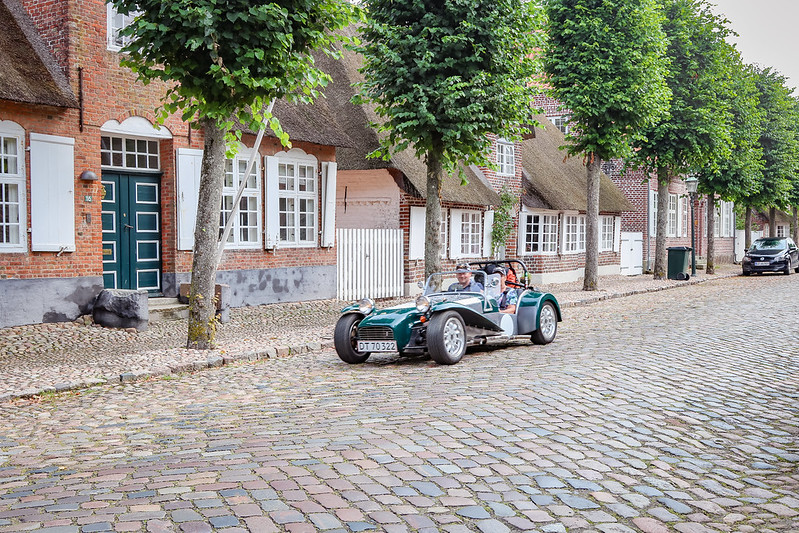 7. Stege
Stege is a cozy town on Møn Island, known for its well-preserved medieval features. The town's history goes back to the 13th century, which you can explore at the local museum.
Stege's old town area is charming with timber-framed houses. Don't miss the Møn Is (ice cream) shop, and Mølleporten, the only remaining medieval town gate.
The nearby cliffs of Møns Klint are also a must-visit, showcasing Denmark's natural beauty alongside its historic charm.
8. Skagen
Skagen is where the North and Baltic Seas meet. You can actually stand right in the middle of the colliding oceans – this place is called Grenen.
The town has a rich maritime history, reflected in its old yellow houses and the Skagen Museum.
I recommend walking around Skagen's old town, exploring some of the museums, having a deep-fried plaice fillet at one of the town's many fantastic fish restaurants, and going to the beach.
That's the best way to experience Skagen.
9. Christiansfeld
Christiansfeld is a well-planned town from the 18th century, known for its unique Moravian architecture.
Its straight roads and uniform houses tell tales of a communal way of life. It also placed Christiansfeld on the list of Danish UNESCO World Heritage sites.
Don't miss the honey cake bakery, a local tradition.
10. Svaneke
Svaneke is a little town on Bornholm Island where old traditions still feel alive. The harbor is charming, and you'll find quaint little shops selling handmade crafts.
There's also an old smokehouse and a windmill in town. Walking around, you'll see well-kept old houses – it's so beautiful!
11. Kerteminde
Kerteminde is a harbor town on Funen.
The old town area is charming with its colorful houses and narrow streets. You'll find a Viking ship at the Viking Museum, and the Fjord & Belt Center lets you meet local sea life.
It's a great place to explore Denmark's maritime history while enjoying the calm seaside atmosphere.
12. Nysted
I just recently visited Nysted on Lolland-Falster for the first time and I really liked it!
Nysted is a peaceful town located by the water, and it has a calming vibe with old, quaint houses.
A highlight is Aalholm Castle, standing since the 13th century, although it's not open to the public, the surrounding area is nice for a walk.
The harbor is inviting, with a view of the boats and the sea. It's a sweet spot to experience a quieter, old-time Denmark feel.
13. Sønderho
Sønderho is a quaint village on Fanø Island with a rich maritime past.
As you walk through, you'll see charming old captains' homes and other well-preserved buildings.
The old windmill and church are worth a visit. The village has a laid-back vibe but with stories of its seafaring days in the air.
14. Mariager
Mariager is known as the "Town of Roses" due to its picturesque setting.
Here, you'll find charming cobbled streets lined with old houses, a big abbey church, and a Rose Garden.
There are also cool spots like the old Veteran Railroad, the Tourboat Svanen, and Mariager Saltcenter to check out.
15. Sæby
Sæby is a small town in North Jutland with a cozy atmosphere. It's one of the best small towns in Denmark if you ask me.
Strolling around, you'll notice charming old houses and the beautiful Sæby Church with its distinctive tower.
The town's harbor is a lively place where you can watch the boats and enjoy a meal. I highly recommend Jakobs Fiskerestaurant, which has an amazing seafood buffet. We go there every summer.
16. Hesnæs
Hesnæs is a small fishing village on Falster Island, known for its unique straw-covered houses. There's a cozy harbor where you can relax and have lunch.
The nature around is great for hiking or biking. You can also visit Pomle Nakke nearby for a nice meal and a cool view of the Baltic Sea.
17. Blokhus
Blokhus is a charming beach town where you can hit the waves or chill on the sand.
It used to be a fishing village, but now it's packed with places to eat and cool spots like a water park.
Nearby is Råbjerg Mile – the largest migrating sand dune and Rubjerg Knude Lighthouse, which are both worth visiting!
FAQ – Small towns in Denmark
Are there rural areas in Denmark?
Yes, Denmark has rural areas with open countryside and small villages. You can experience this in places like Mols Bjerge on Djursland or on the island of Bornholm.
Is Denmark a cheap place to live?
No, Denmark has a high cost of living with prices for housing, food, and other essentials being relatively high compared to many other countries.
What is the small city in Copenhagen?
Copenhagen is a city itself, so it doesn't have a small city within it. However, it has neighborhoods like Christiania or Nyhavn, each with its own unique charm.
You'll also find Dragør close by.
Which city is beautiful in Denmark?
Copenhagen is often seen as beautiful with its old buildings and canals. But other cities like Aarhus and Ribe are also pretty in their own way.
More posts about Denmark you might like
Save it!