10 unique things to do in Lolland-Falster – the South Sea Islands
Lolland-Falster is a hidden gem. After visiting this bucket list destination in Denmark, I put together a list of the best things to do in Lolland-Falster.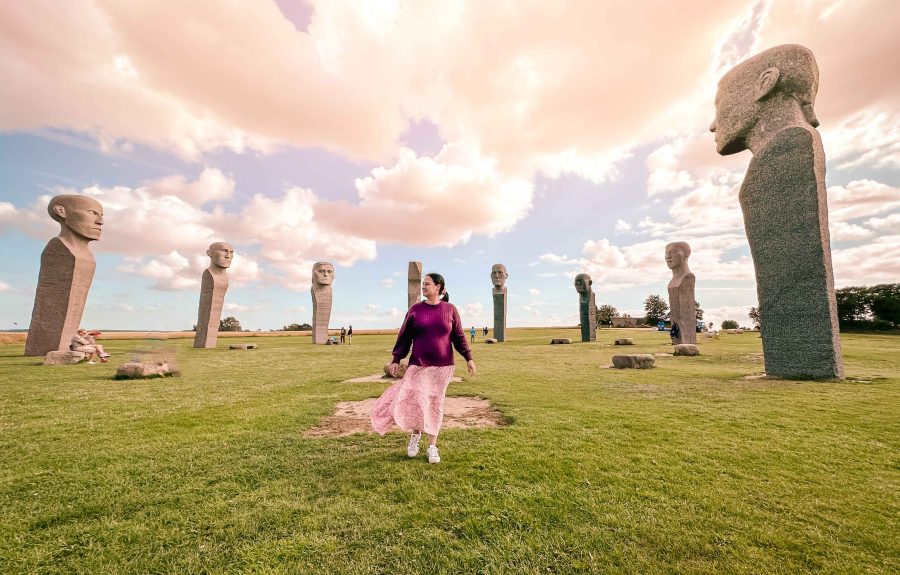 This summer, I went to Lolland-Falster for the first time.
These two connected Danish islands are a 5-hour drive from where we live plus they're remote, so I was super excited to finally go there with Thomas and our two boys.
Lolland-Falster is completely overlooked in my opinion. It's quaint, and there are more activities here than you would think.
In this article, I'm sharing my top recommended things to do in Lolland-Falster as well as tips for traveling in this region to help you plan a magical visit.
Let's dig in!
Read next: 30 unique places to visit in Denmark (by a Dane)
This post contains referral links for products I love. Adventurous Miriam earns a small commission at no extra cost to you if you make a purchase through my links. Thank you for your support ♡ Learn more
Things to do in Lolland-Falster
Best time to visit Lolland-Falster
The best time to visit the two South Sea islands is in summer. That's because some of the best activities simply close down in off-season.
Knuthenborg Safari Park (which is a major draw) is closed from late October till March 23. The Crocodile Zoo is only open a few days a week in winter.
And the Danish weather is just better in summer, especially if you're planning to spend some time at the beaches (only in July/August).
So, I recommend visiting anytime from May till early October.
How to get around Lolland-Falster
Most of the places on this bucket list are located off the path. That means, you'll need a car to get around. While you can take busses to a few of these places, it's simply not connected well enough.
You can rent a car in Copenhagen or other major cities in Denmark.
Plus, if you're coming from Copenhagen, you can visit Faxe Limestone Quarry, Stevns Klint (UNESCO site), and Møns Klint on your way down south.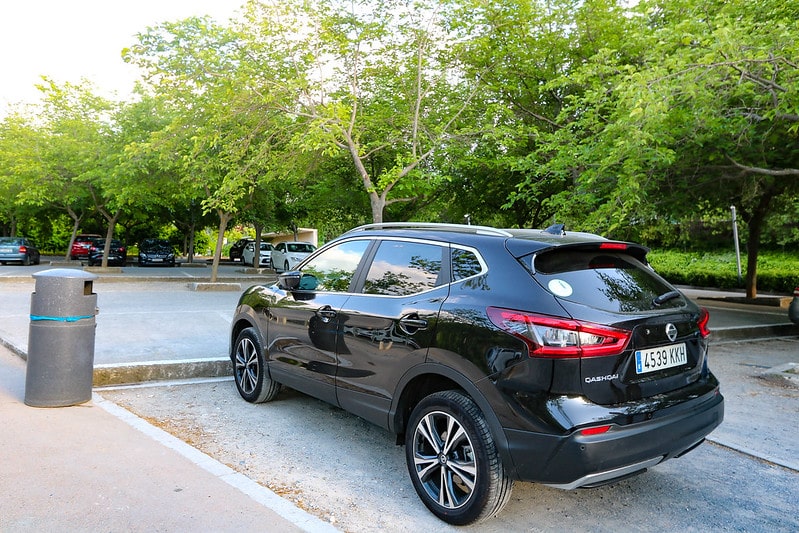 Best Car Rental Company:
DISCOVER CARS
When booking your car rental online, I recommend Discover Cars. They compare prices at car rental agencies all over the country to get you the best deal.
Where to stay in Lolland-Falster
If you visit during summer, I highly recommend glamping. It's the perfect base for a day trip around the islands.
Romantic Luxus Glamping 3 – We spent 4 nights in a glamping tent on Falster, which was so cozy and quite large – perfect for our family of four. There's another glamping tent next to it, and you've got a private bathroom. Check availability here.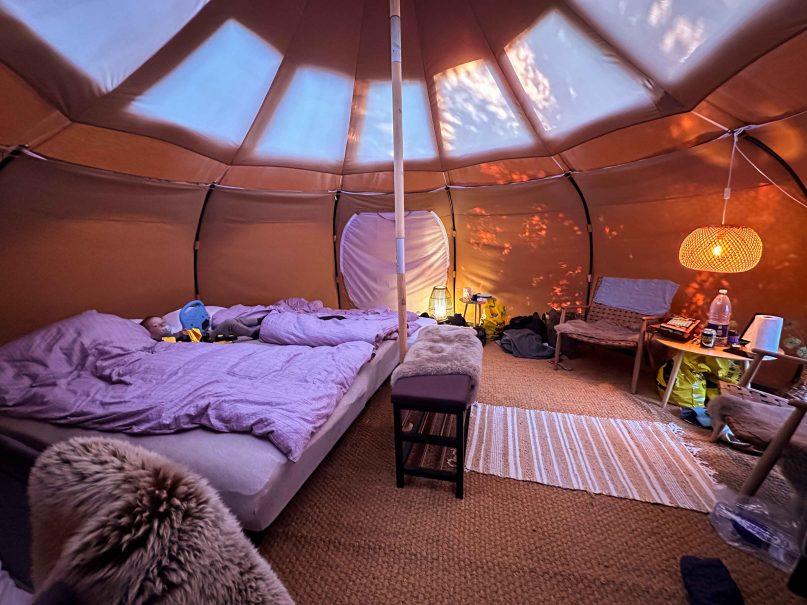 Things to do in Lolland-Falster
1. Knuthenborg Safari Park
Knuthenborg Safari Park is Northern Europe's largest safari park. It's also the main reason people visit Lolland-Falster.
The safari park is home to a diverse range of animals, from tigers and wolves to rhinos and giraffes, all roaming freely. You can drive through the park, and meet the animals up close.
It's practical for a family visit, because you'll get a direct look at how the animals live without leaving your car. There are also a huge, great play ground and a top notch cafeteria. Don't miss their sourdough pizza!
Book a trip from Copenhagen – Safaripark Private Tour in TESLA
2. Nysted
Nysted is one of my new favorite small towns in Denmark.
Think old houses, a laid-back harbor, and Aalholm Castle (one of the small castles in Denmark), just across the water.
It's the sort of spot you go to unwind, grab a fish dish at one of the marina restaurants, and just watch the boats.
3. Dodekalitten
Dodekalitten is my favorite place on Lolland-Falster. What a magical place!
It features ten stone sculptures up to 9 meters high, arranged in a circle. Think of it as Denmark's modern Stonehenge.
The stone scultures are not ancient; they're modern pieces with a soundtrack that adapts to the weather. It's a fusion of art and tech in nature, creating a unique experience. Definitely go here!
4. The Crocodile Zoo
Crocodile Zoo on Falster was the highlight for our kids. They LOVED the crocs. The zoo has a huge range of crocodiles and alligators, and the big deal here is Sobek.
He's a massive Nile crocodile, over 5 meters long and weights 600 kg, and he holds the title of Europe's largest crocodile.
When you visit, it's not just looking at animals; you get to watch feeding times and learn a lot. There are also other animals, like snakes and Galapagos turtles.
You can find opening hours here (it varies depending on the season).
5. Marielyst Beach
Marielyst Beach on Falster is located just a few kilometres from the glamping site I mentioned above. Voted the best beach in Denmark three times, its long, white sands are a hit, especially for families.
It's a laid-back spot with a local vibe, heaps of summer houses, and plenty of space to kick back.
The best part of the beach is the nearby square where there's a large selection of ice cream shops, restaurants, playgrounds and shops.
6. Valdemarsegen – the largest tree in Denmark
Valdemarsegen, the Valdemar Oak, takes the title of Denmark's largest tree by volume, not height or girth.
At over 25 meters tall with a 3-meter diameter, this 600-year-old oak has a rich, if not entirely verified, history and stands strong in the tranquil Fruens Ege woods​.
7. The Medieval Centre
The Medieval Center on Lolland takes you straight to 1413.
Sundkøbing, the town there, is alive with medieval hustle – think blacksmiths, weavers, and knights.
You can get hands-on, touching everything and chatting with 'locals'. They've even recreated Da Vinci's inventions to scale in their Technology Park.
Plus, there's Griffenholm, an 'enchanted' forest where you track mythical medieval beasts.
8. Hesnæs
Hesnæs, tucked on Falster Island, is an incredibly charming town with unique straw-clad houses dating back to 1551.
Once a bustling fishing hub, it's quieter now, with a few boats dotting the harbor.
Don't miss the beach!
9. The Forest Troll: Frie Vilje
On Lolland, you'll find Frie Vilje (Free Will) – a 5-meter-tall forest troll sculpture.
It's made from recycled wood by artist Thomas Dambo who is known for his sustainable art worldwide.
Frie Vilje is nestled in Bangshaveskoven, near Maribo Open-Air Museum and Nature Park.
You can find more trolls in Denmark – Find the exact locations on the artist's website www.thomasdambo.com.
10. Glentehøj Jættestue
Glentehøj Jættestue dates back 5,200 years and it's an ancient burial site on Lolland. Discovered in 1826, it held Stone and Bronze Age relics.
With just four of the original eleven mounds left, this 9 by 5-meter chamber is a portal to Denmark's distant past​.
FAQ – Things to do in Lolland-Falster
Where is Lolland Falster located?
Lolland-Falster is located in Denmark, to the south of Zealand, part of the country's southernmost islands.
What is the population of Lolland and Falster?
The population is approximately 100,000 inhabitants.
More posts about Denmark you might like
Save it!