5 reasons to visit Uplistsikhe – the oldest cave town in Georgia
So, you're thinking about visiting Uplistsikhe but not quite sure if it's worth going?
Uplistsikhe is one of Georgia's major cave towns with structures dating back to the Iron Age. So, while it's a fun experience to see a town carved in stone, it's also a unique way to explore Georgia's ancient history.
In this post, I'll give you five good reasons to visit Uplistsikhe cave town along with essential travel tips and background info. If you need tips on how to plan your trip to Georgia, check out my travel guide to Georgia
Let's get started.
This post contains referral links for products I love. Adventurous Miriam earns a small commission at no extra cost to you if you make a purchase through my links. Thank you for your support ♡ Learn more
Intro to Uplistsikhe
First some essential information about Uplistsikhe so you know the background.
Uplistsikhe, meaning 'Lord of the Fortress', is a cave town that was built around 6 BC to 1 AD. It became an influential political and religious centre of pre-Christian Kartli, with temples dedicated principally to the sun goddess.
When the Arabs conquered Tbilisi in 645 AD, Uplistsikhe became home to Christian kings and a major trading hub on the main caravan route from Asia to Europe.
At its peak, it housed 20,000 people. The Mongols destroyed Uplistsikhe in 1240, but its inner city of 40.000 m2 is open to explore today. Archaeologists have discovered many artefacts – including gold and silver jewellery and ceramic sculptures – which are now kept at Tbilisi's National Museum.
Where is Uplistsikhe cave town?
Uplistsikhe is located in the eastern part of Shida Kartli region of Georgia. From Tbilisi, you're looking at a 1,5 hour drive (84 km), which makes it an easy day trip from the capital.
The town is situated on the left bank of Mtkvari River and surrounded by deep gorges and picturesque views.
15 km north lies Gori, the hometown of former Soviet leader Joseph Stalin. If you have time, I recommend spending some time in Gori to explore the state-run museum dedicated to Stalin, the city's 12th century fortress which provides incredible views, the 11th century Svetitskhoveli Cathedral and various historical sites related to Stalin's life.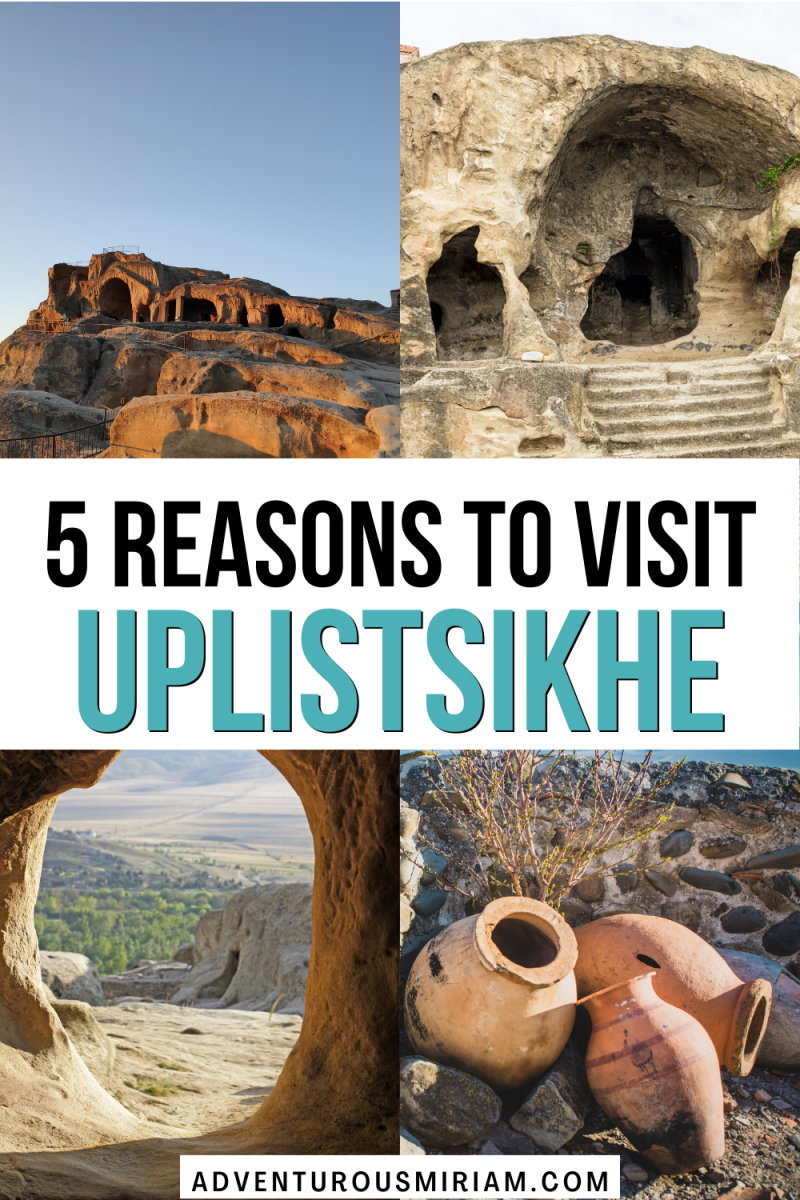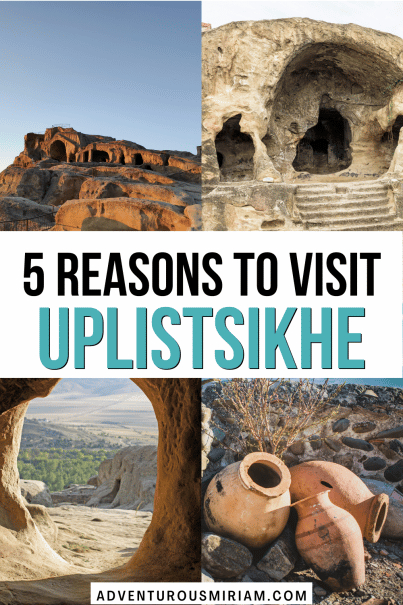 Uplistsikhe opening hours and prices
Entrance: 15 GEL. Children below 6 years are free.
Uplistsikhe is open daily, including on holidays. There are different opening hours for the summer and winter months, so plan accordingly.
April –October: 10am until 7pm
November –April: 10am until 6pm
Overview of the cave town
Uplistsikhe spans an area of almost 40,000 square meters.
It's divided into three sections – the lower, central and upper areas – with the central region containing many of its rock-cut structures.
These structures are mostly plain but some have stone carvings on them. The top of the complex holds a Christian stone basilica from the 10th century. The site also features stone churches and dwellings cut straight into the surrounding cliffs.
Uplistsikhe includes a large hall, Tamaris Darbazi, which was used for pagan sacrifice rituals and other functional buildings such as a pharmacy, prison and a theatre. Additionally, there are several tunnels connecting these spaces, two of which were designed as emergency escape routes.
Reasons to visit Uplistsikhe cave town
With several stone towns in Georgia, you might be asking yourself: why choose Uplistsikhe? Especially since it's not as intricate as Vardzia or as remote and adventurous as Dadiv Gareja.
But there's a draw to Uplistsikhe. This cave town is different.
While, first of all, Vardzia and Dadiv Gareja were monasteries, Uplistsikhe was a town where people lived, and you can sense that. Also, there's the vantage point of its convenience. Uplistsikhe is easy to visit, which I'll tell you more about in a minute.
While I wouldn't recommend one over the other, each of the major stone towns in Georgia have something unique to bring to the table, and I can mention several reasons to visit Uplistsikhe.
So, without further ado….
1. It's like a real-life Flintstone town
A place like this is hard to explain. It's like stepping into Bedrock. Hundreds of openings and oddly shaped holes had been carved and hollowed out to make homes, temples and halls.
I think the fact that it's so unique and moon shaped is the best reason to visit Uplistsikhe. The only place I've seen anything like this is Cappadocia in Turkey, and there's a special vibe in places like that.
2. It's more than 3.000 years old
Uplistsikhe dates back to the 2nd millennium BC, making it Georgia's oldest cave town. Many of the structures carved into rock cliffs are still standing today.
It's a significant archaeological and historical site, and visiting Uplistsikhe gives you the opportunity to explore some of the earliest traces of human civilisation in Europe. A window into another time that's still alive today.
3. Easy to visit from Tbilisi or Gori
One of the most obvious reasons to visit Uplistsikhe cave town is that it's easy. Located roughly 80 kilometres west of Tbilisi and only 15 kilometres east of Gori – it's the perfect stop for a day trip from Tbilisi or part of an extended stay in Gori.
To get the most out of your visit, I suggest dedicating 1,5-2 hours to exploring Uplistsikhe.
4. On the UNESCO tentative list
In 2007, UNESCO added Uplistsikhe to its tentative list due to its immense cultural and historical significance. The cave city contains a variety of structures dating back to the Neolithic period, including pagan places of sacrifice, dwellings, functional buildings like a pharmacy and prison, as well as the 10th century Christian stone basilica.
Not only does Uplistsikhe provide insight into early human history, but it also shows the unique beauty of rock-cut architecture.
5. The birthplace of wine
Georgians are proud of their long-standing winemaking tradition, and the world's first known wine creations come from 6,000BC Georgia, according to archaeologists.
These ancient Georgians found that grape juice could be turned into wine by burying it underground in qvevris during wintertime. The qvevri, an earthenware vessel used to store and age wine for thousands of years, had such high quality that they could remain underground for up to 50 years! Qvevris have become the unofficial symbol of the nation and remains a romantic representation of the country's history and culture.
Outside of the church in Uplistsikhe, you'll notice so-called sacrificed qvevries.
According to tradition, when a child was born into a family, they would ceremoniously fill up a qvevri with wine and keep it safe until their 16th birthday. On this special day, the wine-filled qvevri would be presented to the church as a gift of thanks to God.
What to see in Uplistsikhe
As mentioned above, Uplistsikhe is divided into three sections: the lower, central and upper areas.
When you enter, go a few metres up the rocks and follow the rock-cut path. Aside from the beautiful views, you can start exploring the site from the ground up. I do recommend getting a guide so they can explain where the different buildings, tunnels and engravings are located. If you're visiting on your own, you can get a guide (45 GEL) or audio guide (15 GEL) at the entrance.
These are the main sights at Uplistsikhe cave city:
The church
The theatre
The prison
The pharmacy
The engravings
The caves
The tunnel
Wine jars in front of the church
How to get to Uplistsikhe
Uplistsikhe is located about 85 km from the capital Tbilisi. The easiest way to get there is by car or on a guided tour, although there are also bus services available from Tbilisi's Central Station or other major cities including Gori and Rustavi.
You can also take a marshrutka (shared minibus) from nearby villages such as Signagi or Ergneti. Alternatively, you can hire a taxi directly to Uplistsikhe, but I recommend going on a guided tour to get the history and essential information about the structures on-site.
Tbilisi to Uplistsikhe
Uplistsikhe is an easy day trip from Tbilisi, and since it's so close (1,5 hours drive), you can also visit nearby sights and cities on a day tour. The best sights are Gori, Mtskheta and Jvari, where you can explore ancient monasteries, beautiful views and Georgian history.
I prefer to take private trips, but if you're on a budget or don't mind more people in the group, you can chose a group tour. Both of these tours include visits to the mentioned sites above.
Need more reasons to visit Uplistsikhe? Ask in the comments and I'll do my best to convince you!
More posts from Georgia you'll love