15 brilliant things to do in Tbilisi Georgia
Looking for the best things to do in Tbilisi Georgia?
A few months ago, I went to Georgia and Armenia with my 1.5 year-old and a friend. I prefer to travel off the beaten path, and I have to say; Georgia is definitely not your typical tourist destination.
And I mean this in a good way!
There are no crowds, it's cheap, it's very authentic! And I didn't see a single selfie-stick or group tour. It's rugged and rough around the edges, I won't lie. But it feels undiscovered, just like Albania, which is a rare thing nowadays.
Most of the people I talk to have this image of Georgia that it's war-ridden, bleak and unsafe. But that's not the reality. While the country does have a turbulent past and a disastrous relationship with Mother Russia, it's actually a lovely place with friendly people, real-life Flintstones cities and amazing food. 
This post contains referral links for products I love. Adventurous Miriam earns a small commission at no extra cost to you if you make a purchase through my links. Thank you for your support ♡ Learn more
Things to do in Tbilisi
So, let's talk about Tbilisi and why it's worth a visit.
First of all, there's a lot of things to do in Tbilisi – from riding a funicular (or two) and admiring the really charming and authentic Old Town to eating the world's best comfort food ← I'm serious. If you're a foodie, you need to read this post.
Tbilisi is also a great place to base yourself if you want to explore the country. From here, you can take day trips to anywhere in Georgia and most of Armenia, too.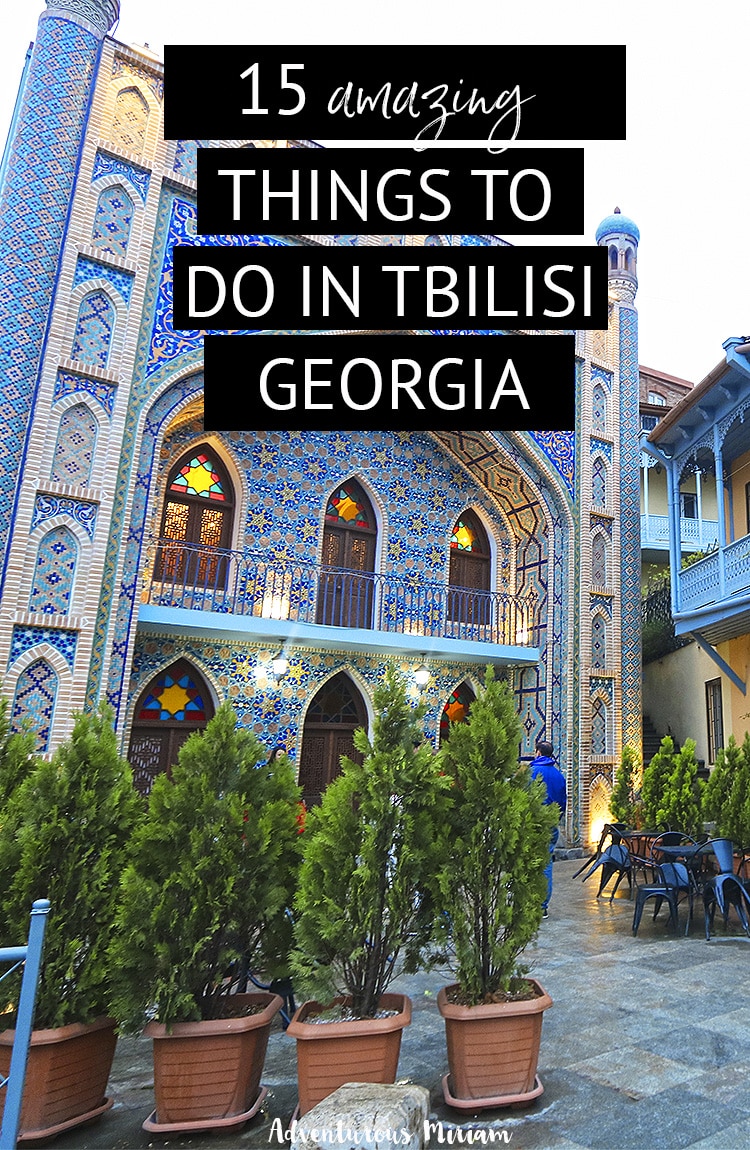 Practical info
How much time to spend
You can see everything in two days, but it's the kind of city you'd want to stay in. If not for the food then to just explore it deeper. It's hard to explain, but some places just have that effect, you know. There's always more to see, more to taste, more to understand. Tbilisi is one of those places.
How to get around
Tbilisi is easy to walk around, but you can also use the metro or take a taxi. One thing you should know is that there are very few pedestrian crossings and traffic lights in Tbilisi! To cross the street, you need to use the underground passageways at Rustaveli Avenue (the main street in Tbilisi), or try to cross close to the back of a car as it passes by. Just be careful!
How to avoid getting lost
When you're sightseeing Tbilisi, use these as pointers ↓ And if you do get lost or can't find what you're looking for, just ask someone. I stopped several locals on the street to ask for directions, and some of them even followed us all the way there.
Freedom Square at Rustaveli Avenue (like Park Avenue in NY. Here, you'll find shopping centres and stores)
The Sulfur baths (at the other end of Rustaveli Av.)
If you get lost, ask someone for Rustaveli or the river. They both run through the city centre.
Prices and budget
Tbilisi is cheap! For instance, a four course dinner with wine for two – $18.
1. Leaning clock tower
Location: In the Old Town
It was pouring rain. Literally pouring both times I visited the Leaning Clock Tower. Which, by the way, is one of the must-see sights in Tbilisi.
This bizarre building is a modern tower, attached to the puppet theatre of renowned puppeteer, Rezo Gabriadze. He built the clock tower over a course of 30 years, reusing old pieces from abandoned and destroyed buildings.
It's really cool. You should go see it.
2. Dry bridge flee market
Location: Under the Dry Bridge
This one is fun.
Under the Dry Bridge, you'll find a local flee market – and it's possibly the most funky and antique you've ever seen. It's like a time capsule. I first saw a photo of the flee market pictured by an old Lada filled with old Soviet things. I knew I had to visit!
Need a 100 year-old axe? (ok, maybe not) Or an old USSR military medal? You've got it. The Dry Bridge flee market is the coolest place in Tbilisi, no doubt.
Pro tips:
It's open from 10AM to 5PM
Probably closed when the weather is bad
Bring cash – they don't take credit card
Be polite. And ask for permission before taking photos of people.
3. Gallery 27
Location: In the Old Town
Man, it took me forever to find this place! Gallery 27 is located in the old town, about 600 m from the Sulfur baths. It's a great place to buy handmade artworks and admire this beautiful stairway. These hand-painted windows are more than a hundred years old.
Remember, people actually live and work here. Be respectful.
4. The Bridge of Peace
Location: Between the Old Town and Rike Park
The Peace Bridge or Bridge of Peace is a bow-shaped pedestrian bridge that connects Tbilisi Old Town with Rike Park over the Mtkvari river. It's most beautiful at sunset, and at night it lights up in bright colours. You'll get some beautiful views of the city from this bridge.
5. Mtatsminda Park
Location: Take the funicular from Daniel Chonqadze Street (6 GEL/US$2.20 for a return trip)
Mtastsminda is the highest point in town and also the best place to view Tbilisi from above. There's an amusement park, several restaurants, a night club and a pretty amazing view. And the best part? The entrance to Mtatsminda Park is free.
You can get there by car, bus or funicular (the easiest).
FYI: If you're wondering if Mtatsminda Park and Narikhala Fortress are located on the same hill, then no. They're not. There are two funiculars/cable cars in Tbilisi: one going to Mtatsminda and the other going to Narikhala. They're not located next to each other.
6. Narikala Fortress
Location: Take the cable car at the Bridge of Peace (2 GEL/US$0.7 for return trip)
On a hill overlooking the Old Town, you'll find the Narikala Fortress. It's pretty hard to miss, no matter where you are in town. Narikala fortress was established in the 4th century, around the time when the city was founded. It's an ancient symbol of Tbilisi's defence.
7. Mother Georgia (Kartlis Deda)
Location: Next to the Narikhala Fortress
Right next to the fortress, you'll find the Mother Georgia statue, also known locally as Kartlis Deda. This 20m-tall aluminium statue holds a sword in one hand and a cup of wine in the other. There's a small walkway around the statue, but the front is best seen from the Old Town below.
8. Tbilisi Botanical Garden
Location: At the foothills of the Narikala fortress
When you're standing at the top of Narikala Fortress or Mother Georgia, you'll look down at Tbilisi Botanical Garden (opposite side of the Old Town). We visited in April, so there were all kinds of pretty colours. I imagine it's even prettier in the fall!
9. Sameba Holy Trinity Church
Location: On the left bank of the river (opposite side of the Old Town)
The Holy Trinity Cathedral of Tbilisi is also known as Sameba (Trinity in Georgian). It's the third highest Orthodox cathedral in the world and consists of nine chapels. The cathedral is free to enter, although women should cover their hair and shoulders and wear a long skirt. It's definitely worth visiting, although a bit further away.
How to get there
Either take a taxi from the city centre (not more than 7 GEL) or take the stairs at Rike park to get to the road, and from there follow the steep path up to the cathedral (25 minutes walk).
10. Leghvtakhevi waterfall
Location: Close to the sulfur baths
Few capitals in the world can pride themselves of boasting two waterfalls. Tbilisi can. Leghvtakhevi is one of them, and the other is located inside the Botanical Garden, just on the other side of the Narkala Fotress. You can swim in the Leghvtakhevi waterfall or just admire the view. It's a great little walk, and a popular place for couples to stroll together.
How to get there
Next to the Orbeliani Baths (the blue mosque-looking building), there's a bridge. Cross that. To your right, there's a walkway that leads straight to the waterfall (5-7 mins walk). 
11. Sulfur baths
Location: Close to Leghvtakhevi waterfall
Fun fact: The sulfur baths are built on hot springs that gave Tbilisi its name ("Warm place"). Yep. Once upon a time, the King of Georgia found these hot springs and decided to build a city surrounding them. And that's how Tbilisi was born.
There are several baths in the area, but the famous Abanotubani sulfur bath is a great place to get a massage or relax in the natural pools.
You can go in, but the Sulfur baths are also cool to look at from the outside.
12. Orbeliani Baths
Location: Next to the sulphur baths and the Leghvtakhevi waterfall
The Orbeliani Baths is the prettiest building in Tbilisi, if you ask me. I've dreamed of visiting Uzbekistan and Iran for quite some time now, but in Tbilisi I got a little glimpse of how it would be. There's just something about that sharp blue facade with tiles and mosaics and arch-shaped windows and doors.
12. Historic Tbilisi
Location: Between Freedom Square and Sulfur Baths
This covers quite a large area, but when I say old or historic Tbilisi, I'm referring to the houses you see below. It's an area of town where houses are charming, vintage and super old. Think cobble stone streets, wooden houses with balconies and old courtyards coupled with Art Nouveau buildings. You can see more buildings here.
13. Try khinkali
Best restaurant: Pasanauri Rustaveli (close to the Sulfur baths)
Khinkali reigns supreme in the Caucasus. And Georgia is the mother land of khinkalis. These chunky dumplings are made with different fillings like meat or vegetables, and you can have them deep-fried or boiled. Either way, khinkali is a must-try dish when you're in Georgia.
14. Brutalist style
I've already introduced you to Brutalist architecture in my post about Skopje and Armenia. Remember that weird post-Soviet design style? Well, it doesn't get more interesting than this.
15. Chronicles of Georgia
Location: 10 km from the Old Town
This is an absolute must. Like, you can't visit Tbilisi without going to the Chronicles of Georgia.
This monument is huge and majestic and impressive and SO unique to Georgia. It consists of 16 gigantic pillars and was created by Georgian sculptor, Zurab Tsereteli. The top parts are decorated with Georgian history, such as the kings and queens from the last 3000 years. The lower part shows Georgia's Christian heritage through the life of Jesus Christ.
How to get there
You can either take a taxi (although many drivers might not know where it is) or take the metro to Ghrmaghele station and then bus no. 60 straight to the Chronicle of Georgia. 
Where to stay in Tbilisi
We rented an apartment at Rustaveli Avenue, but it was a bit overpriced and not in the best shape. So, I'll give you a few hotel recommendations here instead:
IOTA Hotel Tbilisi (mid-range) was my top pick, but it was fully booked when we visited. It's a few hundred metres from Freedom Square and the rooms are modern and homely. Find the latest prices here.
Hotel Garnet Tbilisi (mid-range) is another beautiful hotel, 500 m from Freedom Square. It gets a 9.0 rating on booking.com, which is really good! Find the latest prices here.
Best day trips from Tbilisi
You've got a few options when it comes to great day trips from Tbilisi. The most epic one being Kazbegi (the Caucasus mountains and that iconic church) and one of the easiest being Mtskheta. Here are a few to choose from:
Before you go – read more from Georgia