12 fantastic things to do in Skopje, North Macedonia
Skopje might be the most complicated, multi-layered, yet most fascinating capital I've visited. People call it weird, bizarre or wacky but I didn't find it wacky. Sure, Skopje has three pirate ships on its river although Macedonia is a landlocked country. It has a gigantic amount of statues, and a clashing mix of neo-classical and Soviet concrete buildings.
It's perplexing, alright. But I still really liked it. In fact, we ended up skipping Kosovo all together to have a few more days in Skopje. That's how much we all liked being in Skopje.
Read next: The Ultimate Guide to Macedonia
In this post, I'll show you the most enticing things to do in Skopje, Macedonia and include a bit of the historic background. From the most beautiful statues to the Old Bazaar and the historic Kale fortress, here's a list of the 12 best things to do in Skopje.
This post contains referral links for products I love. Adventurous Miriam earns a small commission at no extra cost to you if you make a purchase through my links. Thank you for your support ♡ Learn more
Things to do in Skopje, Macedonia
There's a lot to see in Skopje. And even when you're done sightseeing, it's just a great city to relax in. You'll notice there's a thriving café scene with lots of cosy cafes and restaurants, particularly along the Vardar river. I recommend that you spend at least 2 days in Skopje. That way, you'll get to see the sights and relax a bit as well.
The best things to do in Skopje include the Old Town, the architecture and eating well (more on that below). Skopje is also a great place to base yourself if you're doing day trips to Matka Canyon or Kosovo.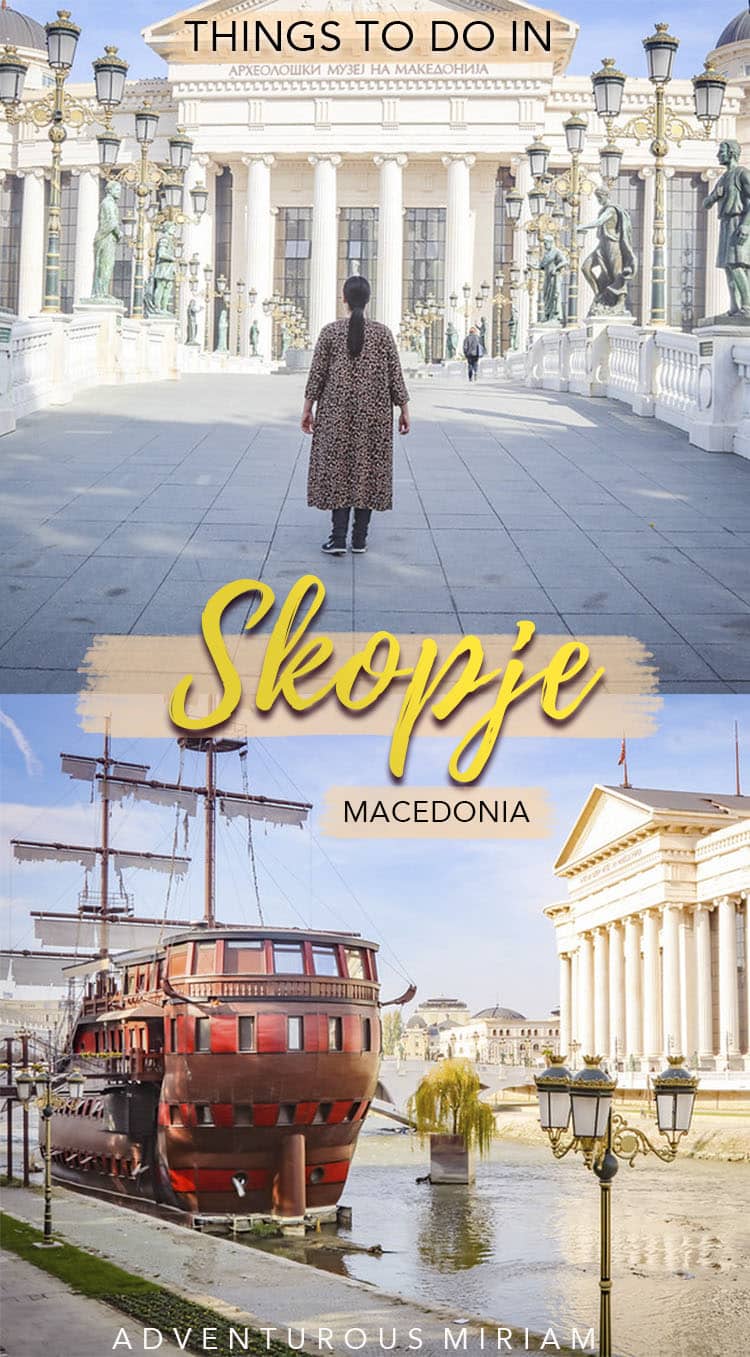 1. Macedonia Square
You know Alexander the Great. Maybe you've even seen the movie Alexander with Colin Farrell and Angelina Jolie. (if you haven't, go watch it. And don't listen to the low score on IMDB – the movie is good!).
Well, in Macedonia Square (the centre of the city), there's a huge statue of him on his horse, although it isn't called Alexander the Great. It goes by the name: "Warrior on a horse".
See, for more than two decades, Greece has fought Macedonians' efforts to call their country Macedonia, blocking its entry into EU and NATO. This complicated dispute boils down to the fact that: Greeks believe that Macedonia is a part of Greece. Macedonians, though, believe that their country was ruled by Alexander the Great and that they have every right to call themselves Macedonians.
So, to avoid further trouble with Greece, the majestic statue is called "Warrior on a horse". Yet everyone knows it's Alexander the Great, ruler of the ancient Macedonian kingdom.
2. Skopje's four bridges
Skopje has four bridges crossing the Vardar River, and they're located next to each other. Two things you should know about these bridges: 1) They all have a different theme, and 2) there's a pirate ship next to each of them.
These are the main bridges:
The Stone Bridge
The Bridge of Civilizations
The Art Bridge
The Freedom Bridge
Lets' take a look at the four bridges, because they're worth visiting…
The Stone Bridge
The stone bridge is the most popular and famous bridge in Skopje, mainly because it leads to the Old Town. On the picture below, you can see the Old Town and Kale Fortress in the background. You can also spot Alexander the Great's father, Philip II, on the statue to the right. But of course, he's not identified as Alexander's father, although everyone knows that's who it is.
If you walk a little further down the road, you'll come to the next bridge right next to the red pirate ship. You can actually sleep in this ship, and it's also a restaurant. I didn't eat there myself, but regardless it's a fun place to have lunch or dinner.
The Bridge of Civilizations
On the Bridge of Civilizations, you'll see statues of significant people from Macedonia and the world history, like the Greek philosophers, rulers and warriors.
The Art Bridge
The Art Bridge features many statues of noted Macedonian artists and musicians. It contains 29 sculptures with 14 at each side and one in the centre.
Freedom Bridge
The last bridge, Freedom Bridge, is dedicated to the generations of people who sacrificed their lives for freedom and independence.
3. Skopje Old Town (old bazaar)
On the opposite side of the Vardar river, you'll find Skopje's Old Town, also known as the Old Bazaar. It's the second-largest bazaar in Europe after Istanbul and it's an untouched piece of Skopje's historic past.
The winding cobble-stoned streets each have a shop theme, like jewellery or textiles. Even if you're not looking to buy anything, come here to get a glimpse of the real Skopje. This is the real deal.
Skopje's Old Town really reminded me of the one in Sarajevo. There, you'll also find old war relics and artefacts. It's authentic with an Oriental and Soviet vibe. Again – an unusual mix, but it works.
4. Eastern Holy Saviour Church
I almost didn't find this church. Luckily, I asked a local family for directions, and they ended up taking me to the church to make sure I got there. Macedonians are so nice.
Ok, so the church is also known as The Church of the Ascension of Jesus. You'll find it next to Kale Castle and in the outskirts of the Old Town. The church is located  in a quiet courtyard paved with old tombstones and halfway dug into the ground. That's because it was built during the Turkish oppression in the mid-16th century, so the authorities didn't permit Christian sanctuaries.
It looks modest on the outside, but when you get in, you'll notice the luxurious interior. It's definitely worth a visit!
5. Kale Castle (Skopje Castle)
Kale Castle (or Skopje Fortress – Kale is the Turkish word for 'fortress') overlooks the city and can be reached from the Old Town. There's not much of the castle left, except from the towers, but there's a beautiful view from the top.
There's parking spot right out front. Otherwise, you can park in one of the side streets if it's full (that's what we did).
6. Old Railway Station
There's a sad story behind the old railway station. If you look to the left on the photo below, you'll notice that the building is broken. That's from the devastating earthquake in 1963 that killed more than 1.000, left 80% of Skopje in ruins and made tens of thousands homeless, according to some sources possibly even as many as 200,000.
The remains of the old railway station stands as a memorial with the clock on its central facade stopped at 5:17 (AM), the exact time the earthquake struck.
You'll find the old railway station at the end of the walking street, opposite direction of Macedonia Square.
7. Brutalist architecture
A list of what to do in Skopje is not complete without Brutalist architecture!
Soviet concrete might not sound particularly interesting, but trust me – this is. This architectural style is called Brutalist architecture, and it was built after the major earthquake in 1963. The Japanese architect, Kenzo Tange, was in charge of rebuilding the city, although it was only partially realised.
I've never really been interested in architecture, but there's something about Brutalism. You can recognise it by its geometric designs with functional zones, grouped together into a unified whole. I saw some really fascinating Brutalist buildings in Skopje, so try to notice it when you're walking around town. Look for these great Brutalist buildings in particular:
Macedonian Post
Skopje Administrative court
Skopje train station
Saints Cyril & Methodius University
Church of St. Clement of Ohrid
If you also like this kind of architecture, keep an eye out for my post about Yerevan, Armenia! That city has the most extensive collection of Brutalist buildings.
8. Triumphal Porta Macedonija
Ever been to Paris or Rome? You'll notice a lot of the architecture here resembles the one in those ancient capitals. This has to do with the facelift that Skopje got in 2014. The project (Skopje 2014) was intended to give a boost to the national identity and bolster tourism by adding a more neo-classical look. Macedonians largely considered the $700 million USD project a waste of money, and in 2016, during The Colorful Revolution, locals used paint guns against the new monuments and statues.
The sad part is that much of the Brutalist and Communist-era structures are now concealed. Many locals feel that Skopje's new look overshadows the authentic attractions in what has been an important settlement for over 1500 years.
I hope they'll keep what they have left, because to me that symbolises part of their history and show me the real Skopje. Just like the Old Bazaar.
9. Skopje's many maaaany statues
One of the things that really caught my eye in Skopje was the many statues. I'm not sure how many statues there are in the city centre, but estimates put the number around 1,000. You'll find them in parks, roads, squares, bridges and the rooftops of buildings, although not wildly popular with locals.
10. Mother Teresa's Memorial House
Did you know that Mother Teresa was Macedonian? I actually thought she was Albanian, but nope. She's from Macedonia. She was baptised at the Sacred Heart of Jesus Roman Catholic Church, where the memorial house now stands. Here, you can memorialise the life of Anjezë Gonxhe Bojaxhiu, who took the name Mother Teresa.
You'll find Mother Teresa's Memorial House on the main walking street between Macedonia Square and the old railway station.
11. Church of St. Clement of Ohrid
(Also a great example of Brutalist architecture)
We drove past Church of St. Clement of Ohrid when we just came to Skopje. I instantly knew that I wanted to go back and take some pictures of it. The church is also known as Soborna Crkva and is the largest Orthodox church in Macedonia.
The interior actually reminded me of the Holy Trinity Cathedral in Sibiu, Romania. It has the same blue and gold decorations, although the one in Sibiu is more impressive.
See it here: 11 amazing things to do in Sibiu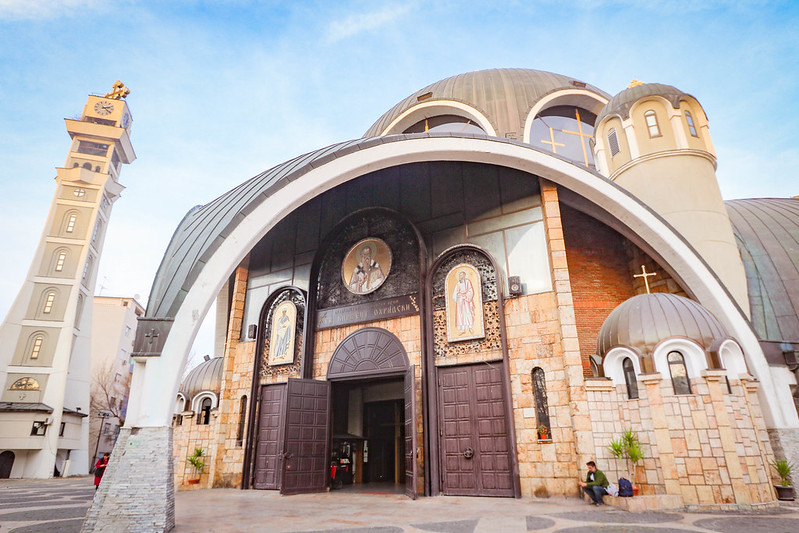 12. Millennium Cross
If you'd like to see Skopje from a different perspective, take the bus and cable car up to the Millennium Cross. It's a 66-metre tall cross situated on the top of Vodno Mountain, and it's one of the tallest crosses in the world. Here's a few tips for getting there:
Bring cash! You'll need 3.5 EURO for the entire trip.
Go before 2pm. The cable car shuts at 4.
How to get there:
Get to the bus station next to the International bus station
Ask for the Millennium Cross line (red double-decker bus)
The bus leaves every 30 minutes between 8:20 to 3:20 in the afternoon every day. Trip takes 30 minutes.
Purchase your tickets directly from the driver (35 denar / .60 euro)
Get off at the cable car and pay 120 denar / 2 euro for a round-trip
Voila. You're at the top.
Where to stay in Skopje
After becoming a mom, I usually never stay at hotels any more. I now look for apartments where Theo has space to run and play.
Tina Apartments – I found this amazing apartment on booking.com, where I always book my accommodation. It's a 2-bedroom apartment with living room, kitchen, two bathrooms and a lovely little balcony with a table and chairs.
It's located super central on the main pedestrian street with great restaurants and sights at your doorstep. Plus, the owner Tina is just the nicest. Prices start at $60 per night for two people. Click here to find the latest prices: Booking.com
What to eat in Skopje (restaurants)
Macedonian dishes you must try:
Zelnik (pastry with fillings – my favorite is with minced meat, pepper and onions with spices)
Turli Tava (good and hearty stew with okra, potatoes, eggplant, ground meat, peppers, carrots, rice and onion)
Selsko Meso (yummy smoked pork or beef dish with onions, mushrooms, spices, tomatoes prepared in a clay pot)
Best restaurants in Skopje:
Skopski Merat (try the pastrmajlia)
MKC Club _ Restaurant (hip and relaxed vibe. Great kebab)
Old City House (beautiful and traditional exterior and interior)
Best day trips from Skopje
Matka Canyon
The closest day trip from Skopje is Matka Canyon. The canyon is only 15 km from the city centre and is easily reached by car, bus (take bus 60 from the main bus station and buy a return ticket for less than €3) or taxi (€10 one-way). This truly is a beautiful place, so I highly recommend visiting if you've got time. It's the perfect place to do a little hiking, walking around or boating.
There's no entrance fee. But you'll need to pay to use the kayaks or take a boat trip.
Read next: How to plan a day trip to Matka Canyon
Lake Ohrid
Oh, Lake Ohrid. I loved this place.
Better yet – got a weekend to spare? This is where you should head. Although it's only 2-3 hours drive from the capital, I would still recommend staying in Ohrid at least a few days to really soak it all in. It's such a beautiful place with lots to see in town and close by.
Read next: Things to do in Ohrid
Kosovo
While I din't make it to Kosovo this time around, that shouldn't stop you. It's a country I've really been looking forward to exploring, and I've heard so much good about it.
The best places to visit in Kosovo are Prizren (a bit more cultural and beautiful) and Prishtina (the capital). If you venture further into Kosovo, I recommend checking out Peja and Rugova in the northwest corner. It's close to Montenegro and has beautiful nature with lakes and alpine views.
All in all, if you're wondering: is Skopje worth visiting – it's a resounding YES from me. As you can see, there are lots of fun things to do in Skopje, Macedonia!
Before you go – don't miss out on these posts: