Visit Macedonia: The Ultimate North Macedonia Travel Guide
I've created this complete Macedonia travel guide with all the information you need to visit Macedonia for the first time.
Macedonia is a landlocked country of wild natural landscapes. Mountains, rivers, and valleys make up much of the stunning beauty of this country. Its people are just as lovely. I always felt very welcome, and every single day a local helped us out with restaurant tips, directions or just said hello on the street. Macedonians are so nice.
Read next: The Ultimate Balkan Travel Guide
Beyond its landscape, neighbouring Greece means that Macedonia has as much of a rich and beautiful heritage and history as its neighbours. Its modern political history, as the former Socialist Republic of Macedonia, is equally gripping to discover. With amazing people, great Mediterranean food and a rugged landscape, this is a great place to explore for a week or two.
This post contains referral links for products I love. Adventurous Miriam earns a small commission at no extra cost to you if you make a purchase through my links. Thank you for your support ♡ Learn more
Rough budget
Accommodation
Budget: $10-20 (Private room)
Mid-range: $30-60
Splurge: $80+
Food (For One)
Street food: $1-5
Restaurant: $8-15
Super nice restaurant: $25+
Transport
Taxis: $5-10 (within towns and cities)
Intercity trains: $10-15
Buses: $2-10 (depending on distance)
What to Pack for Traveling Macedonia
I've covered this in great details in my Ultimate Packing List for the Balkans, but the most important clothes to consider are shoes. Macedonia has a lake to swim in, mountains to hike, and streets to wander. A decent pair of sturdy flexible sneakers , some strong hiking boots, and a nice pair of light sandals will all come in handy during your trip.
Aside from shoes, just keep in mind how hot the summers can be in Southern Europe. So, make sure to bring breezy clothes, sunscreen and sunglasses, and something to tie your hair up with so you don't have to fuss with it. Practicality is key in the Balkans. Short and simple. You'll also want to remember your insurance card at all times!
Cities in Macedonia
Skopje
As the capital of Macedonia, Skopje is the city which most encapsulates everything that makes the country unique. Ancient stone sits besides vibrant modern bars and clubs. And the hills that surround it provide a view of the grand mountainous terrain beyond.
Ohrid
This quintessential Macedonian town is the capital of its traditions and culture. It's a UNESCO World Heritage town of villas and surrounding forests that borders the serene Lake Ohrid. Its churches and monasteries are some of the most unique in Europe.
Bitola
This ancient town of culture has been alive since the Byzantine Empire. The nearby ancient town ruins of Heraclea Lyncestis is a perfect example of the legacy of this area, and Bitola itself is home to stunning architecture and a vibrant museum.
Krusevo
The highest town in Macedonia is known by locals as a living museum – a greatest hits of all the best parts of Macedonian history, culture, and cuisine. It's a lesser-known town that should not be overlooked, since it has been tainted far less by modern life.
Radozda
Found on the other side of Lake Ohrid, Radozda is a beautiful, quaint, picturesque fishing village. It's an ideal place to visit if you want the lakeside beauty and rural atmosphere of Macedonia without the business of Ohrid.
Prilep
Visiting Prilep is like traveling back in time. With the fairy tale castle of Marko's Towers standing atop the hill, and the Monastery Treskavec hidden amongst the rocks, exploring this area really feels like living through Macedonia's vibrant history.
Stobi
Stobi is not so much a town you can stay at as a town recovered from history. This ancient Roman town has been excavated and found to be in incredible condition. There's a perfectly-preserved theatre, as well public fountains and basilicas. A must-visit for ancient history buffs!
Macedonia Travel Information
Currency
The currency in Macedonia is called the Macedonian Denar. Since the country is not in the EU, it doesn't use the Euro (although even countries in the EU don't all use the Euro).
50 Denar is equal to just under $1 US or 70p UK. So you can kind of think of every 100 Denar being approximately $2 for simplicity's sake. It makes for a less daunting and confusing currency than some of the others in Eastern Europe. The notes are also particularly beautiful, so I recommend using cash and keeping a note as a souvenir!
Electricity Socket
Macedonia uses the same two-pronged plug as the rest of Europe, at the same voltage of 230V. So if you're coming from anywhere else in Europe, your own plugs are fine. If you're coming from the US, UK, or anywhere else that doesn't use the European round peg design, you'll need to bring an adapter (go for a universal adapter so you can use it all around the world).
Useful Macedonian Phrases
It can be overwhelming learning a new language just to get by on holiday, but a handful of phrases can go a long, long way. So here is a list of simple Macedonian phrases that I guarantee you can memorise and you will absolutely make use of during your trip! They're short, simple, and effective. These phrases will carry you through most encounters in a store, on a bus, or at a bar, and they'll go a long way to making you feel integrated and comfortable!
Basic phrases:
Hello – Zdravo
Goodbye – Cao
Thank you – Blagodaram
Sorry – Izvini
How much? – Kolku e ova?
Do you speak English? – Zboruvas Angliski?
Numbers:
1 – Eden

2 – Dva

3 – Tri

4 – Centiri

5 – Pet

100 – Sto

1,000 – Iljada
Visa
If you're a US, UK, or EU citizen traveling to Macedonia, you don't need to get a visa before you go. Just bring your passport. This also applies to citizens of Australia, Japan, Israel, Canada, New Zealand, and quite a few other nations. You can check here to see if your country is on the visa-free list. Macedonia travel
They do also prefer that you have proof of sufficient funds for the duration of your trip, and to have obtained World Nomads Travel Insurance before you head over to Macedonia. So, make sure you consider having cash on you, and proof of insurance, before arriving at the airport. I didn't get asked for either, but it's better to be safe than sorry.
Is Macedonia Safe?
Speaking of safe… Yes, Macedonia is very safe. Crime is mostly pickpocketing and purse-snatching. This happens most in central Skopje, where the crowds are the must busy and bustling. It's easy to lose track of your belongings and have them snatched away from you, so hold them close when you're in the capital.
Be on the lookout for little mobs of children pestering you for money. While the children swarm and distract you, a pickpocket can come along and swipe your wallet. So be aware that these mobs of children are a trap.
Beyond that, there's nothing to worry about in Macedonia. That being said, accidents happen, and you really shouldn't ever travel to a new place without travel insurance. If you trip and fall – which can happen even in the home – you'll be facing frightening costs. Which is why the Macedonian government encourages travelers to secure travel insurance before they arrive. The best place to get this is from World Nomads. I use their travel insurance myself
Macedonia
Travel Tours
If you want to learn the history, food, and culture of Macedonia from the ground level while you're visiting, the best way is through a tour. Get Your Guide offer a range of tours and activities that will give you an insider's perspective of the incredible world of Macedonia. They have tours of Skopje and Ohrid, which will ensure you don't miss a thing during your trip.
Transportation in Macedonia
Renting a car
Much of the Balkans are renowned for dangerous driving – especially Greece and Albania – but Macedonia is more chill and manageable. You can get around by car without a problem. To do this, the best sites for car rental in the area are Sixt and RentalCars. Both are affordable and easy to organise your car in advance.
Buses and minibuses
Macedonia is pretty small, and its buses are frequent. They go anywhere and everywhere, meaning nothing is off-limits. The buses are also far cheaper than the trains (although the trains are still very affordable) and traveling by bus is a great way to be closer to the ground, to the local people, and to get into some interesting conversations.
What to eat in Macedonia
I've already poured my soul a little bit about the food here. The delicious cuisine, inspired by Greek and Middle Eastern foods, is delicate and super delish. You can find pies at every restaurant and café in every town, and the nation is famous for its high-quality red wines. If you're looking for specifics, here are some recommendations:
Kebapi – Sausage-style meat mixed with local herbs and spices, served on flatbread with sour cream.
Polneti Piperki – Hollowed-out peppers, stuffed with rice, meats, spices, and vegetables, all roasted into one delicious meal.
Ekleri – As you may be able to tell from the name, these are essentially chocolate eclairs, but the Macedonian style uses even lighter pastry and they're a little bigger, too!
Zelnik – The famous Macedonian pies, made with filo pastry and stuffed with vegetables – the most popular being cabbage.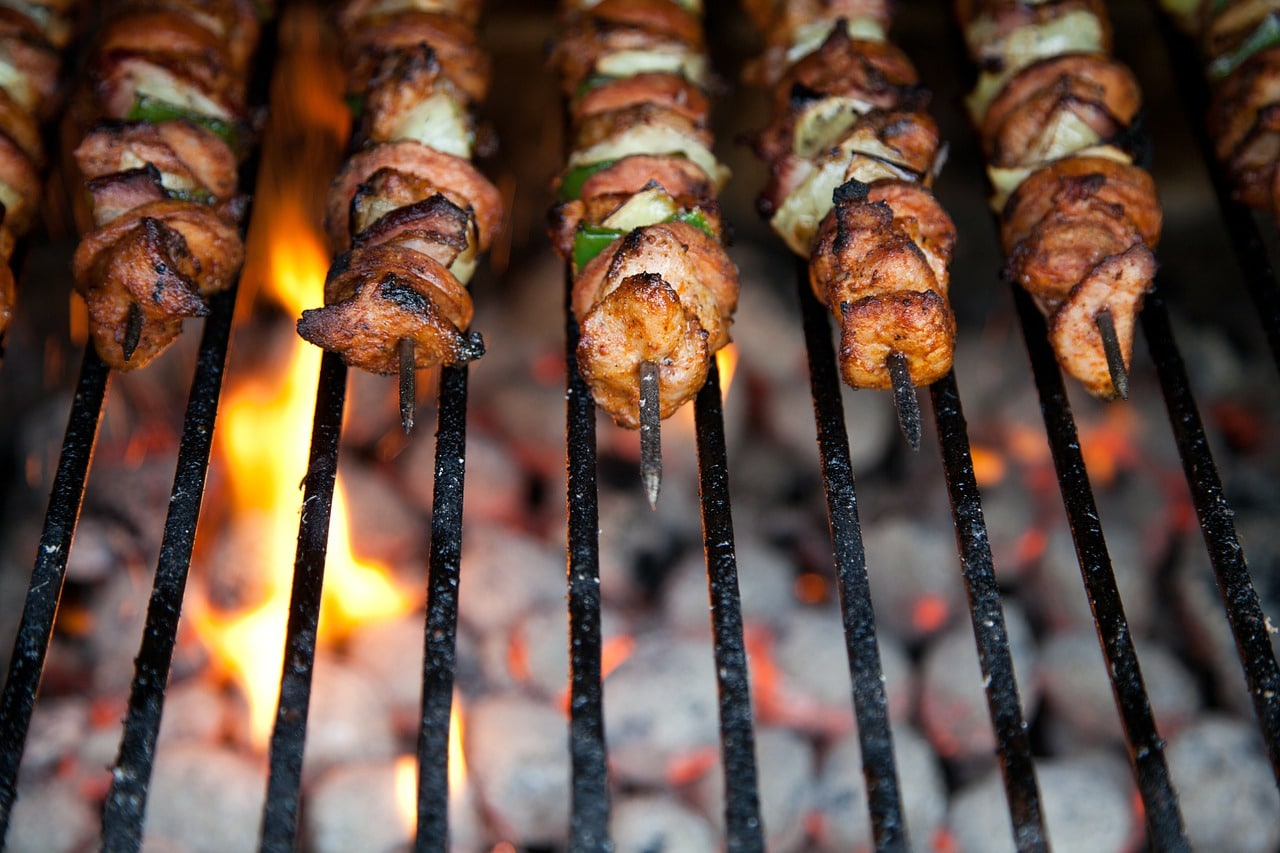 Best Things to Do in Macedonia
Explore Skopje
There is so much unique local culture to explore and discover in Skopje, it'll make your head spin. For modern culture, you'll find that Skopje locals are coffee fanatics, and the coffee shops dotted around the city are some of the most beautiful rooms you'll find. Explore them all and pick your favourite.
Read next: 12 fantastic things to do in Skopje, North Macedonia
Speaking of picking your favourite: you can do the same with the city's sculptures. They are everywhere! Macedonia is sculpture crazy. Many of the statues you'll find are random pieces of local modern art, depicting people going about their daily lives. There are also more historical statues, such as that of Alexander the Great. If you want to go beyond the city, Mount Vodno towers over Skopje and you can get to it by cable car. From here you can see the entire city and beyond, taking in the scenic world of Macedonia all at once.
Take a Cooking Class
While you're staying in Skopje or Ohrid, book yourself a cooking class. Here you can learn how to make those incredible savoury pies that are so beloved here and in Albania. Once you've learned how to make them, it's a skill that'll stay with you – you can take it home and start making these pies for yourself once in a while.
Lake Ohrid
The largest and most beautiful body of water in the landlocked Macedonia is Lake Ohrid. Staying in the ancient town of Ohrid means nesting right on its shores. The town itself is beautiful, with old cobbled streets you can walk for days, but the lake is the real beauty. The lake actually sits on the border of Albania, but most of it belongs to Macedonia, and it can be swum in, or you can take a boat to explore it. This allows you to see the town and the surrounding greenery from a whole new angle.
Read next: Things to do in Ohrid
Peshna Cave
When you visit, you'll wonder how this cave has gone so undiscovered for so long. It's the largest cave mouth in the Balkans: a daunting size which blends the dark of the cave with the blue skies outside to make for some of the best photo opportunities you'll get in the whole country. It's a spellbinding, dizzying place of natural beauty hidden away in the valley of Treska River. Taking the time to visit this isolated area means you may want to stay in one of the nearby inns, and there are plenty to choose from.
Macedonia's Monasteries
Macedonia has a deep history of Christianity within its borders, and so the amount of incredible churches and monasteries is impressive. Three unmissable monasteries for you to visit, learn about, and photograph are: St. John of Kaneo, which overlooks the beautiful Lake Ohrid; St. Naum, which dates back a thousand years; and St. John Bigorski, which supposedly holds some of the bones of St. John the Baptist.
All of these monasteries are stunning, with artwork inside that you won't find in any other country – even Italy. They're uniquely-constructed buildings in the style of Macedonian masonry, and the best examples of the country's traditional architecture.
Smolare Falls
This is the tallest waterfall in Macedonia, dropping from a height of 40 metres. You can find it just a little north of the village of the same name: Smolare. It's a popular tourist destination, and there are hiking trails up to it. You'll find wooden bridges that guide you through the beautiful foliage, and once you get there, you'll have found a great photo spot.
Matka Canyon
Matka is this incredible canyon. Inside the canyon you'll find the beautiful Matka Lake, a handful of ancient monasteries, Vrelo Cave, and a hundred hills to wander and hike across. It's an incredible sight, and every new turn brings an entirely new view. You can even go fishing and swimming in the river and lake.
The best thing about it is that Matka Canyon is just 15 km south of Skopje, which means you can easily go there by bus and explore it all in less than a day. That's what makes it such a popular place for locals to visit.
Read next: How to plan a day trip to Matka Canyon
Mavroro National Park
This is the largest national park in Macedonia, and it's nestled in the Bistra mountains. Inside the park you'll find the gorgeous Mavroro Lake, which actually hides a secret submerged church. Although early summer and autumn are the best times to visit in general, this area is actually super popular for skiing.
There are ski-lifts and rental places everywhere, and from November to April the area is covered in enough snow to enjoy a full skiing holiday. So, if you're looking for somewhere lesser-known in Europe to go skiing, you should consider Mavroro national park!
Try the Local Macedonian Food
It's no surprise that Macedonian cuisine is so influenced by Greek food, which in turn was heavily influenced by the Middle East. This means the cuisine in Macedonia is full of fruits and nuts, as well as grilled meats and a lot of quality wine. There's honestly nothing to dislike about any of the cuisine here.
If you're a vegetarian, the fruits, nuts, and roasted vegetables are the best around, and if you're not, well, enjoy the lamb and chicken!
Enjoy the Wine
As I just briefly mentioned, Macedonia loves wine. The country has over 22,000 hectares of vineyards and all of it is used to produce some fantastic red wine. There's not a lot of white to be had; red is certainly the dominant wine in Macedonia. And it's good quality – sweet, dry, however you prefer it.
Best Time to Visit Macedonia
If you've ever been to Italy or Greece, you'll know that the height of summer can be uncomfortably scorching. And even though Macedonia is north of Greece, it still has that same balmy, humid climate. Given that it's a landlocked country, you don't have to worry so much about catching the best beach weather, so I recommend the early summer or autumn. Definitely skip July and August if you don't want to be permanently uncomfortable.
Autumn – September and October – is an ideal time to go, partly because the tourism season has died down and yet it's still warm, and also because the foliage is simply breath-taking. Macedonia is a very rural, very wild and rugged place, and seeing the natural beauty of autumn here is amazing.
We went in November, which was a bit too late to be honest (our hotel in Ohrid practically closed down for the season on the day we left). But the autumn leaves and colours made the place SO beautiful – I imagine it's the same in spring. If you'd prefer summer, stick to May and early June to guarantee a more comfortable summer experience, and to avoid the biggest rush of tourists to Skopje and Ohrid.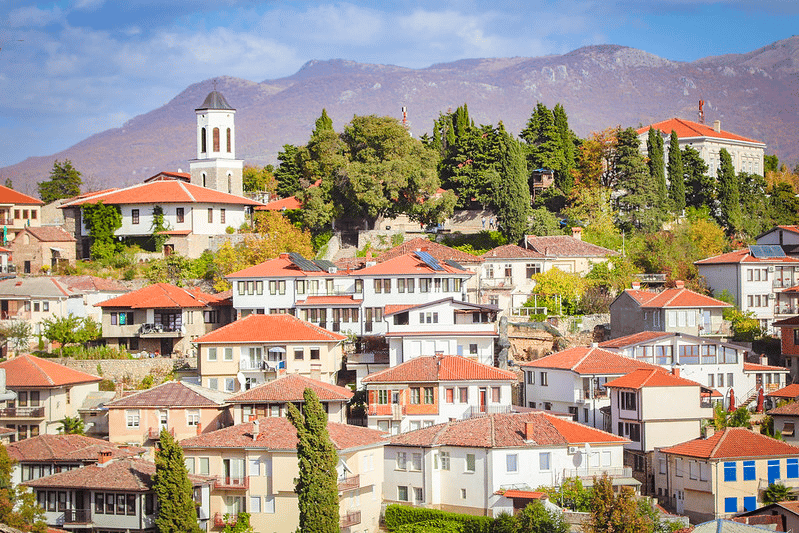 Best Hotels in Macedonia
Macedonia is a very affordable place to travel, and that means the highest of luxury hotels are affordable. So, you can treat yourself to a dream stay at a 5-star hotel for a reasonable price. Here are some amazing hotels to check out.
Skopje Marriott Hotel – A 5-Star hotel in one of the most beautiful buildings in Skopje. Great cuisine, spacious and comfortable rooms, and amazing massages. Click here to get the latest prices.
Bushi Resort & Spa – This mind-blowing hotel has one of the most stunning indoor pools you'll ever see. Marble everywhere, and rooms that are more like apartments. Click here to get the latest prices.
Novel Apartments – This is a great place to stay in Lake Ohrid and really feel like a local. These apartments are of amazing quality and spacious, with a view of the lake. Click here to get the latest prices.
Books to Read on Your Holidays in Macedonia
While you're in Macedonia, I highly recommend learning more about its history and reading its literature. Best way to do that is with these books:
Macedonia Travel Guide – This detailed and intricate guide is well-worth a read before you head to Macedonia, but also while you're there, to ensure nothing key is missed during your travels. It covers everything from the towns to the hills, mountains, canyons, and lakes, with essential cultural tips.
Ancient Macedonia – I've already mentioned just how much deep, rich, immersive history there is to discover in Macedonia. From Greek to Roman influence. From socialism to the modern day. It's dizzying just how much has happened in this majestic nation. In this book you'll learn all of the gripping details of ancient Macedonia. A great companion to take with you on your travels.
From the Bluegrass to the Balkans – This travelogue of one American's journey to discover the land his beloved wife hails from will provide a fascinating outsider's perspective on Macedonia. Just like you, this book's author discovered Macedonia for himself, and you get to follow in his footsteps and do the same!
Before you go – don't miss out on these posts:
Pin it!