Albania Travel Guide | Everything you need to know
I've created this complete Albania travel guide with all the information you need to visit Albania for the first time.
Albania is a beautiful nation, overlooked, overflowing with vivid history. It has a stunning Mediterranean climate, white beaches, green-blue seas, and snow-capped alps. The beauty of this country is overwhelming!
Read next: 15 magical pictures that will make you want to visit Albania now
With Greek and Roman ruins, a recent history of Soviet communism, and a Greek-inspired cuisine of fresh fruits and breads, it's a treat for the eyes, the mind, and the taste buds. And because of its modest size, so much can be seen, done, learned, and tasted in a week-long trip! Albania is one of Europe's most underrated countries, and it's just waiting to be explored.
This post contains referral links for products I love. Adventurous Miriam earns a small commission at no extra cost to you if you make a purchase through my links. Thank you for your support ♡ Learn more
Albania Travel Planning
Rough Budget
Accommodation
Budget: $10-20 (Private room)
Mid-range: $30-60
Splurge: $80+
Food (For One)
Street food: $1-5
Restaurant: $8-15
Super nice restaurant: $25+
Transport
Furgons (minibuses): $1-10 (depending on distance)
Bus: $3-15 (depending on distance)
No trains in Albania!
What to Pack for Traveling Albania
Albania is a Mediterranean country with a typical Mediterranean climate. This means summer days of 30°C and quite a bit of humidity – very similar to Greece and southern Italy. You can check out my Ultimate Packing List for the Balkans which will cover you for everything you need to know.
Read next: 22 Fun Albania Facts You Didn't Know
The most important things to consider are a good pair of flexible sneakers or hiking boots. 70% of Albania is made up of mountains, and so hiking is a pretty huge pastime. You'll want to do a bit of it when you visit as well! Don't forget to also pack something good for swimming – lakes and white sandy beaches abound in Albania, after all!
Cities in Albania
Tirana
This city is a vibrant pleasure hub, washed with bright and vibrant colours everywhere you look. Every kind of world cuisine can be found here, as well as some of the best pubs and clubs in the country.
Durrës
This massive port town is all about those sea views, ancient architecture, and local art. Here you'll find the remains of a Roman amphitheatre and a Byzantine forum, as well as an archaeological museum and art gallery.
Korca
Korca is the city of tradition in Albania. It has a huge number of museums to explore, a theatre which shows traditional plays, and the country's biggest annual carnival. There are nearby parks and lakes, and the streets are often flooded with live music!
Shkoder
Most famous for the ancient ruins of Rozafa Castle, this city has a deep history of Roman, Serbian, and Ottoman occupation. It's where you want to be if you love European history. There's also the National Museum of Photography and a stunning Art House!
Berat
This UNESCO heritage city is a hub of the various cultures which have formed the Albania we know today. The architecture in Berat is the most beautiful in the whole country, hence the UNESCO protection, and it's nestled in a gorgeous river valley.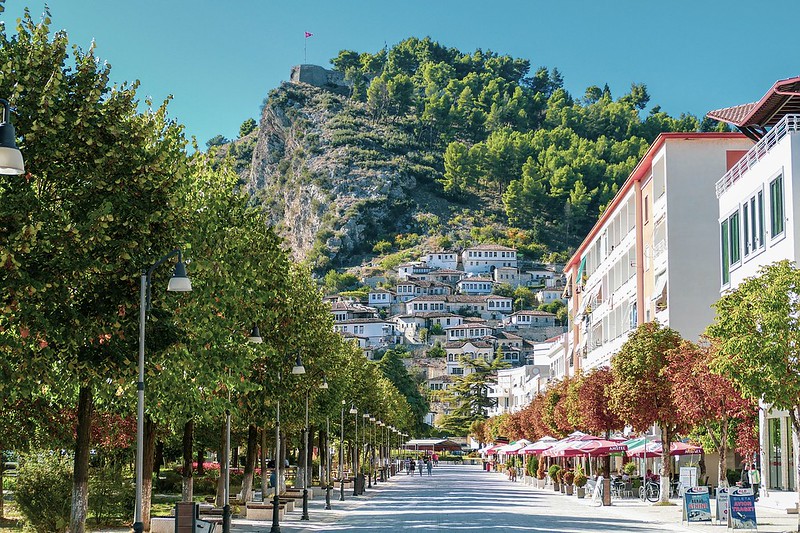 Vlorë
This coastal city was once an Ancient Greek colony. Today, the port town is known for its white, sandy beaches, the Gjipe Canyon, and Zvernec Island – accessible by a long bridge. Here you'll find a mix of Greek, Roman, and Communist architecture.
Dhërmi
This small coastal village is becoming increasingly popular amongst tourists for its sea views and gorgeous beaches. It's all about that quiet village life, perfect for families and young couples to discover the more rural side of life in Albania.
Himarë
This sun-soaked beach town is filled with old churches and monasteries, making any religious history-lover want to flock here. Himarë is all about beaches, cliffs, green hills, and the open ocean.
Gjirokastër
Another UNESCO World Heritage site, this city is bursting with life, colour, and stunning architecture. Because of its stone fortresses, mosques, and cobblestone streets, Gjirokastër is often referred to as The Stone City. This is my favourite city in Albania, it's so charming.
Sarandë
This youthful port town is flooded with colour and charm. It's got a bustling nightlife and long beaches littered with families and friends enjoying the Mediterranean sand, sea, and sun. Sarandë is a 20-minute ferry ride from Corfu, and it's a good base for exploring the Albanian Riviera.
Ksamil
This is one of the lesser-known and best-kept secrets for locals looking for a quiet weekend getaway. The coastal village of Ksamil is home to the Ksamil Islands, and the village itself is all about that peace and relaxation.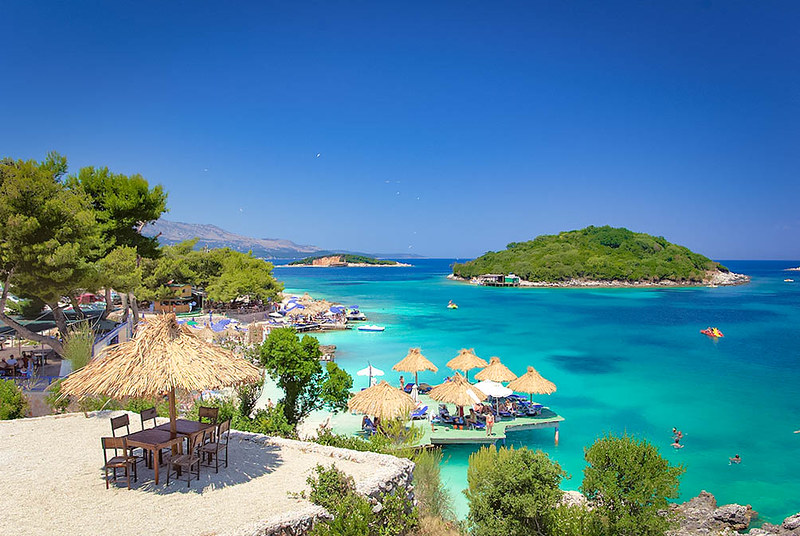 Albania Travel Information
Currency
Albania's currency is the Albanian Lek (ALL). The country is not in the EU so it doesn't use the Euro, but exchange between the Lek and the Euro is really good. The Lek is a pretty weak currency (1,000 Lek equals about $9 US or £6.90). So, you can safely think of 1,000 Lek as close enough to $10 for the sake of avoiding a headache.
Visa
Of course, this differs depending on your nationality. If you're a US citizen, good news! You don't need a visa, and you can even stay in Albania for a whole year without a residence permit. If you're from the EU, Canada, Australia, New Zealand, Norway, Brazil, Japan, and quite a few other countries, you can enter Albania without a visa and stay for 90 days.
Is Albania safe?
The short answer is: yes. With regards to violent crime, Albania has very little. Typical crimes to look out for are pickpocketing, scams, and theft, especially in the more touristy areas. So always be conscious of your personal belongings when you're traveling on foot. Drivers in Albania are notoriously reckless, so you should be careful on the road.
World Nomads have done a great rundown of what to expect in Albania right here. And, because traveling can be dangerous and accidents can happen in even the safest of countries, I highly recommend picking up their World Nomads Travel Insurance. I've reviewed their travel insurance and found it to be the best around. I can't recommend it enough! Albania Travel guide
Electricity Socket
Albania uses the same plug as the rest of Europe: two round pins at a voltage of 230V. If you're coming from anywhere else in Europe (or South Korea), you're fine. Or, if you buy a universal travel adapter, you're also good to go.
Useful Albanian phrases
You can get by using English, but it pays off to learn the most basic words such as thank you and hello. So, here's a handful of useful Albanian phrases and words that are easy to memorise and will help you along during your trip:
Hello – Tjeta (tyeh-tah)

Goodbye – Shëndet (shuhn-deht)

Please – Ju lutem (yoo loo-tehm)

Thank you – Faleminderit (fah-lehm-meen-deh-reet)

Excuse me – Më falni (mah fahl-nee)

Do you speak English? – A flisni Anglisht? (ah flees-nee ahn-gleesht)
Read next: Basic Albanian phrases and words you need to know
Tours in Albania
Tours are the absolute best way to guarantee that you see everything a country or a town has to offer. They can be done on foot or from the window of a vehicle. However you like to tour, you're guaranteed the best sites and the best history lessons.
My favorite tour company is GetYourGuide, which is the travel company I use to book guided tours and day trips myself. They're my favorite, because they have competitive prices, excellent customer service and free 24-hour cancelation. They have tours for Tirana, Shkoder, Durres, Berat, Gjirokaster, and Vlore.
Albanian food
Albanian food is very much influenced by Greek and other Mediterranean styles of cooking. Here, you'll find that everything is soaked in garlic and drizzled in delicious cool yogurt. Deserts are made up of nuts (especially walnuts) and fresh fruits (especially figs). Cold soups are popular in summer, and pies made up of veggies and spices are also quite popular.
Transportation in Albania
As we've already touched on, there's no rail network in Albania, so you're either going to be getting yourself around via a rental car or taking one of the many buses and minibuses (locally as furgons).
Renting a car
Renting a car in Albania is pretty cheap and very easy. The best sites to turn to for this are Sixt and RentalCars, both of which have an Albania division. You can browse and book online, then pick up when you're ready.
A word of caution before you drive
Albania really is a sketchy country when it comes to driving. That will mean different things to different people. For Brits, driving in the US can be scary. But driving in Albania can be risky for just about anyone. In fact, the city of Shköder doesn't even have traffic lights! So if you're not completely confident and comfortable with that, it may be best to rely on minibuses, taxis or organised tours. Albania travel guide
Buses and minibuses
Buses in Albania very much go by their own clocks, and they'll turn up whenever they feel like it, so don't rely on the timetables. But the buses are very cheap and an easy way to get around. You can easily get across the country for $10 on a bus, and it certainly makes for a more colourful adventure!
Best Things to Do in Albania
Visit a UNESCO Castle
The fortress castle at Gjirokaster stands tall above the city and has a huge clock atop its tower. The fortress itself has stood since before the 12th century and is now protected by UNESCO. More than just a clocktower, the fortress also houses its own museum where you'll learn everything you could want to know about the citadel itself and the town below.
Explore the best beaches in Albania
Albania has no shortage of wonderful beaches. So many of them are rugged, surrounded by dramatic rocks and cliff-faces. The sea beyond is crisp, clear, green and blue. And the sand itself is white as paper. If you visit in the late spring, you'll find that the other tourists haven't arrived yet, either. The best beaches to visit are Dhermi and Ksamil.
Read next: The 10 best beaches in Albania – a guide to the epic Albanian Riviera
You can go boating, surfing, swimming, or simply relax with as good book. Himara, Borsh, and Vlora also have equally stunning beaches, perfect for letting your hair down and doing nothing all day and all evening. Borsh actually stretches on for seven kilometres!
Eat Delicious Albanian Food
The best of Albanian cuisine is made up of three food types: soups, pies, and fresh fruits. Albania is actually famous for a refreshing cold soup which is popular during the summer. The soup is called tarator and it's made with various spices – garlic being the biggest – as well as walnuts and cucumber. Most of the pies are made with various cheeses, cabbage, spinach, and occasionally served coated in garlic and yogurt. You can tell Albanians love garlic!
Spot the Bunkers
Those 750,000 cold war bunkers dotted all around Albania that I've mentioned can be found anywhere and everywhere. You'll find them on hills, in fields, and along the beaches, and they scream of communist-era paranoia. Just outside the capital of Tirana you'll find Bunk'Art, a huge bunker transformed into a museum which showcases the lives of people who lived through the communist era of Albania. Definitely worth a visit!
Visit the magical Blue Eye
In Vlorë County, southern Albania, you'll find this amazing natural spring known as the Blue Eye or Syri i Kaltër in Albanian. No one knows how deep it is, although many have tried to find out. The water is a crisp blue and the Blue Eye is surrounded by lush forest. This is one of the most beautiful photo spots in the country.
Read next: Syri i Kalter: How to visit the mysterious Blue Eye
Explore Tirana – the quirky capital city of Albania
Being the capital, Tirana is full of endless things to do, but here are some of the best to get you started: visit the National Historic Museum; take the Dajti Ekspres cable car to the mountains which overlook the city; and while you're there, wander the national park atop Dajti Mountain.
There's also the Piramida, an eerie abandoned pyramid in the middle of the city, left over from the communist era as a monument to the past, now covered in graffiti. The city also offers some great bars, restaurants, and clubs when you're done exploring.
See Berat – the city of a thousand windows
As I've mentioned, Berat is a UNESCO city, and it's easy to see why it became one. The city has medieval Ottoman houses, the old castle of Kala, and the fourteenth century Holy Trinity Church. There is so much ancient, medieval, and modern history packed into this one city it'll make your head spin!
Read next: 10 things to do in Berat
Visit Butrint, Albania's best-preserved Roman ruins
Albania was once occupied by the Ancient Greeks, and later the Romans. Butrint, therefore, was treated to an acropolis of its own, and an amazingly-perserved amphitheatre – known as the Roman Theatre. There's also the Castle of Ali Pasha Tepelena. Wandering across this area is very much like travelling back in time, from today to Rome to Greece. It's an uncanny and truly special experience.
Go hiking (Valbona to Theth)
This is a very renowned hiking trail that takes a total of eight hours if you want to do it all. It takes you from Valbona to Theth, or you can do it in reverse if you'd prefer! The hike takes you across the dizzying and dazzling natural scenery of Albania, where you'll spy waterfalls, streams, plains, and forests as you cross the hills and mountains of the country in a single day.
There are cafes along the way where you can stop and refuel, and plenty of hotels to stay at in either Theth or Valbona before you begin your hike. Make sure you wear your best hiking boots when you go, and only pack the necessities.
Best time to visit Albania
In the peak of summer, Albanian weather can be a bit much for most people. It's just on the uncomfortable side of hot, with stormy weather and a blazing sun.
Either side of the summer, however – May and June or September and October – are the perfect sweet spots of warm weather and fewer tourists. You'll have the beaches to yourself; the sea is still warm enough to swim in, and the kids are still in school. Flights are cheaper, too!
Where to stay in Albania
Because Albania is a very affordable country to explore and stay in, meaning the 5-star hotels of Albania are also affordable, and also the height of luxury. The best of them being:
Royal G Hotel and Spa (Durrës) – With the best local foods, a stunning cocktail bar, an outdoor pool, and its own private beach area, you cannot go wrong at this amazing 5-star hotel in Dürres. Click here to get the latest prices.
Villa A & A (Ksamil beach) – Those cheap Albanian prices ($33 per night) makes this villa a bargain! It has an amazing view of the beach and islands, and the interior is modern! Click here to see the latest prices.
Hotel Boutique LAS (Tirana) – This charming hotel captures the feeling of the word Mediterranean better than any other, with beautiful flora and fauna all around and a villa style décor. It's beautiful. Click here to get the latest prices.
Books to Read on Your Holiday to Albania
The cliché of reading romance and crime novels on the beach is dead. Instead, immerse yourself in the country you're visiting by reading their literature and learning more through travel books and guides, such as:
Albania Travel Guide – From this fun and friendly guide, you'll learn everything you need to know about Albania.
Enver Hoxha: The Iron Fist of Albania – This is the perfect book for you if you're eager to dig into the local modern history of communist Albania. It's an amazing period of Albanian history and this book is incredibly enlightening!
The Accursed Mountains: Journeys Across Albania – This journey across the rugged landscape of Albania was done at the end of the communist rule and shows the true natural beauty of the country. A beautiful read!
Modern Albania: From Dictatorship to Democracy in Europe – If you want to truly understand the transformation of Albania from a communist state to a modern country of colour and vibrancy, this is the book for you! History, politics, economics, sociology, all rolled into one.
More on Albania:
Pin it