Psst! This post probably contains affiliate links, which means I earn a commission (at no extra cost to you) if you click through and make a purchase. As always, I only recommend products and services I trust.
The minute we drove up the hillside road to Gjirokaster's Old Town, I knew. This town had something. That little extra that sets it apart from other just-regular-beautiful towns.
Gjirokaster (in Albanian: Gjirokastra or Gjirokastër) stretches upwards on sloping cobblestoned streets with unique stone houses, which kind of look like small fortresses. For that reason, the town is known as "The City of Stone".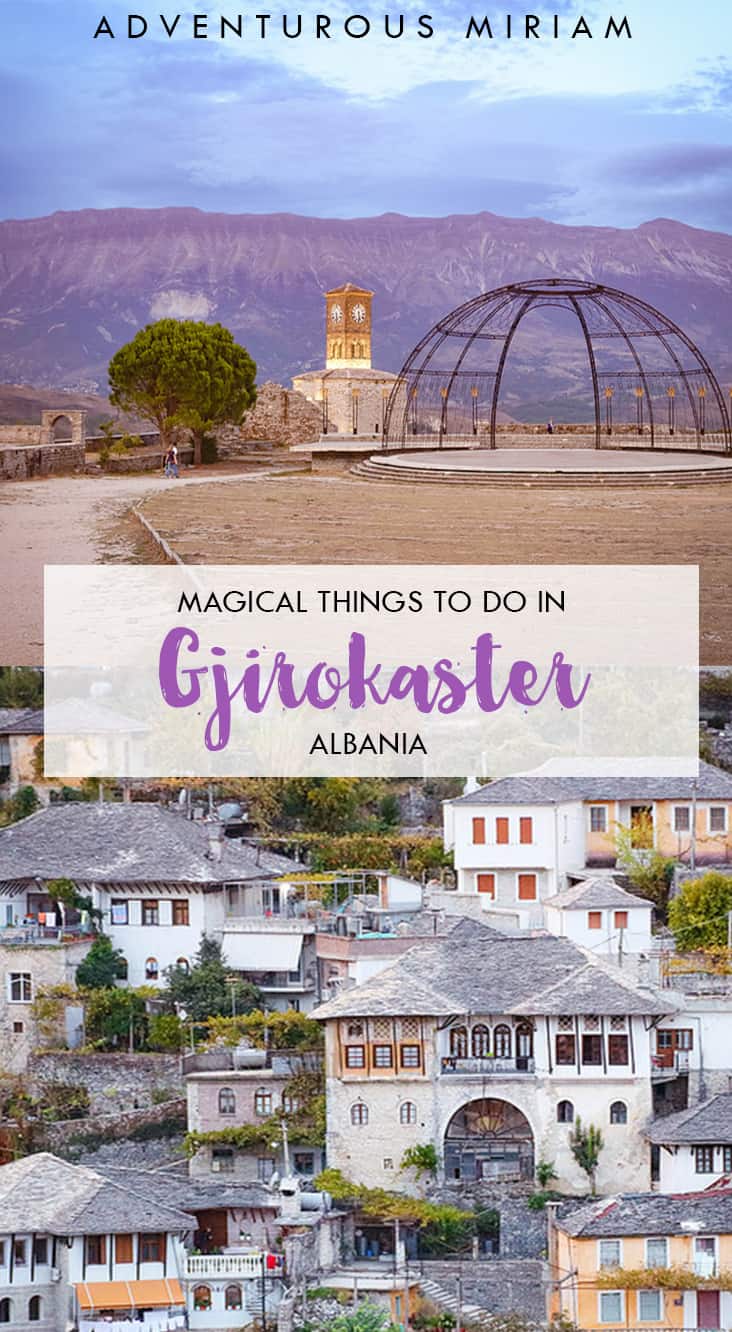 GJIROKASTER, ALBANIA
The first thing that hit me was the houses.
I've seen medieval fairy tale houses around Europe before (in France, Bosnia and Denmark), but none like these. These two-storey Ottoman houses are located in or near the bazaar and date back to the 17th and 19th centuries. They have such integrity.
Albanians are proud of Gjirokaster and it's easy to see why. Besides the beauty, they consider it an important cultural city because it's the birthplace of the most famous Albanian writer of all time, Ismail Kadare. He captured the spirit of Gjirokaster in many of his novels.
THINGS TO DO IN GJIROKASTER ALBANIA
GJIROKASTER CASTLE
Entrance fee: 200 lek (€1.60) – additional 200 lek to enter the museums
The first place to visit in Gjirokaster is the castle. Mainly because it's the best vantage point of the town and entire valley.
So, a little background:
Gjirokaster castle is sometimes referred to as Argjiro, after a legendary princess in Albanian folklore. According to local tales, she lived in the 15th century and jumped off Gjirokastër Castle with her baby to avoid being caught alive by the Ottoman enemies.
Make no mistake – the Turks were not welcome here.
Albania has struggled for independence for decades, and the castle has been shaped by various dictators and rulers. From the Ottoman invasion (14th century) up to the early 1800s and the time of the dead-seriously-named King Zog, who besides sounding like a supervillain from Krypton, survived no less than 55 assassination attempts throughout his life.
He died peacefully in bed at old age, but before that, he converted the castle into a prison (1930s). You can still see the cells where he held members of the resistance forces captive until 1968.
"and the Turks rushed
to catch the star alive
but how can a star be caught?
The quick Argjiro
with her baby
leapt into the air like a bird
plunging from the castle into the abyss.
She fell like a star,
but her light shone on."
(Ismail Kadare – "Princesha Argjiro")
Next to one of the castle towers, there's also a recovered US Air Force jet that was shot down during the communist era. The pilot was believed to be a spy but was later sent home, safe and sound.
You can spot the plane in the background in the above photo.
THE COLD WAR TUNNEL
In the castle, you'll find old tanks, cannons and more artillery from bygone war times. Another attraction inside – or rather below – the castle is The Cold War Tunnel; a giant tunnel bunker used for transportation during the Cold War. Built in secret during the 1960s, it has 80 rooms and the locals didn't know about it until the 1990s.
You can book a guided tour from the tourist information booth on the main square. But if you're claustrophobic, this trail under the mountain is probably not for you.
UNESCO OLD TOWN
Once you're done exploring Gjirokastër castle, you'll be making your way back down to the Old Town. And as soon as you step onto its streets, you'll understand why Gjirokastër is considered – by yours truly – to be the most beautiful place in Albania.
Those winding, little limestone-streets with a unique zig-zag snakey pattern – there's just so much personality and character to Gjirokaster.
In the Old Town, you'll find several sights. Like, the bazaar, the Zekate house and Skenduli house. The Old Town also hosts an old mosque. And about that… At one point there were 15 mosques in town, but when the communists took over after the war, they destroyed all but one.
GJIROKASTER BAZAAR
So, at first I thought Gjirokaster bazaar referred to an enclosed market place with artisanal workshops and tourist souvenir shops. After all, "bazaar" originates from the Persian word bāzār, which means "market". Just like a Middle-Eastern souk.
While you will find shops at Gjirokaster bazaar, it's not a bazaar in the traditional meaning. Here, it refers to a district – the centre of the Old Town – with a few remains of the ancient bazaar: a dressmaker, a souvenir shop, carpet shops, some cafes and heavy traffic.
ZEKATE HOUSE
Entrance fee: € 1.00
The most impressive building in Gjirokastër is undoubtedly Zekate House, a majestic three-story house with a double-arched facade and twin towers. This beautiful house was built 200 years ago for a general in the Ottoman army. The house is now uninhabited and serves as a museum.
Zekate House is said to be one of the most fascinating examples of Ottoman style in the Balkans. It's similar to the Muslibegovic House in Mostar (also an old Ottoman house), and gives a great insight into traditional Albanian life and culture.
To get here, follow the signs past the Hotel Kalemi and go up the hill. There's no electric light inside, so make sure to visit during the day.
JOIN A GUIDED TOUR OF GJIROKASTER
If you're visiting Gjirokaster, you probably want to see everything the town has to offer. I couldn't agree more and it's a beautiful town to visit. If you only have limited time in Gjirokaster, taking a guided tour is a good way to maximize your time as the guide knows where all the sights are located and will give you the history and background behind the places.
This full day tour of Gjirokaster takes you around the best sights in town, and later you will try home-cooked Albanian food and coffee.
Book here: Full Day Tour of Gjirokaster
You may also like: Tirane: Berat to Gjirokaster 5-Day South Albania Tour
RESTAURANTS IN GJIROKASTER
Gjirokaster has a great selection of restaurants, most of which are located around the old bazaar. The town's special is qifqi – baked rice ball with egg, fresh mint and seasonings.
Gjoça: The best place to try qifqi and have a taste of Albanian food and hospitality is at Gjoça. It's a charming little restaurant on the main street, and Chef Gjoça is the nicest. This is authentic Albanian cooking, guys. And everything is cooked at the counter on a small gas stove.
Kujtimi Restaurant: (Price:500/600 Lek (cash only)) Another good place is Kujtimi, where you can eat outside in a cosy garden. There's an English menu, a vegetarian menu, and the staff speaks English.
HOTELS IN GJIROKASTER
If you've got time, I recommend spending a night or two in Gjirokaster. Sure, you can see everything in a day, but it's just such an enchanting place. It's the place you'd want to wake up, enjoy your breakfast while looking over the valley and old Ottoman houses. Gjirokaster is divided between The Old Town (uphill) and the new town (downhill). The Old Town is the place to stay.
Hotel Kastro is this charming little hotel with traditional wooden furniture and an amazing view from the rooms. Find the latest prices here.
Hotel Gjirokastra is another great option with bright rooms and a lovely terrace right behind the bazaar mosque. It's a very homely environment. Find the latest prices here.
DRIVING IN ALBANIA
Personally, I think renting a car is the best way to get around in Albania. That's what we did. While you have the luxury of taking it at your own pace and stopping for photos whenever you like, it's also not that expensive. We rented a car through Sixt, because they got the best prices and really great customer service. In fact, you can save 10% on car rental in Albania with this link.
GET TO GJIROKASTER BY BUS
Gjirokastër is just an hour away from Sarandë. And on the way, you'll pass the mysterious Blue Eye (Syri i Kaltër) – a rare natural phenomenon. I've listed the bus connections below, and while they're updated at the time of writing (February, 2019), they might change. Make sure to check with locals or/and at the bus station once you're there.
From Tirana
Buses to Gjirokaster leave Tirana's southbound bus terminal at 11 a.m., 12, 13, 14:30, 18:30 and 20:30 p.m. The trip takes around 6-7 hours and costs 1.000 lek ($9).
From Sarandë
The trip takes a little over an hour and costs 400 lek ($3.60). The bus drops you off in lower Gjirokaster (the new city) from where you can either walk 30-minutes up to the Old Town or take a 5-minute taxi ride.
BERAT VS. GJIROKASTER
Gjirokastër is often connected to the other Albanian UNESCO town, Berat. That's because they're similar in many ways. They both have the unique Ottoman architecture that you'll also find in Mostar and Lake Ohrid. They're also equally beautiful.
Read my post about Berat here.
Before going to Albania, I read somewhere that they're so alike that you don't need to visit them both. But that's not true. They each have their charm, and while they're similar, they also very much have their own style. I highly recommend visiting both Gjirokaster and Berat.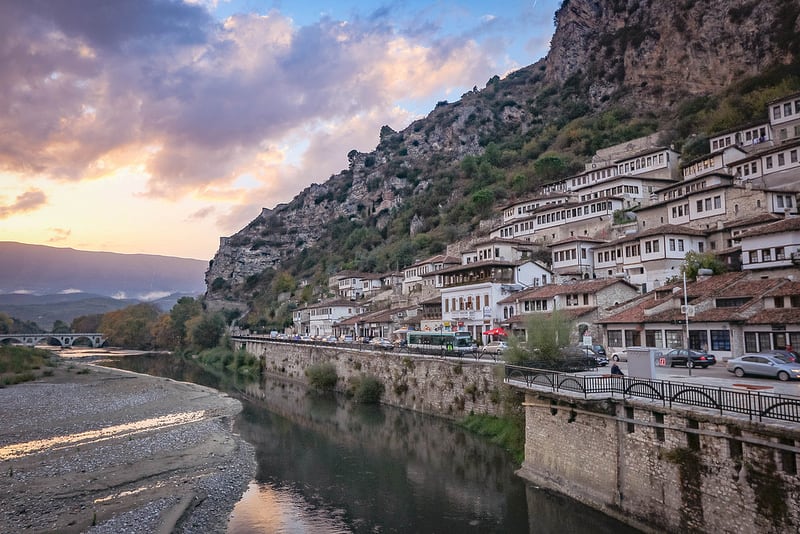 Are you planning a trip to Gjirokaster? Do you have any questions?