How to find reliable car rental in Ljubljana (+ get a free Slovenia road trip itinerary)
Ljubljana, the fairy tale capital of Slovenia, is one of the most beautiful cities in Europe (and my personal favorite!).
It's surrounded by lush forests and valleys, and the city itself is overflowing with stunning architecture and cute cafes by the river. What better place to rent a car of your own and explore Slovenia by yourself?
Car rental in Ljubljana is simple, easy, and affordable if you book with Discover Cars. This rental company has locations across Ljubljana and at the airport to make your experience of car rental in Ljubljana stress-free and super easy.
Read next: 20 Amazing Things to Do in Slovenia
This post contains referral links for products I love. Adventurous Miriam earns a small commission at no extra cost to you if you make a purchase through my links. Thank you for your support ♡ Learn more
Car Rental in Ljubljana
I recommend checking out Discover Cars, because they're the best deal finders for rental car companies in Slovenia.
Why choose Discover Cars:
Discover Cars compare rates for car rental companies in Slovenia – both International and reputable local companies
They have 24/7 support and great reviews
They also offer low rate guarantee!
They're the biggest brands in car hire
Where to pick up your rental car
Renting a car in Slovenia is super easy. I always recommend booking your rental car in advance – especially if you're traveling in the busy season (June to September).
When you arrive at Ljubljana Airport you'll find a Sixt rental place right there, which means you can go straight from plane to rental car in ten minutes. Car rental at Ljubljana Airport is the peak of convenience. But, if you'd prefer to rent a car in Ljubljana city, you can do that, too!
Read next: 10 amazing things to do in Ljubljana
There are two Sixt rental places in Ljubljana: one at the main Ljubljana Railway Station, and another in the heart of the city, on Dalmatinova Ulica. So, you can easily take a train into the city and then immediately pick up your rental car. This makes car rental in Ljubljana as streamlined as it could be!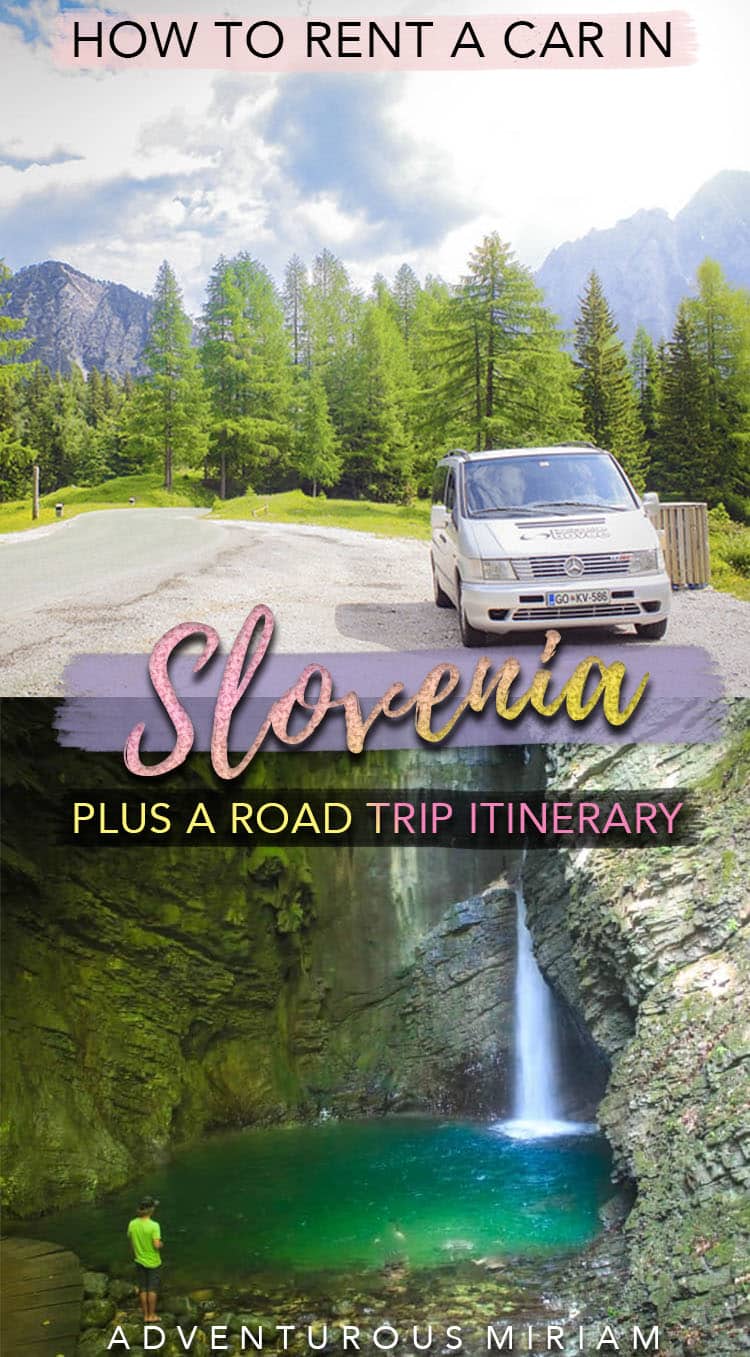 Budget for your road trip in Slovenia
Car hire in Slovenia is going to factor into your holiday budget, so here is a breakdown of your budget: what you're going to be spending and where you'll be spending it.
Accommodation: $80-100 per night for a nice apartment
Food: $15-25 per day for eating out (per person)
Car rental: $30-40 per day for a car
Fuel: $1.25 per litre
Facts about Driving in Slovenia
Speed limits
Before you get your car rental in Ljubljana, keep in mind the speed limits in Slovenia. Slovenia uses km/h, which is something to bear in mind if you're coming from the US or the UK and you're used to mph.
The speed limits and rules in Slovenia are very similar to those in the UK. In the cities, the limit is always 50km/h. When you get into the suburbs, it usually goes up to 90km/h. On the dual carriageways, it's 110km/h. Then, on the open motorways it's 130km/h.
Which lane is used for driving?
In Slovenia, as in the rest of mainland Europe, cars drive on the right side of the road and drivers sit on the left side of the car. That means, on motorways, the right-hand lane is the slow lane, and faster driving is done in the middle and left lanes.
Read next: 10 Most Beautiful Cities in Slovenia You Must Visit
Toll roads
When you're renting a car in Slovenia, remember the toll roads: Slovenia has them. All motorways and expressways in Slovenia require something called a vignette for you to be allowed to drive on them.
These vignettes cost $17 for 7 days or $34 for a month. You can buy them at any petrol station in the country. So, before you head out on the motorway in your rental car, make sure to purchase a vignette.
Road conditions
If you're concerned about road conditions when you're renting a car in Slovenia, don't be! The roads in Slovenia are in great condition.
They're well-maintained and everything is signposted clearly. It's very difficult to get lost or confused when you're out on the road. And even the more wild and rural areas have strong, safe, sturdy roads. 
Read next: Slovenia Travel Guide | Ultimate Tips for Your Slovenia Holidays
What's it like to drive in Slovenia?
In short, it's quite amazing! Drivers in Slovenia are very calm, respectful, and relaxed. A lot of the drivers you'll see outside of the cities will also be tourists like yourself.
Renting a car in Slovenia is absolutely the best way to see and explore the scenery. And seeing this natural beauty from a car which can access the more quiet and hard-to-reach areas of the country is an unforgettable experience!
It's also easy to drive in the cities, though traffic can get a little intense at times. So, if you're planning to rent a car in Ljubljana, it's easy to then get around the city in your rental car. Car rental in Ljubljana couldn't be more of a breeze.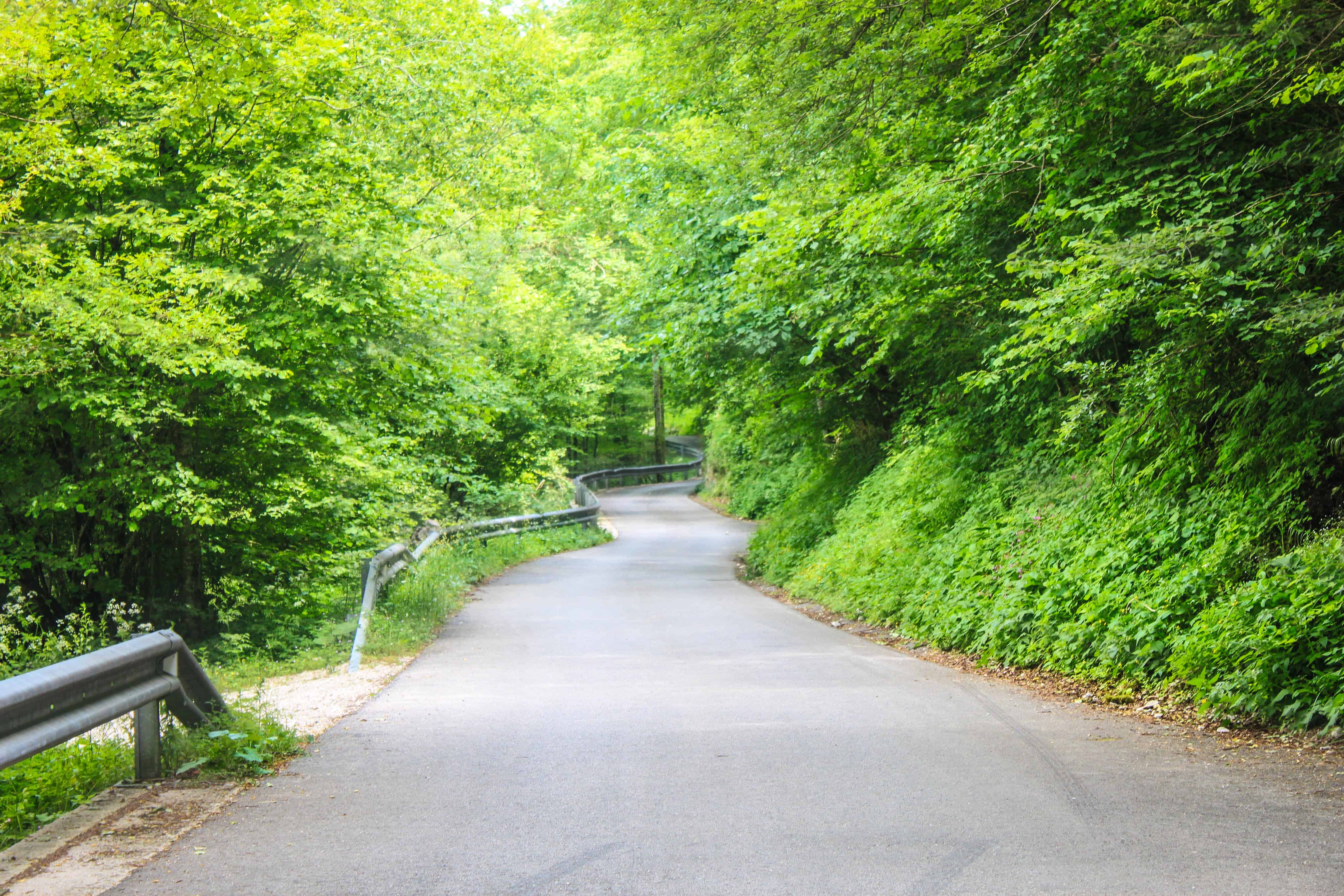 How to Choose the Perfect Car in Slovenia
Are you going on a short trip or a long road trip?
This will definitely impact your decision when you rent a car in Ljubljana. If you're going to be renting a car for a few days, and taking it from town to town, you can make the economic choice and go for a small, economy car. It'll save you money on petrol and make the cost of the rental car cheaper overall.
But, if you're considering a long road trip for a few weeks, and you want to explore every hill and valley of this beautiful country, consider a car that's a little bigger, stronger and sturdier.
Something that can hold more luggage. It's certainly worth the extra cost, especially considering how car rental in Ljubljana is very reasonable anyway.
Read next: 10 magical things to do in Lake Bled
Manual or automatic
When it comes to car rental in Ljubljana, you'll find that most rental places have a bigger stock of manual cars. If you're coming from the UK or Australia, this won't be much of a shock to you.
Europeans prefer manual cars, for the most part. If you're from the US and you can drive a manual, you definitely should. Think of it like car rental deals: you're getting a better deal on a cheaper car with more cars to choose from.
If you can only drive automatic, though, fear not! Car rental in Ljubljana is still possible. Rental places in Slovenia do have automatic cars in their range for you to choose from. You might just have to go with what cars they have in stock, rather than having the pick of the bunch.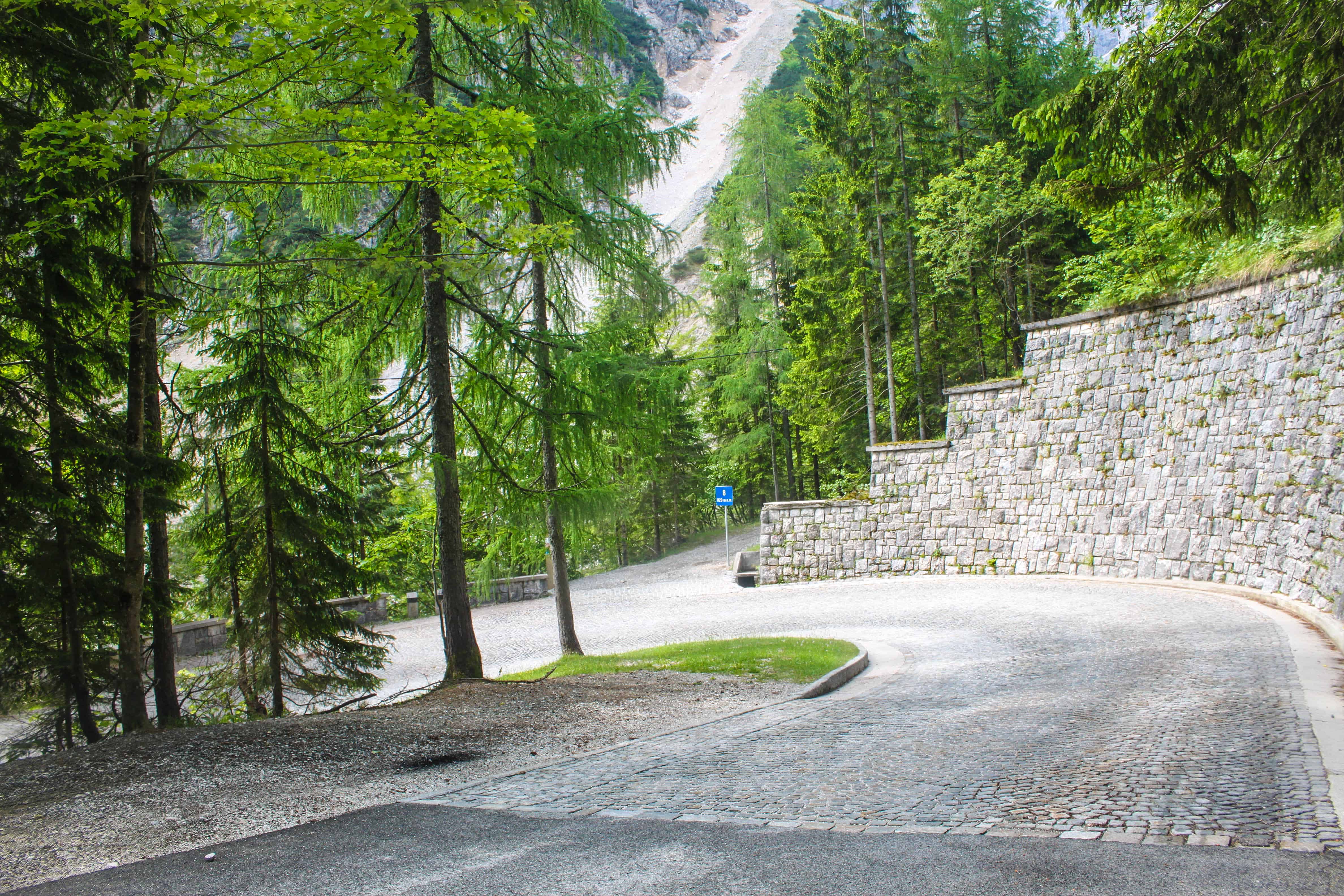 Car Rental in Slovenia
Where to rent a car
As I mentioned, there is a Sixt car rental in Ljubljana Airport. If you can fly into this particular Slovenia airport, you'll have a super easy time getting a rental car sorted.
One-way rental fee
So, if you rent a car from one location, say Slovenia airport, and drop it off at another one like Maribor, the price is higher. The rental fee is usually around double what you would pay for your total rental if you instead return the car to where you picked it up.
If you're looking to save money, a rental fee of $45 per day is what you'll expect. But if you want to drive from one part of Slovenia to another and leave the car there, your rental fee will be around $90 per day.
Read next: Glamping in Lake Bled: 5 Best Luxury Camping Sites
Costs and extra charges
Most of the costs for car rental in Ljubljana are things I've already covered. Automatics are more expensive than manuals. Economy cars will save you money on petrol and the overall rental charge.
And the biggest extra expense of all: one-way rental fees. These double the full expense of your car hire in Slovenia.
Then there's your insurance, of course, which you must have and will be sorted at the rental place when you pick up your car. And don't forget the vignette, which you need in order to be allowed to drive legally on the motorways in Slovenia! Pick one up at any petrol station.
Minimum age
The minimum age for car hire in Slovenia is 18. Between the ages of 18 and 25, you may incur a young driver's surcharge as well (which is very low). As long as you have a legal driver's licence from your home country, and you're 18 or older, you're good to go!
Read next: Soca Valley: A road trip through the real-life Narnia
Documents you need for renting a car in Slovenia
Most importantly for car hire in Slovenia, you need a valid driver's licence. You'll also need a credit card to be able to rent. Rental companies won't accept debit cards. And, again, pick up a vignette for driving on the motorways.
Do you need a special border-crossing card to enter other countries?
It's important to know the rules of car rental in Europe between countries. Slovenia shares a fair few borders, and each country has its own border rules. For all of them, you'll need to show your driver's licence and your insurance papers.
For some countries, you'll need a cross-border card. The rules here can differ, so check with each country you plan on visiting before you go – or simply ask your car rental company. That's the most important thing to check before going ahead with car rental in Europe between countries.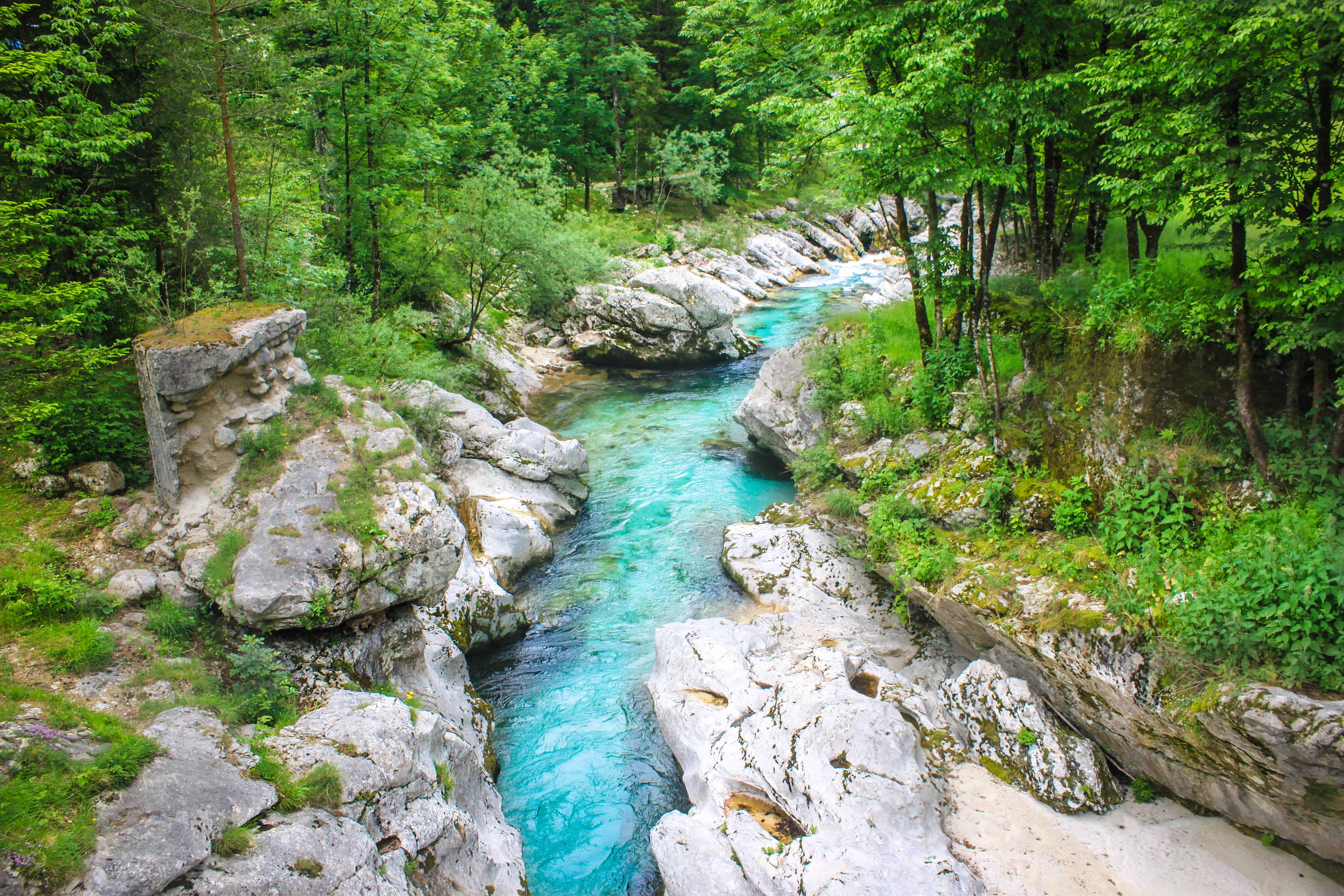 So, when to visit Slovenia?
Slovenia is great all year round. If you love to ski, definitely visit between November and March. You'll find lots of slopes!
Otherwise, spring (April-June) and autumn (September – October) is the best time for a road trip where you can enjoy cycling, hiking, and swimming. It's not too hot yet and the sun shines almost every day.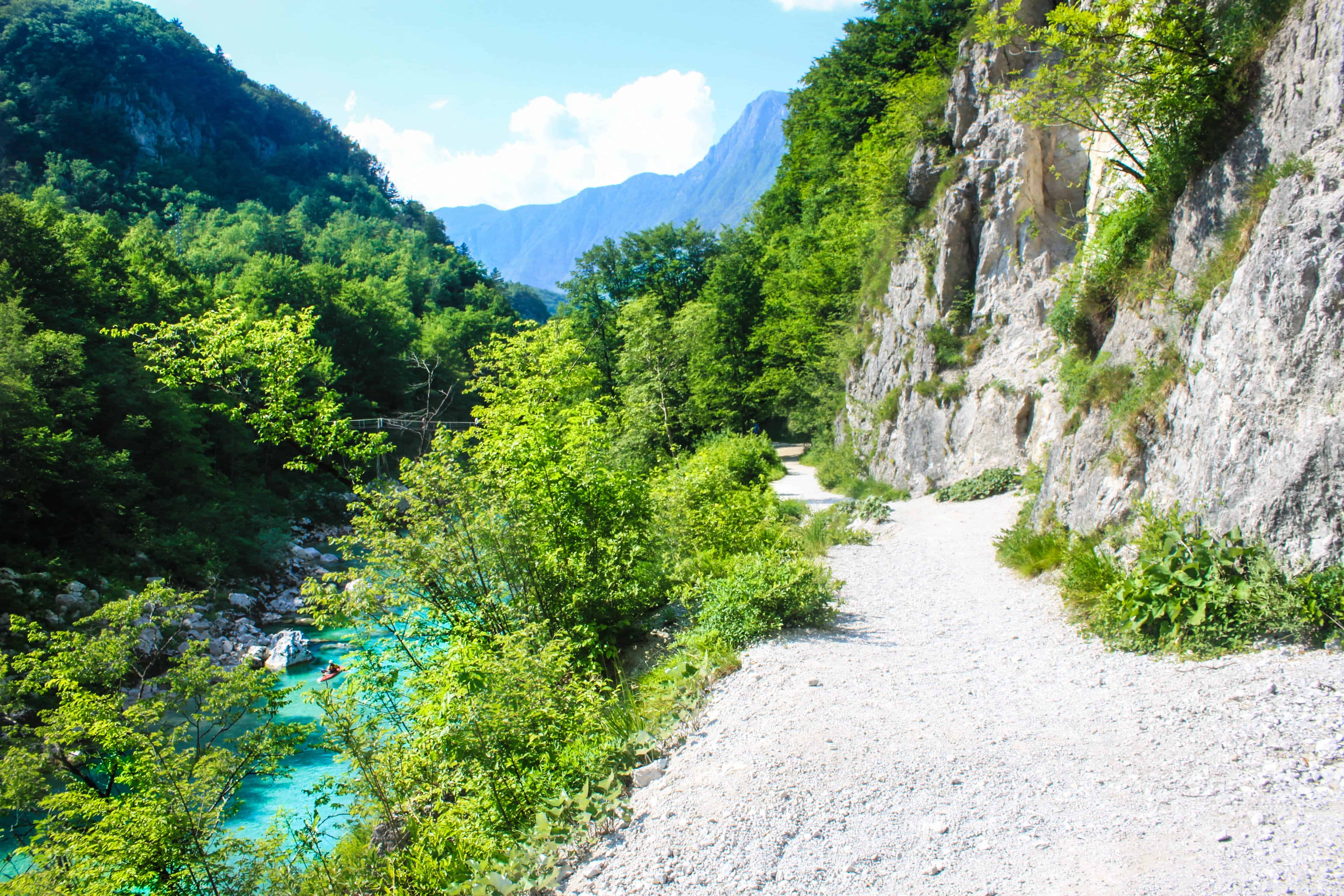 Essential packing list for visiting Slovenia
I've covered this in a lot of detail, breaking down everything you need for a perfect trip to Slovenia.
But the most important things you'll definitely need for a hot, sunny place where most of your time will be spent exploring outside are quality sunglasses, sunscreen, and some tough hiking boots.
Slovenia road trip itinerary (7 days)
Day 1: Ljubljana
Day 2: Lake Bled
Day 3: Lake Bled & Lake Bohinj
Day 4: Kransjka Gora & Vrsic Pass
Day 5: Bovec
Day 6: Kobarid
Day 7: Drive back to Ljubljana
Day 1: Ljubljana
Fly into Ljubljana airport. You can rent a car from Sixt here, or take a train into the city and rent a car at Ljubljana Railway Station.
I definitely suggest visiting the Dragon Bridge, an incredible bridge covered in amazing carvings of dragons. There are lots of other things to do in Ljuljana, including visiting the very unique art area Metelkova and the castle.
Read next: Street art in Ljubljana's funky neighborhood: Metelkova
When you're done exploring for the day, spend the night at FORUM Apartment. This apartment has private parking – perfect for car rental!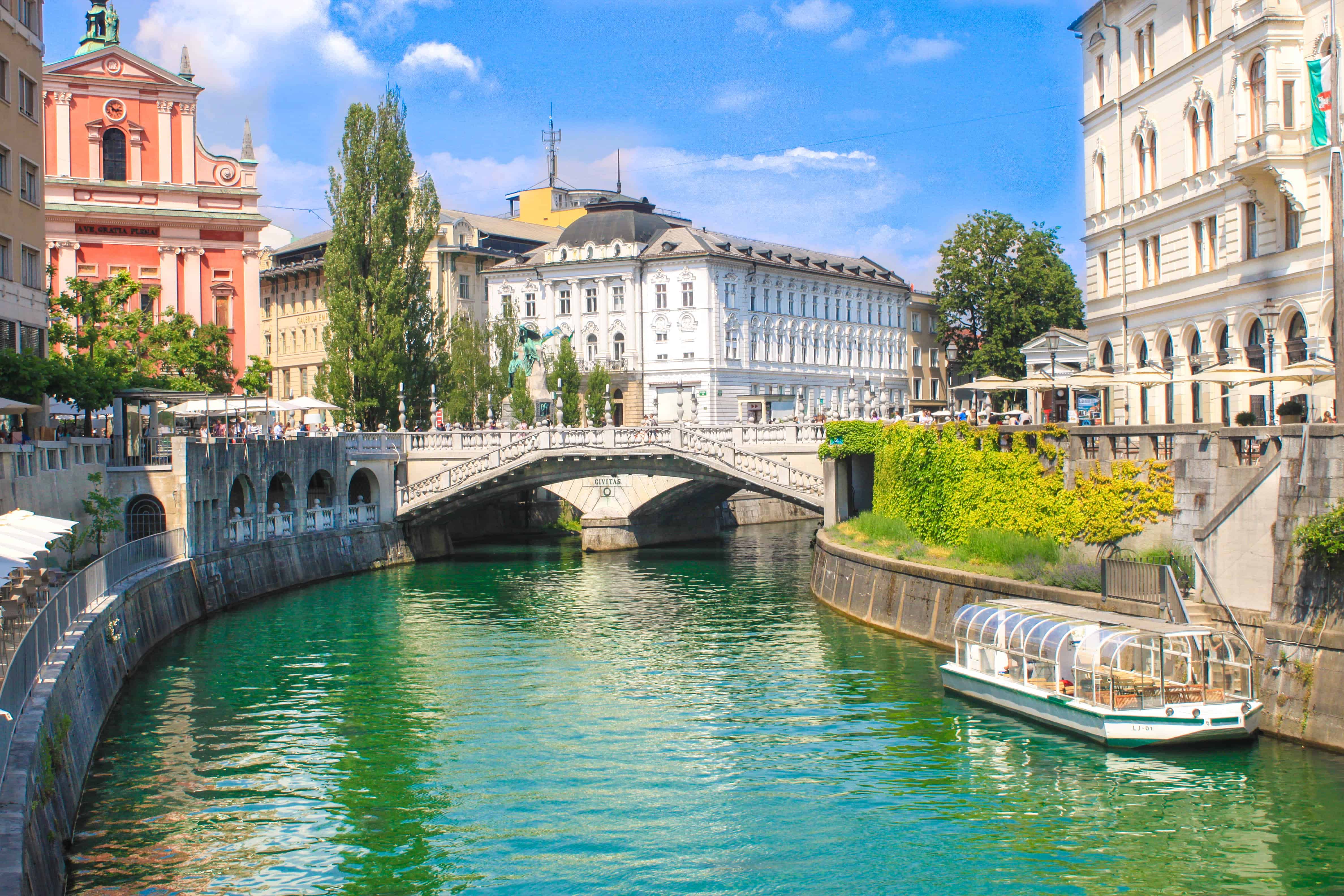 Day 2: Lake Bled
Make your way through the countryside to Bled. Lake Bled is the must-see natural attraction in all of Slovenia.
There are so many magical things to do in Lake Bled. Stay the night at Glamping Pibernik – Pr' Hostar, a beautiful modern glamping hut.
Read next: 10 magical things to do in Lake Bled
Day 3: Lake Bled & Lake Bohinj
Take some time to see Lake Bled again. Have a picnic, taste Bled Cake, even go wine tasting! Then drive to Lake Bohinj, at the edge of Triglav National Park. This lake is quieter, more overgrown with wild nature, and less touristy.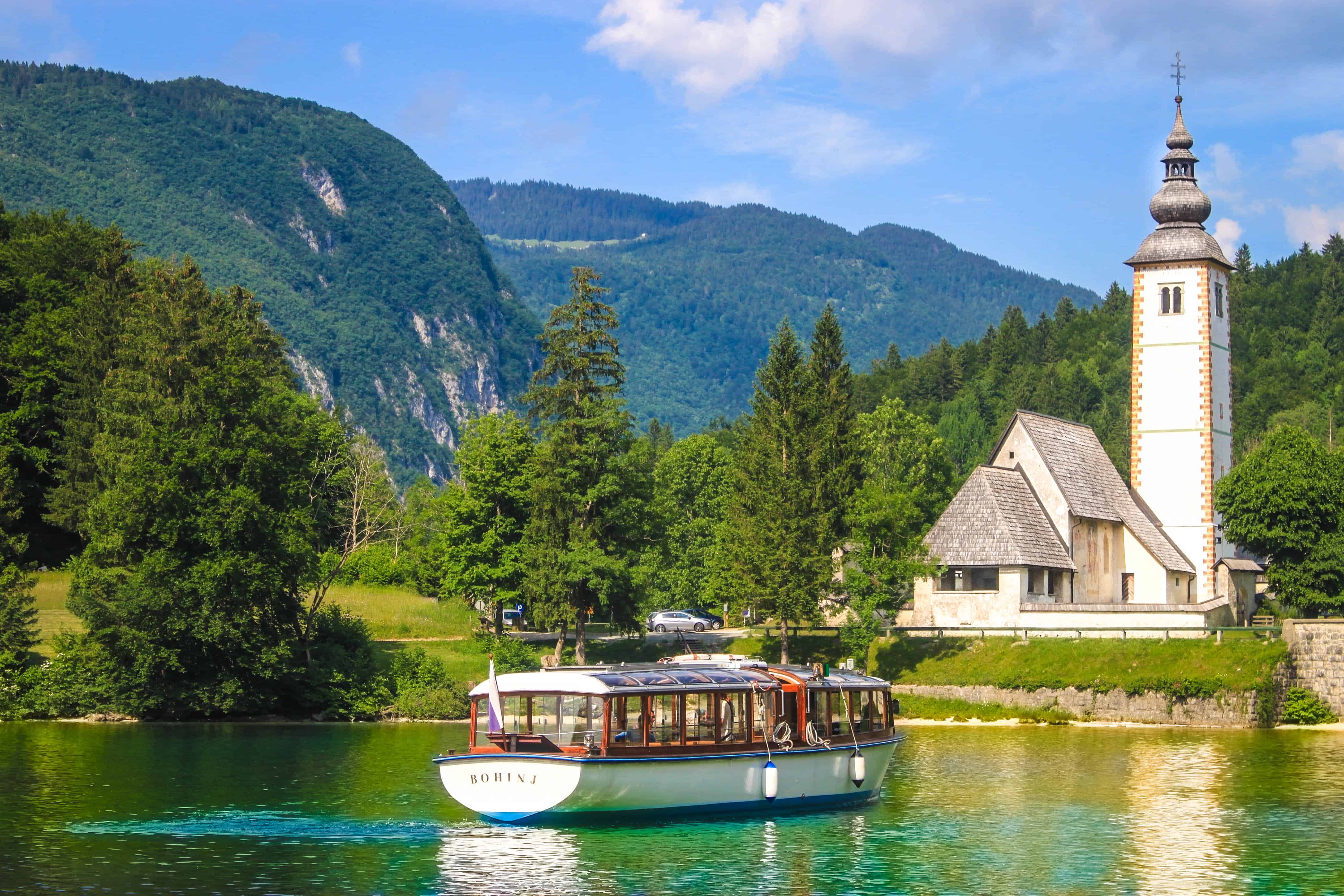 Day 4: Kransjka Gora + Vrsic Pass
If you're doing this road trip in the winter, this resort will be covered in snow and you can spend an afternoon skiing. If not, Triglav National Park is still a must-visit thing of natural beauty.
The Vrsic Pass is the most beautiful drive in all of Slovenia. It's also the highest road in the country. This is the reason you take a road trip!
Then, when you get to Bovec, stay at the peaceful Apartments Wojcicky in the city centre with free parking – and amazing massages.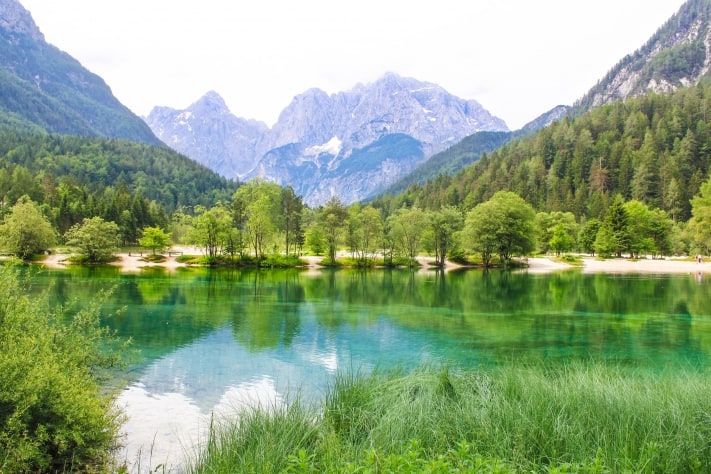 Day 5: Bovec
Bovec itself is buried in the Julian Alps. While you're here, spend an afternoon river rafting or try the escape room. Both are super fun!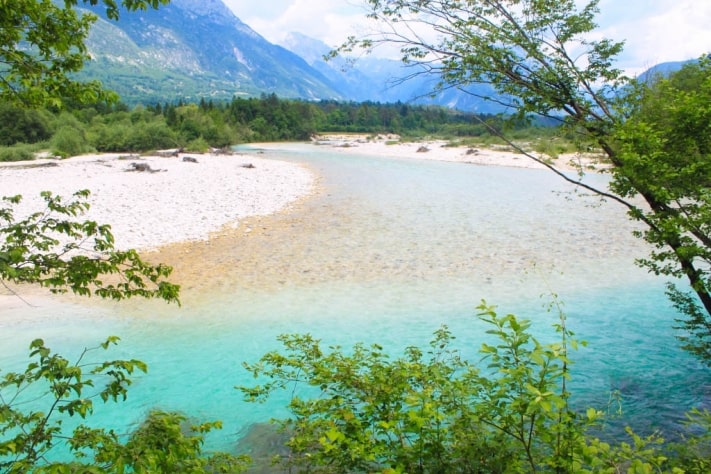 Day 6: Kobarid
Make your way to Kobarid, where you can stop at the Boka Waterfall, Fort Kluže, and the Outdoor Museum Ravelnik on the way. In Kobarid, stay at Apartments Pri nas – a kind of converted stone hunting lodge complete with outdoor hot tubs and a garden that overlooks the alps!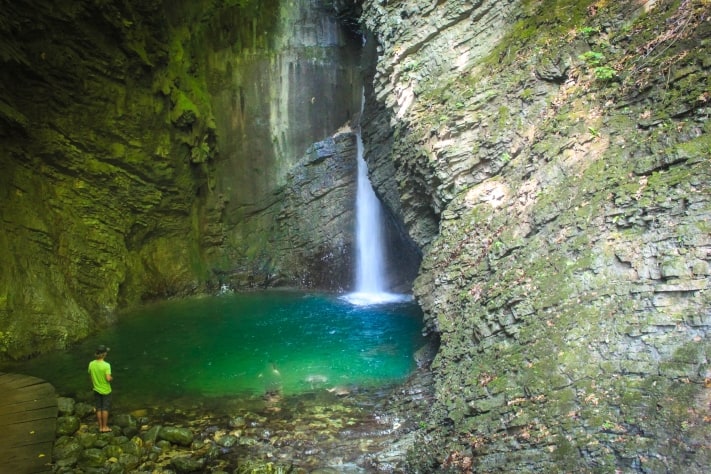 Day 7: Drive back to Ljubljana
If you're planning to save money by returning your car to where you picked it up, take one last beautiful road trip back to Ljubljana.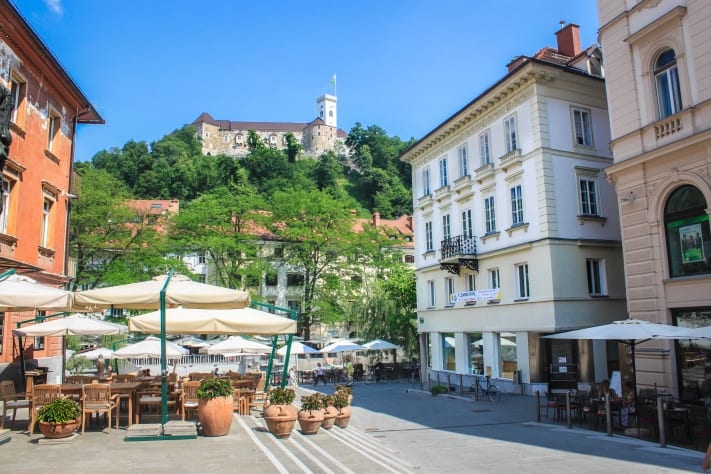 Ready to book your car rental in Ljubljana?
There you have it. I hope this answered all your questions about Slovenia car rental. And if not, ask me anything in the comments or send me an email. 
Before you go – don't miss these posts: