2 days in Copenhagen itinerary (+ hidden gems)
Are you looking for the best 2 days in Copenhagen itinerary? I'm a Dane so this guide has you covered – keep reading for more!
Plan your trip to Copenhagen
👩🏻 Best guided tours in Copenhagen
🏡 Where to stay in Copenhagen
If you're looking for the best things to do in Copenhagen, you've come to the right place.
It's a laid-back capital in Scandinavia that ranks one of the highest on the happiness meter.
Aside from having visited Copenhagen countless of times, I've also lived there before I met Thomas. I just revisited all the must-visit places this weekend, so this travel info is all up to date!
Here's a local guide to soaking up the best of Copenhagen in 2 days.
Read next: 30 best places to visit in Denmark
This post contains referral links for products I love. Adventurous Miriam earns a small commission at no extra cost to you if you make a purchase through my links. Thank you for your support ♡ Learn more
2 days in Copenhagen itinerary
Is 2 days in Copenhagen enough?
2 days in Copenhagen is enough to see the main attractions.
Within two days, you'll see the big spots and feel the city's charm, though it's just the tip of the iceberg.
My recommendation?
3 to 5 days let you experience the city more and even take day trips to Kronborg Castle, charming Dragør, or Stevns Klint.
Read next: 23 cozy things to do in Copenhagen in winter
How to get from the airport to Copenhagen
The metro is the fastest way to get to and from the airport.
Simply buy a 3-zone ticket (30 DKK / $4.3), hop on, and 13 minutes later, you're at Kongens Nytorv in the heart of Copenhagen.
From Kongens Nytorv, you can change the metro to M3 or M4 and get to the Central Station, Nørrebro, Vesterbro, Østerbro, and more.
Book car transfer – Private Copenhagen Airport Transfer to or from Copenhagen
2 days in copenhagen what to do
Day 1 in Copenhagen
Visit Copenhagen City Hall and have a hotdog
On your first day in Copenhagen, head to the City Hall Square.
Here, you'll find two traditional hot dog stands and the Copenhagen City Hall – at 106 meters, it's among Copenhagen's tallest buildings.
Have a hotdog while you discover the gilded statue of Bishop Absalon, Copenhagen's 12th-century founder, above the main entrance.
Take a canal cruise
A canal tour is a cool way to see the main tourist attractions in Copenhagen over a weekend.
It takes you around the harbor, through Christianshavn's canals, and you'll see funky houseboats, old quaint houses, and spots like the Opera House from the water. They take off from Nyhavn and Gammel Strand.
🚤 Book here – Copenhagen Canal Tour With Live Guide (⭐ 4.5/5)
Christiansborg
Christiansborg Palace, on the tiny Slotsholmen island, is a top Copenhagen spot with over 800 years of history.
Built in 1928, this Neo-Baroque building houses the Danish Parliament, the Supreme Court, and the Prime Minister's Office.
You might know it from the Danish TV series Borgen, but it's also worth visiting for its Royal Reception Rooms – 18 opulent spaces boasting art, tapestries, and grandeur, hosting gala dinners and official visits.
Hidden gem: The University Library in Fiolstræde
This one is a highlight.
The University Library on Fiolstræde has seen a lot since its doors opened in 1861. It once lost around 35,000 books to a fire in 1728!
Last year, it was opened to the public so you can go inside this beautiful library. Not many people know about it, so you'll have it to yourself.
Practical info
Opening Hours:
Monday: Closed
Tuesday-Saturday: 10:00-16:00
Thursday: 10:00-20:00
Entrance:
Adults: 75 DKK / $10
Under 18 years: Free admission
Tours: A free tour in Danish at 13:00 every day during opening hours (maximum 25 participants)
Climb the Round Tower
Built as an observatory in the 17th century by King Christian IV, the Round Tower is worth a visit because of its great views of the city.
It has a spectacular 209-meter-long spiral ramp that winds its way upwards. There are stairs at the top.
Practical info
Opening hours
October – March: Open daily from 10 am – 6 pm. Wednesdays: 10 am – 9 pm
April – September: Open daily from 10 am – 8 pm.
Entrance fee:
Adults: 40 DKK / $5.71
Children (5-15 years): 10 DKK / $1.43
Children under 5 years: free
Explore Rosenborg Castle
King Christian IV built this little gem of a castle in 1606-1634 as a royal treasure retreat.
Today, the palace is a museum, known for its exhibition of Denmark's crown jewels. While you're there, go for a walk in the beautiful garden.
Practical info
Opening hours: 10 am – 4 pm
Entrance fee: 130 DKK / $18.57
Admire the Marble Church
Across from Amalienborg Palace, you'll find the eye-catching Frederik's Church or Marble Church. Its large green dome looks like St. Peter's Basilica in Rome.
It's the biggest dome church in Copenhagen, with Danish saints greeting you outside and a spectacular dome inside.
It's open at different times on different days, no entry fee. And for 35 DKK, a dome climb at 13:00 gives you a stunning Copenhagen panorama, especially Amalienborg Castle.
Practical info
Opening hours:
Monday-Thursday: 10 am-5 pm
Friday: 12-17
Saturday: 10-17
Sunday: 12-17
See the changing of guards at Amalienborg
Amalienborg Palace, with four Rococo-style buildings, is the Danish royal residence during autumn and winter. Initially for the affluent, it turned royal after a 1794 fire.
Two of the palaces are open; Christian VIII showcases royal rooms, while Christian VII's, more lavish, requires a guided tour.
Miriam's tip:
Visit at 12:00 for the guard change. When the Queen is home, the Royal Guards music band accompanies the guard.
Take a stroll in Nyhavn
Nyhavn means "New Harbor" in Danish and it's one of the top landmarks in Copenhagen.
It's from the 17th century and is known for its colorful buildings and cobblestones.
Nyhavn is the perfect place for a drink and always worth a visit to look at the wooden boats and the house where H.C. Andersen used to live (no. 20).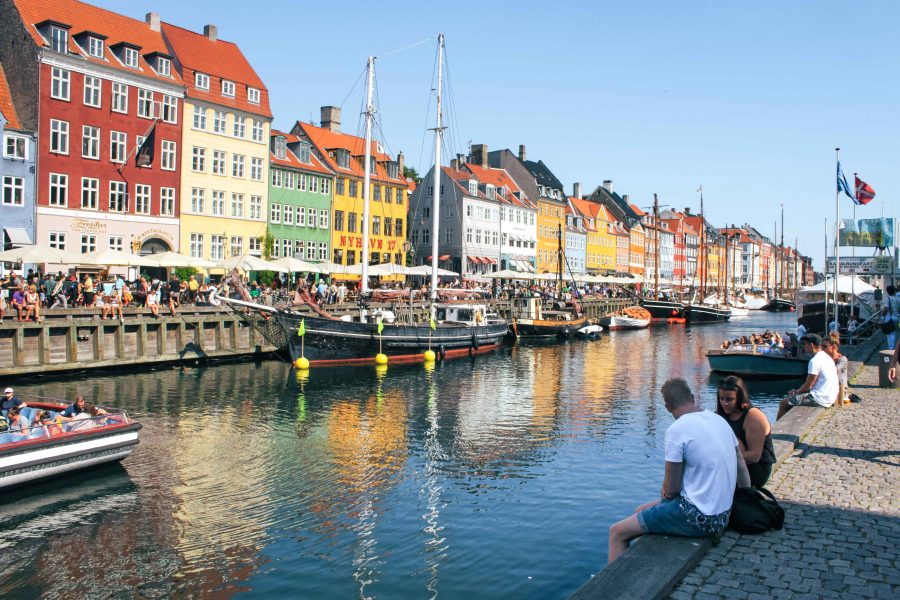 48 hours in copenhagen
Day 2 in Copenhagen
The Little Mermaid
Begin your second day in Copenhagen at The Little Mermaid.
The Little Mermaid statue by Edvard Eriksen has been a symbol of Copenhagen since 1913. It was inspired by Hans Christian Andersen's famous fairy tale.
The statue is quite small and popular with tourists, but a visit to Copenhagen feels incomplete without going here.
Visit Kastellet
Right next to The Little Mermaid is Kastellet Fortress.
Established back in 1626, it has been a prison, later a WWII German base, and today it's a quiet military site.
Kastellet has grassy ramparts, a windmill, a church, and quaint red brick buildings that you can explore.
And those two welcoming bridges? They make it all the more charming.
Practical info
Open daily 06:00-22:00
Church of our Savior – the prettiest church in town
The Church of Our Saviour is the most beautiful church in Copenhagen – at least from the outside.
This stunner has a 90-meter golden spire and a massive organ sitting on marble elephants inside.
If heights don't scare you, climb the 400 steps (some outside) up to the top of the tower for a great city view.
It's open 10:00-16:00 with a 69 DKK fee for the tower.
Freetown Christiania
A few minutes walk from the church is Christiania – an autonomous neighborhood on the island of Christianshavn.
It was created by squatters in 1971 and still attracts people with an alternative lifestyle. Today, around 100 people live there.
Have a stroll around the green area and be inspired by the self-made houses and graffiti. You'll also find eco-restaurants, workshops, galleries, and music venues.
How to get there
Take the metro to Christianshavn. Follow the main road away from the canal. Turn left when you come to Prinsessegade. The entrance is about 400 meters on the right.
Grundtvig Church
Grundtvig's Church in Copenhagen is unlike any other, made entirely of six million pale yellow bricks.
It took 19 long years to build, wrapping up in 1940. Inside, it's simple—no fancy windows or artwork, just towering columns and arches.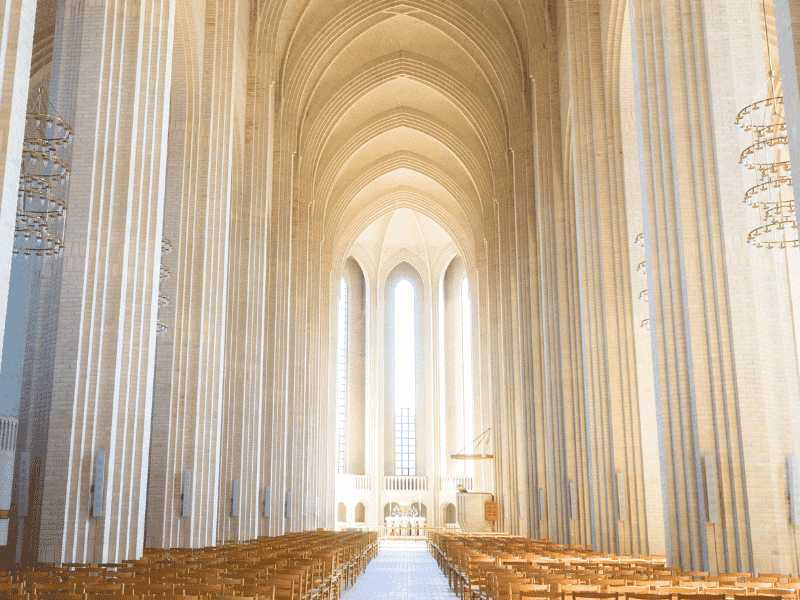 Admire The Glyptotek Art Museum
Ny Carlsberg Glyptotek is a Copenhagen gem, housing a rich mix of Danish Golden Age and French paintings alongside Mediterranean antiques.
You'll find big names like Van Gogh and Cézanne here. The Egyptian collection and Roman art are a real treat.
My favorite spot is the Winter Garden – a green retreat under a glass dome.
Practical info
Opening hours:
Tuesday – Sunday: 10 am – 5 pm
Thursday: 10 am – 9 pm
Entrance fee: 125 DKK
Go to Tivoli Gardens
Just across the street from Copenhagen Central Station and Glyptoteket, you'll find Tivoli Gardens's amusement park.
The old park has a unique fairy tale atmosphere and is a must-see for everyone no matter your age.
Tivoli Gardens was founded in 1843 and has become a national treasure and an international attraction for roller coaster lovers, foodies, and nostalgics. The perfect place to end your 2 days in Copenhagen.
Read next: 10 magical places to find Copenhagen cherry blossoms
Where to eat in Copenhagen
Mexican food
La Neta is one of the best restaurants in Copenhagen! I highly recommend their tacos – they're a must-try. You'll find restaurants at Vesterbro and Nørrebro.
Japanese food
Craving some ramen? Try Wagamama right next to Tivoli. It's delicious, cheap, and extremely well-located.
Danish food
Try a traditional open-faced sandwich at Ida Davidsens. You can also get them at Torvehallerne if you're in the mood for street food.
FAQ – 2 day Copenhagen itinerary
Is 2 days enough for Copenhagen?
Two days in Copenhagen is a bit tight but doable for hitting major sights like Nyhavn, Tivoli Gardens, Amalienborg Palace, and the Little Mermaid statue.
However, if you're keen on a more relaxed pace or exploring more, you should add an extra day.
Is 1.5 days in Copenhagen enough?
1.5 days is tight but you can skim the surface. You'll hit Nyhavn, the Little Mermaid, and maybe Tivoli Gardens. However, the city has so much more to offer!
Is Copenhagen a walkable city?
Yes, Copenhagen is quite walkable with flat terrain and pedestrian-friendly streets.
Many attractions are close together, making it easy to explore on foot. You can also take the metro.
Is 48 hours enough in Copenhagen?
48 hours in Copenhagen is enough for a quick run through the highlights. But if you want a deeper dive or a relaxed pace, adding a day or two would be better.
More posts about Copenhagen you might like
Save it!