Camping in Denmark for beginners (the ultimate guide)
What to know for your first time camping in Denmark.
One of the best ways to spend your holidays in Denmark is camping. Thanks to the short distances and vast coastline, you're always close to beautiful Danish beaches, forests, cliffs and other wild nature experiences around the country.
If it's your first time camping, you must have a million questions. Like, how much does it cost? Where should you camp out? What about cooking? And what type of camping is possible?
I will answer all of those questions and much more in this post. So, sit back and relax while I share my best camping in Denmark tips with you.
Alright, let's get to it!
This post contains referral links for products I love. Adventurous Miriam earns a small commission at no extra cost to you if you make a purchase through my links. Thank you for your support ♡ Learn more
Introduction to camping in Denmark
Denmark has more than 500 campsites and most of them are no more than 15 minutes from the nearest town. That means you're always close to shopping, grocery stores and local life.
Most camping sites, at least the popular ones, have activities for the whole family. Like swimming pool, mini golf, tennis court and play rooms for kids.
Let's take a look at the camping types you can choose from.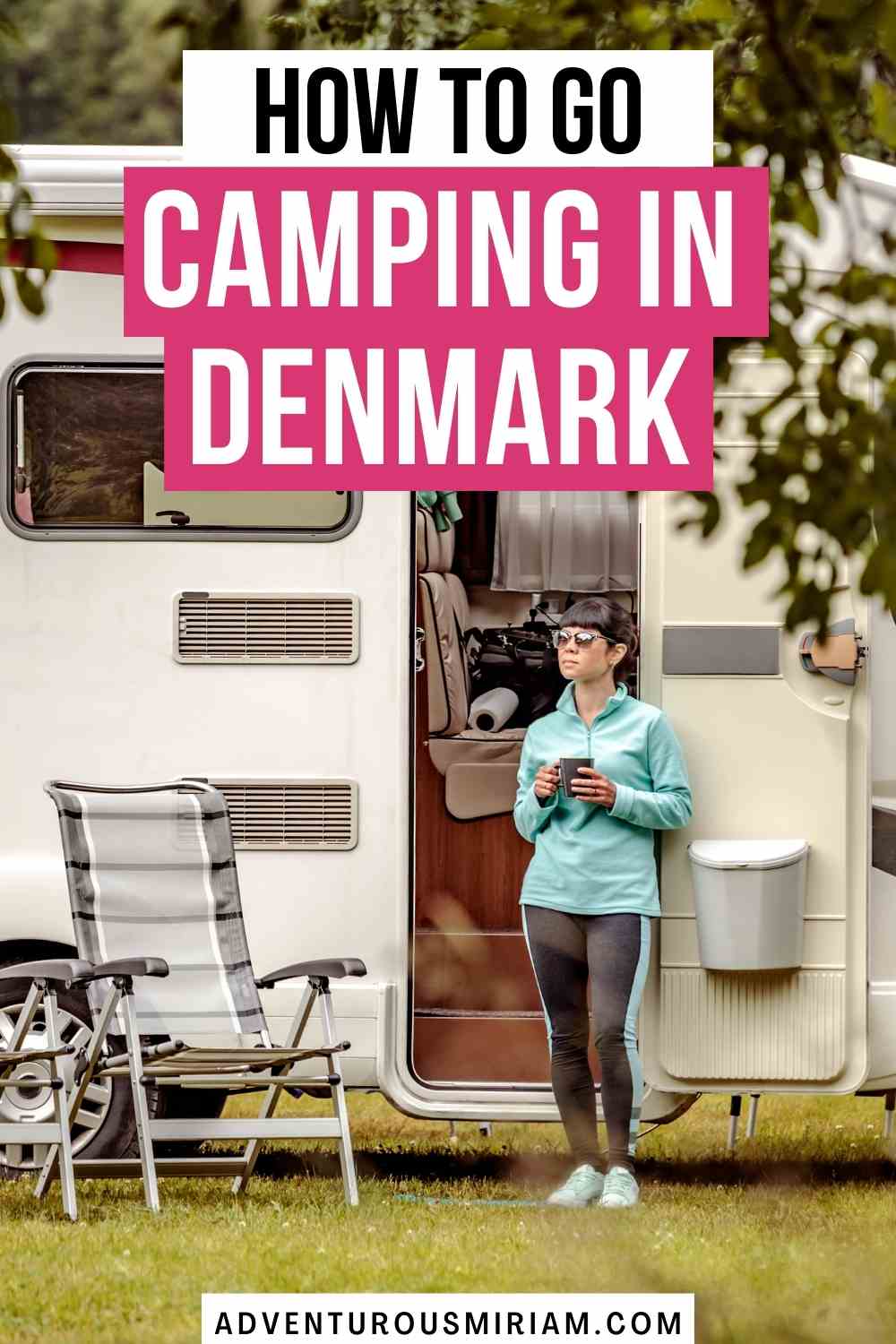 Campervan Denmark
Staying in a campervan or caravan is the most common type of camping in Denmark. Compared to the rest of Europe, Denmark offers high site quality. 2/3 of the Danish camping sites have 3 stars or more. The star-rating is based on location, activities (especially for kids), facilities, cleaning standards and service levels.
Glamping Denmark
If you like the idea of camping but prefer a more upscale outdoor experience, glamping is for you. Glamping is the glam version of camping with facilities and accommodation that are far more comfortable than traditional camping – for instance a beautifully decorated Bedouin tent or a teepee equipped with private bathroom, warm duvets, a soft bed and maybe even a hot tub. You can completely relax.
Wild camping Denmark
In the other end of the scale, we have wild camping, also known as free camping. Camping on a camping ground, in your backyard or in a music festival is regular camping. Camping on the beach, in the forest or the mountains – anywhere in the wilderness – is wild camping.
In Denmark, it's not allowed to camp anywhere you want. If you'd like to sleep under the stars and set up camp among the wilds of nature, this is what you ARE allowed to do:
You can put up your tent in more than 275 state forests for one night (read all the rules here, there are quite a few).
You can sleep in any public forest on the ground under a tarpaulin or in a hammock as long as it's not a tent.
You can stay in a shelter.
You can spend the night at the beach in your sleeping bag (campers and tents are not allowed).
Shelters in Denmark
Staying overnight in a shelter is becoming quite the rage in Denmark. More and more Danes stay in shelters, which is good news (you know – supply and demand) because the Danish Nature Agency has set up more around the forests.
Shelters in Denmark can be anything from a small, open house with room for a family of 6-8 people to a larger canopy, where up to 30 people can sleep. You can also find smaller shelters set together with a campfire site in the middle (like on the photo from Thy National Park below). There are typically no toilets.
A few tips:
Most shelters are free, but some needs to be booked in advance.
You can stay two nights in the same shelter.
Bring a sleeping pad and a good sleeping bag.
Vehicle access is only permitted if it's signposted or with a permit.
Bring your rubbish home.
How much does camping cost?
According to ADAC, Denmark is one of the most expensive places to camp in Europe. Prices vary depending on three things:
How you camp (tent, camper, hut)
When you camp (high season or low season)
Where you camp (popular campsite or less popular)
Generally, a camping spot costs 313,70 DKK per day for a family of two adults and one child in the high season. That's 2.195,90 DKK per week.
Renting a caravan, hut or tent
You can rent a caravan, tent or RV to go camping in Denmark.
Huts and caravans are generally fully equipped, but to be on the safe side, you should ask about bed linen and kitchen items when you book. Rental prices vary depending on the standard.
Pro tip: In the high and shoulder season, most campsites prefer booking from Saturday to Saturday. If you're staying less than a week, try to arrive on a Saturday as this is when most people check out.
Essential camping gear
The camping essentials you need to bring depends on what kind of campout you're planning. This list is for caravans, huts and RV's. For an overview of free camping essentials, check out my wild camping packing list.
As mentioned earlier, the standard is generally high at Danish camping sites. That means you'll find most essentials there, like stoves, toilets and showers.
10 camping essentials
Bed linen, pillows, blankets and duvets or sleeping bags
Towels, dishcloths and dishtowels
Cleaning items (dish soap + brush, hand soap, shampoo)
Pots, plates, cups, utensils
Camping chairs and table
Lighter and flashlight
First Aid Kit
Pocket Knife
Trash bags
Clothes for any kind of weather
What to wear for camping
Since this is Denmark and the weather is super unpredictable, you need to bring a little of everything. A rain coat and rubber boots, a jacket and a warm sweater. If you're camping during the summer, nights can still get cold. Bring trousers, shorts, T-shirts and long sleeve tees. And make sure what you're wearing is comfy. You're on vacation.
Sandals are also a must. Preferably flip flops or a pair you can easily slip into. Also pack some comfortable sneakers.
Camp toiletries
You need your prescription medications and toiletries, of course. You should also bring sun screen and mosquito repellent, toilet paper and a hand sanitiser. We always bring a separate first-aid kit, too. You never know when you'll need a bandage or an aspirin.
Cooking on camping
Most camping sites are equipped with a kitchen with sinks and stoves. There might be a microwave and a grill, if you're lucky. You'll need to bring your own utensils, plates, cups, pots and pans. And spices.
Pro tip: If you're planning on camping on a camp ground for minimum a few weeks, it might be a good idea to bring a small fridge.
The key to meal planning on camping is keeping it simple. Forget the coq au vin and go for easy summer meals with few ingredients like barbecue, omelette, koldskål or spaghetti bolognese. We usually have a mix of barbecue, fried fish (bought at the harbour) and rugbrød (Danish rye bread) with cold cuts.
Find some great camping food ideas (no refrigeration) here.
Where to go camping
With more than 500 campsites spread across the country, you'll have plenty to choose from when you plan your trip. The most popular camping grounds get booked well in advance, so be ahead of time if you're visiting in high season (July-August).
Stars and quality
Just like hotels, Danish campsites are rated on the principle of 1-5 stars. 5 stars are only given when all conditions are top notch.
ALL registered camping grounds have 1 star, which means daily supervision, toilets and shower and a reception with information as a minimum. Denmark has around 34 camp sites with 1 star, 67 campsites with 2 stars, 288 campsites with 3 stars, 21 with 4 stars and 7 campsites with 5 stars (source in Danish).
12 best camping Denmark
Below is a list of the 12 best places to go camping in Denmark, rated by the German car association ADAC in 2020. They all have four or five stars, which means they're higher quality with more facilities and they cost more.
Hvidbjerg Strand Feriepark (five stars) in Blåvand
Feddet Strand Resort (five stars)
CampOne Bøjden Strand (four stars)
Henne Strand Camping (four stars)
Riis Feriepark (four stars)
Lærkelunden Camping (four stars)
Skovlund Camping Middelfart (four stars)
Camping Skiveren (four stars) – my personal favourite
Drejby Strandcamping (four stars)
Ronæs Strand Camping (four stars)
Camping Aabo (four stars)
Jambo Feriepark (four stars)
More stuff you'll love: