45 insanely easy camping food ideas (no refrigeration)
Ready to pack your backpack and head into the wilderness? Trying to figure out what food you can bring and cook? You've come to the right place.
There are lots of easy camping food ideas that require no refrigeration at all.
Here's my no cooler camping food list with 45 of my favourite ingredients to try on your next wild camping or shelter trip.
Let's dive in!
This post contains referral links for products I love. Adventurous Miriam earns a small commission at no extra cost to you if you make a purchase through my links. Thank you for your support ♡ Learn more
Cooking gear
Have you thought about how you'll prepare the food?
You've got two options for camping cooking: Cooking on campfire or a Trangia (a camping stove).
Cooking over open fire is pretty straight forward if you know what you're doing. Gear-wise, you just need a sturdy pot and then you're ready.
Your other option is bringing a Trangia spirit burner. It's simple to use – just add fuel and light. Remember that you should always pour alcohol BEFORE you lit it. Fuel first.
You can bring a lot more, but these are the camping cooking essentials:
How to make a campfire
In the U.S., people start nearly nine out of 10 wildfires. So, before you strike a match, make sure you know what you're doing.
First of all, build fires ONLY in designated fire rings, grills or fireplaces. Keep water handy, pay attention to the wind, don't leave the fire unattended, and make sure it's extinguished properly when you're done (dump water on it).
This is how to build a campfire:
Start the fire with grass or dried leaves that will easily catch fire.
Next, add small sticks to build the fire.
Gradually add the largest pieces of wood.
Simple camping breakfast ideas
Start your day with a hearty, wholesome breakfast and a hot cup of coffee in the sunshine. These ideas include both no-cook camping breakfast ideas and a few one-pot camping meals. All ingredients are no cooler.
1. Honey
Honey is a great sweetener for tea, coffee, bread and much more.
2. Oatmeal
Simply put some oatmeal in a reusable bag for oatmeal porridge in the morning. No need to bring the whole box.
3. Bread
Whether it's buns, toast, wholewheat or white bread, bread is an indispensable camping staple.
4. Peanut butter
Peanut butter is packed with vitamins and minerals that can boost your heart health and improve blood sugar levels. And it tastes great.
5. Fresh fruits and berries
Fresh fruits are an excellent source of essential vitamins and minerals, and they are high in fibres. You can also pick berries from the forest (if it's in season). Just make sure to only pick and eat berries you know.
6. Powdered milk or soy
Simply add water and stir until you get the right consistency. Powdered milk or soy is ideal on cereals or in pancakes and sauces.
7. Powdered eggs
Again, simply add a little water to make scrambled eggs and omelettes. A great way to start the day. Add mushrooms and other vegetables in your omelette to get a vitamin boost.
Easy camping lunch ideas
For lunch, keep things simple and rely on meals that come together quickly. Here are some easy camping lunch ideas for simple campsite satisfaction.
8. Rice
Rice are an easy and tasty camping meal. Mushrooms or canned beans are a nice addition.
9. Bagels
Bagels are delicious and more dense than white bread, and they require no refrigeration. Plus, if you go for whole grains, they'll help balance blood sugar and support healthy digestion. The perfect camping lunch.
10. Rye bread
I'm Danish, so I prefer rye bread for lunch. Rye bread doesn't stay fresh for long, but it's packed with seeds & fibres and it'll fill you up for longer.
11. Butter
Some people don't know this, but you don't have to refrigerate butter at all. It will get very soft and mushy, though, so keep it in a storage container.
12. Canned tuna
Meat needs to be refrigerated, but not canned tuna. Add a little mayo and chopped red pepper and you've got yourself a creamy tuna salad. Remember to bring a can opener!
13. Cheese
Hard cheese such as cheddar, and both block and grated Parmesan do not require refrigeration.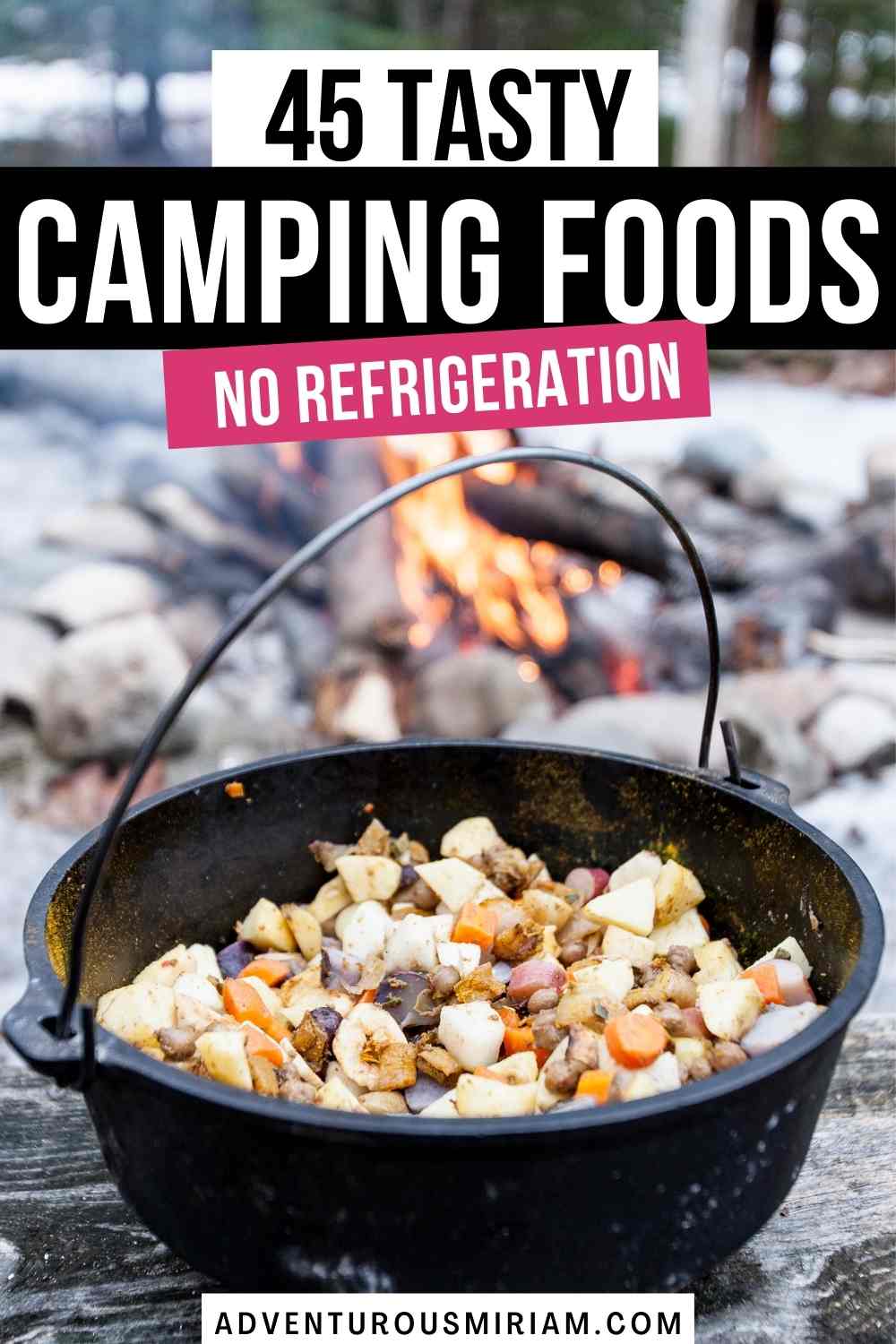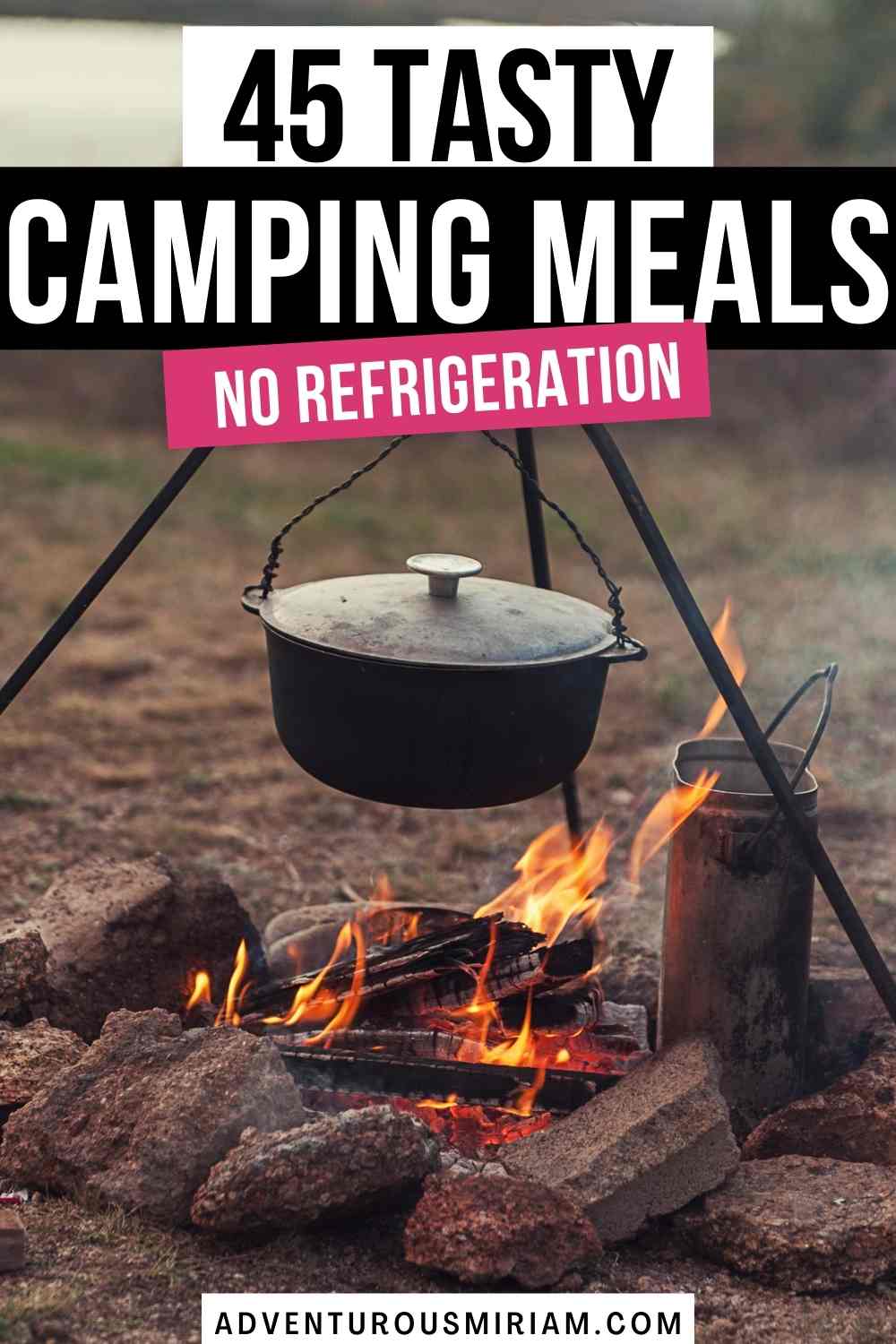 Easy camping snacks
Here are some easy camping snacks that require minimal preparation and no refrigeration.
14. Crackers
I always have crackers in my bag when we hike or go camping (especially since I became a mom). It's a quick and easy snack, and if you go for whole-grain, you'll stay full for longer.
15. Energy bars
With a decent amount of protein and fibre, an energy bar can provide a nutritious, satisfying meal. They're perfect for a mid-morning or afternoon snack.
16. Granola bars
Another energy boosting snack is a granola bar, which is filled with oats, nuts, seeds and sometimes dried fruits or chocolate. They're also small and lightweight and can easily fit in your backpack or pocket.
17. Dark chocolate
I'm not just making excuses to feel better about indulging in chocolate, honestly. Dark chocolate is healthy as it's high in calories and rich in antioxidants, and it makes you feel better. Make sure to store it away from the sun.
18. Dried fruits
Raisins, dates, figs, banana chips or apricots, the list of dried fruits is long. You can add them to your oatmeal or just enjoy as a snack.
19. Nuts and seeds
Another delicious snack is nuts and seeds. I always pack almonds, pistachios and sometimes peanuts (my oldest son loves them). They're one of the healthiest snacks you can eat, as they contain a wide range of essential nutrients. Plus – they'll never see the inside of a refrigerator.
20. Popcorn
Popcorn is an essential camping food. You can't really talk about camping meals without mentioning freshly popped corn over a campfire. YUUUM.
21. Marshmallows
The same goes for marshmallows – or s'mores. It's a delicious camping staple.
Easy camping dinners
Include some of these easy camping dinner ideas on your camping menu and you will look forward to every meal.
22. Couscous, quinoa and bulgur
An easy side dish with protein is couscous, quinoa and bulgur. Simply add water and serve with vegetables or canned beans, and you've got yourself an easy camping meal.
23. Lentils
Same goes for lentils. These protein and fibre powerhouses are easy to store and carry and quick to cook. I love red lentil soup – just add onion, garlic, spices (curry, cumin, salt, pepper) and canned tomatoes.
24. Potatoes
Potatoes are great for dinner, either as a side dish or an extra ingredient in a soup. You can boil them, fry them, mash them – they're so versatile.
25. Fresh vegetables
Most vegetables keep fresh without refrigeration. Some good ones are carrots, bell peppers, cucumber, corn, peas, tomatoes, onion and garlic.
26. Instant noodles
Simply add hot water, stir, seal and then wait a few minutes. You've got plenty of flavours to choose from for dinner.
27. Pasta and sauce
Spaghetti og pasta with a pre-made tomato sauce or a quick one made from canned tomatoes, garlic and oregano can work wonders. Sprinkle it with parmesan cheese for a creamy texture.
28. Canned beans
Kidney beans, black beans, butter beans – add them to a soup, potatoes or couscous for a protein-packed dinner. They're great hot and cold.
29. Ketchup, mayo and mustard
They're lightweight, leakproof and sealed so they won't spoil. Bring a few condiment packets to spice up a camping or backpacking meal.
30. Oil
No cooking without oil. I recommend storing the oil in a smaller container so you don't have to carry a large bottle.
31. Dry yeast
Make your own bread or some delicious campfire twist breads – it's super hygge. You can add cinnamon, ketchup or just eat them as is.
32. Flour
A little flour in a reusable bag is convenient for making sauce or bread.
33. Spices
Your food doesn't have to be bland just because you're camping. A few spices such as salt, pepper, sugar, curry, oregano, cinnamon and paprika will make all the difference to your meal. Bring a multi spice container or mix your own kit.
Make ahead camping meals
You can also prep make ahead camping meals for your trip. That way, most of the mess is left at home where it's much easier to clean up. With your meals ready to go, you can make the most of your time away without worrying what to cook for dinner.
34. Veggie muffins
Pre-made muffins with vegetables like broccoli, spinach, carrots and protein are perfect for breakfast, lunch or a snack. Keep them in a storage container or a sealed reusable bag and they'll stay good for up to 4 days.
35. Banana bread
Uuhm, who doesn't love banana bread! It's easy to make, and if you just cut it in slices before you leave for your camping trip, it's a delicious bite for breakfast or lunch.
36. Pizza pockets
Veggie pizza pockets with cheddar, bell peppers, tomato paste, corn, onion and garlic taste amazing. Best part, they don't need to be refrigerated. Just keep them in a sealed container.
Hot camping meals (no refrigeration)
While you can easily live off no-cook and freeze dried foods, a hot camping meal prepared over the campfire just IS better. Here are a few ideas for cooking on a campfire.
37. Pancakes
Who said pancakes without milk and egg? Yes, it's totally possibly to make fluffy dairy-free pancakes; just add butter, water, flour, baking powder and a bit of sugar. OR you can just do it the easy way and bring a pancake mix from home.
38. Breakfast burritos
Mix these as you like, but my favourite is corn flour tortillas with black beans, cheddar, quinoa, avocado and salsa. You can also go the traditional way with scrambled eggs and tomatoes.
39. Oatmeal
Oatmeal porridge is one of the easiest hot breakfast meals. Simply add water and a pinch of salt, and you're done. I prefer with sugar, but you can also add sliced apple, raisins, butter or banana.
40. Tomato soup
Again, an easy hot camping meal with very few ingredients. Tomatoes and onion will do, but I like to add macaroni.
41. Nettle soup
Nettle soup is a classic in Denmark. I think every Danish kid has tried it in school (my 3-year old just made it in Kindergarten the other day; they make campfire meals once a month). This simple natural dish only requires stinging nettle (use gloves), potatoes, onion and water.
42. Wood sorrel omelet
You're out in nature so why not use some of it? Take your omelet to the next level with a bit of wood sorrel. It adds a refreshing taste.
43. Cinnamon twist bread (snobrød)
One of my absolute favourite campfire meals is twist bread. The recipe is simple. Just mix dry yeast, flour, butter and a bit of sugar and salt and let it rise. My secret ingredient is cinnamon, but if you prefer a more neutral flavour, just leave it out.
44. Mac and cheese
A classic dish that's easy to make – mac and cheese. You can go for freeze dried (easy) and just add water, or cook your own macaroni and add some cheese.
45. Mushroom risotto
A little garlic, an onion, parmesan, risotto rice and white wine (a mini bottle) is all you need to make a great risotto. Add some freshly picked mushrooms to spice it up.
Ask me anything about camping food ideas (no refrigeration)!
More stuff you'll love: