17 best travel wallets for women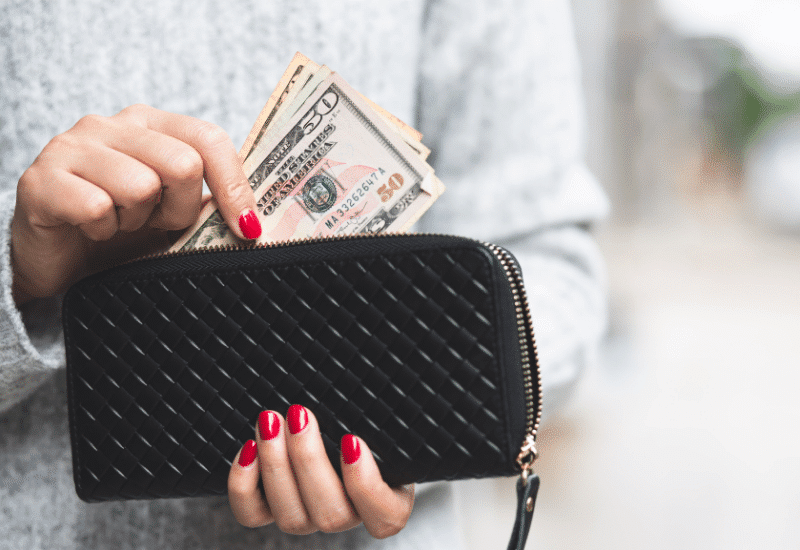 The best travel wallets for women are more useful and practical than a pocket-sized purse but isn't something as heavy or cumbersome as a messenger bag, backpack, or even a handbag. It's a stylish accessory, something you're happy and excited to wear as part of your outfit, but also something that serves a real purpose while you're travelling.
The best travel purse for Europe, or indeed for anywhere in the world, is one that keeps your phone, money, and credit cards safe, but also one you can use as a travel document holder or a passport wallet.
Here, we'll look at every kind and style of ladies' travel wallet, from the best passport wallet to a good travel document wallet and even a hidden travel wallet.
Let's dive in!
Read next: 23 best bags for travel
How to choose the best travel wallets for women
Material
Choosing the best travel wallets for women or the best travel purse means choosing the best material for what you need. Good material means being waterproof, built to last, and looking stylish. Leather covers all three of those needs but is not the only option.
We'll look at a few great leather ladies' travel wallets as well as other options that still meet your function and fashion needs. The important thing is that what you're wearing is gorgeous but also does everything you need it to, and so you need to think about lining and how comfy the strap is.
Craftsmanship
From material to craftsmanship. So, I've mentioned how material is important, but how it's made is just as – if not more – important. Good craftsmanship often comes with a higher price tag, but one that's fair given how beautiful and sturdy a good travel wallet should be.
If it's a passport wallet or a travel document wallet, all the more reason to demand the finest craftsmanship! And, of course, you want your passport travel wallet to stand the test of time and serve you well for a long time to come.
Price
Good craftsmanship comes at a price. And the price for the best travel wallet or the best travel organiser can be a high one. But it also doesn't have to be. Consider how often you'll be using your wallet, and where. The best travel purse for Europe is one with chic style, and that costs a bit more, but a good travel purse for exploring the cities of Southeast Asia can be something a little more muted so as not to stand out, and that means getting a cheaper price.
Size and capacity
Most ladies' travel wallets are around about the same size: bigger than a purse but smaller than a handbag. Just the right size for all your pocket-sized essentials. Though I do recommend a good travel document holder or passport travel wallet, for the best security possible.
Style
There's a line you need to walk here: a line between being stylish and chic, and being so bold as to tempt thieves to want to steal your wallet. When it comes to security, having a belt wallet, a hidden travel wallet, or a secure travel wallet is something to consider, but more on that later. Bottom line, nobody should be allowed to tell you how flashy to be, but you also need to take responsibility and think carefully about how much of a target you might make yourself.
Great features to look for
Coin pouch
The best travel organizer should have a coin pouch. Loose change is a nightmare in general, and if you're looking to keep all your valuables in one convenient place, a coin pouch is a great addition.
Pockets & compartments
Sorting your credit cards, passport, travel documents, money, phone, and spare change into different compartments is a blessing. And the best travel wallet for women should do all of this with ease.
Easy but secure access
You want to be able to very easily access whatever you need at any given moment. That's essential. If you're in a queue and you need to grab some change or show your passport, it should be seconds away. That said, making sure everyone else can't access your wallet as easily as you can is also essential.
RFID travel wallet
This is a big one! RFID protection stops people from scanning your wallet if it has a contactless credit card inside. The protection is in the wallet's lining and stops this kind of invisible theft in its tracks.
Passport case insert
The best passport wallet is one where the passport is optional. Being able to remove the passport case means having the option to slim down your travel wallet, but also the choice to keep your passport safe inside it.
Room for your phone
This is a big one. Paying for a slightly wider and bulkier travel wallet means having a place to keep your phone safe as well as your money and passport. The best travel wallet is one that can store your phone.
Best travel wallets for women
More stuff you'll love