10 best packing cubes for backpacking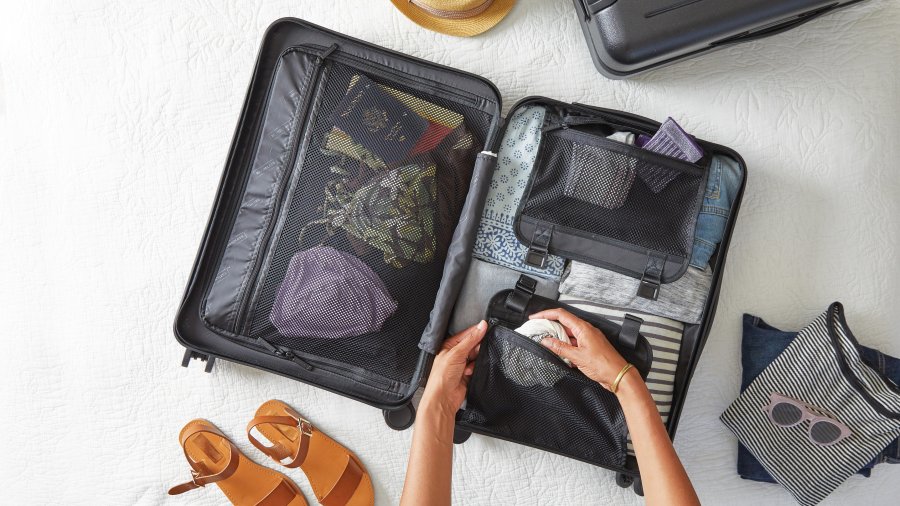 If you're wondering: do packing cubes work? Are they worth it? And how do you pack with packing cubes? You've come to the right place.
Most of us who use packing cubes (or packing cells, if you prefer) have used them to organise and squeeze more into our suitcases. But using packing cubes for backpacking is also very much an option, and a very good idea! Packing cells are used both to fit more into your luggage and to organise and compartmentalise your things. And that is just as useful to backpacking as it is to packing your suitcase.
There are a few things to consider when looking for the best packing cubes for backpacking. I'll go through all of this (as well as how to pack with packing cubes) before we then get into the list of the best packing cubes for backpacking.
Read next: 23 best bags for travel
This post contains referral links for products I love. Adventurous Miriam earns a small commission at no extra cost to you if you make a purchase through my links. Thank you for your support ♡ Learn more
The rundown: 10 best packing cubes
Here's a quick overview of the 10 best packing cubes for backpacking and all other kinds of travel. There's one for every budget.
How to choose the best packing cubes for backpacking
Weight
The weight of your packing cubes is an important factor. The best packing cubes for carry-on luggage, as well as for backpacks, are ones that are lightweight. They should add next to nothing to the weight of your luggage, but also help you with your packing. That's what compression packing cubes are all about.
Durability
Next to weight, durability is a big factor. If your packing cubes break while you're traveling, all your organisation goes out the window. So, durability is an essential feature. A strong packing cube keeps your things safe and organised; just make sure it's also lightweight.
Packability
Compression packing cubes should, of course, offer compression. They should actually squeeze the air and empty space out of your backpack and make more room for more essentials. The best packing cubes that reduce the space, which your clothes and essentials are taking up, will make your entire holiday so much less stressful.
Quantity and sizes
Different sizes are important. Essential, even. The best packing cubes for carry-on luggage and backpacks come in a variety of sizes to help you organise your things properly. Having two or three packing cubes of different sizes is the best way of using packing cubes.
Smaller ones are for your toiletries and your electronics and important essentials. Larger ones are to organise your clothing: clean and dirty, for example. This organisation is what makes travel packing cubes such a great investment.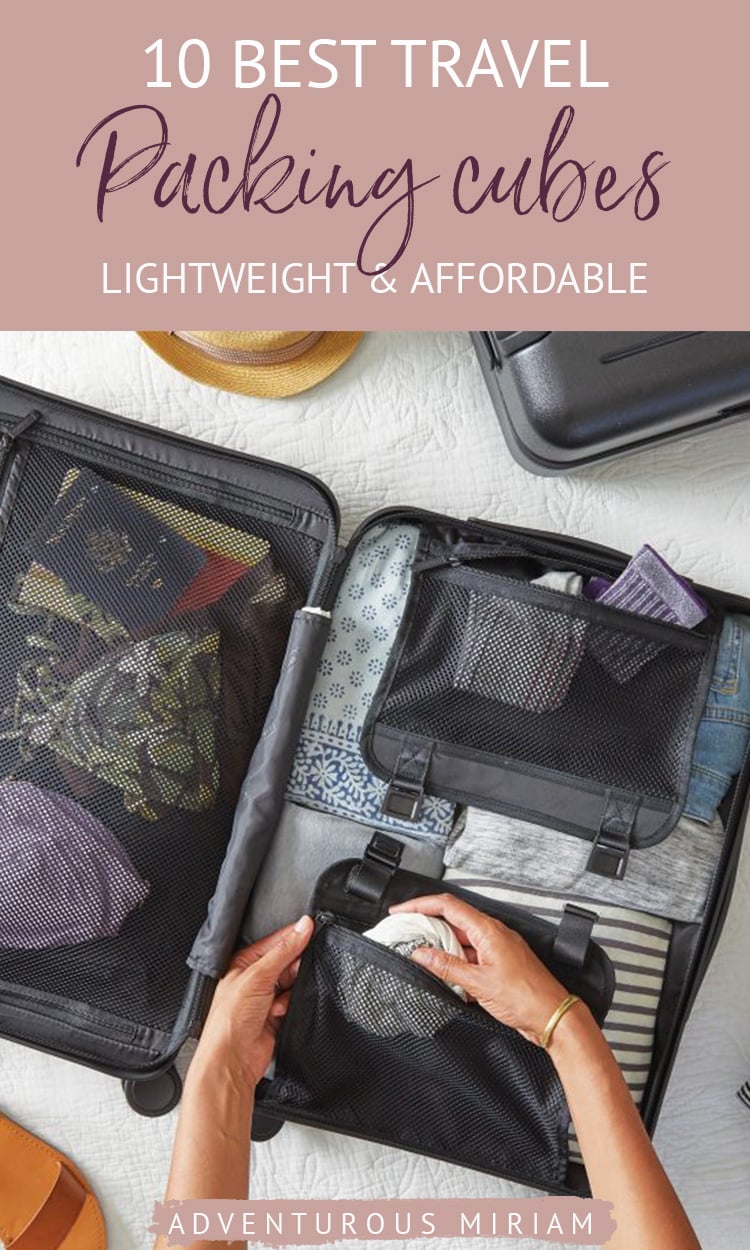 How to pack with packing cubes (pro tips)
Roll your clothes before packing
So, here's how to pack with packing cubes. Step 1: Give the packing cubes a helping hand by rolling up your clothes. This is a packing hack that has saved me so much grief with or without packing cubes. Doing this ensures there's no wasted space and that you can fit so much more in. It also doesn't wrinkle your best clothes, so don't worry about that.
Pack specific outfits in individual cubes
As I said, packing cubes are the best travel organiser. If you sort your clothes by type and then pack them into your cubes, you'll know what outfits are where. I always pack my outfits by day: first two or three days in one cube, next two or three days in a second cube. Using luggage cubes to help you organise is the best way to use packing cubes.
Pack climate-specific clothes in separate cubes
Packing can be tricky when it comes to weather. You can't pack your whole wardrobe, but you also need to be prepared for a variety of weather situations. So, how to use packing cubes correctly? Sort your clothes by climate. Beach weather in one cube; rain-related clothes in another.
Utilise a variety of sizes
The best packing cubes come in a variety of sizes and you need to use those. Consider what you need to pack and where it should go. Organise your things by size, and pack accordingly. The best travel bags will have various compartments, but you need luggage cubes to organise your things by size.
Pick up different coloured cubes
This is a great and simple travel hack as you're organising your luggage. Colour coordination can help with all of the above advice. Packing by weather? Put your winter clothes in a white or blue cube and your summer clothes in a red or orange cube. A simple and elegant solution to getting confused by having too many similar cubes.
The top 10 packing cells
Packing cells
Six stylish packing cubes in an awesome design with a cool colour. They come in three different sizes, two of each size, and are perfect for every situation. They're durable, reasonably prices, and super lightweight. These are the best packing cubes for backpacking, with the only downside being that you can't colour-coordinate with them.
Packing cells
These packing organisers are the same price as the overall ones, and you get three of them, but they are incredibly strong and sturdy. You can choose from three different colours: black, red, or blue. They offer three different sizes, perfect for organisation, and no downsides.
Packing cells
Here you get four packing cubes with six different colours to choose from. They're tough, lightweight, and each one is a slightly different size, making organisation when packing an absolute dream. For the price, they're the best packing cubes for backpacking.
Packing cells
As I've mentioned, the best travel bags and packing cubes should be as durable as possible, and these four cubes are definitely that! Whether they're suitcase packing cubes or packing cubes for backpacking, toughness is key, and these sturdy cubes couldn't break if you tried.
Packing cells
Aside from sturdiness, being lightweight is essential. This is a five piece set of strong and lightweight packing cubes that will add nothing to the weight of your suitcase but everything to your organisation opportunities.
Packing cells
Ultra-lightweight, malleable, thin but strong, and a vibrant colour (with four options). These value packing cubes come in a variety of sizes and shapes, and you get eight of them for a fantastic low price!
Packing cells
Four cubes of different sizes, one with a handle that can be carried, and two more that are transparent and perfect for carry-on luggage. These seven packing cubes are clever, creative, and versatile.
Packing cells
If you really want your clothes to shrink away to nothing, these are the best compression packing cubes on the market. You can sort your clothes into clean and dirty and watch them shrivel and take up zero space whatsoever!
Packing cells
These popular suitcase packing cubes are so charming and cute. You get four here, and the range of colour options is crazy. They're a strong mesh that's super sturdy and lightweight.
Packing cells
No matter where you're going or how long for, this amazing set of eight different travel organisers includes a shoe bag, a pull-string bag, four packing cubes, and a toiletries bag. Everything you need to pack for the perfect holiday is right here.
More travel products you might like