Adventurous Miriam uses affiliate links, which means that if you make a purchase through my links, I may earn an affiliate commission.
The invention of the travel backpack with wheels is pretty genius. Overall, the technology that goes into travel equipment, accessories, and tech gets better all the time. Suitcases get both lighter and stronger; wallets are lined with RFID blocking technology. Yet one of the simplest improvements to suitcases and backpacks is the invention of wheeled backpacks.
And it has made it SO much more easy to get around with your luggage!
For years we've been forced to choose between a large suitcase with wheels or a large backpack, or you combine them and have one of each. But no more, though. Travel backpacks with wheels have more or less become the norm now. Such a simple combination of ideas allows you so much more freedom when you travel: a bag that can be worn as easily as it can be pulled means that it suits every kind of holiday, environment, and terrain perfectly.
And what's the best backpack with wheels?
Let's take a look. Here, I'll run down how to find the best backpack with wheels and give you 10 of the best ones!
Read next: 23 best bags for travel
The rundown: 10 best travel backpack with wheels
To make it easy for you, I've listed the 10 best travel backpacks with wheels right here. I've handpicked them based on the following criteria:
How to find the best wheeled backpack luggage
Comfort and fit
There are three things here to consider with your travel backpack with wheels: padding, support, and volume. How much padding does it provide to both your back and your shoulders? You might be wearing this travel rucksack on your back for a few hours at a time. You don't want any chafing or scratching.
As for support, it needs to blend well with your back to minimise your aching muscles and that you're not twisting yourself awkwardly. And finally, volume: how much do you want to fit into it? The more it can carry, the heavier it will be. You need to make sure that the support can match the volume of the travel pack.
Utility
Having one big pocket will not do. Your travel backpack with wheels should have at least three different pockets so that you can spread out the weight evenly and organise your things inside. Clothes here, electronics there, a book here, water bottle there.
The best travel daypack should be able to do this, wheels or no wheels. So, consider your pockets and what you need them for. How big do you need each one to be, and why? Do you need a side pocket for your water bottle or not? Utility is a big consideration to make, so make it well by thinking about how you like to arrange your backpack suitcase.
Material
There are a few different materials that a travel backpack with wheels can be made out of, but how do you know which materials are better than others? Well, the first thing to consider is waterproofing. Is the travel rucksack completely waterproof? Or at least water repellant (treated with a coating)? That's important. Most nylon bags are made with coating today, and those are the ones I recommend.
You'll be pulling or carrying your travel pack through all kinds of terrain and weather conditions so proper waterproofing is absolutely vital. Beyond being waterproof or repellant, you also want a backpack suitcase that can stand the test of time: one that's sturdy and well-made. Strong material is every bit as important as waterproof fabric. You don't want the risk of your luggage backpack breaking at the worst moment.
Weight
A luggage backpack should never ever weigh more than you can handle. Now, part of that is down to how much you choose to fit into it, and that's up to you. But having the best lightweight backpack possible will also help considerably. Also consider one that's a little smaller, thus encouraging you to keep the amount of bulk you're carrying to a minimum.
Of course, the beauty of a travel backpack with wheels is that, if it gets too heavy, you can always pull it. But you don't want to be in that situation, so never pack more than you can carry and never buy a luggage backpack that's bigger than you're comfortable with carrying. Size and weight should be considered in equal measure. Which brings me to my final point.
Size
Depending on how tall and strong you are, an ideal size of backpack bags for travel will likely be anywhere between 20 and 45 litres. What you should factor in when you decide on the best size for your travel backpack carry-on is what you're going to use it for. Is it going to be primarily a day pack or is this your main luggage?
If it's a daypack, the smaller the better. If it's your main luggage, you need something with several pockets, waterproofing, and a lot of support.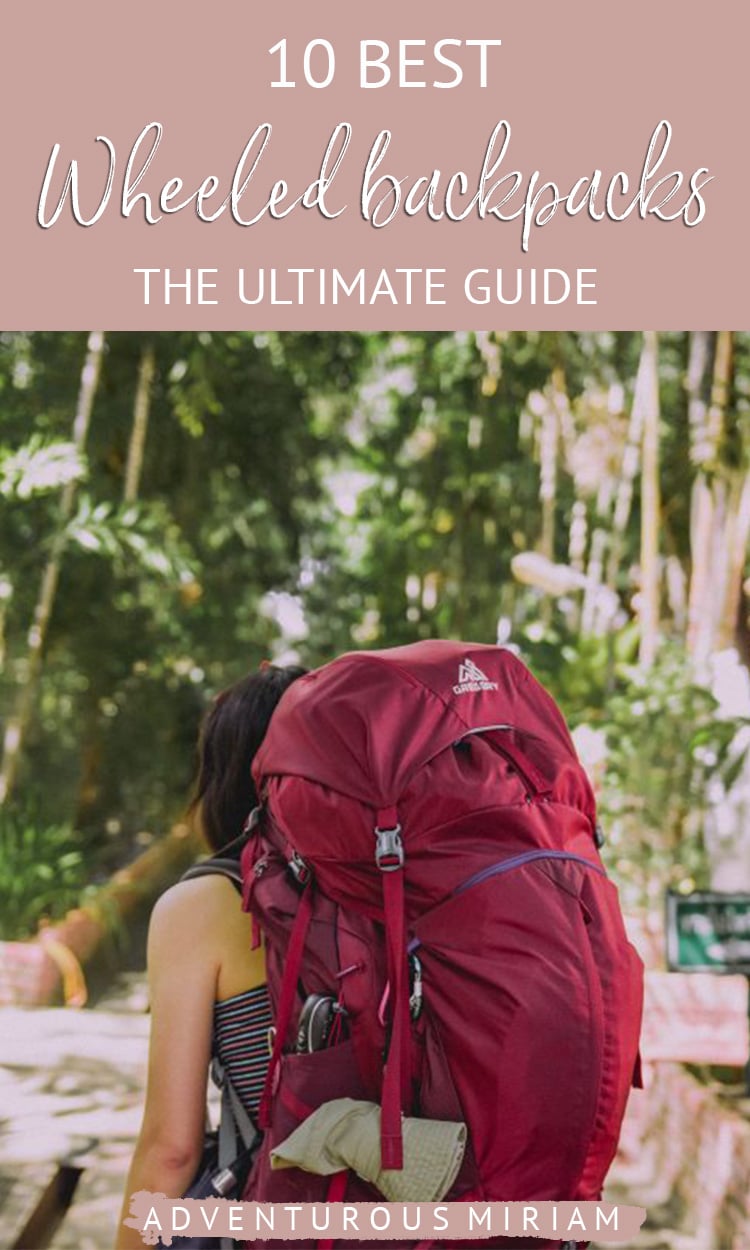 Best travel backpacks with wheels
Best overall – Osprey Farpoint
The best backpacking backpacks should always, as mentioned, provide plenty of support for your back, padding for your shoulders, and space for all your things. Osprey have always been the best at this. For its size, weight, strength, and design, this is the best rolling backpack on the market.
Best for city adventures – Victorinox
This is a great travel backpack with wheels that boasts several different pockets, both inside and outside. It's ideal as the best hand luggage backpack, being able to carry a laptop and all your essentials as well as clothes and cosmetics. It gives you enough compartments and size to keep everything safe and secure.
Most versatile – High Sierra
Less a backpack than a duffel bag but still one with wheels, making it infinitely more practical than most duffel bags. Honestly, there's no comfortable way to carry a duffel bag, so putting wheels on one makes it as functional as it is versatile. A spacious and highly functional travel bag.
Best carry-on backpack with wheels – Eagle Creek Load Warrior
If you're looking for something you don't need to check in, this is the best carry-on backpack with wheels. What makes it the best carry-on backpack? Its size and weight are equal to the strength of its material and its excellent utility options. For its size and functionality, this is also one of the best lightweight backpacks around right now.
Most affordable – Amazon basics
This is the best hand luggage backpack when it comes to affordability. A bag that's sturdy and perfectly sized but also very much affordable.
Best value – Eagle Creek
If you're looking for value for money, this is one of the very best backpacking backpacks around. It does absolutely everything you want out of a travel backpack carry-on without sacrificing a thing. It's one of the more expensive bags but worth every penny.
Best all-in-one – Osprey Meridian
This backpack suitcase is so fantastically diverse, as Osprey bags always are. It's one of the most comfortable, most sturdy, most well-sized, lightweight bags. And it's great as a travel daypack as well.
Most lightweight – Skymove 19
Not only is this an incredibly lightweight backpack; it's also so reasonably priced and comes in a selection of colours. Looking for something lightweight but still strong and sturdy? This is it.
Most secure – Tumi
It comes with the Tumi Tracer, an exclusive, complimentary program that helps customers reunite with bags in case the bags get lost or stolen. This travel rucksack might be expensive, but that's because its security is head-and-shoulders above the rest. Its custom Tumi Tracer is a special piece of tech which keeps track of the bags location for if it gets lost or stolen! Invaluable for frequent flyers.
Most durable – Samsonite
Samsonite are known for their sturdiness and security. You buy a Samsonite bag; you'll have it for life. And that goes for this ultra-durable travel backpack with wheels, too.
More stuff you'll love