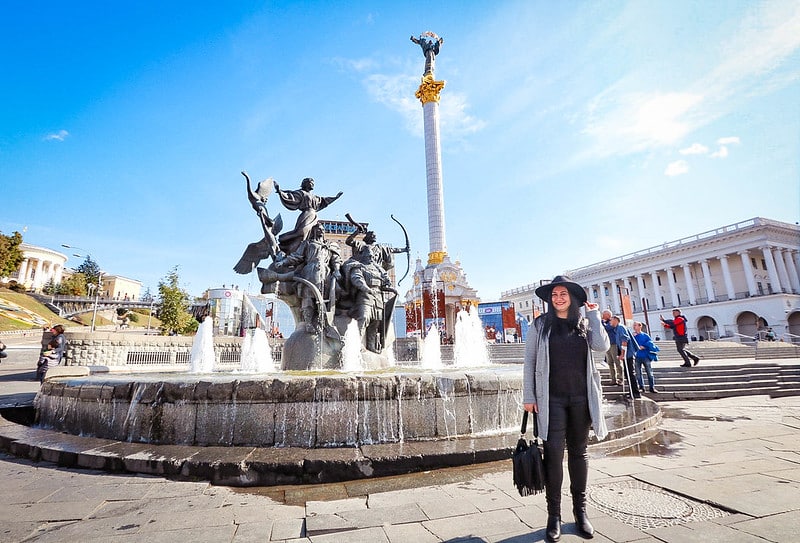 Are you looking for the best travel handbags? Look no further! Finding the perfect bag for travel might not be as easy and straightforward as shopping for an everyday handbag. Because when you travel, you need to factor in practicality and safety even more.
Luckily, a practical travel bag for women can be as chic as it's useful. Striking that balance is important, and the best travel handbags on this list all do exactly that.
Let's dive in.
Read next: 23 best bags for travel
The rundown: Best travel handbags 2022
What to look for in a travel handbag
Size
Size is a tricky thing to get right when it comes to ladies' travel bags – and especially for handbags. In terms of style, you want something that's not too bulky. But you're also travelling, and you need to have all of your essentials with you at all times, like your phone, wallet, makeup, etc.
But how much space do you need, and how heavy will all that be? Consider the size of your bag very carefully in order to get something that looks sensible but also does everything you need it to do.
Style and comfort
This leads perfectly on from size. What kind of bag are you looking for? One that's crossbody, one that drapes over your shoulder, or one that you carry by hand like a clutch? For practicality and comfort, crossbody is often your best bet. It frees up your hands and spreads the weight of the bag across your torso, where you're strongest.
But does that always look the most stylish? Well, yeah, it can, depending on the bag! Also consider the strap for comfort: what's it made of and how much comfort does it offer?
Main use
Think about how you're planning to use your travel purse or handbag. Where will it go with you, what city, what country, what weather, what kind of terrain? How long will you be lugging it around for each day?
If you're heading to Europe to explore cities like Paris and Rome, the best travel purse for Europe is something stylish and small but also safe and secure. If you're travelling in Southeast Asia, you'll want to consider something larger and crossbody, because you may want a greater feeling of safety and to have more essentials on you at all times.
So, really think about where you'll be using it and what you'll be carrying in it; the best travel purse is one that suits your occasion.
Safety
It doesn't really matter where you go; having a bag that's safe and secure is always a must. The best anti-theft bags are vital for your peace of mind. But what does safety mean in terms of finding the best travel handbags? You're looking for things like invisible seams and hidden zips – things that thieves can't get their fingers on, but you know how they work.
Things like this are also great for style; they're a new way of designing minimalist fashion and sleek designs. Knowing that your bag cannot be pickpocketed means that your stylish travel purse is safe and secure.
Material
Part of material preference comes down to your own taste. Do you like leather? Are you ethically adverse to it? Do you find certain fabrics tacky? What's your ideal material? That's all on you. But there's also more to it than that, like the practical benefits.
You're going to be travelling a lot, and that means durability is a factor. There are few worse moments, after all, than that fatal sudden breakage of your travel bag. You do not want that to happen. As well as that, something waterproof (like leather or waxed canvas) is also essential, for obvious reasons!
Price
Your final consideration is price. How much are you willing to pay? The more you'll use it, the more it's worth, the more you should be willing to pay. If it's just an accessory, consider something pretty but a bit cheaper. And if you're looking to have the very best fabrics and something chic, you'll have to be prepared to pay the price.
But expensive bags can still be practical and cheaper bags can still be durable and gorgeous, so don't worry too much about your price range. Below you'll find something for everyone, including the best travel handbags for you.
Leather bags
Leather bags are a fantastic choice if you're looking to blend function and fashion. Since they're leather, that means they're waterproof. And leather never goes out of style. They're built to last and look fantastic as they age. With leather bags, there's really no downside!
Straw bags
Straw bags are great for the beach and for summer portraits (I'm looking at you, Instagram!). If you're heading to a warmer country, maybe in Southern Europe, a straw bag is perfect. They're lightweight but strong, with feminine designs and a lot of breathability. The perfect summer bags.
Crossbody bags
Crossbody bags are great for comfort and security. The way you wear it means you can afford to buy a slightly larger one to keep more of your essentials in. They're the most comfortable bags to carry, and they keep your essentials close to you at all times.
Anti-theft bags
Anti-theft means two things: the bag is hard to get into for thieves and pickpockets, and they use RFID blocking technology to keep thieves from scanning your contactless credit cards. The best anti-theft bags use both of these methods to keep thieves at bay.
More stuff you'll love