Ultimate carry-on packing list for long or short flights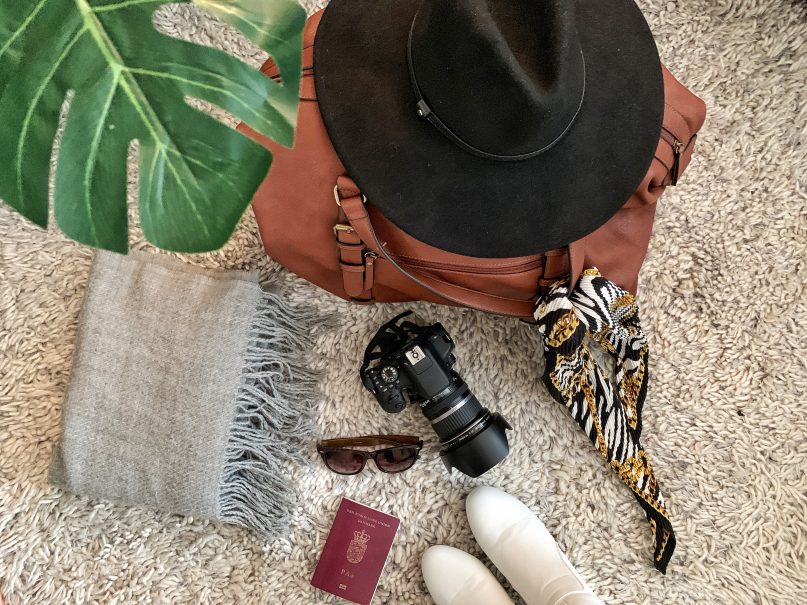 In this carry-on packing list, you'll learn how to pack a TSA approved sized bag no matter where you're going in the world.
Whether I'm planning a long-term International trip or a weekend getaway, I think just as much about what I pack in my carry-on as my checked luggage. After all, for my checked bag I only need to consider how much it weights. But the carry-on has more regulations.
This post contains referral links for products I love. Adventurous Miriam earns a small commission at no extra cost to you if you make a purchase through my links. Thank you for your support ♡ Learn more
Luggage
Let's begin with the luggage. Since the size of allowed luggage varies from airline to airline, I recommend to always check with your airline before you go! Most airlines allow one carry-on bag at 55 x 40 x 23 cm, at maximum 8 kg, but it really does differ. For instance, Air France allows 12 kg, while SAS only allows 8 kg.
I've always brought a backpack, duffel bag or tote bag on the flight. Most of all because it's more flexible and can be stowed in front of my seat. I like to have it close, because I have all my electronics and valuables in there and need a snack ever so often.
I usually never bring any liquids in my carry-on. But if I do bring a hand sanitiser or some travel shampoo, I carry them in a transparent liquid's pouch. Remember, never bring more than 100ml!
Documents
Being the organiser I am, I like to keep all my papers and documents in a folder. It makes it so much easier when I need to look at my itinerary or train tickets or whatnot.
I also always keep my passport and boarding pass close and together. You need to show them so many times during check-in and boarding, so keep them easily accessible. I carry my passport, wallet, and other important items in an additional cross-over bag. It's convenient, keeps them safe and doesn't usually count as an official carry-on bag.
Passport
Boarding pass

Flight itinerary

Address of where I am staying: To share with cab drivers so they know where to go. And you'll also need it to complete immigration forms.
Valuables
Always pack valuables, electronics and fragile items in your carry-on bag. Including chargers for your phone and camera. An airline once lost my luggage in China, and all my chargers were in my checked-in bag. Lesson learned.
Travel organiser (Michael Kors and

Zoppen

are both great for storing credit cards, money and other important cards)
Money and credit card
Jewellery
Phone and

charger

Camera equipment and charger
Keys (car + house)
Sleep
Some airlines still give you a small bag with these things, but it's only on long flights and never on budget flights. I wouldn't take my chances, so I always bring these four items on overnight flights.
I always struggle finding a good position to sleep in, but this travel pillow works magic! And I also always bring my eye mask and ear plugs. Just last month I flew to Tbilisi during the night, and the flight crew turned up the music really loud and never dimmed the light. I've never been so happy for my little sleep care package.
Travel pillow (

Aircomfy

)
Eye mask (this

3D mask

is made from comfy memory foam and creates total darkness.)
Noise-cancelling headphones to drown out the airport and airplane noise. These ones are my favourites, but you could also go for the ones by Bose. Both are super comfy, durable and cordless. Batteries are long-lasting, too.
A shawl or blanket
What to wear
When I travel, comfort is everything! You have a pair of seamless yoga pants? Wear them. You'll want stretchy, soft and comfortable clothing that is wrinkle-resistant and doesn't make you twitch uncomfortably in your cabin seat. When it comes to shoes, it boils down to personal preference. For some, comfortable shoes are sneakers, for others, it's soft leather flats. My preference is a pair of flexible, light mesh sneakers – no doubt.
Also, I recommend wearing compression socks for two reasons: 1) They help promote blood flow and prevent swelling, and 2) they keep your feet warm — no chilly flights.
Pro tip: Always bring an extra set of clothes if you're flying somewhere warmer or colder. You can roll it to make it as small as possible and make room in the bag.
Snacks
Most airlines serve a free snack and something to drink, but many budget airlines don't. And you don't want to be trapped in an airplane when you're suddenly craving sugar or salt.
I always bring some crackers. And I always, always have gum on me to equalise air pressure. If you've ever flown before, you know that air pressure changes when the plane ascends or descends. This can be super uncomfortable, although it's only temporary. To prevent your ears from popping, all you need to do is chew gum and yawn regularly.
Stay hydrated
Cabin air is really dry. It's normal to get dry skin and lips, so if you just remember to drink water and regularly apply some lip balm and moisturiser, you'll be fine.
To alleviate nasal dryness, always pack saline nasal spray. You can also bring natural eyedrops – especially if you're wearing contacts. Both are permitted in your carry-on baggage.
Eye cream (

this one

is particularly good)
Moisturiser (I prefer this one from

Christina Moss

)
Lip balm (organic bee wax lip balm

moisten your lips for longer)

Water. Since you can't bring water in your carry-on, just buy some at the airport. I always get a bottle or two before lift-off.
Make-up and toiletries
My checked luggage has been lost a couple of times (I've always gotten it back, though). But there's nothing worse than arriving at your destination, tired and looking like something the cat dragged in, and then not have your make-up and toothbrush. So, now I always pack a few toiletries in my carry-on luggage.
A word about
medicine
If you're bringing any prescribed medicines, make sure to have a copy of your prescription or a letter from your doctor with a medication overview. Many countries have strict rules on which substances they allow through border control. For instance, codeine is illegal in Hong Kong and Greece.
Entertain & Electronics
As with the valuables, I always keep my electronics with me at all times. On long flights or solo trips, I also bring my laptop. It's great for getting some work done, or you can watch movies or the latest episode of Game of Thrones or Sharp Objects!
Laptop or iPad

A good book and/or a travel journal + pen
Your camera. While you won't need it on the plane, you should always keep it close and safe!
Head phones (I've always used the Apple Earpods)
Travel adaptor. Again, you won't need it on the plane, but it's a must no matter where you're traveling to.
FAQ
How much liquid can you pack in your carry-on?
100 ml bottles are allowed. This includes liquids such as water, soda, shampoo, perfume and deodorant, hand sanitisers and moisturisers.
Can you take food on an airplane?
Yes. Surprisingly, the TSA allows almost all food items, as long as none of them are liquids exceeding 100 ml. This means that you can even bring cereals, cheese and a live lobster if you should ever need that – though they will be subject to extra screening.
How can I stay active on a long flight?
You can easily stretch away your sore muscles with a simple in-flight seat routine. Stretch your neck, arms, wrists and feet every hour and wear compression socks to help with circulation.
Any tips for being a nervous flyer?
Fear of flying is a common affliction, but there are some easy ways to keep calm before and while flying. First, remind yourself that flying is the safest mode of transport. It's safer than taking the bus or riding your bike. Next, try an app for flight anxiety – many of them are free. Try Valk for $3.99, Calm for $59.99 per year or SOAR, which is free.
What NOT to bring on an airplane
Liquids over 100ml or 3.4 ounces
Sharp objects like knives or razor blades (only disposable razors and their cartridges are allowed)
Sporting equipments like baseball bats, pool cues and ski poles
Guns
Self-defense items like pepper spray
Tools like a hammer or drill
Lighters, matches and other flammable items
More packing lists you might like
Pin it