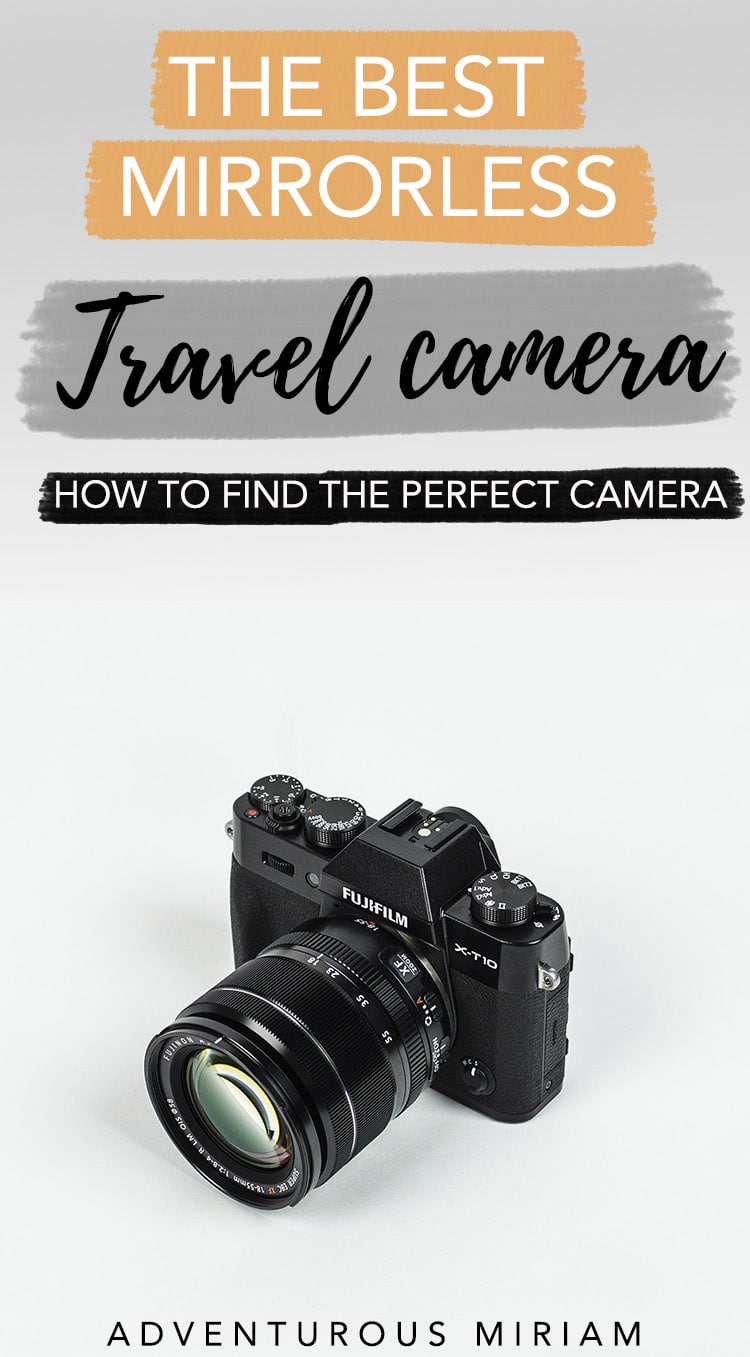 When planning a trip, a camera will very likely be at the top of your packing list. And most of us who want to make the best memories possible will seek out the best camera for travel. When searching for the best camera, the two types you're likely to see are DSLR and mirrorless cameras. The main differences between the two types are size/weight and the use of an LCD display.
Read next: How to take amazing travel photos
What is a mirrorless camera?
Mirrorless cameras are usually smaller and lighter than DSLRs, due to their lack of a mirror mechanism. And because light entering the camera doesn't have to reflect off a mirror, this means you can use the camera's LCD display to take the photo, rather than looking through a viewfinder.
For this reason, mirrorless cameras are often the go-to camera for travellers. This is due to their smaller size and weight, and their slightly easier usability, with an LCD display making them more similar in operation to a smartphone.
Let's look into the features of the best mirrorless camera for travel that best suits your needs and budget.
Read next: The best camera for travel photography
Best mirrorless camera for travel
Things to consider before buying a mirrorless camera
Mirrorless cameras are largely of the same quality as DSLRs, with the advantage of being smaller and lighter, thus more compact for travel. However, mirrorless cameras are often a tad more expensive than DSLRs, due to them having these cool advantages. So, when choosing the best mirrorless camera for travel, what should you consider?
Price

Portability

Battery life

Ease of use
Price
Consider how much you're willing to spend. This comes down to myriad factors like: how much money do you have to spend? What are you using the camera for? How much annual use will you get out of it? What kind of travelling are you doing with the camera? A good mirrorless camera can set you back anywhere between $500 and $2000, so consider how you're planning to travel with the camera and spend according to your needs.
Portability
As I've mentioned, this is what mirrorless cameras have over DSLRs. And it can certainly tip the scales for those of us who like to travel light, or at least travel as fluidly and with as little needless bulk as possible.
Battery life
This is one disadvantage of mirrorless, being more of a drain on their batteries than DSLRs. However, this does not mean that they're impractical (if they were, they wouldn't sell for $2000). They're still extremely functional as travel cameras, especially if you are using them for photography and not for filming.
Ease of use
Mirrorless cameras are excellent for those with less experience with cameras. This is due to their unique ability to use an LCD display, therefore not forcing you to rely on a viewfinder. This makes them quicker to use, taking less faff and preparation for the perfect shot. Ease of use like this is key when travelling, especially if you're on a moving vehicle or engaging in some wildlife photography. A mirrorless camera is the best choice as a nature photography camera every time.
My top pick
Broadest price range
Fujifilm mirrorless cameras offer the broadest price range, without quality being compromised. Renowned for their quality builds, they offer cameras at the low end of the price range – at $500 for a Fujifilm X-A5 – as well as the higher end of the price range, such as the Fujifilm X-T2 which costs around $1500.
Quality builds
Beyond price range, Fujifilm also have some amazing hardware advantages that are really worth celebrating, namely what they make their cameras out of. In order to keep their cameras as lightweight as possible, brands like Canon and Nikon rely heavily on plastic casing for both their camera bodies and their lenses. Fujifilm, on the other hand, pride themselves on their quality builds, even at the lowest end of the price range. Their cameras are made from quality metal, with leather grips which provide the most beautiful looking cameras money can buy. The lenses, as well, are metal, and immediately encourage your confidence in their quality of craftsmanship.
Water resistant
To mention the quality of the build a little more, Fujifilm cameras are also largely weather resistant, a surprisingly rare quality amongst both mirrorless and DSLR cameras.
Colour quality (the best feature)
The best thing about Fujifilm is their colour quality, which they are renowned for the world over. Fujifilm know how to make their colours pop, meaning that they are perfectly suited for all types of travel photography – from street shots to safari. They are the best choice as a wildlife photography camera for this reason, provided you choose the right lens to accompany your camera. Walking the streets of New York, Paris, or Tokyo at night, you want a Fujifilm mirrorless camera to bring out the subtle colours of the neon and the streetlights.
Fujifilm X-T100
My top pick for a specific camera is the Fujifilm X-T100, a midrange camera that's incredibly lightweight and has a gorgeous chrome and leather aesthetic. It boasts a super-fast autofocus for those quick shots, and the LCD display tilts and opens up. The durability, ease of use, and mechanism at hand make this my absolute top pick as the best mirrorless camera for travel.
The best lightweight mirrorless camera
As I've said, mirrorless cameras are the best for ease of travel and ease of use. When you're wandering a new city, climbing a mountain to its summit, or out on safari, you don't want a hulking great camera dangling around your neck or weighing down your backpack. When looking to find the most lightweight mirrorless camera for your travels, the Canon EOS M100 is the best around, with a weight of just 302g (10.7oz), and that's including the batteries. The Canon EOS M100 hits that perfect size sweet spot of being not so big as to be cumbersome or awkward. And not so small as to feel cheap or not up-to-specification.
Canon EOS M100 Key Features
Sharpness
The quality of photos delivered by the Canon EOS M100 are also not compromised at all in Canon's quest to remove bulk and shave down on size. The sharpness of the photos is extraordinary. And the size of the camera means it's quick and easy to take high quality photos in moments.
With something of this quality and size, you're more likely to get that lucky photo of a passing can or a grazing animal in motion than you are with most other mirrorless cameras. With this in mind, this camera is more than just the best lightweight mirrorless camera on the market right now. It's also one of the best Canon travel cameras around in 2019.
Creative Assist mode
The Canon EOS M100 also features a Creative Assist mode, walking new users through the ins and outs of its functions. This eliminates that fear that every photography newbie has of missing out on the best features of their camera. Or missing the best photo opportunities, because they don't know how best to operate their own camera. This mode guarantees you'll be a master of your camera before you even take it on your travels, thus making it the best mirrorless camera for beginners.
Value for money
As mentioned before, this camera is fantastic value for money, too. It's almost at the very bottom of the price range for quality mirrorless cameras, yet still developed by a recognised brand you can trust. You know if you buy Canon, you're buying quality every time. And at this price and this size and weight, the Canon EOS M100 is incredible value for money.
The best midrange mirrorless camera
Canon EOS M50 Key Features
4K Ultra High Definition (UHD)
It should be a given that, the higher you go up the price range, the more features you'll get for your money. And so, if you can stretch to a midrange $700 camera like the Canon EOS M50, you'll be treated to some incredible features.
The best and most impressive feature to this camera is its ability to capture staggering 4K UHD film footage. This is what immediately makes it the best camera for blogging on this list. If you're a blogger or a vlogger who can stretch to a midrange camera, this is a fantastic choice.
Autofocus
With a built-in autofocus viewfinder, the Canon EOS M50 can keep a clear and vivid focus on your face as you vlog at all times. That feature eliminates so much of the hassle of fiddling with settings to get the optimal focus in any given situation – indoor or outdoor, daytime or night-time. It also eliminates the worry of having to edit your videos in post to get the focus just right. The camera does it for you.
The autofocus (or AF) tracking is also amazing for filming high-motion video, such as animals grazing, cars in motion, and birds in flight. The AF will automatically follow and track what you set your sights on, keeping a crisp image constantly in focus. It's incredible.
Fold-out screen
The screen also folds out and flips around so that you can capture selfie footage easily, all the while keeping a clear image of yourself in your eyeline, knowing at all times what you look like and how the footage will turn out. I love this feature.
Lightweight and small
All of this is also provided on a lightweight and slender mirrorless camera. For quality vlogging like this, even Canon themselves usually only offer relatively heavyweight cameras. For filming yourself with one hand during a walk or a hike, this can put a surprising amount of strain on your muscles. That's very much not the case with the Canon EOS M50. Weighing in at a ridiculously lightweight 387g (13.6oz), you can easily manage to keep this camera held without any exhaustion caused on your end.
There really are no down-sides to this camera, as biased as that might sound. It delivers the highest quality photos and videos available on the market right now, with an absurdly light weight and small size, and at a reasonable midrange price. I can't recommend it highly enough.
The best budget mirrorless camera
YIM1 Key Features
[/fusion_text]
Best editing programs
One last thing worth mentioning is that, even if your camera takes the highest of high-quality photos, those photos can be made to look even better with the right editing software. Adobe Photoshop is by far the most famous of these, but it is absolutely not user-friendly and can be very daunting to master for beginners, so I can't recommend it.
What I find much, much better and easier is Lightroom – the Adobe sister program to Photoshop. This editing program is use-friendly, provides additional plug-ins and pre-set settings for you to buy – to enhance your editing experience – and has the ability to upload finished edits immediately to social media. It is an incredibly user-friendly and beginner-friendly piece of editing software and I highly recommend it.