8 Best Vlogging Cameras with Flip-Screen
Are you a vlogger or YouTube superstar? Or want to become one? Either way, you need to have the right camera.
Vlogging is all about your personality and how your viewers can connect to you. You share your stories and life through the screen. And often you need to be in front of the camera while you hold it. That's why you need a decent camera that's up for the task.
In other words: you need a camera with flip-screen.
While the more technical specifications of a camera are, of course, vital – does it film in 4K? How many frames-per-second? Does it have auto-focus? – the simple feature of a flip-screen can transform your vlogging experience. I wouldn't ever use a travel camera that doesn't have a fully flappable and adjustable screen.
This post contains referral links for products I love. Adventurous Miriam earns a small commission at no extra cost to you if you make a purchase through my links. Thank you for your support ♡ Learn more
The benefits of a camera with flip-screen
The benefits of a flip-screen camera are endless, with the main benefit obviously being the flip feature.
With a flip-screen, you can seamlessly switch from filming the scene around you to filming yourself in that scene. If you're vlogging at home or out on the road, you can always see yourself at every moment. This ensures that the auto-focus is working and focussed on you; the lighting is optimal and effective; the scenery behind you is being captured in the way that you want it to be. Guess-work is eliminated, and instead you have complete and utter control over what your video will look like as it's being filmed.
So, now that we've established the importance of a camera with flip-screen, what is the best vlogging camera with a flip-screen? Let's take a look.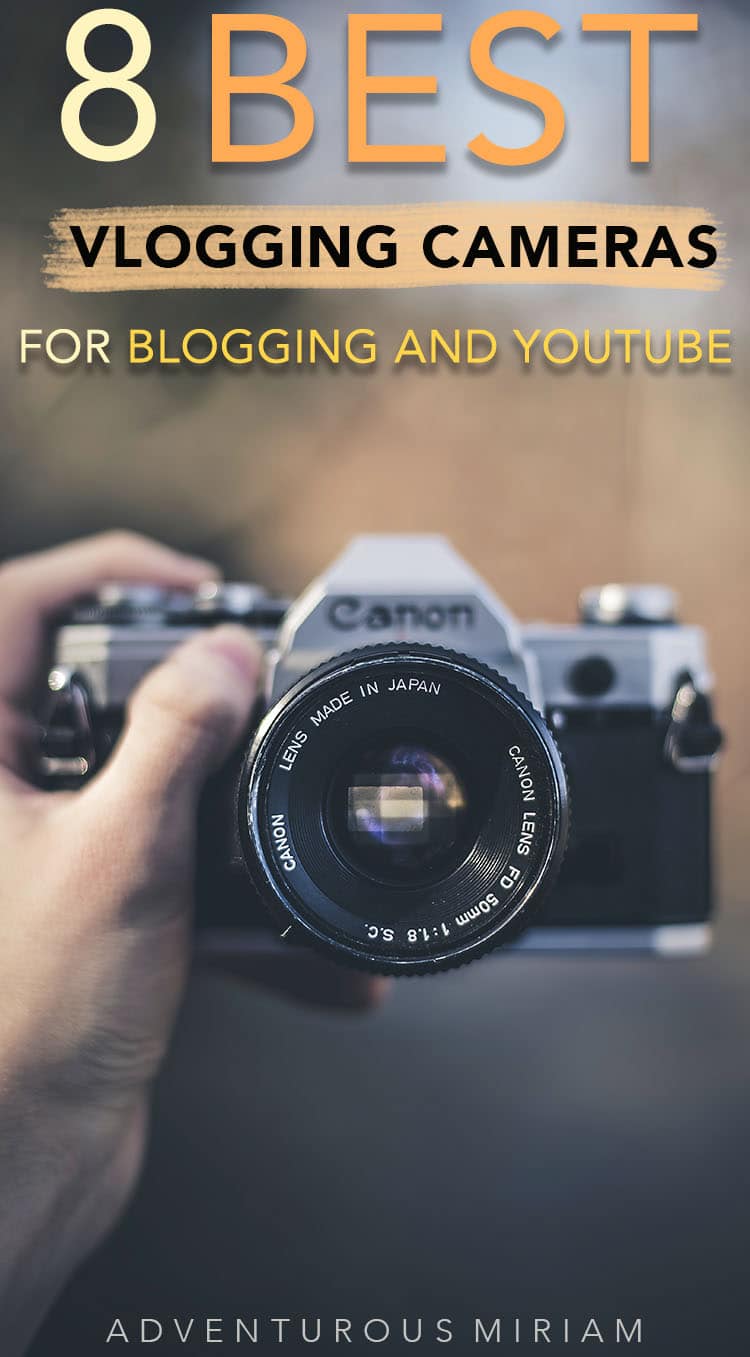 Best Vlogging Camera with a Flip-Screen
How to Find the Best Vlogging Camera with Flip-Screen
Researching for a new camera can be daunting, given just how many brands there are, and the very intimidating specifications that get thrown around to scare you. If you're in the market for a good, mid-to-high-spec camera with all of the functions to produce a high-quality YouTube vlog, these are the things to consider:
Does it have a flip-screen?

Does it shoot in 4K?

Can it film 60 frames per second (ideal for slow motion capture)?

Does is have an auto-focus feature?

Does it have adjustable settings for weather, indoor/outdoor, white balance, composure, etc?

Is it lightweight enough to hold and carry while you film your vlog?
Things to Consider Before Buying a Vlogging Camera
Aside from the power and the features of the camera, you must of course consider your own budget and how you will use it. So, before you dive in, consider what kind of vlogging you'll be doing.
Are you an indoor or outdoor vlogger? If you're vlogging on the road, you'll need a light and portable camera with a long battery life. Are you planning on capturing wildlife? You'll want a camera that captures 60fps for the slow-motion application.
My point is: Really consider what you'll be using the camera for before you start shopping. Consider:
Battery life – will you be out on the road a lot?

Size and weight – where will you store it? Will you be carrying it often and for long periods of time?

Price – what's your budget? Do you need the most high-end professional camera, or will some of the features go unused and therefore be a waste of money? Be really honest with yourself about your budget and how you want to spend it!
My Top Pick
Key Features:
Fully adjustable LCD flip-screen

Films in full HD 1080p

Films at 60fps

Lightweight design (ideal for one-handed vlogging use)

Auto-focus

Bluetooth and WIFI connectivity

3x optical zoom
[Note: in some parts of the world, this is the Rebel SL2. In others it is the 200D. They are the same camera.]
Lightweight and portable
The Canon Rebel SL2 is the best vlogging camera with flip screen on the market right now. It's incredibly lightweight and easily portable, with fantastic autofocus which alleviates so many headaches and frustrations when you're simply trying to get the best footage possible.
Adjustable frame rate
The adjustable frame rate means that it's fit for any purpose, from indoor to outdoor vlogging; filming yourself or the world around you.
Touch screen
It has a responsive touch screen which you can flip to keep an eye on yourself as you're vlogging into the camera lens.
Great value for money
The best thing, though, is the price. At $600, it's an ideal mid-range camera that does everything a vlogging camera needs to do.
Pros
Cons
Reasonable price of $600
Doesn't film in 4K
Films at 60fps
Price may be too steep for beginner vloggers
Adjustable flip-screen
Myriad features to master mean a steep learning curve
Perfect auto-focus
Slightly weak battery life
One of the smallest DSLRs on the market
Microphone port and dock for external mic
Best Lightweight Vlogging Camera
Key Features:
Lightweight – easy to use with one hand for extended periods

Compact size – can fit in your coat pocket

Tilting flip-screen

Films in 1080p

8fps continuous shooting

Includes 8 distinct picture style pre-sets for simplicity
Size and weight
One of the key things to consider when vlogging outdoors and on the road is the size and weight of your camera. Do you want to carry around a huge camera case with a hulking beast of a camera inside? Are you comfortable wearing a large camera around your neck while you're hiking or cycling?
The Canon Powershot G7 X is the most lightweight Canon camera with a flip screen that you can find right now. It's a remarkably versatile little camera ideal for vlogging in any and all situations. The Canon Powershot G7 X falls into the same price range as the Canon EOS Rebel SL2, but is a vastly different beast. What you lose in variety of features (no 60fps shooting), you gain in size and weight.
Great autofocus
To be able to tuck this camera into your jacket pocket, pull it out any time and capture the best footage possible is incredibly satisfying. It shoots in 1080p with a great autofocus, meaning it does everything a larger camera does and loses no quality whatsoever.
Pros
Cons
Mid-range price of $650
Doesn't shoot at 60fps
Pocket-sized and powerful
Doesn't film in 4K
Fully adjustable flip-screen
Price is a little steep for beginner vloggers
Films at 1080p
No mount for external plug-in mic
Excellent autofocus
Strong battery life
Best Mirrorless Vlogging Camera
Key Features:
Very lightweight

Compact size

Strong and durable

Adjustable flip screen

24-megapixel camera

Films at full HD 1080p

Creative Assist feature (great for beginner photographers and filmmakers)
Smaller and lighter
A lot of photographers and filmmakers prefer mirrorless cameras. If you're not aware of the benefits, the two big ones are: a smaller size and reduced weight, due to the lack of a mirror; and the option to shoot with the screen rather than the viewfinder, making it more like shooting with a cell phone. If that's something which appeals to you, you should absolutely consider the Canon EOS M100.
Reduced price
Beyond all the usual features of a high-quality mirrorless camera, you also get a reduced price of $450, which is a very reasonable price for a beginner photographer. But with this reduced price, you don't need to fear for reduced quality. Canon always deliver quality vlogging cameras, and that includes their mirrorless range. And anything that films in 1080p at 60fps is always perfect for YouTube.
Perfect cheap vlogging camera with flip screen
In fact, for a lightweight mirrorless camera that costs as little as $450 to capture footage at 60fps is, frankly, phenomenal. By high quality Canon camera standards, this is a perfect cheap vlogging camera with flip screen.
Pros
Cons
Reduced size and weight
No mount for external microphone
Fully adjustable flip-screen, ideal for vlogging
Lack of autofocus
Records at 1080p
Films 60fps
Reasonable price range for beginners
Creative Assist mode
Best Budget Vlogging Camera
Key Features:
40x optical zoom

Pocket-sized and lightweight

WIFI connectivity

LCD flip-screen

Films in 1080p at 60fps
Great value for money
This camera is incredible for its price. The Canon Powershot SX730 is undoubtedly the best vlogging camera with a flip screen for its price range.
Great beginner's camera
If you're a beginner, looking to get into the YouTube and vlogging scene, or wanting to support your blog with some decent, high-quality videos filmed at 1080p in 60fps (giving you the option of slow-motion capture), then you won't do better than this. Coming in at an incredibly low price of $380, this is the lowest price for a camera that you can find without having to sacrifice any of the key features that are imperative for high-quality vlogging and photography.
Powerful zoom
Like all the others on this list, it features a fully adjustable flip-screen for self-capture. And it has an incredibly powerful zoom, better than many of the more expensive cameras I've mentioned! One of the important features of a great vlogging camera – autofocus – is unfortunately missing, but for a beginner on a lower budget, this is a no-brainer vlogging camera.
Pros
Cons
Capture film in 1080p at 60fps
No autofocus
An incredibly powerful zoom
Reduced features and settings for best lighting/environment
Reduced budget price of $380
No mount for external microphone
Pocket-sized and easily portable
Best High-End Vlogging Camera
Key Features:
Very compact and lightweight

Intuitive focus-shifting

Autofocus on moving subjects

Optical steadyshot

24fps continuous shooting
Handy and versatile
Here's a travel camera custom-designed to shoot the best video and photos possible in any and all situations. Its high-end price of $1200 means that it's certainly not in everyone's price range, but if it is in yours, it's the most handy and versatile vlogging camera you can get in 2019.
User-friendly
The features that come with this camera ensure the smoothest, easiest-to-master, and most user-friendly filming process of any vlogging camera around today.
Fast, intuitive autofocus
The autofocus is faster, more intuitive, and more adaptable than that of any other vlogging cameras, shifting focus as the environment in front of the lens shifts. Moving objects will stay in focus without fail; dynamic and cinematic shifts in focus and blur between foreground and background can be accomplished at the press of the touch screen. Continuous shooting can be done at a phenomenal 24fps, as well.
There's very little this camera can't do. The only downside is a lack of customisability.
The complete package
This camera is a complete package, and therefore adding microphones and lenses is not an option. It's designed for compact and practical vlogging, and nothing more. That's something to consider before spending over $1000 on one.
| Pros | Cons |
| --- | --- |
| Extensive range of smart features | Very expensive |
| Best autofocus on the market | No options for customisability |
| Extra-wide zoom | |
| Cinematic shifts in focus and perspective | |
Best Mid-Range Vlogging Camera
Key Features:
Adjustable flip screen

Sturdy and durable design

Ultra-fast autofocus

Films in 1080p and 60fps

Bluetooth and WIFI connection

Half the weight of a full-size DSLR
Compact design
Some of the vlogging cameras on this list are customisable, allowing for a variety of lens choices and attachable microphones for increased sound quality. Others, like this vlogging camera, are designed with compact design, travel, and ease-of-use in mind. This is why I said at the beginning that you must consider how you will use your camera.
Perfect for adventurous travellers
This camera is identical in price to the $600 Canon Rebel SL2 (my top pick) and sacrifices the customisability options of that camera to bring you something sleeker, lighter, smaller, simpler to use, and better for the adventurous traveller.
If you have $600 to spend on a solid vlogging camera, you have little interest in the technical aspects of lenses and accessories. And you're an adventurous traveler who enjoys hiking, exploring, and off-the-beaten-path journeying, you'll want a camera that's pocket-sized and delivers no-fuss shooting with a flip screen.
Tiny camera
Its size and weight is perfectly designed to be one of the best vlogging cameras with a flip screen, and it really does nothing wrong. Everything you need is contained in this tiny, sturdy shell.
Pros
Cons
Small, compact, and pocket-sized
Lack of customisability options
Excellent shot quality
Fantastic autofocus, perfect for dynamic filming and vlogging
Ideal for adventurous traveling
Best Customisable Vlogging Camera
Key Features:
Fast autofocus

WIFI connectivity

Attachable microphone

Switchable lenses

Low lighting adaptability
Customised camera
As I mentioned, there are two types of vlogging cameras: 1) Out-of-the-box cameras that are compact and simple-to-use, and 2) Those more intricate beasts that are fun to customise for the best sound and visual quality possible. If you're going to be shooting both inside and outside, in low lighting, dawn to dusk, outside in the wind or a busy area, you will need a camera that can be customised. This is the best vlogging camera for those needs.
Plug-in mic
A microphone can be plugged in and mounted to the top for better audio quality, especially in windy outdoor environments; a variety of lenses can be bought and switched out for different shooting environments; all the while this camera is still compact, relatively lightweight, and of a reasonable middling price. You get an awful lot of bang for your buck with this camera.
Pros
Cons
Fully customisable
Bulkier than other vlogging cameras
Autofocus is fast and responsive
Above some people's price range
Can film in 1080p at 60fps
Doesn't shoot in 4K
Lightweight and compact, especially for a DSLR
Best 4K Vlogging Camera
Key Features:
Mirrorless and lightweight

Films in 4K

Metal/leather finish

Customisable lenses and microphone

High-visibility viewfinder

Fast autofocus tracking

Intuitive controls
The complete package
This camera is very much the complete package. Being mirrorless, it's a lot more light and compact than a DSLR, though still more bulky than some of the other cameras designed for travel vlogging. To be able to purchase a 4K camera with customisation options, a sturdy metal and leather finish, and fast and responsive autofocus for an insanely reasonable price of $500 is honestly dizzying.
High performance
The reasonable price means that newcomers to the world of vlogging can afford to make the jump and buy an incredibly high-specification, high-performance camera from the beginning. This means that you are starting out on the right foot.
Perfect for indoor vlogging
You won't need to upgrade for years due to this affordable camera's 4K filming capabilities, and the fact that accessories can be added to it. A camera like this is ideal for indoor vlogging, because both microphones (for higher quality audio) and lights (for studio-quality lighting) can be mounted easily to the top of the camera's body. Wide-angle lenses can be bought and switched out for a more studio feel to the shot quality.
Sturdy build
Beyond that, outdoor shooting is also very much achievable because of Panasonic's wise choice to build the frame out of metal and leather, adding real durability. To top it all off, as a mirrorless camera it is smaller and slightly more lightweight than most customisable DSLR cameras on the market. As a mid-range, lightweight, 4K camera, this might be the best vlogging camera with a flip screen that money can buy in 2019.
Pros
Cons
Lightweight and sturdy
Not everyone prefers mirrorless
Films in incredible 4K
Not as lightweight as some compact, pocket-sized vlogging cameras
Excellent autofocus
Can be fully customised for visual and audio upgrades
Mid-range price, affordable for most vloggers
Learn How to Use It
This is a tip that I simply cannot stress enough. Every camera is different thus every camera requires a bit of a learning curve. But this learning must be done in order to get the best quality shots and films out of your vlogging camera. It's super important that you learn how to manage your lighting. If you know how to adjust your camera for indoor and outdoor lighting, as well as changes in weather and time of day, you'll always get natural, vibrant, colourful, and dynamic shots that will be easier and more painless to edit.
Getting the perfect shot immediately, in whatever condition, means not having to worry about the more difficult aspects of editing. The Canon EOS M100 includes a Creative Assist feature which is user-friendly and perfectly guides you around the features of the camera, ensuring that there's nothing you don't know about your new and exciting toy.
Not all cameras have this function, however, and so your new best friend (aside from the camera) will be YouTube. There are some truly incredible, high-quality, and hyper useful instructional videos to be found on YouTube. Every camera I have recommended here has more than one tutorial on YouTube, provided by camera experts with real love and enthusiasm for the art of vlogging. They will be able to guide you through the process of learning your camera.
Once you've learned it, it'll be like an extension of your body, and that feeling of mastering your camera is worth the time you put in and the money you spend.
Best Editing Software
Vlogging is more time-consuming than you'd expect. Especially if you want high-quality YouTube content that will get more attention and more respect. Half of this comes from having the best camera for your needs, and the other half rests very much in the editing software.
Here are a few editing software options to consider:
Adobe Premier Pro CC
Almost every vlogger, YouTuber and filmmaker is going to recommend you this software, myself included. It's absolutely the most diverse software with the greatest amount of customisation options with regards to cuts; graphics; visual and audio editing; aftereffects; adding text, visual effects, and sound effects.
There's nothing that Adobe Premier Pro CC cannot do. If you're a beginner, it will give you the tools to succeed, and if you're a professional, the things you can do with it are honestly endless. The one major (and it is major) downside is that it is a very expensive monthly subscription that not everyone can afford.
Lightworks
The fact that Adobe Premier Pro CC is so expensive means it's only ethical to suggest a free alternative. Lightworks has been around for decades and is beloved by filmmakers around the world, touted as an incredible, dynamic, and intuitive free editing software. It can do almost everything that Premier Pro can do, but for free.
It, of course, does have its own massive downside: it can only export 720p video footage, which is not really acceptable in today's world of 4K. But, as a free alternative, it's the best one around.
More posts about photography you might like