The ultimate travel packing list (to anywhere)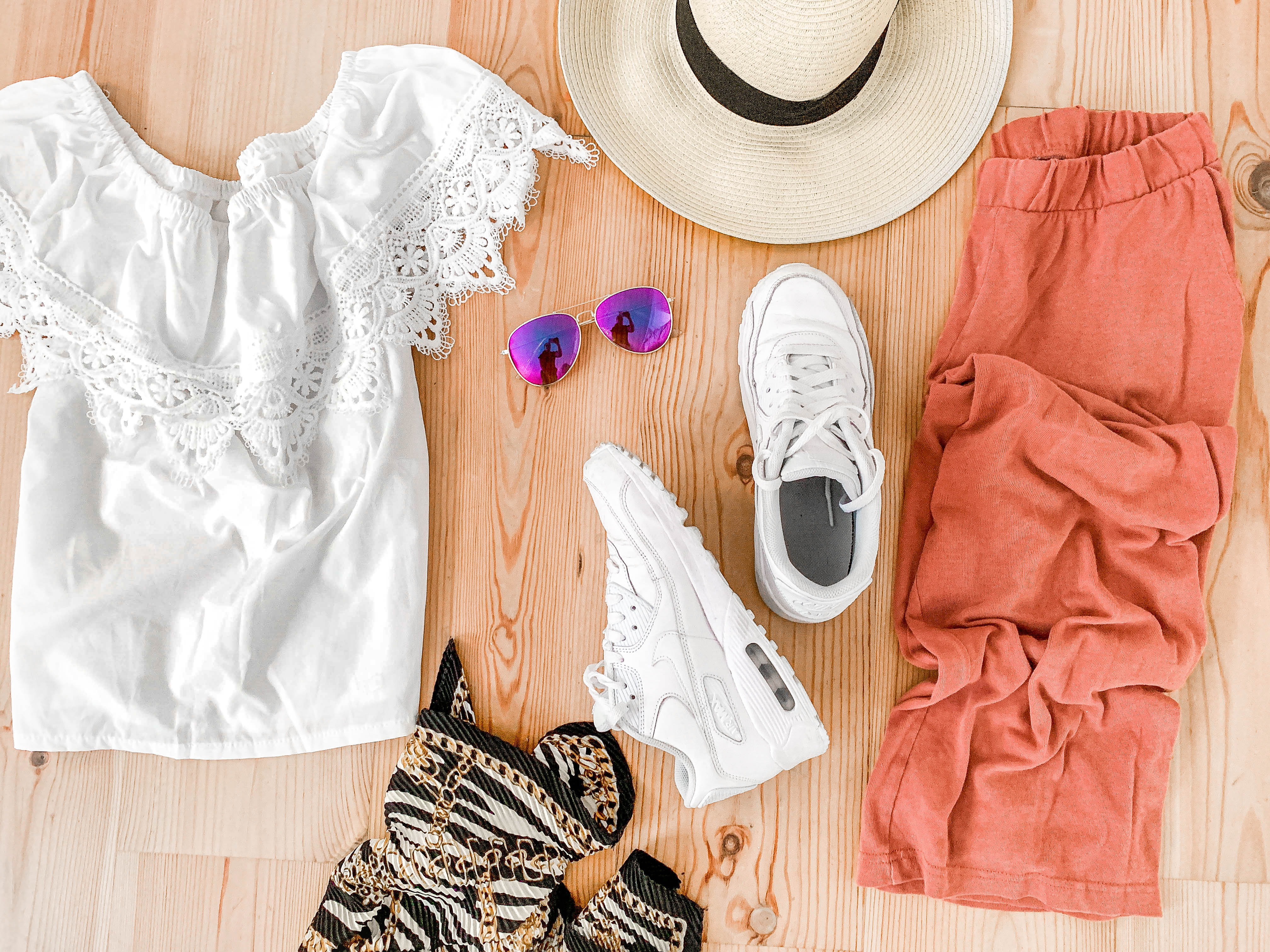 One of the most common questions I get is "what should I pack for a trip?". So, I've made a series of packing guides for Europe, Asia, cold destinations, hiking and much more. But in this particular post, I'll run through all the travel essentials you need for travelling all over the world.
Of course, there are lots of different landscapes, dress codes and climates depending on where you're going. But no matter where you travel to and where you stay, there are certain essentials, clothes, and toiletries you always need.
Here, I've put together a travel packing list which you can use to pack for anywhere in the world! I use this one myself.
This post contains referral links for products I love. Adventurous Miriam earns a small commission at no extra cost to you if you make a purchase through my links. Thank you for your support ♡ Learn more
Choose the right travel bag
First things first: every travel checklist starts with luggage. After all, you can't travel without it! The challenge comes in selecting the right kind of luggage for you.
Read next: My favourite bags for travel
There are pros and cons to every kind of luggage, whether it's a suitcase, backpack, or soft, lightweight or hard luggage. But first of all, you have to decide if you want to travel with a suitcase or a backpack. Let's take a look at how they're different:
Suitcase
Suitcases are large. They're the biggest kind of luggage. That means you can have a long vacation packing list and pack more or less whatever you like.
Suitcases are sturdy. They're perhaps the strongest and safest of all baggage types. Perfect for carrying valuables or breakables.
Backpack
Portability. Backpacks are easy to carry around on your back, meaning you're freer and more mobile!
Minimalism. You can't fit too much which means you're forced to really consider what's important for your travels.
Best day pack and carry-on for travel
Your carry-on / hand luggage is where you keep all your valuables like electronics, jewellery, important papers and passport. It's the bag you'll carry with you on the flight. They come in all shapes and sizes from hardshell and softshell suitcases to duffel bags (my favourite) and backpacks.
A daypack on the other hand is essentially a small purse or backpack, not something as hardcore as a huge backpack but something that's strong, versatile, and can carry a good amount of your essentials. This is the bag you'll use for sightseeing and day tours.
The most important thing to consider is comfort. If you're heading to a hot country, you want something with mesh that breathes well, giving you as much comfort as possible on those humid days. Padding also means comfort for when you're wearing your day pack on long hikes and for full days of touring and exploring.
If you're planning on travelling without a massive suitcase, a daypack is one of the most essential travel items, so be sure to pick one that's right for you!
What to pack in your carry-on
I've covered this in loads of detail, but the important things to consider are what you want to be able to reach at any given moment. Anything you don't need for a day or so can go in your luggage.
Read next: What to pack in your carry-on
But things like travel documents, wallet and money, phone, keys, charger, and electronics like camera, headphones and a Kindle all need to be in your carry-on luggage. After all, what holiday packing list is complete without headphones and a Kindle for maximum comfort and entertainment on those long flights.
Important travel documents
These essential travel items include your passport and key information like addresses, times and emergency phone numbers. It might be a good idea to do as I do and keep all of these things in a folder in your hand luggage. That way, you always know where they are, and they're easy to get to!
Passport
Itinerary
Boarding pass
Wallet
Vaccination card (+ yellow fever proof, if it's required)
Travel electronics
Once upon a less digital time, I never brought any other electronics than my camera, iPod and head phones. Not even my phone and computer would I bring. Honestly, I think it was way less stressful back then, but today you're more or less forced to bring at least your phone. Everything's on there nowadays.
So, our essential electronics are at the top of our ultimate travel packing list. If you're being honest with yourself, things like your phone, Kindle, tablet, and maybe even a games device like a Nintendo Switch will snake their way to the top of your holiday packing list.
Make sure to bring quality headphones for your long flights and train rides, and to fill your Kindle with some great books to keep you entertained for hours.
Winter clothes
Your packing list for Europe will definitely include a lot of these items. Winter clothes like a jacket, boots, and a travel umbrella are a must for Western and Eastern Europe, and of course Scandinavia. If you're travelling across the US or Canada, you'll also want some sturdy winter boots and a windbreaker for those chilly nights and rainy days.
Even in subtropical climates like Southeast Asia, monsoons hit in the summer to be sure to add a waterproof jacket to your travel packing list.
Summer clothes
Every summer packing list needs the following travel items: a towel, swimwear, sunscreen, shorts, and flip flops. Also consider waterproofing some of your electronics and valuables just in case. Definitely avoid denim and add extra sunscreen to your beach packing list. That's the one thing you don't ever want to be short on.
Even if you're only packing a backpacking list, jot sunscreen down at the top! And make sure your clothes are light, airy, breathable and comfortable above all else.
Sunblock – bring a good one with you that is reef safe
Kafkan – a beachwear must
Hat – You need one with a wide brim and preferably a straw hat
Sarong – Buy one when you get there. It's cheaper.
Scarf – Buy one when you get there. It's cheaper.
Pyjamas or something to sleep in
Underwear and socks
Shoes
Flip flops are not the only summer shoes. Also make sure to pack some comfortable, sturdy, breathable walking shoes for those long jaunts and hikes which you're bound to take. Every international travel checklist should have strong walking shoes on it! For winter, walking shoes may not cut it so definitely consider some tough, sturdy, weatherproof hiking boots.
Toiletries
I've already mentioned sunscreen, but I'll say it again here! Put it right at the top of your international travel checklist! Other travel items should include essentials like razors, deodorant, and toothpaste. Just make sure you remember the strict limitations that airport security has when it comes to packing liquids (max 100ml). Always keep that in mind when packing toiletries.
Medical supplies
Hopefully you won't need them, but you should always have the minimum essentials for medical emergencies. Plasters, bandages, and anti-infection creams are the definite bare travel essentials to have with you. I personally also always bring Imodium, antibiotics and Aspirin.
Pro tip: If you're bringing any prescribed medicines (especially pain killers), make sure to have a letter from your doctor with a medication overview. Many countries have strict rules on which substances they allow through border control. For instance, codeine is illegal in Hong Kong and Greece. Check with your doctor before you do anything.
Organising and overpacking
This is a pitfall that a lot of us fall into when making our vacation packing list. We pack for every eventuality, or pack a few too many luxury items just in case. I get it; I do it too. It's nicer to have a favourite thing than leave it behind.

A good way to avoid this altogether is to get yourself some packing cubes. They really do work amazingly well. They help you organise better and allow you to bring more optional things with you that you couldn't otherwise! Stick them on your travel checklist, for sure!
Pre-trip checklist
These are a few things that you definitely have to check and double-check before you even start your travel packing list.
Vaccinations – Check if you need any vaccinations where you're going and get them done in plenty of time.
Visa – The same applies for a visa. If you need one, organise it far head of your trip.
Baggage restrictions – When booking your flight, check baggage restrictions so that you know what to pack.
Weather – Always check the weather so that you know what kinds of essential clothes need to be on your holiday packing list. Is it monsoon season? Or will there be snow? Or a heatwave? Always think two steps ahead.
Travel safety
This is another thing to research ahead of time. Check for what kinds of scams people like to pull where you're going. This is especially true for popular tourist traps like Thailand and India. Also think about pickpocketing and traffic safety.
Read next: 27 essential travel safety tips you should know
Do some research before you go, and keep a safe head when you're out on the road. Also make sure to take care of travel insurance before you go. I book with World Nomads Travel Insurance before I head out anywhere at all.
Travel security goes double if you're a solo traveller, and every solo traveller's ultimate packing list should include a rubber doorstop for your hotel or hostel room. You should also consider padlocks for your luggage, and you absolutely must get yourself travel insurance before you head out on your travels. One last thing is a safety scarf, something that can seamlessly hide your most essential travel items.
Door stopper / Pad locks / Safety scarf / Personal alarm
Transport tips around the world
On top of travel items and a backpacking list, you also need to think about transport. To get the cheapest and biggest variety of flight options, definitely do plenty of research on both Skyscanner and Kiwi. And when organising your trains and buses, definitely turn to Rome2Rio for all your pricing and booking needs. For Asia, 12go is also a fantastic research for booking every kind of transport.
Pin for later