What to Pack for Thailand (Packing List for First-Timers)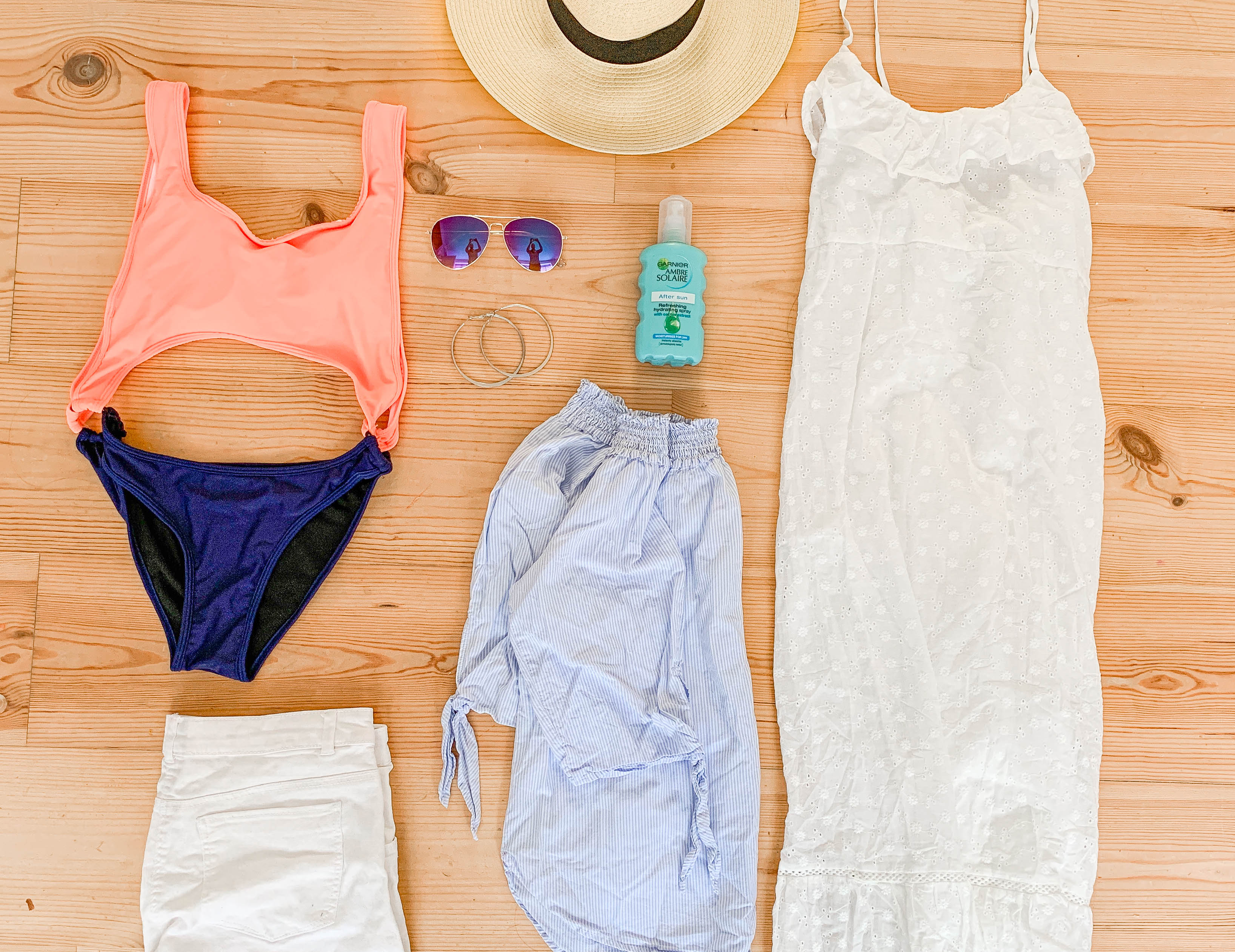 Thailand is one of my favourite countries in the world. It's one of those countries that has a bit of everything: jungle, mountains, waterfalls, beaches, and the open ocean. So, how do you know what to pack for Thailand, when there's so much to think about? Well, before we get into the details, the first thing to know is to pack light.
Read next: What to pack in your carry-on
Thailand is warm almost all year round, and at the height of summer (May-October) it gets very hot and humid. That means packing light is a must, which includes the clothes you pack and the bag you carry. Everything should be light, easy to carry, and airy. We'll get into that and more in this detailed Thailand packing list!
This post contains referral links for products I love. Adventurous Miriam earns a small commission at no extra cost to you if you make a purchase through my links. Thank you for your support ♡ Learn more
What to pack for Thailand
When packing for Thailand, you need to think about the terrain and the weather. You can have your clothes washed in Thailand and it's super cheap, so don't pack too much. The less you have to carry around, the easier your trip will be.
Think airy fabrics like linen, cotton and viscose. And bring a rain jacket if you're travelling during July to October. It needs to be light and cool but also waterproof – a good quality windbreaker. When it comes to what to wear in Thailand, you have to consider both the scorching sun and the pouring rain!
Backpack or suitcase for traveling Thailand?
What to pack for Thailand actually starts which what to pack your things in, and how you pack. And speaking of – don't underestimate packing cubes! They'll help you so much with your organisation.
You can bring a backpack or a suitcase for your Thailand trip – it's really up to what you prefer. Up until a few years ago, I always travelled with a backpack. But now, I'm a suitcase traveller. If you find it hard to decide, here are some pros and cons of both:
The pros to taking a suitcase are:
Your belongings wont get squashed
Clothes are easier to find
You won't have to carry it
The pros for taking a backpack are:
More comfortable
Easy to carry around
More lightweight than suitcases
Osprey backpack 45l // Kenneth Cole hardshell 4-wheel spinner
Best daypack and carry on
The best carry-on bags and daypacks are ones that are sturdy and light. I recommend that you bring a carry-on bag and also pack a light daypack for sightseeing and day tours. If you're going hiking or jungle trekking, padding is a must, because you'll be wearing it a lot. And mesh is breathable, which is imperative in the heat and humidity of Thailand.
What to pack for Thailand: Women
Ladies, the goal for your Thailand packing list is to keep it as light as possible. Thin, comfortable tops; airy shorts that match as many tops as possible; sunglasses; and a waterproof jacket for when it's raining. These are all the absolute essentials for tackling Thailand in any weather and any season. The goal is to be comfortable, have something to protect from the rain, and no denim.
What to pack for Thailand: Men
When you pack for Thailand, bring linen shorts, trousers and shirts, sunglasses and a waterproof jacket. Keep the jacket as light and strong as possible so that it folds away to nothing in your bag but also keeps you dry if the monsoon hits. Leave the denim at home.
Shoes
Your Thailand travel checklist isn't complete without the right shoes. Because of its varied landscape, packing for Thailand means packing both comfy flip flops and walking shoes. If you know you'll be doing a lot of walking and exploring on foot, even just in the cities, it's best to have a pair of breathable mesh sneakers.
Toiletries
Your main toiletries are, of course, toothpaste, deodorant, and moisturiser. But also consider taking a roll of toilet paper in your bag for emergencies. Doing this can really help if you're in an awkward position at an unexpected time. Also make sure to take waterproof sunscreen for that humid climate, meaning you can jump in the water whenever you feel like it and still be protected!
What electronics to pack for Thailand
The most important electronics when it comes to what to pack for Thailand is your camera and phone. And with your phone, you should specifically have one with a strong and reliable GPS, in case you get yourself lost. If you prefer movies, consider an iPad or a lightweight laptop!
What to do in Thailand
Go island hopping – There are so many beautiful islands in Thailand: Islands for partying and islands for relaxing. Base yourself on one of them and take day trips to the others.
Taste the amazing Thai food – This is, of course, one of the must things when considering what to do in Thailand. Thai food is AMAZING and you should try as much of it as possible. From Pad Thai to Thai green curry, the dishes are delish!
Visit a floating market – Some of the people who live and work at Thailand's floating markets can spend their entire lives never setting foot on dry land. Aside from the things you can buy there, these markets are so unique to Southeast Asia that you must visit one.
Get a Thai massage (this is a must!) – Trust me when I say you'll never have a better massage. Even if you're not into massage, get one in Thailand. You owe it to yourself.
Eat a scorpion – For real, this is a delicacy in some parts of Thailand and far less intimidating than you'd think! Be brave and try a scorpion!
Drink a bucket – In Thailand, a bucket is a popular drink during the Full Moon Party. It's literally a beach bucket filled with soft drinks and a bottle of liquor. Strong stuff!
Visit the waterfalls at Kanchanaburi – This pretty mountain is layered with seven waterfalls, each more beautiful than the last. Make your way up the mountain and experience the beauty of each waterfall for yourself. When you get to the top, there's a pool full of fish.
Movie night – At many of the restaurants in Koh Pha nang, Koh Samui, and Koh Tao there's movie night every night! Take advantage, meet some nice fellow travellers, and enjoy dinner and a movie!
Travel safety in Thailand
No matter where you travel to, you want to stay safe, obviously. Thailand is, overall, very safe, but there are scams to be aware of, especially in Bangkok, and pickpocketing and purse-snatching can be an issue. So be smart and always have your wits about you.
Read next: 27 essential travel safety tips everyone should know
Make sure to take out travel insurance as well. I use World Nomads Travel Insurance and they cover any accidents, illness, and loss that you can experience. What's great about them is that they cover more adventure-focused activities, so if that's your thing, definitely check them out.
Transport around Asia
Thailand has several ways of getting around. All of them are cheap, safe and fun – well, maybe except for some of the overnight busses. Tuk-tuks are a great alternative to taxis, and cost pennies. You can also rent motorbikes – though be careful; driving in Thailand can seem reckless if you're not used to it.
Buses and trains are also reliable, if a bit slow, and very cheap to use. The trains are also particularly fun as many of them are old war trains imported from Japan, which is pretty awesome and very vintage!
I always use 12go to see and book transport schedules ahead of time. I usually book transport a few days in advance but if I'm travelling during peak season, I book things ahead of time.
Are you headed to Thailand and got questions? Let me know in the comments!
More posts from Thailand you might like
Save for later