How to plan an unforgettable camel safari in Pushkar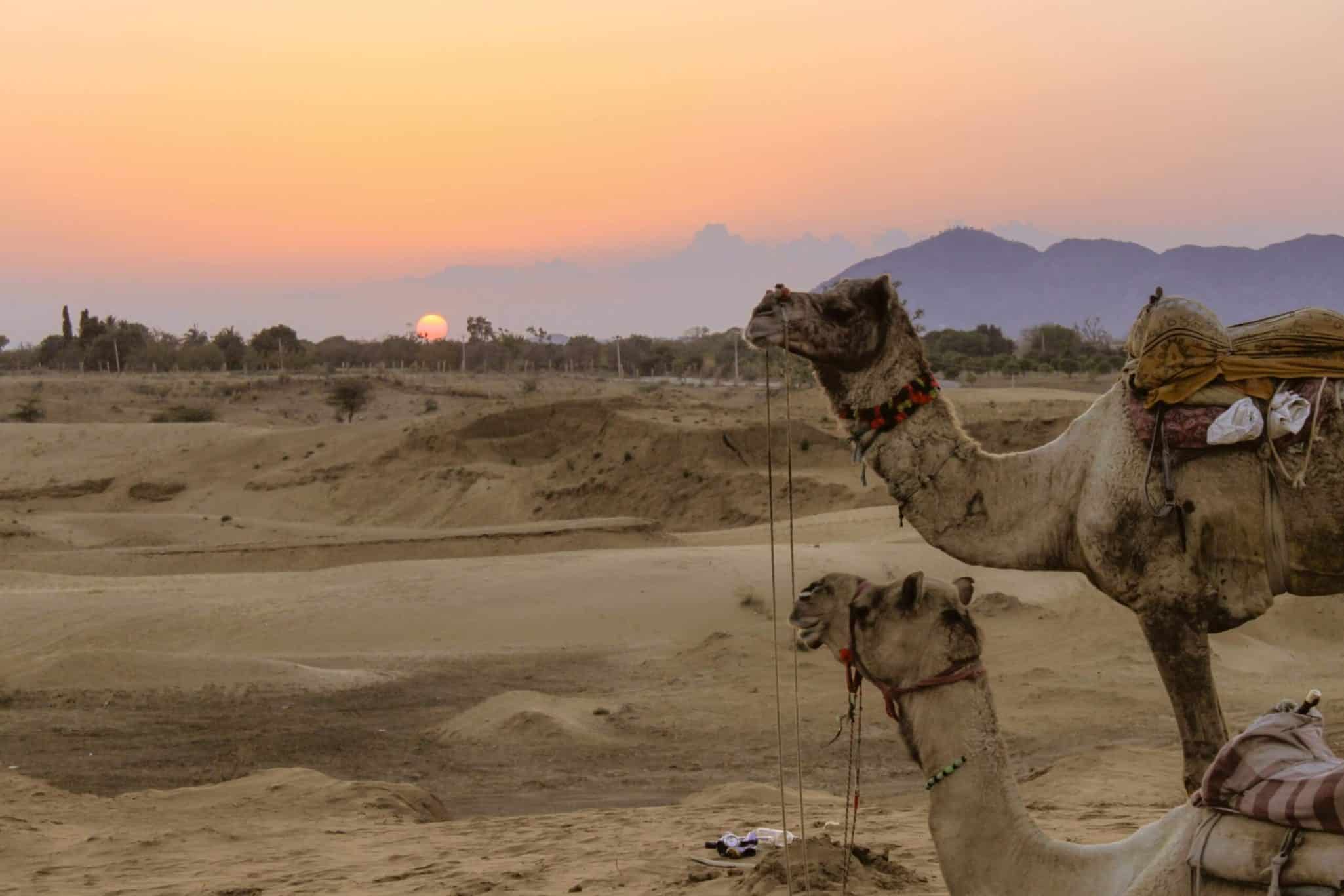 Planning a camel safari in Pushkar? Here's how to do it, what to pack and what to expect.
It was my first time riding a camel. It's not that I've never had the opportunity before, but truth be told, I've been terrified. It might have something to do with a childhood trauma involving me falling off a pony while attempting to mount it. Since then, I've avoided horses, ponies in particular, and the thought of climbing an even bigger animal was just unimaginable.
This fear, however, was about to be overcome when I decided to try a camel safari in Pushkar. After all, riding a camel is kind of obligatory when you visit the desert.
Our camel safari turned out to be more than we bargained for. I'll tell you all about it, but first, let's take a look at the logistics and how you can plan your own trip.
Read next: Ranthambore tiger safari – is it worth going?
This post contains referral links for products I love. Adventurous Miriam earns a small commission at no extra cost to you if you make a purchase through my links. Thank you for your support ♡ Learn more
What's the cost and duration of the ride?
A 2-hour camel safari in Pushkar should cost around $20.
We joined a sunset tour that took us through the desert and ended at the sunset spot. You can also do overnight safaris or a jeep safari, although that takes the fun out of riding a camel through the desert.
When to go?
The best time to go on a camel safari in Pushkar is between October and March when the weather is cool.
April to July are the hottest months as the desert experiences summer and the temperature gets super hot.
If you visit in October or November, you'll be there for the Pushkar Camel Fair. It's an annual fair where locals trade cattle, horses and camels. It's held over seven days in autumn and attracts nearly 200,000 people.
What to pack?
You needn't take much on a camel safari in Pushkar. Just remember to dress according to the season. Winters get cold, especially in the desert, so bring a sweater. Summers on the other hand are steaming hot with up to 40 degrees C.
This is what to pack (for all seasons):
Sunglasses
Cap/scarf
Insect repellent
Hand sanitiser
Medical kit
Some cash
Water and snacks
Camera
Decent footwear like sandals or sneakers (not flip flops as they can fall off)
Our camel safari in Pushkar
We got picked up at 4pm, which gave us a couple of hours to reach the destination before sunset. Viewing the sunset over the desert was unconditionally the highlight of our camel safari in Pushkar. So, we went to the camel hangout to get our ride for the day.
There were plenty of camels, but picking one for the day wasn't that hard even though they seemed to accommodate all the stereotypes: the badass punk, the philosophic, the lazy, the rebellious and…. the cute one.
Guess which one I picked?
Our designated guide was a teenage boy who didn't seem to bother and only knew a few words in English. He did seem to understand when I asked him if we would be at the sunset destination in time. "Yes, m'arm, no worry," he laughed. So, I didn't, and I enjoyed the very slow but fun walk across the sand dunes of Pushkar.
We had a few breaks along the way, giving our camels time to rest, but most importantly: giving the guide time to chat on his mobile.
Sunset, please don't go
During break number I-stopped-counting, I noticed that the sun was casting a long shadow, meaning that it would soon disappear, so I asked our guide – again – if we would make it in time. And he gave me the same response as the last time I asked, only this time with an annoyed tone.
About 15 minutes went by before the sun began to set in the horizon and we were still on our camels far away from the destination. The guide started to walk faster, and he looked anxious as he turned to me and said:
"Now. Run."
At first, I had no idea what he was talking about. Did he want us to get off and run to the sunset point? Well, it would make sense as our current speed was slower than slow. But that was not what he meant.
"Hold on," he yelled, while he got up on Pernille's camel behind her, and then he set off.
Racing a camel through the desert
Up until this moment I had no idea that a camel was capable of running no less racing! Nonetheless, that's exactly what ours did with us on their backs. While being thrown up and down in high-speed, I remember weighing the costs and benefits of racing – the benefit being watching the sunset in time and the cost being falling off – again. As always, my stubbornness won my fear over, so I tried not to focus on being squashed under those long, heavy camel shanks.
20 minutes later and with a major case of numb bum, we eventually reached the destination. While racing and trying to steer my camel, I had managed to take a photo of the sunset behind me. And that's all I got. When we got there, the sun had already set, and people were starting to pack up and leave.
I could have strangled him.
Thankfully, he put me out of my misery quickly by apologising. I was still fed-up with him because we didn't get what we had paid for, but I guess it could've been worse. After all, I did manage to get over my camel fear and I got to race one, too.
How often do you get to say that?
Should you try a camel safari in Pushkar?
Ok, so while I had a slightly different experience than I'd expected, it sure was eventful – and in hindsight pretty fun!
However, to help you adjust your expectations, let's talk about what you'll actually see on a camel safari in Pushkar. While Rajasthan is the place for an authentic desert trip, Pushkar is not the best place for it.
The landscape is pretty as long as you don't expect a desert with tall, soft sand dunes as the one in Dubai or the Sahara. You can watch a beautiful sunrise or sunset here, or spend the night under the stars. But if you want to experience the real sand dunes, go to Jaisalmer.
Planning to do a camel safari in Pushkar? Ask me anything in the comments!
More posts from India you might like
Pin it!