A guide to visiting India's largest religious gathering: Maha Kumbh Mela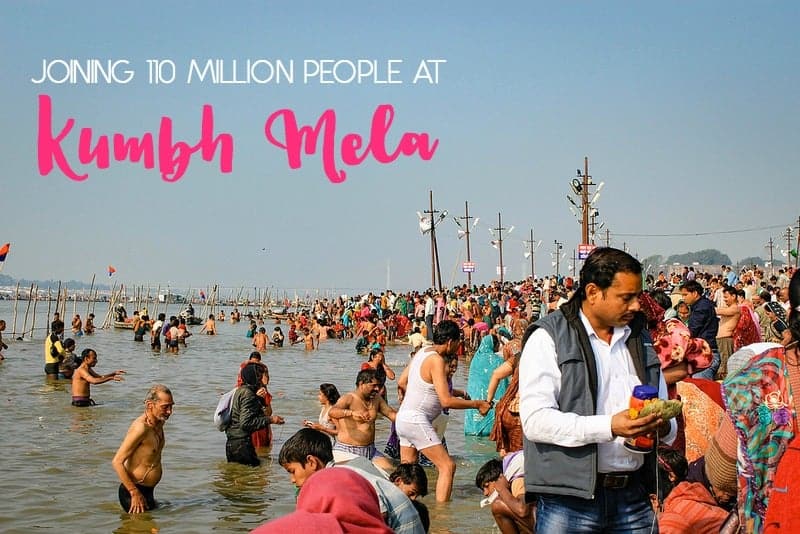 Imagine millions of people gathering the same place. Loud speakers playing Hare Krishna mantras and naked men walking around with tridents in the streets. That's how the Maha Kumbh Mela was like.
I can honestly say that attending this festival is one of the most exhilarating, humbling and challenging experiences I've had. Even though I am not a hindu, and I did not come to bathe in the River Ganges like other pilgrims, I still felt the energy, warmth and faith there. If you ever want to experience something completely out of the ordinary –this is the place to go.
This post contains referral links for products I love. Adventurous Miriam earns a small commission at no extra cost to you if you make a purchase through my links. Thank you for your support ♡ Learn more
What is Kumbh Mela?
is the world's largest religious festival, and it is held every third year in one of four different cities by rotation. This year was the Maha Kumbh Mela, which is only held every twelfth year, and it is estimated that 110 million people attended.
The event lasts for49-days.
Most visitors are pilgrims from India who come to bathe in Ganges. They do so because they believe that they will achieve purification of sin and bad karma if they take a dip on specific auspicious days during the six-week long festival.
Staying in an ashram
One of the things I was looking most forward to was staying at an ashram. This had been on my wish list for so many years. Not only because of my professional interest, but I wanted to challenge my vanity and go way out of my comfort zone.
We stayed at the Yathath Yog Ashram, which is based in Rajpur. It is run by Bruno, a Belgian, and Radhe Baba, the guru. At the moment, 5-10 people lives in the ashram, but during the Kumbh Mela, there are around 25 living here.
Read next: Why you should visit an ashram
The ashram is an open community, and people came to visit every day. There was always enough food to share with strangers, and always an extra blanket for anyone who didn't have a place to stay. Bruno and Baba were very interested in talking to us, and there was never a bad time to get input on Kumbh Mela, any of life's big questions or even to get a massage.
Blessings from a holy naked man
Overwhelmed as I was at first, I was soon fascinated by the thousands of sadhus walking around on the dusty dirt roads of the Kumbh. Sadhus are India's holy men, and they belong to different sects; some of them wear orange robes, others are naked and smeared in white ash.
Even though some of their looks or trident accessories seemed unfriendly, most sadhus were surprisingly chatty, and I had the pleasure of visiting a naga sadhu, which is a holy and very naked man.
You can read all about my visit here, but we had a great basic sign-language conversation over a cup of chai, and he gave me his blessing before we left.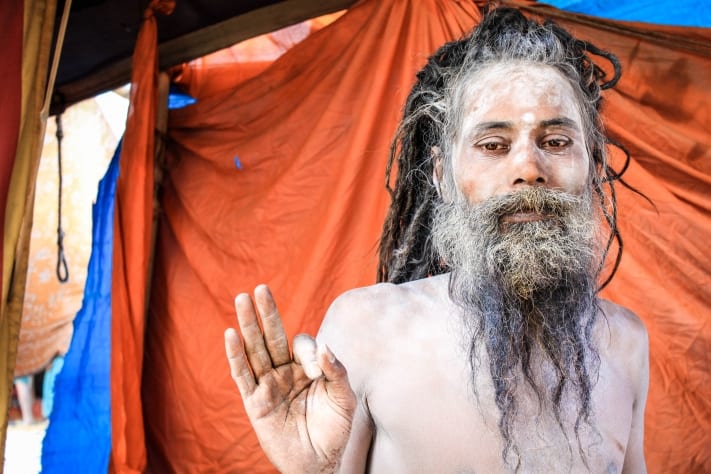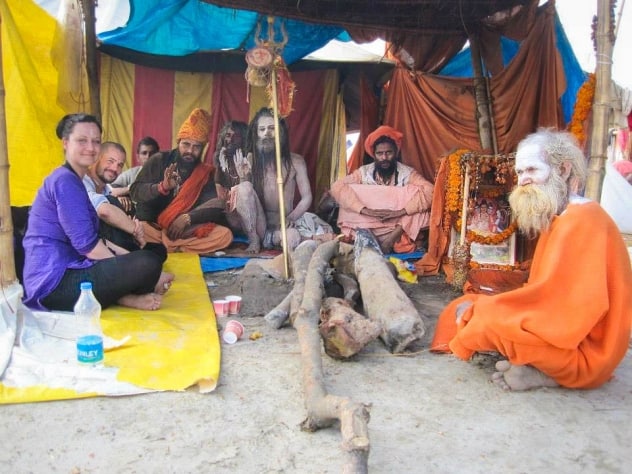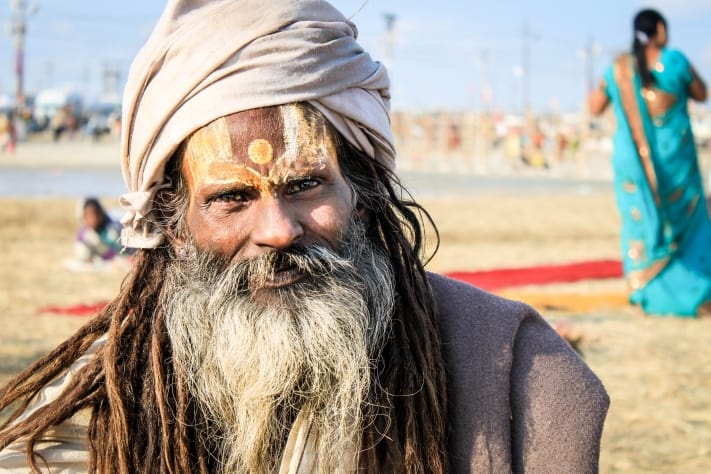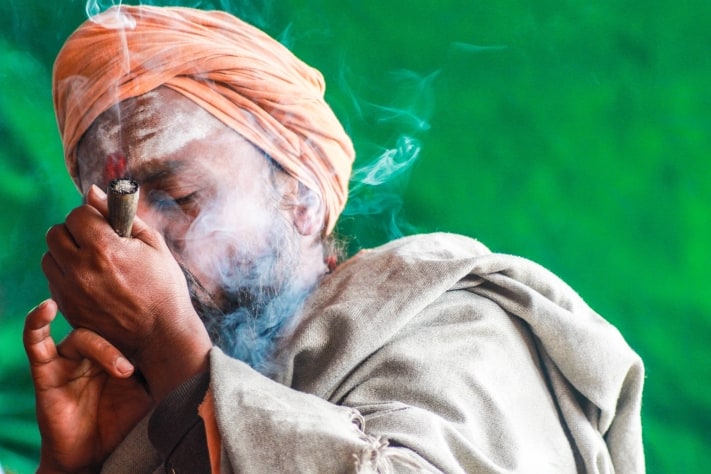 Overcrowding issues
India is a pretty crowded country, and strange as it may sound, it didn't seem like 110 million people were at the festival. There were many, yes. But it's only during the processions and larger gatherings that crowds can be a problem and in some cases fatal. 36 people died in a stampede at the train station, and having been there I can see why something like this can happen.
Read next: Pilgrims at the Ganges River
When I exited the train in Allahabad, I had three Indian women pulling my shirt trying to get in first, while ten others pushed and dropped elbows in each other's faces. Luckily for me, a helpful local who stood right next to me, slapped two of the women, kicked the third and yelled at them in hindi (to back off, I assume).
It was rather brutal, but I guess that's just the way they usually enter a train, and with so many people I have no problem imagining how people could get trampled to death. This is not the place to turn the other cheek when someone takes a swing at you.
Rituals at the River Ganges
The Kumbh Mela covers a large area, but there are always people and religious rituals to be found at the Sangam. This is the most holy place as it's the confluence of the three rivers: Ganges, Yamuna, and the mythic Saraswati River.
This is where pilgrims come to wash away their sins and it is also the site where Mahatma Gandhi's ashes were immersed.
One of the many sangam rituals involves getting a dot in your forehead so that you'll really blend in. Pernille bought a coconut, which was to be thrown in the river as a symbol of casting away bad karma. I got a paper boat with candles and flower petals, also a sign of being purified of sin.
Read next: Things to do in Varanasi
The weird things you see at the Kumbh
Indeed, Kumbh Mela is a place for religion, but it's also the place to see strange things!
I met a cow with five legs, a hyper mobile local and a pot smoking police officer all in one day – and I haven't even gotten around to telling you about the naked men and how I got blessed by one. Kumbh Mela may be many things, but one thing is for sure: it's certainly not boring.
Read next: Meeting a naked naga sadhu
Have you been to any big festivals? Let's talk in the comments
More posts from India you might like
Pin to Pinterest