Jaipur itinerary: 10 things to do in Jaipur for 2 days
Looking for a Jaipur itinerary? In this post I'm sharing 10 things to do in Jaipur.
Welcome to Jaipur, India's incredible Pink City! Loved for its vibrant culture, delicious cuisine and bustling bazaars, Jaipur is the perfect destination for discovering India.
In Jaipur, you can enjoy the sun-kissed sandstone buildings of the Amer Fort or explore the rich cultural heritage at Hawa Mahal and Jantar Mantar. With plenty of things to do, a trip to Jaipur is sure to keep you busy for days.
Here's your itinerary for Jaipur that includes all the must-see attractions in the city.
Read next: Your travel guide to India
This post contains referral links for products I love. Adventurous Miriam earns a small commission at no extra cost to you if you make a purchase through my links. Thank you for your support ♡ Learn more
Jaipur itinerary 2 days
The highlights of your Jaipur itinerary should be food and forts.
Spend your days getting a glimpse of local life by browsing the bustling bazaars, then head to historical places in Jaipur like the forts and museums to learn about its rich history and why it's protected as a UNESCO World Heritage Site. From floating palaces to ancient stepwells, here are the best places to include on your Jaipur itinerary.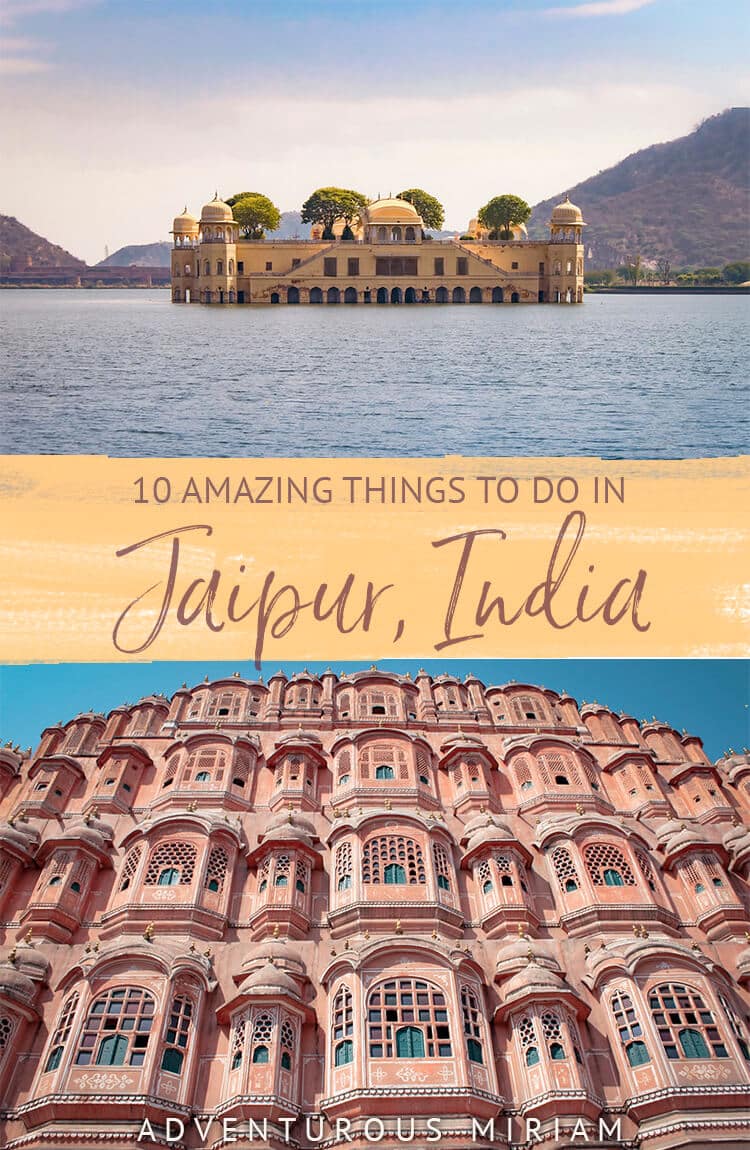 How to get around
With a population of 4.2 million, Jaipur is quite big so you need proper transportation. I recommend hiring a tuktuk driver for the day. You can find a driver on the street or have your hotel help you arrange it.
We hired a tuk tuk driver for the day and he picked us up at 11am from our hotel. GS had been a tuktuk driver for many years and he knew his way around the city, pointing and explaining the stories behind every building and structure.
He actually ended up inviting us home to dinner with his family, which we gladly accepted. Our sightseeing day turned out to become one of those unique travel experiences that often happens when you talk to locals.
Things to do in Jaipur for 2 days
So, you've got 2 days in Jaipur.
Whether you are looking to take in the stunning architecture, experience the bustling bazaars or explore the city's rich cultural heritage – two days in Jaipur is enough to do all this and more. Actually, 2 days is the perfect amount of time to spend here. Here are the best things to do in Jaipur.
Day 1
1. Jaipur City Palace
The city palace should be on your Jaipur itinerary.
The magnificent Jaipur City Palace is an architectural masterpiece located in the heart of the city. Built in 1732 for Maharaja Sawai Jai Singh II, the palace is composed of several courtyards and buildings that show the creativity and splendour of the royal Rajputana style of architecture.
Make sure to notice the decorations, the ornate archways and hand painted murals depicting tales from Indian mythology. This is one of Jaipur's main attractions for a reason!
2. Patrika Gate
The magnificent Patrika Gate is a grand entryway to the City Palace. Constructed in 1799 by Maharaja Sawai Pratap Singh, the gate is guarded by two elegant statues depicting life-size tigers and peacocks. The opulent structure features spectacular stone carvings and colourfully painted murals that shows scenes of Indian mythology.
If you're looking for a picturesque place in Jaipur, this is it.
3. Hawa Mahal
One of the places I was most excited about visiting in Jaipur was Hawa Mahal. The five-store Hawa Mahal was built in 1799 and has 953 small windows called jharakhas. They were built for the royal women to observe everyday-life without being seen themselves.
When you see Hawa Mahal in a picture, it looks big and majestic, but in real life it's quite small. Also, I was surprised to find out that it's front and not a building.
It's still an incredible piece of architecture, though, and one you should definitely see!
4. Jal Mahal (Water Palace)
Built as a shooting lodge by Maharaja Jai Singh II in 1799, the Jal Mahal, or Water Palace lies on the edge of Man Sagar Lake offering breathtaking views of the lake and surrounding hills. The five-storey structure was designed with sandstone and marble chambers that are encircled by four levels of terraces.
You can visit the palace on a boat ride around the lake.
5. Panna Meena Ka Kund
Panna Meena Ka Kund is a 16th century stepwell located in Jaipur, India. The well slopes down several levels with intricate staircases, small pavilions and large archways leading to its lower depths. The steps are adorned with carved stone figures depicting animals and deities, adding an extra layer of beauty to this already impressive structure.
Take a stroll on the steps to explore the well's lower depths, and take in views of the nearby lakes and rolling hills from up top. This is another Instagrammable place on your itinerary of Jaipur.
6. Visit an ethical elephant sanctuary (Elefantastic)
Next up is something special.
I haven't had the best experiences in the past visiting non-wild elephants in Asia, so when GS proposed a meeting with a Rajasthani elephant, I wasn't intrigued. I had no desire to witness any more sad and starved animals in chains, but GS ensured us that the elephants were quite happy at Elefantastic.
His name was Rani and he was 5 years old. Several times a day, Rani walked around the area, ate, bathed and clapped. And most importantly, he looked happy. It didn't take an elephant whisperer to tell that Rani was in good hands. I'm really glad we went to see him.
7. Sunset at Galta Ji (Monkey) Temple
After your elephant encounter, I recommend heading to Galta Monkey Temple, which is one of – if not the – best places in town to watch the sunset. As the name reveals, it's crowded with monkeys, some of which were rather territorial, but it's nothing a small bribe can't handle.
Day 2
On the second day of your 2 days Jaipur itinerary, you'll be exploring palaces. You'll be heading out of town, so make sure to hire a tuktuk driver or join a group tour.
8. Amer Palace
Amer Palace is placed a little outside of Jaipur.
Constructed in 1592 by Maharaja Man Singh I, the palace is renowned for its intricate sandstone carvings and grand courtyards. At its core lies the majestic Sheesh Mahal, or Hall of Mirrors, which shows an impressive collection of intricately detailed mirrors. It's truly beautiful.
You can also explore the Diwan-i-Khas (Hall of Private Audiences) where kings met with dignitaries, as well as the lush gardens and pavilions that surround the palace. This is a must-see in Jaipur!
9. Nahargarh Fort
Next to Amer Palace is Nahargarh Fort, a renowned 18th century fortification. It was designed to protect the city below.
From the highest point of the fort, you can take in breathtaking views of Jaipur's skyline and get a glimpse of its historic landmarks such as Hawa Mahal, Albert Hall Museum and City Palace. You can also explore various forts within its premises such as Madhavendra Bhawan, Kesar Kyari Bagh and Vedi Temple.
10. City bazaars
When you get back to Jaipur, it's time for some shopping. The City Bazaar is an ideal place for this.
Here, you'll find lots of shops with colourful fabrics, spices, jewellery and handmade crafts. Vendors are eager to help you negotiate for a bargain and can even tailor clothes on-the-spot. The bazaar also has plenty of food options; try some of Jaipur's famous street food (like samosas, pakoras and biryani).
Where to stay in Jaipur
We stayed at Suryaa Villa Jaipur. It's a nice and very affordable hotel with a swimming pool, I quite liked it! Plus the staff at the reception was helpful with planning our two days in Jaipur itinerary. Book your stay at booking.com.
What about you, adventurers? Would you go to Jaipur, India?
More posts from India you might like