The amazing Amer Palace (Jaipur) – All you need to know
Amer Palace Jaipur, also known as Amer Fort, Amber Palace and Amber Fort, is one of the highlights of Rajasthan. The old fort overlooks the pink city of Jaipur and stands out for its majestic grandeur, surroundings and beautiful halls.
We visited Amer Fort on a day trip to explore some Indian history and to finally meet a real snake charmer and his cobra!
Read next: The best things to do in Jaipur
This post contains referral links for products I love. Adventurous Miriam earns a small commission at no extra cost to you if you make a purchase through my links. Thank you for your support ♡ Learn more
Amer Palace history
Amer Palace is one of the UNESCO World Heritage sites in India.
Built in 1592, the fort was inhabited by the Rajpur Maharajas and their families, and the structures contain several temples. Only a few kilometres away is the Jaigarh Fort, which is connected to the Amer Palace by a subterranean passage. This was built as a safe place for the royal families in times of war.
When you reach the fort, you'll notice a large wall climbing across the mountain back. The wall is the world's third longest after Kumbhalgarh Fort (also in Rajasthan) and The Great Wall of China.
The Amer fort layout
The beautiful sandstone and white marble Amer Palace is divided into four main sections, each with its own courtyard. At the base, you'll find Maoti Lake where the Amer sound and light show takes place in the evening.
The fort is packed with beautiful architecture, decorations and artwork with these most noteworthy highlights:
Suraj Pol (Sun Gate)
Jaleb Chowk (Main Courtyard)
Baradhari pavilion
Chand Pol (Moon Gate)
Siladevi Temple (gorgeous silver doors featuring repoussé)
Diwan-i-Am (Hall of Public Audience)
Ganesh Pol (decorated with beautiful frescoed arches)
Jai Mandir (Hall of Victory – inlaid panels and multi-mirrored ceiling)
Sukh Niwas (Hall of Pleasure – ivory-inlaid sandalwood door)
Zenana (secluded women's quarters surrounding the fourth courtyard)
First level
You will enter Amer Palace through the Suraj Pol (Sun Gate), which leads to a large courtyard called Jaleb Chowk. This was the main courtyard where soldiers assembled and held parades. You'll find the ticket office directly across the courtyard.
Notice the Siladevi Temple, which has a beautiful silver door with raised relief work.
Second level
From Jaleb Chowk, you'll get to the second level by following the main stairway. Here, you'll find the Diwan-i-Am (Hall of Public Audience), which has two rows of columns each topped by an elephant-shaped capital. This is where the Maharaja (the king) used to address his subjects.
Third level
On the third level, you'll enter through the fabulous Ganesh Pol, the most beautiful palace gate with frescoed arches. Here, you'll find the most coveted structure of the fort – Sheesh Mahal, which is divided in three parts.
The outer part, Diwan-e-Khas, is where the king would meet in private with his important court-men to make important strategic decisions. The following part is called Jai-Mandir (Hall of Victory). It's noted for its intrinsic pieces of mirrors covering its ceiling and roof.
Across the Jai Mandir is the Sukh Niwas (Hall of Pleasure). It's decorated with an ivory-inlaid sandalwood door and was cleverly designed with an air conditioning system to control the temperature of the halls so that it remained cool in summer.
Fourth level
The zenana (secluded women's quarters) surrounds the fourth courtyard. There are 12 rooms – one for each queen. Each room was connected to the king's room through a private passage. It was designed this way so that the king could visit his wives and concubines in the night without the others knowing.
Meeting a snake charmer
The palace is also home to a snake charmer. And when I found out, I instantly went looking for him.
Snake charmers have always intrigued me. It's not that I like snakes in particular, but the whole hypnoticing-a-deadly-animal thing is pretty cool, and to see it up-close would be nothing short of thrilling.
We arrived at the fort around midday and paced up the stone stairs to find the snake charmer. It took a while before I suddenly heard the significant tunes of a pungi.
The snake charmer looked exactly like I had imagined. He wore a turban, a vest and he was bare-footed. I impatiently gave the snake charmer a few rupees and he started playing his instrument.
We waited.
Nothing happened.
We waited some more.
But no snake was in sight.
After 60 seconds, the charmer nonchalantly flipped the lid off and I caught a glimpse of the cobra's head. I moved closer to get a better look at the deadly cobra – only to realise that it was not a real snake.
Did it look like a snake? Yes.
Was it as fake as the tooth fairy? Absolutely.
Amer Fort wasn't the place I'd meet a real snake charmer – it was the place where snake charmer-dreams go to die. At least now you'll be prepared if you meet him, too.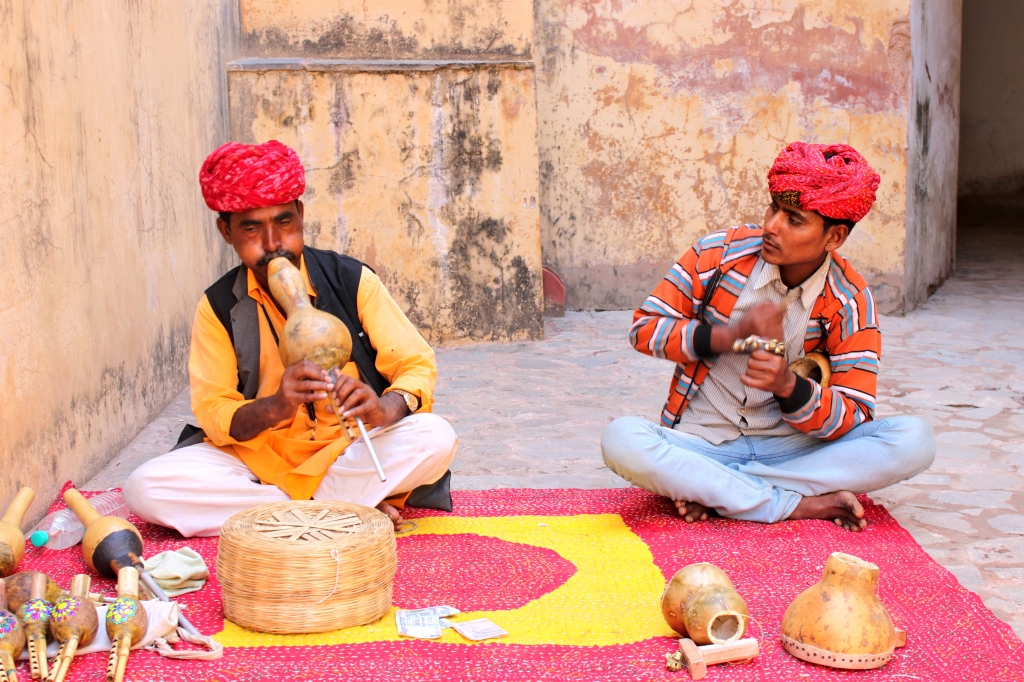 How to get to Amber Fort Jaipur
So, getting to the palace….
Amber Fort is located around 30-minutes outside of the Old City of Jaipur, and it's easily reached on a day trip. These are the most popular ways to get there:
A/C Buses – from Hawa Mahal to Amber Fort. The price is around Rs. 30 per person.
Uber – book an Uber rickshaw, tuk-tuk or cab at standard rates
Best time to visit Amer Fort Jaipur
Just a few tips on when to visit Amer Fort Jaipur:
Amber Palace is open daily from 8 a.m. till 5.30 p.m
The cost is 250 rupees for foreigners and 50 rupees for Indians during the day.
To avoid the crowds, visit on a weekday in the morning.
The best time of year to visit is October-February when the weather is dry and not too hot.
You'll need 3–4 hours to explore the fort.
Tips to visit
And here are some more general tips regarding rules, safety and what to wear.
You can hire an official guide at Amer Palace to explain the architecture and history. Alternatively, there are audio guides available.
Wear comfortable shoes and clothing as it requires lot of walking.

Using a tripod is forbidden and there is security staff consistently patrolling the area.

Beware of pickpockets.
Amer Fort light and sound show
Entry fees: Rs.295 for both foreigners and nationals.
In the evening, you can catch the popular Amer Fort light and sound show in both English and Hindi. It's not super advanced, but the narration is informative and entertaining.
Amer Fort light and sound show timings:
October to February:

6:30 pm (English) / 7:30 pm (Hindi)

March to April:

7:00 pm (English) / 8:00 pm (Hindi)

May to September:

7:30 pm (English) / 8:30 pm (Hindi)
Amber Fort e
lephant rides
A popular way of reaching the top of Amber Fort is to ride an elephant from the car park to Jaleb Chowk. However, carrying passengers can cause lasting injuries to the elephants, and there have been reports of abuse. Do the right thing and don't ride elephants, please.
The walk up to the fort is not very long. But if you're unable to walk, you can catch a jeep or golf buggy instead. The latter is the cheapest option at around Rs. 40 one-way.
Heading to Amer Palace? Ask me anything in the comments!
More posts from India you might like
Pin it!