How to join the best Ubud cycling tour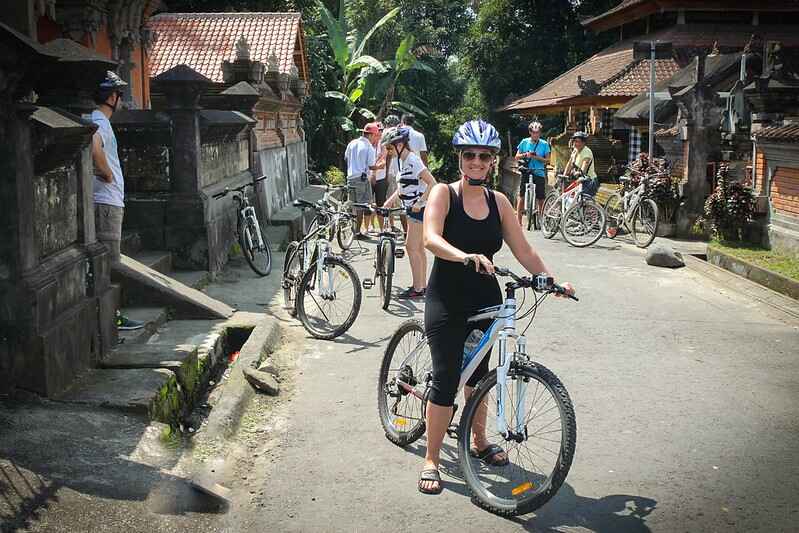 Looking for the best Ubud cycling tour?
When I stayed in Ubud, I wanted to experience rural life, the balinese villages and get an understanding of the balinese daily life. So, I signed up for a bike ride tour.
I think it's the best way way to see Bali's countryside and get up close with the real Bali. To me, it was one of the best things I tried in Ubud.
So, in this post, I've shared all the details about my Ubud bicycle tour so you can plan your own trip. It's a great activity for both adults and kids (no skill level required).
Let's dig in.
Read next: The one day in Ubud itinerary you don't want to miss
This post contains referral links for products I love. Adventurous Miriam earns a small commission at no extra cost to you if you make a purchase through my links. Thank you for your support ♡ Learn more
How to book your Ubud cycling tour
There are many bicycle tours available in Ubud. I prefer a hassle-free experience, so I always book online with GetYourGuide, Viator or Klook.
With Viator, you can choose a cultural tour like the one I joined, a similar tour where you visit a bamboo forest and local market, or an electric bike tour.
Only you can decide which is the best tour. You will see rural villages, unique culture, palm trees and balinese life on all three tours.
This is the tour I chose: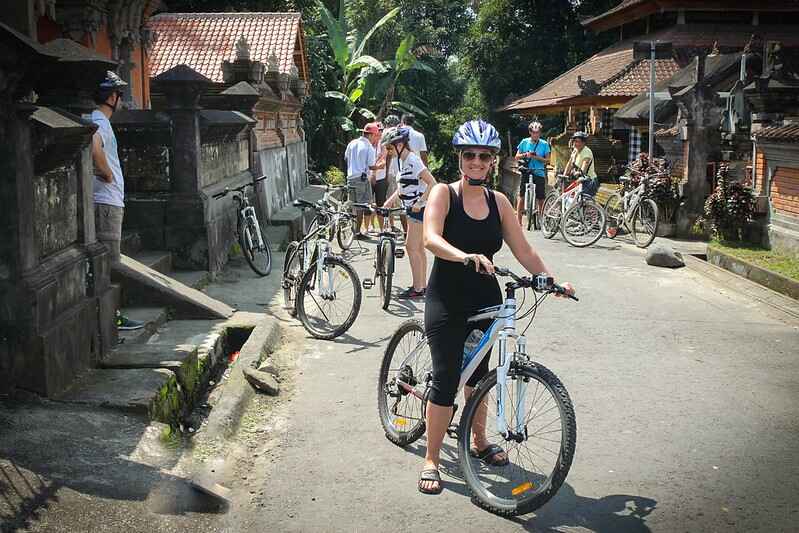 Ubud cycling tour
8 hours
Traditional villages
Rice paddies
Itinerary of the Ubud bike tour
What's included:
This is included in your bike tour Ubud with Viator:
Round-trip transfers to and from your hotel
Support vehicle
Local guides
Light breakfast, lunch, coffee tastings
Safety equipment (bike helmet)
What to bring
I've made a list of the things you need for your Ubud bike tour below. I recommend dressing in layers as the temperature will change from chilly (at the top of the mountain) to warm. Here's what to bring with you:
Small backpack
Comfortable shoes or sandals
Sweater or a light jacket
Sunglasses
Camera or GoPro
Snacks (crackers, fruit, bread)
Water
Money (it's always a good idea to bring cash)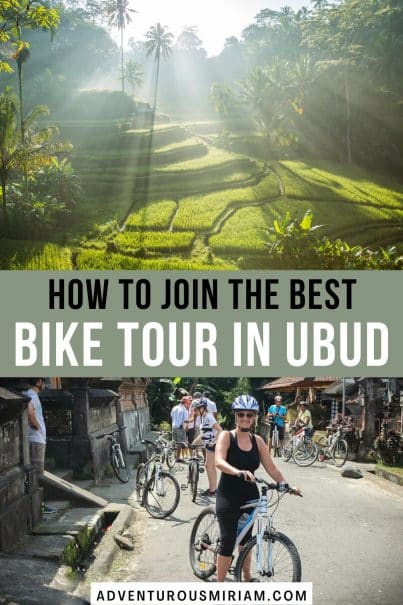 The Bali coffee farm
My guide picked me up in a minivan from my hotel in Ubud. Four travelers were already in the car and we picked up one more before leaving town.
Our starting point was a Balinese coffee plantation. Upon arrival, we were shown through a narrow path surrounded by lush bushes and coffee plants.
The guide gave us an introduction to the brewing process and the farm's various coffee beans and spices. They had everything from cocoa beans, vanilla and cinnamon to different tea types and chilis. It was really interesting to experience the Balinese culture up close.
After seeing how the coffee farmers roasted the beans, we were shown to a table area with a magnificent view of lush rice terraces.
We were each served a selection of different coffee and herbal teas ranging from coffee ginseng, ginger tea, Bali coffee, lemon-grass tea, cocoa, Rosella tea and coconut coffee. They were all free, except the luwak coffee, which is the most expensive coffee in the world and it's made from – animal poop.
You can read here why I recommend NOT drinking the luwak coffee in Bali.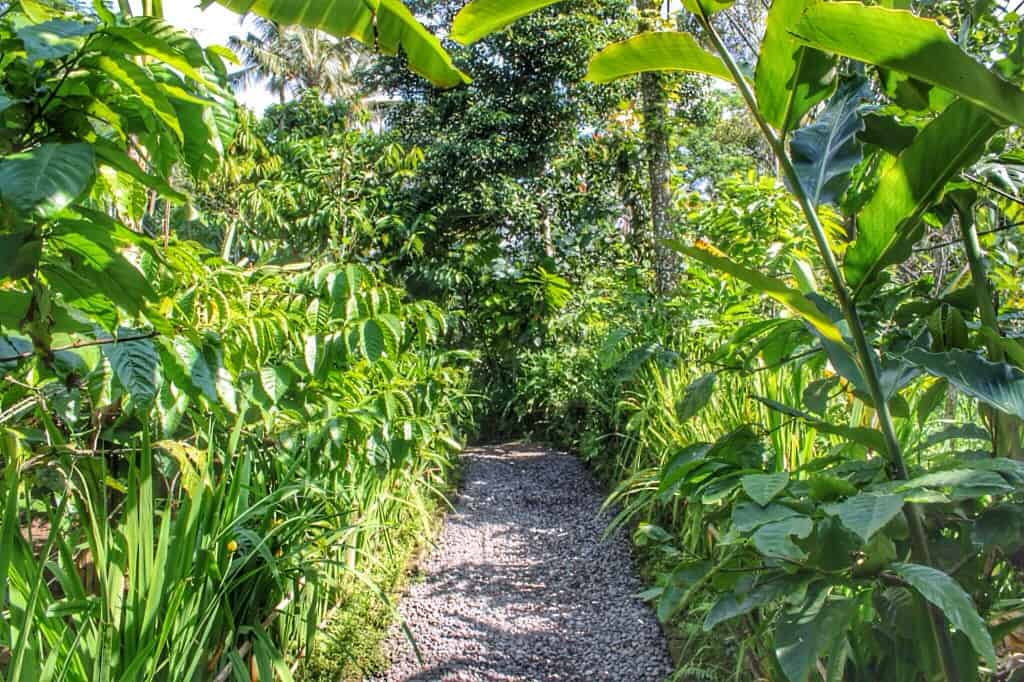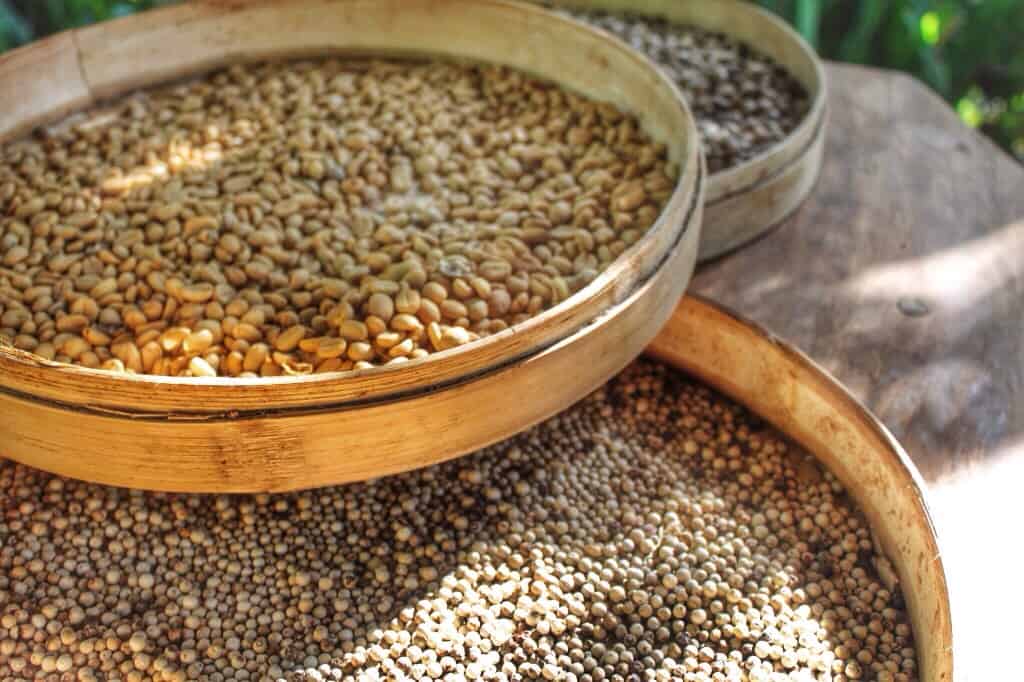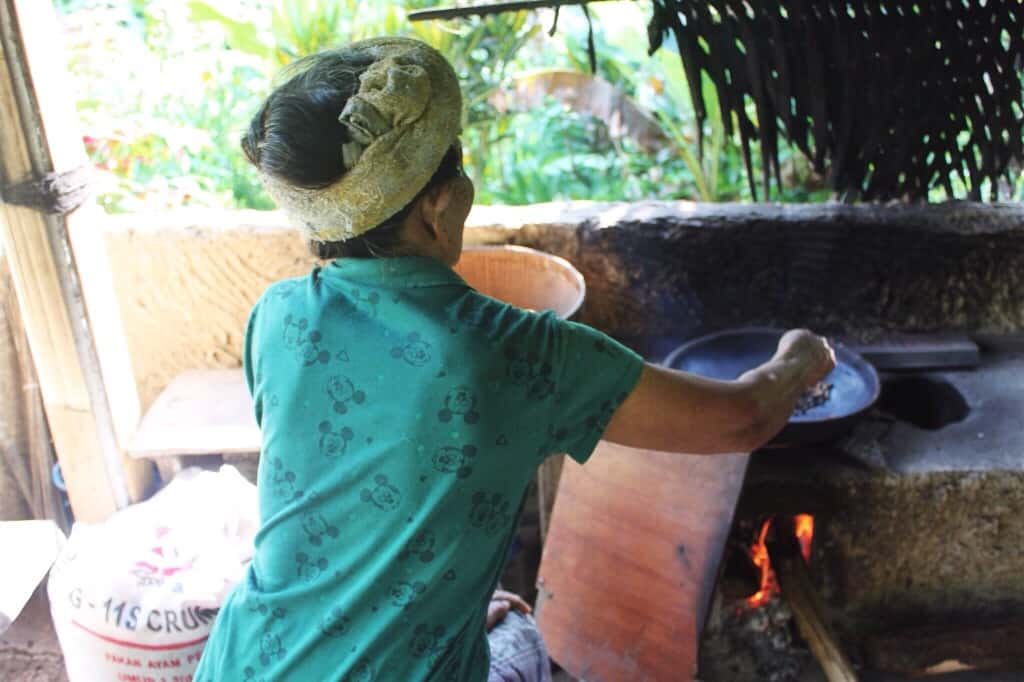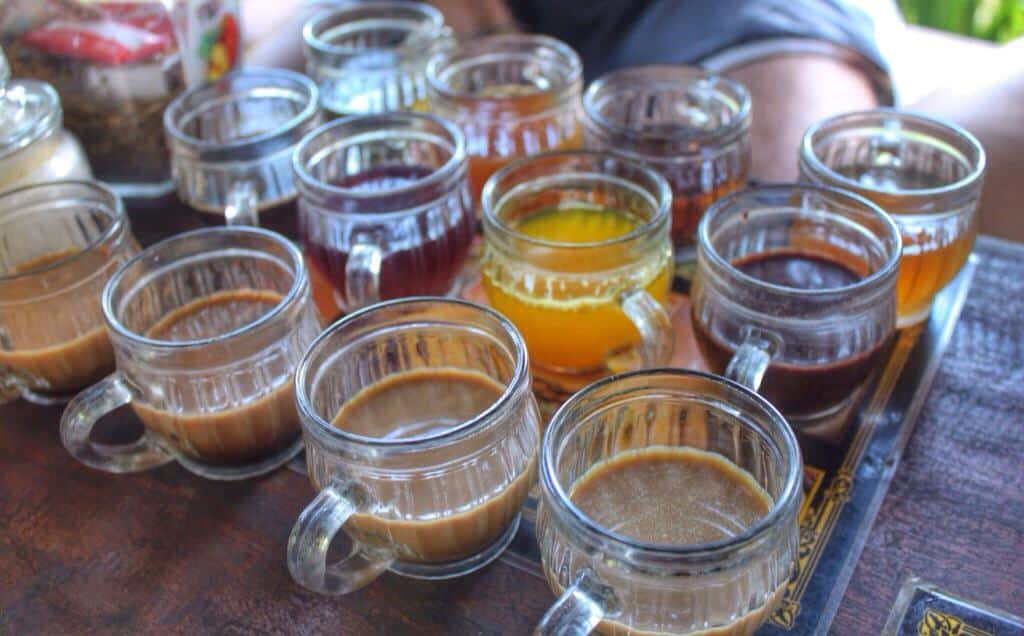 Breakfast with a volcano view
After that, we continued our bike tour to Kintamani, where we enjoyed breakfast while admiring the active volcano of Mount Batur (also known as Kintamani volcano), along with the deep crater lakes.
I had a fruit plate while thinking about how amazing the beautiful view was and how lucky I felt to be there.
Even though the sun was out, it felt a bit chilly, so make sure to bring a sweater or a light jacket.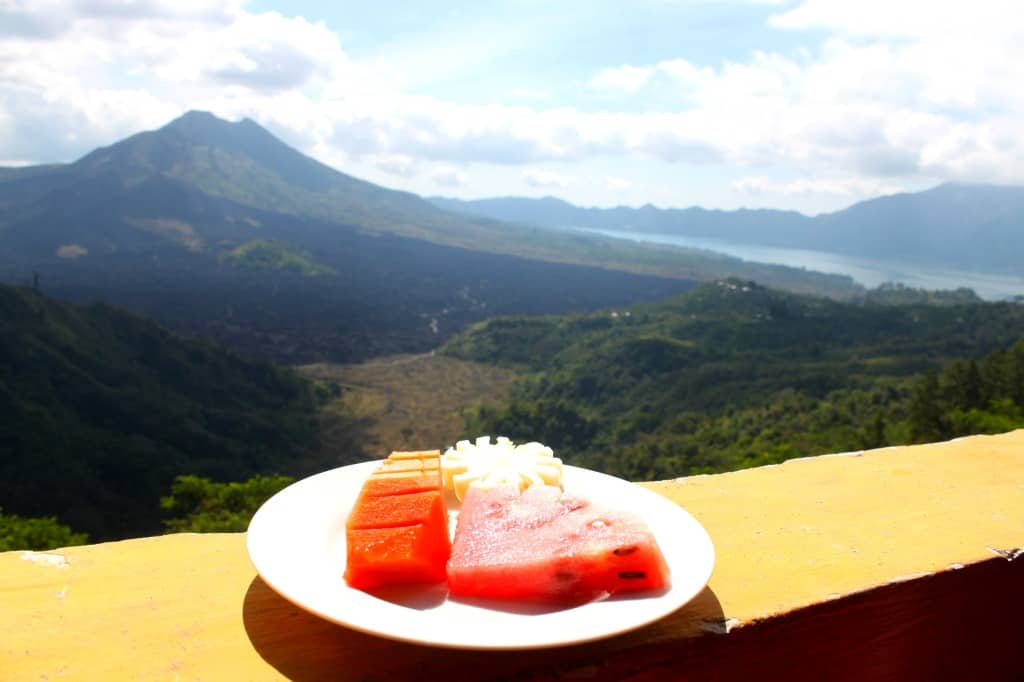 Biking down the mountain
After enjoying breakfast with a gorgeous view, we were shown outside where the mountain bikes were parked.
Feeling naturally immortal, I was planning to have a mean ride down the steep mountain, speeding all the way of course.
The guide got in front and ordered the group to follow him so I got in line. I put on my helmet, adjusted my bad-ass shades and got on my bike. Building speed rather quickly, I was soon in front of the group right behind the guide who seemed to confuse the breaks for the pedal.
Let's go, let's go, let's go!
At first I didn't want to outpace him. He was the guide after all and maybe he wanted us to turn at one point, but with his 10km/hr he was ruining the fun and people (aherm) got impatient.
After 10 minutes of driving like a grandma, everyone in the group blazed right past him.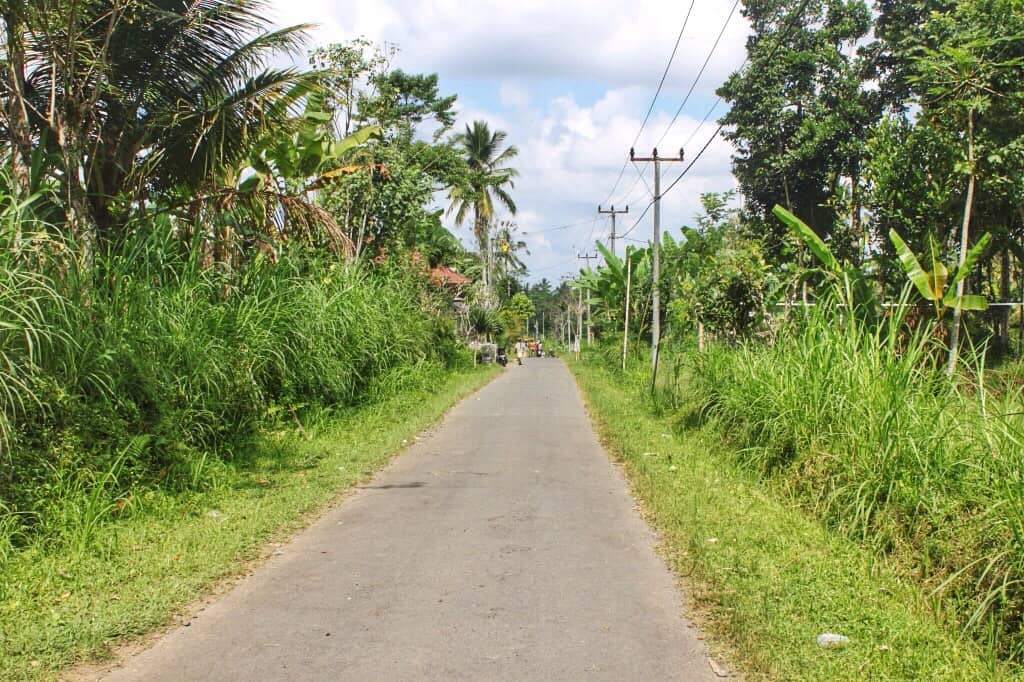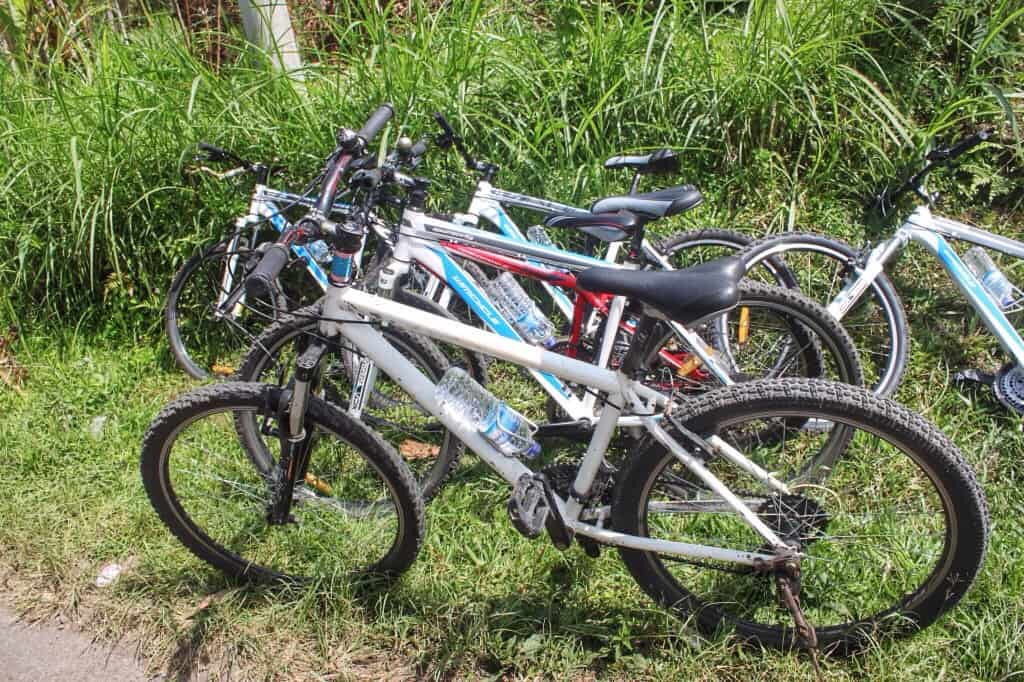 Visiting a Balinese village
On our way down the mountain, we stopped in one of the tiny villages to see a traditional home and meet a Balinese family. It was located in the more remote areas of Bali.
Experiencing local life and talking to local people was one of the highlights of the Ubud bike tour.
The guide explained that the home consisted of a house temple and 4-5 houses where everyone (mom, dad, kids, grandparents, uncles, aunts, their kids) lives. The houses are well-kept and they usually have a high wall surrounding them.
Read next: How to avoid being scammed in Bali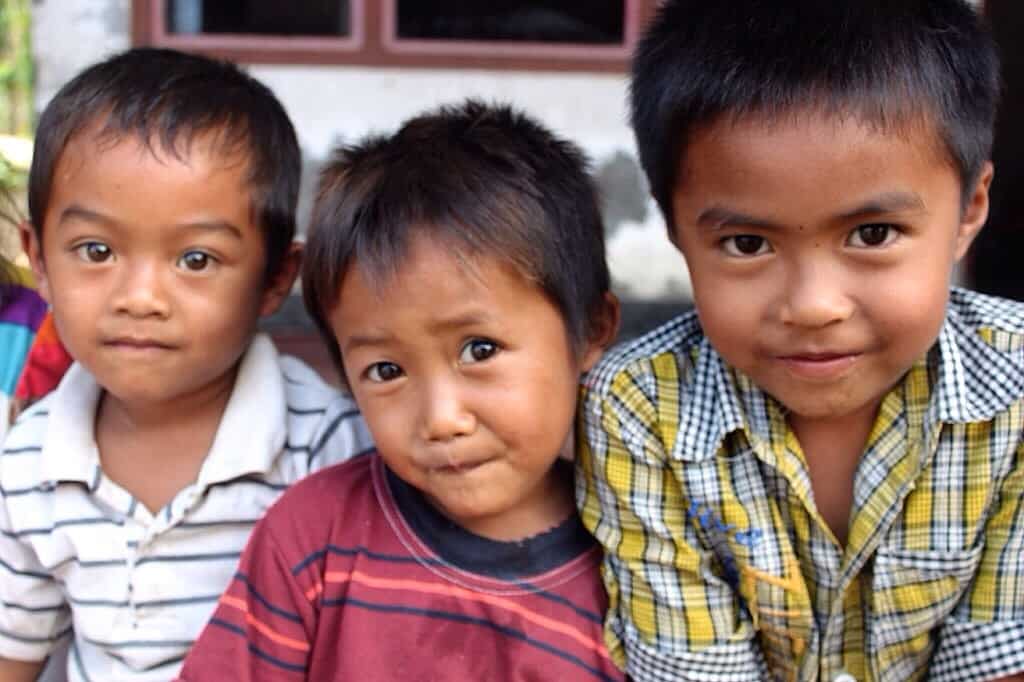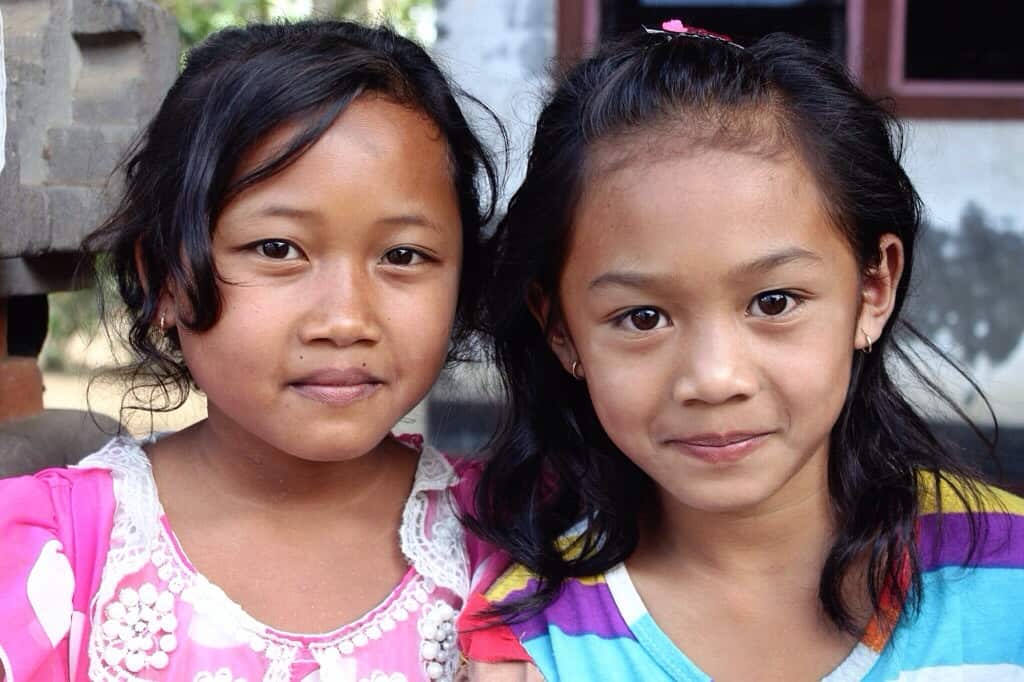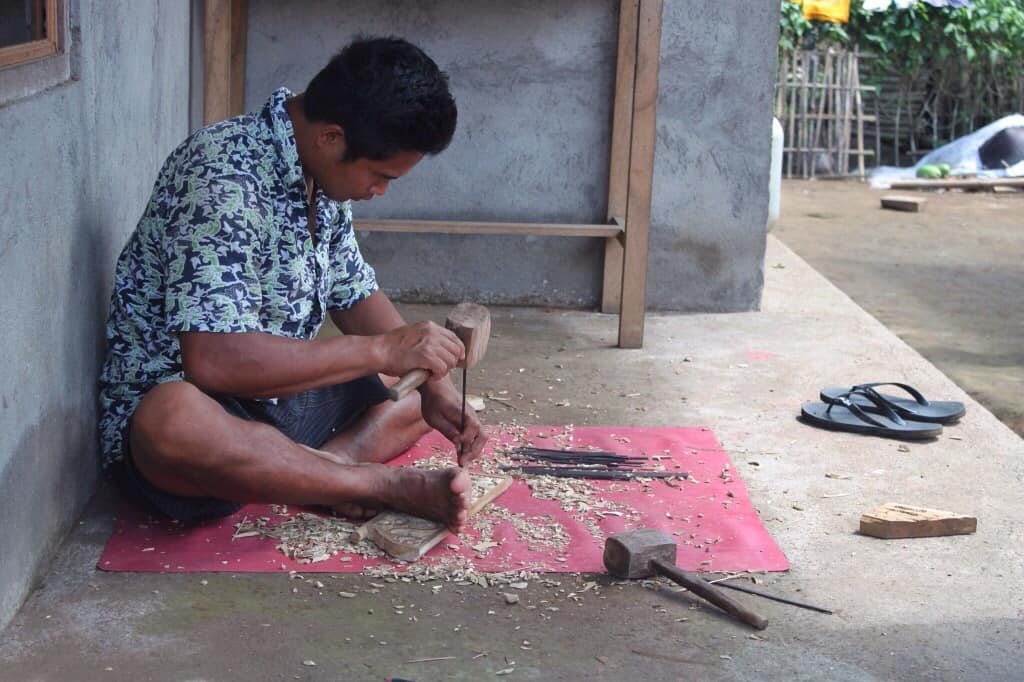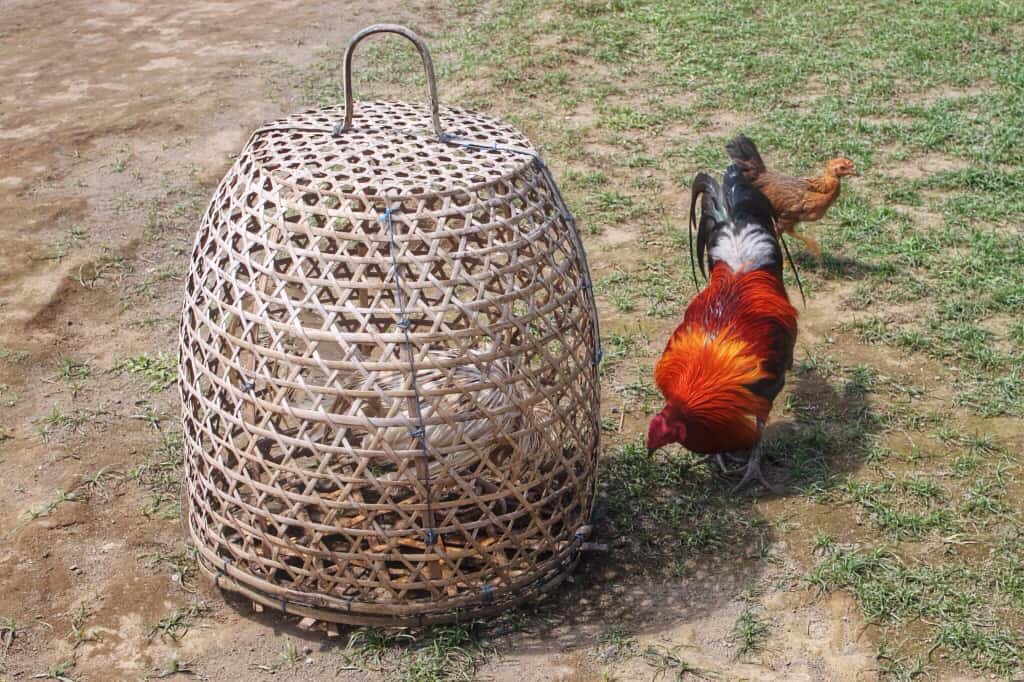 The water temple
After saying goodbye to the family, we got on our bikes and continued down the hill.
Last visit of the day before getting to the rice paddies was a water temple, like Tirta Empul, which I had visited a few days earlier. There are so many beautiful temples in the heart of Bali.
Locals believe that the water has a healing power so they go there to cleanse themselves before entering the temples.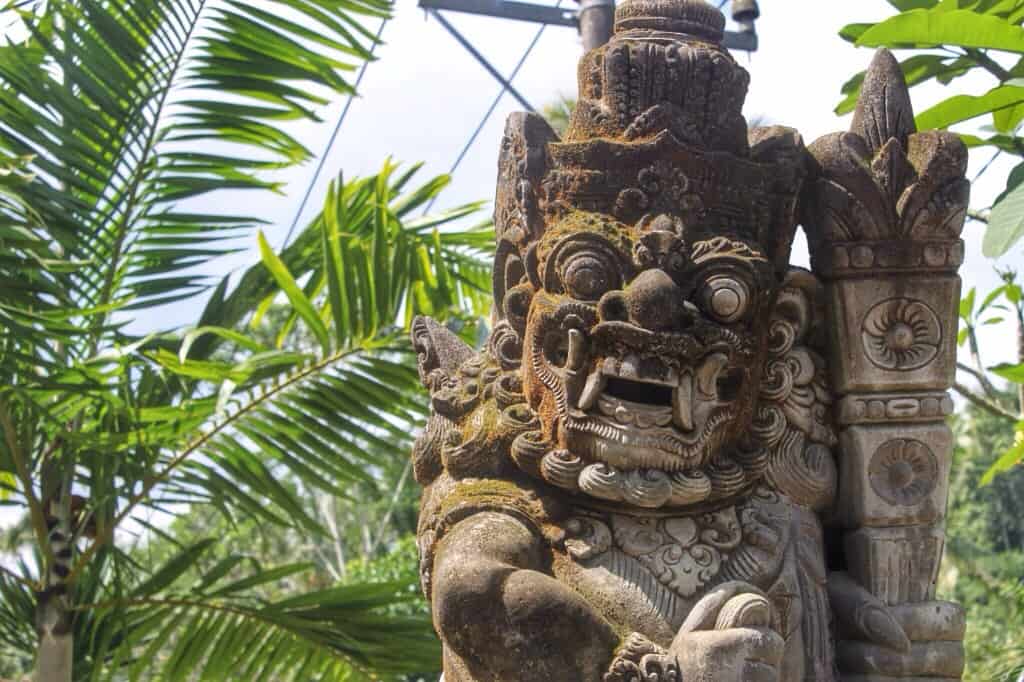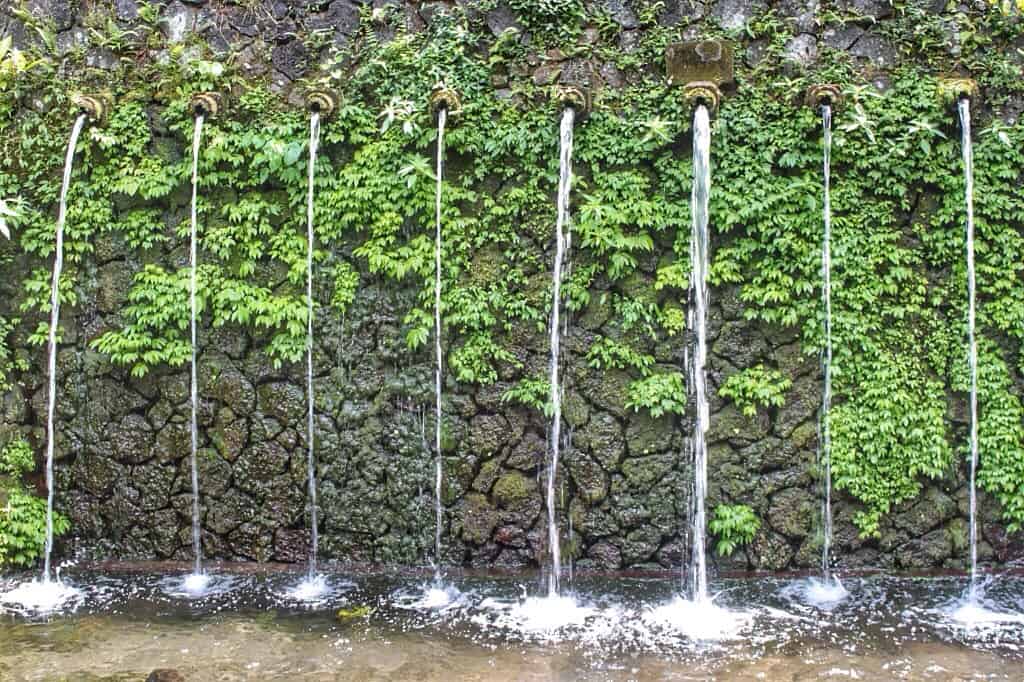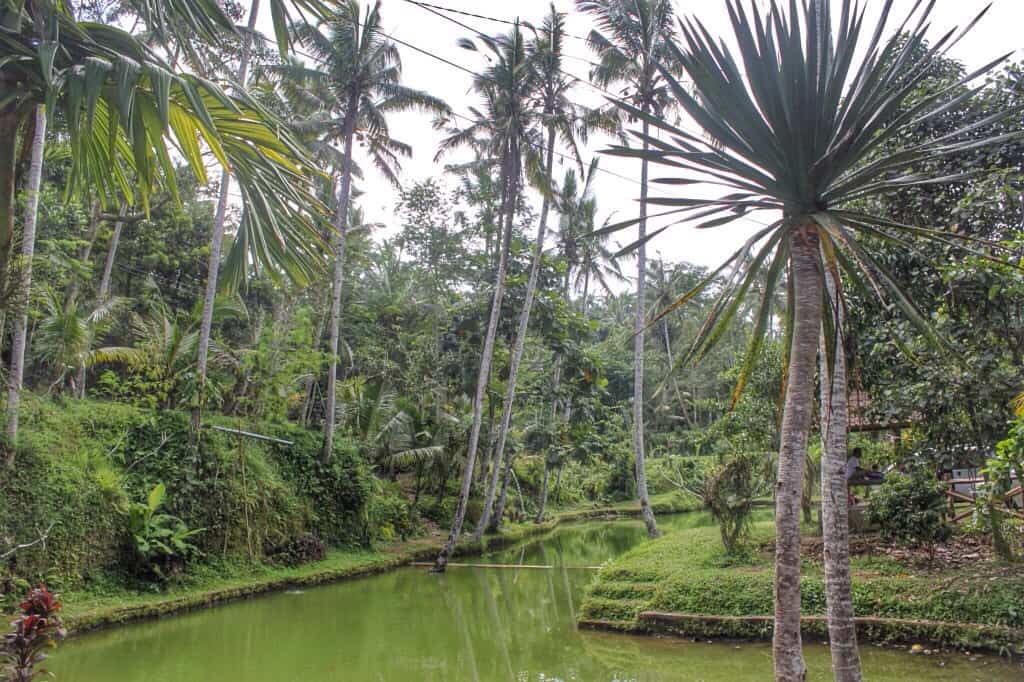 Biking through the rice fields
Just a short drive and we were at the Ubud rice fields. This was the part I'd been waiting for all day.
Everywhere I looked, there were locals in the rice paddies or on the paths, busy harvesting. I don't know what it is about rice fields that makes them so serene and relaxing, but they have a tremendously calming effect on me.
You know, like mountains and the ocean can make some people feel at peace, enlightened and inspired?
That's what rice fields do to me.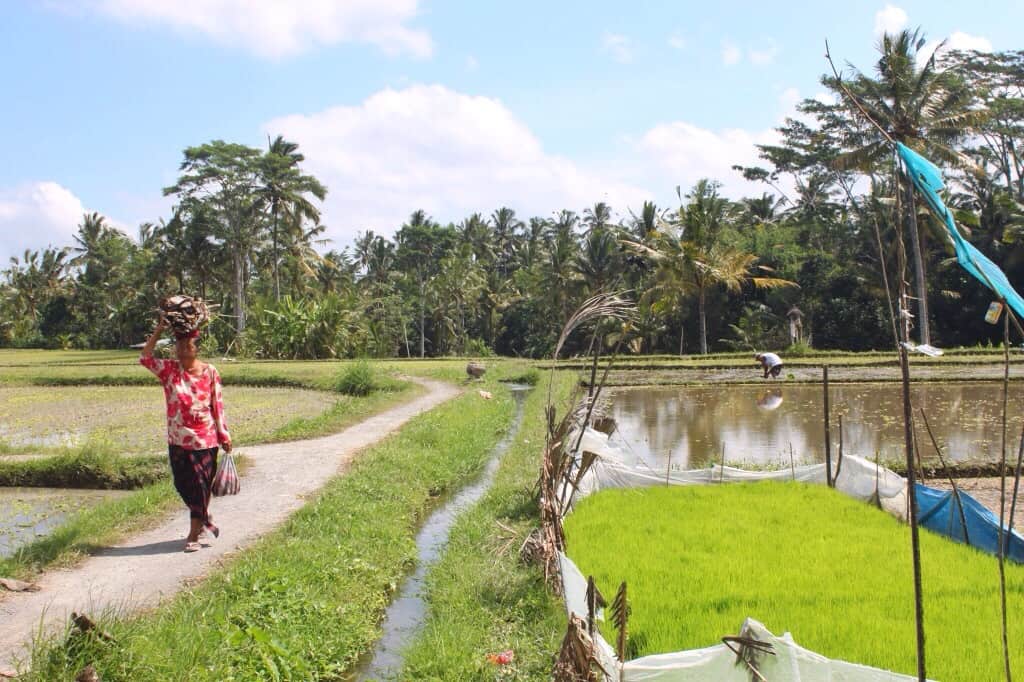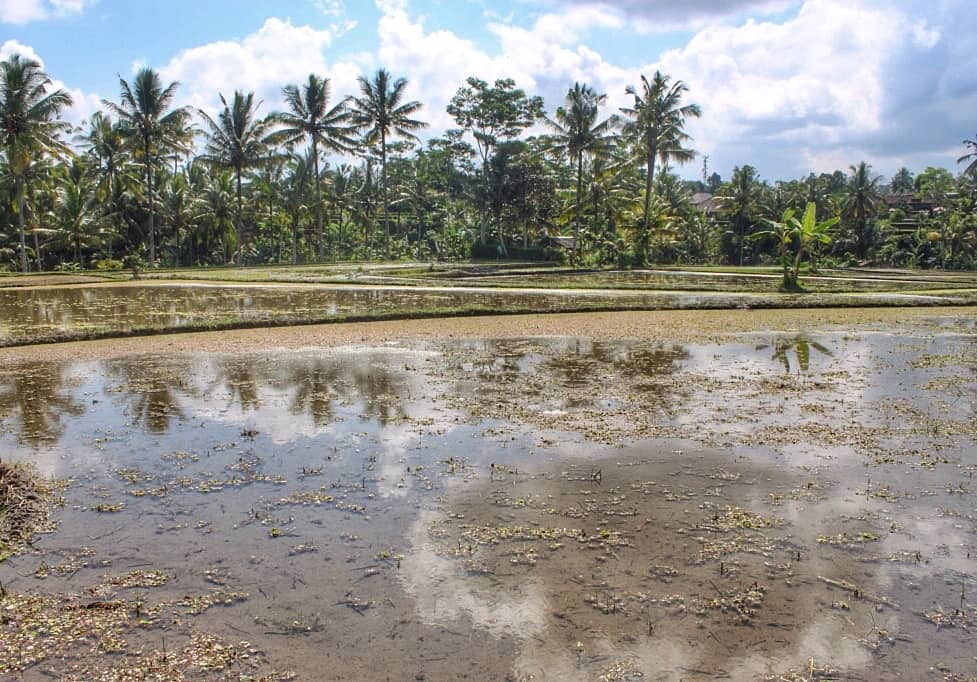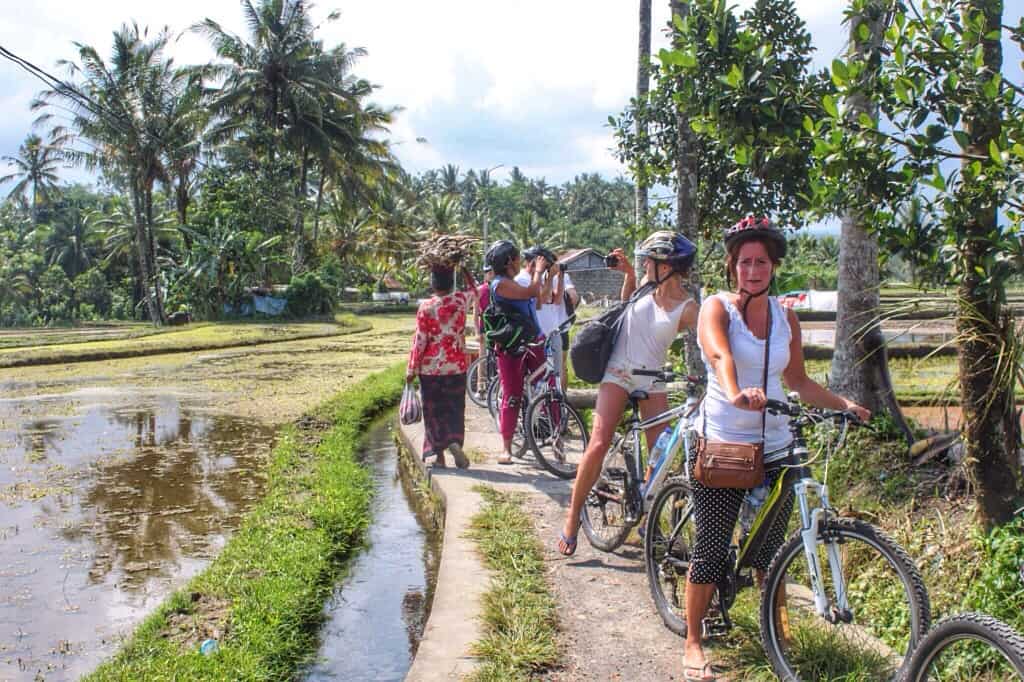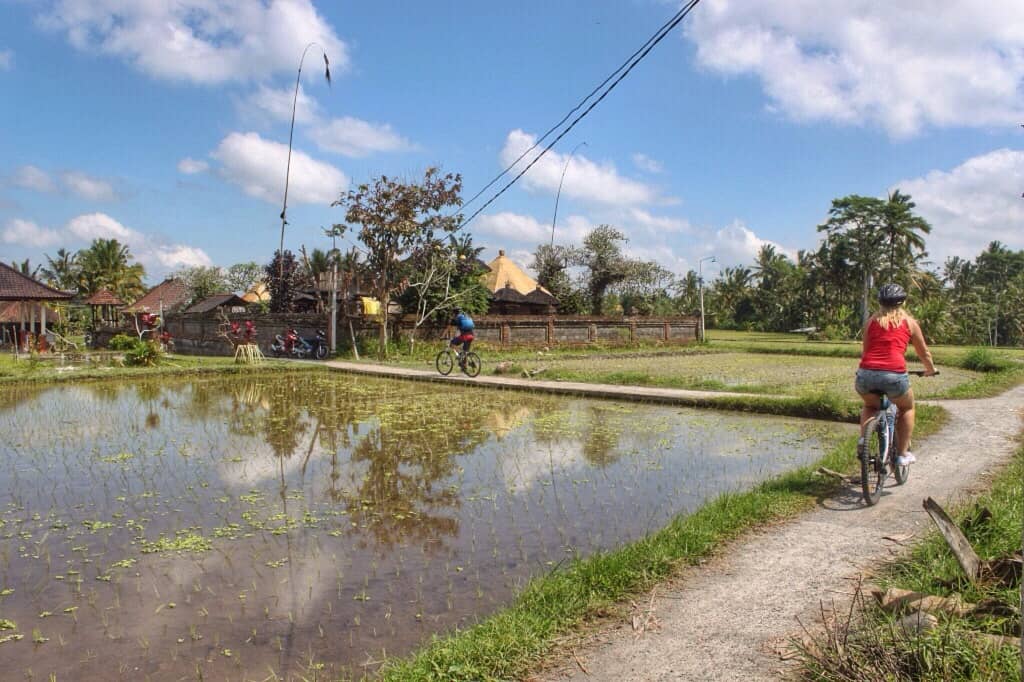 Who is the Bali bike tour for?
This Ubud cycling tour is for everybody (except pregnant women and small kids).
Road conditions are good and there are no required fitness levels to finish the ride. The main road is mostly downhill with a few minor hills towards the end.
If you feel like it, you can always just pull the bike up those hills.
There are breaks for water along the way, and at the final stop, there's a buffet lunch and soft drinks waiting for you.
Although I haven't tried all the other cycling tours in Ubud, I think this tour operator is amazing. I can hardly blame our guide for driving safely, so all in all it couldn't have been better.
I highly recommend it and think it's a great way to experience Bali!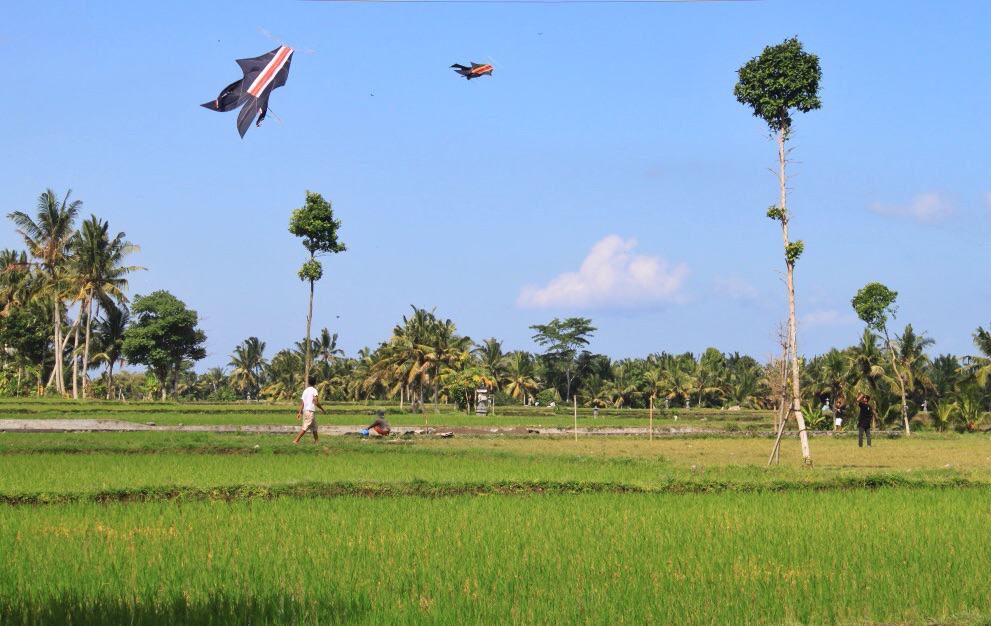 More posts from Bali you'll love