12 helpful benefits of a yoga retreat
Do you struggle to make time for yourself and juggle work and family commitments?
I know exactly how you feel.
I'm always busy with something whether it's my family or my two blogs, and somewhere along the way I began to think about what kind of life I wanted for myself. So, that's why I went on a yoga retreat in Bali – to reflect. I had been busy prior to this trip so I felt like I needed to unwind and sort of find myself again.
On that journey, I discovered the many benefits of a yoga retreat. The fact that I went there as a solo traveler was probably the reason why I got so much out of it. It forced me out of my comfort zone and gave me all the time in the world to reflect on everything, which intensified the whole experience.
Are you wondering if joining a yoga retreat is worth it? In this post, I'll share the benefits and reasons why it's a unique experience.
Let's take a look.
This post contains referral links for products I love. Adventurous Miriam earns a small commission at no extra cost to you if you make a purchase through my links. Thank you for your support ♡ Learn more
First, what is a yoga retreat?
A yoga retreat is a group of people who are practicing yoga together.
A yoga retreat can last from one day to one month. Typically, it's a 5-7 day trip, led by one or two yoga teachers along with 10-20 students.
Yoga retreats include classes, sometimes meditation, workshops, meals, accommodation as well as time to relax.
You can find the best spiritual retreats in Bali here.
How much does a yoga retreat cost?
The price of a yoga retreat depends on the duration, location and level of comfort. You can for instance find luxury yoga retreats in exclusive, beautiful places, which obviously comes at a higher price.
However, a yoga retreat doesn't need to break the bank. There are many great offers out there!
For instance, you can take a look at one of these amazing retreats at very affordable prices:
Where to book your yoga retreat
To find the perfect yoga retreat, you first need to know your budget, how long you want to go for, what style of yoga you want to practice and your level of experience and knowledge of yoga.
Below, I've listed the two best sites for finding yoga retreats.
You can find yoga retreat centers and wellness retreat in many countries around the world, but the most renowned places are Bali, Sri Lanka, Costa Rica, India and Spain.
BookYogaRetreats is the world's leading yoga travel site where you can book retreats for beginners and advanced yogis.
---
BookRetreats lets you book the best handpicked retreats all over the world.
The best benefits of a yoga retreat
One thing is doing yoga sessions at home. Another is doing yoga intensively for a week with likeminded yogis.
If you have difficulty sticking to a yoga routine, then a yoga retreat could be a great way to take it to the next level. During a yoga retreat, you'll get specific instructions twice a day, which lets your body and mind reap the benefits of a deeper practice.
The best thing, though, is that you'll feel restored, relaxed and rejuvenated. Together with the techniques and knowledge, you can return to your daily routine, which will enhance your mental and physical wellbeing.
And on that note, let's dive into the benefits of a yoga retreat:
1. Deepen your yoga practice
Whether you're an advanced yogi or it's your first time, a yoga holiday can be a life-changing decision. It was for me.
As a beginner, you'll be met with open arms because yoga truly is for everyone. You will learn the foundation of yoga, the different postures and breathing techniques. During a yoga retreat, the teacher will have more time to provide personal and hands-on assistance.
That said, you should always double-check with the retreat leader to make sure the type and level of yoga practiced during the stay will match your needs.
Experienced yogis will get the opportunity to deepen their practice, take it next level and fully focus on the classes.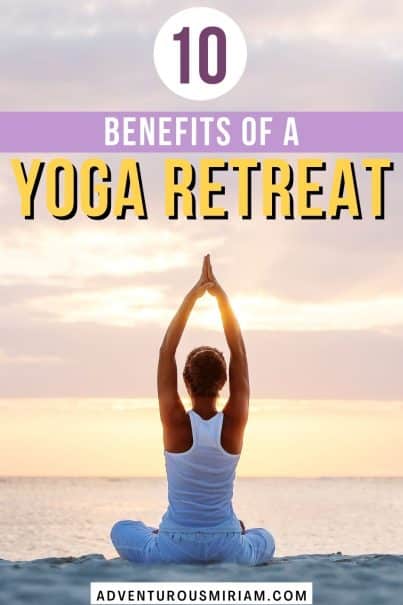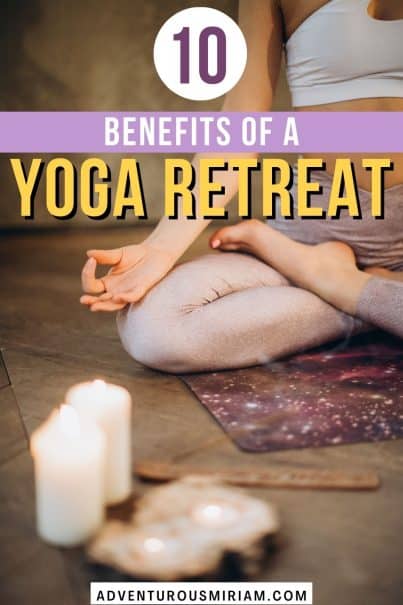 2. Learn to breathe more deeply
During yoga, you'll learn yogic breathing techniques like pranayama.
Pranayama exercises can help you get into your postures more easily, but they can also work to soothe the nervous system and bring an inner tranquil and sense of ease.
Most people typically breathe by inhaling through their nose or mouth, trapping the air in their chest instead of letting the air fully reach their diaphragm. This is called shallow breathing, and it can induce stress because of a lack of healthy flow of oxygen in the body.
In yoga and meditation, you'll learn how to take deep breaths that reach the belly and fill the lungs.
3. Discover your inner strength
When I joined a yoga retreat in Bali, I was besides myself. As some of you know, it was my first solo trip and I had a tough time adjusting. Frankly, I was a mess the first few days and I was convinced that I'd end up changing my ticket and go home earlier. I didn't think I could be alone and have a good time on my own.
But… Attending daily yoga classes in a natural environment and giving myself time to reflect made me realise that I was stronger than that.
We all have different circumstances, of course. I struggled with anxiety, maybe you're dealing with something else or maybe nothing at all. Either way, giving yourself time to reconnect with yourself will make you realise just how strong and confident you are – especially when combined with meditation!
Meditation practices really allows you to reflect on life and feel everything much deeper. It's also a strong tool to control the mind with.
I practiced the ability to recognise when the mind wanders, then stop it, return to the task at hand, and doing all of that without any emotional reaction what-so-ever. It takes a long time to learn, but I'm improving!
Being in control of my mind and emotions made me feel much stronger mentally. I realised that I can do whatever I set my mind to, which is one of the best benefits of yoga retreats I can think of!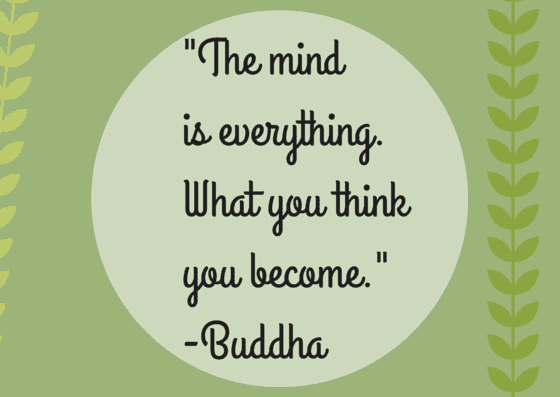 4. Solitude is healthy
Many people see yoga retreats as an opportunity to work on their body and mind. For that reason, they often go alone.
The way I see it, there's a distinction between being alone and being lonely. A retreat is a great way to check in with yourself and reflect. I dined alone every day, I went on trips alone, I did everything alone, but I never felt lonely.
Taking time off to be in your own company and learning to trust your own instincts is very fulfilling. I believe we should all do that once in a while.
Read next: Traveling alone for the first time? Here's how to do it.
5. Gain new perspective
Taking a trip away from your everyday life can help provide new perspectives on your life and clear some of the fog from the day-to-day grind.
There's something truly special about taking a yoga retreat – with daily practices to nourish and elevate the soul, as well as the fact that it puts you in an entirely different environment for a bit.
6. Detox your body
Detoxing is a way to eliminate toxins from the body. Yoga is an excellent way to practice detoxing because the postures and movements help to decompress internal organs, stimulate digestion, and eliminate toxins, which leads to better overall physical health.
Some yoga retreats also offer detoxing and healthy food, which is good for the body.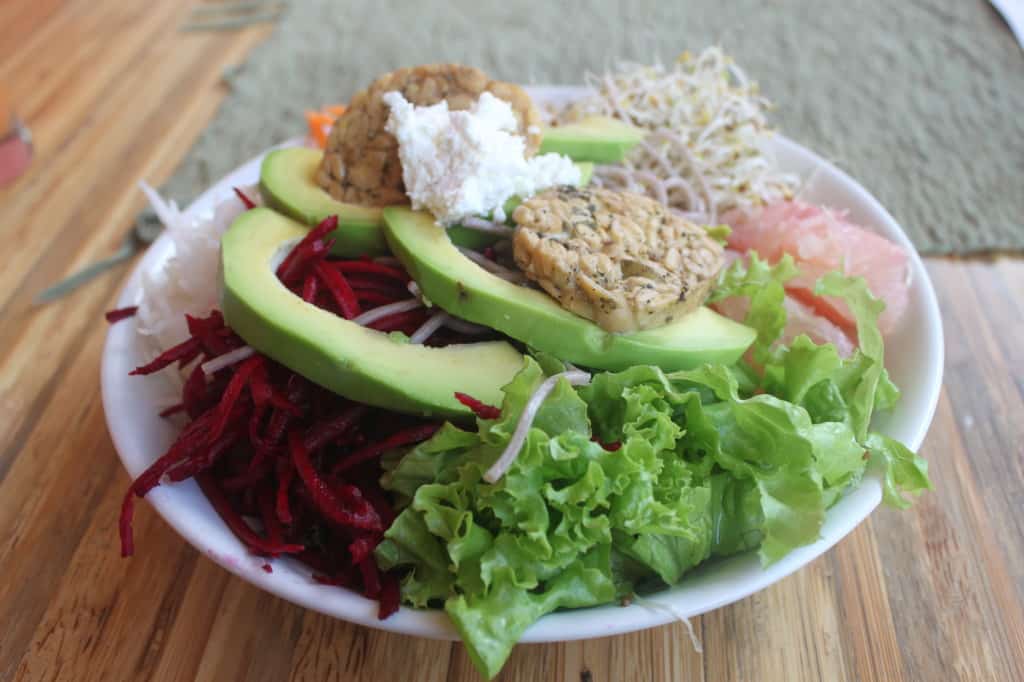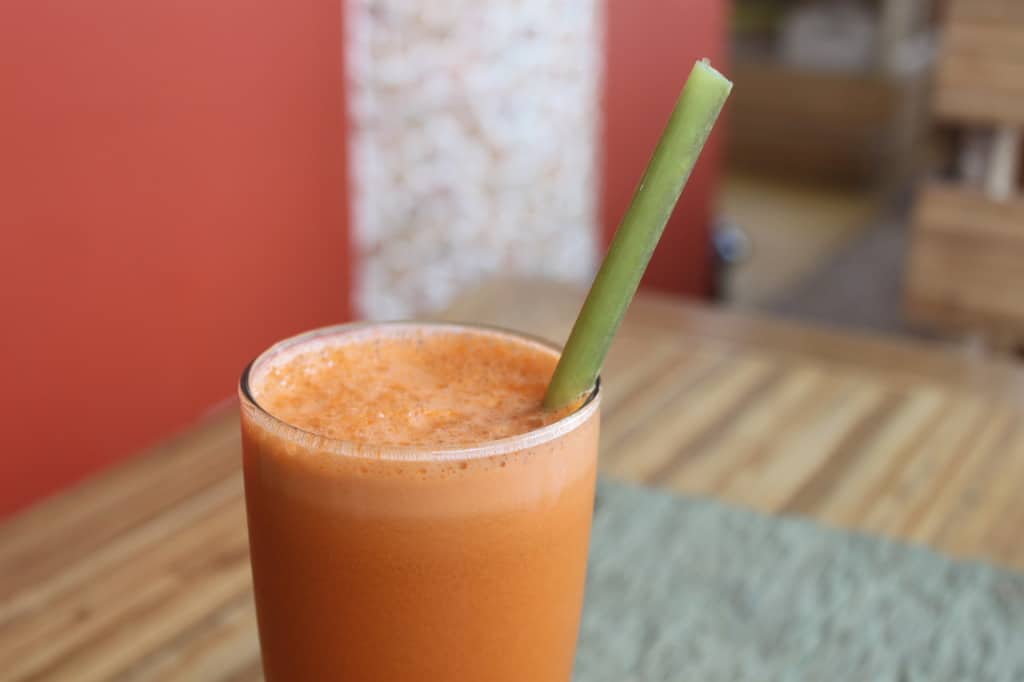 7. Time for self reflection
A yoga retreat is an amazing opportunity to take a step back and do a little soul searching. To consider whether your actions are beneficial and taking you down the path you want.
Even though it can be scary to look inside yourself and face your emotions or vulnerabilities, it's important to stay present with whatever comes up, both good or bad, without judgement.
Maybe you'll find out that you need to be more compassionate to others or yourself. Maybe you'll find answers to struggles you've been dealing with.
8. Disconnect from technology
Most retreats will recommend leaving behind or switching off your laptop and cellphone to avoid digital distractions. Other places have limited or simply no internet connection because the yoga retreat is tucked away in isolated, beautiful places such as the mountains, the woods or near the sea.
Not only does this give you an opportunity to bond more deeply with the other people during yoga classes, but it also provides a much-needed break from the disturbances of electromagnetic radiation and social media to which we are so often subjected.
Taking a digital detox can allow you to reset you health, wellbeing and overall outlook. Plus, it will give you deep relaxation.
9. Learn to let go and heal
There are many rewarding benefits of a yoga retreat.
But even without anticipating it, you might find yourself experiencing true healing in this environment. When you allow yourself to focus and breathe, meditate, and connect with understanding and like-minded people, there's often room to open up and progress.
This process can be tough, so be gentle with yourself, and in time you will heal. The positive energy and new connections that surround you will no doubt affect your mental health, healing and wellbeing.
10. De-stress from your hectic life
Most people join their first yoga retreat to de-stress, escape from their busy schedule, and simply give themselves a much needed break.
Stress affects our thinking, judgment and even physical health, so a yoga retreat experience not only offers us the chance to relax physically and mentally. It also allows us to turn inwards in the present moment and focus more on what truly matters: our wellbeing.
11. Connect with your spirituality
Although yoga has roots in Hinduism, you're not required to be religious to practice. Only open-minded.
I've always had a non-spiritual approach to yoga and meditation. To me, meditation is about strengthening the mind and this doesn't necessarily have to do with religion. Spirituality is another matter, though.
Whereas religion is a set of organised beliefs and practices, spirituality is more of an individual practice and has to do with having a sense of purpose and finding your true self.
Spiritual yoga goes beyond the psychical benefits and focuses on spiritual well-being and intelligence. It can give you a more positive outlook on life and happiness within.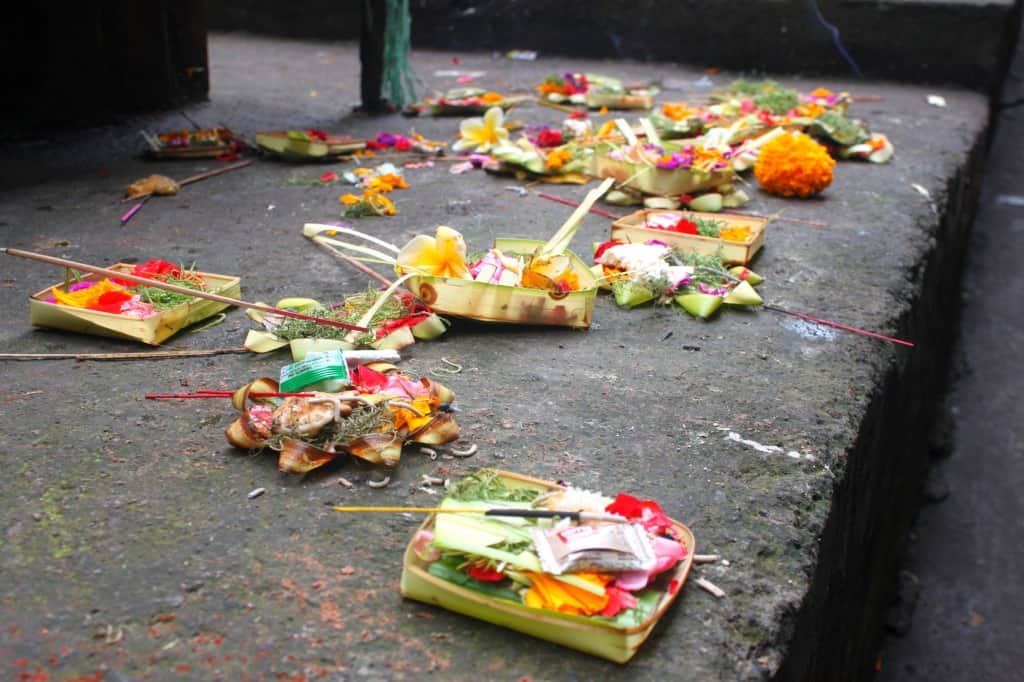 12. Find new friends
Signing up for a yoga retreat can come with unexpected surprises, such as meeting new people and making new friendships, even for the most seasoned yoga practitioner.
The bond formed in such an environment is often strong and connects everyone together like an extended family.
Got questions about these yoga retreat benefits? Let me know in the comments!
More posts from Indonesia you'll love