The ultimate Philippines bucket list: 20 places to visit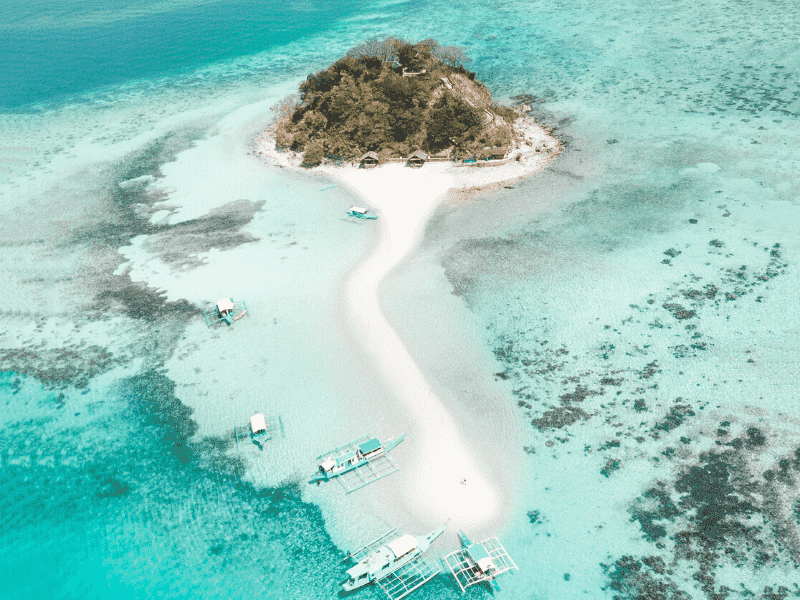 The Philippines is one of the most beautiful countries in the world.
Why?
Because it's so diverse! You've got world-class beaches, UNESCO listed rice fields, top scuba dive and surf spots, and IN-CRE-DI-BLE nature.
Whether you're a fan of adventure or simply looking to relax, the Philippines can offer it all at an affordable price.
In this post, I've shared the ultimate Philippines bucket list with all the best places to visit in the Philippines.
Ready to dig in?
Let's go.
This post contains referral links for products I love. Adventurous Miriam earns a small commission at no extra cost to you if you make a purchase through my links. Thank you for your support ♡ Learn more
Philippines bucket list
The Philippines is an absolute must if you're looking to experience a magical tropical paradise.
From swimming with whale sharks to island hopping tours, there are plenty of amazing activities that you can add to your Philippines bucket list.
I've listed 20 of the most unique experiences and unforgettable memories that you can have during your trip. I've included a bit of everything so you're guaranteed to experience the best of the Philippines.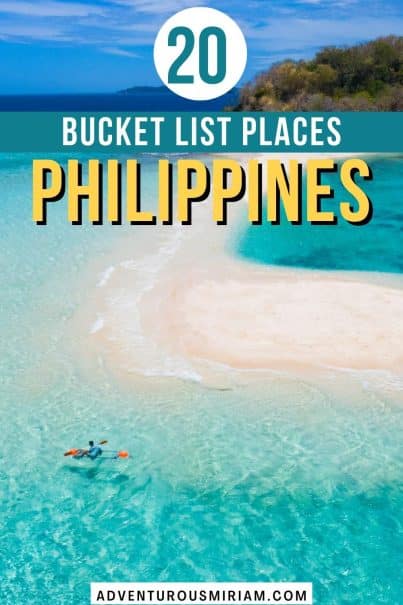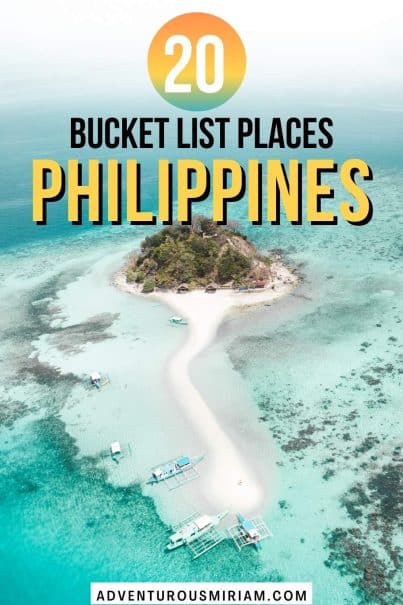 Getting around in the Philippines
The Philippines consists of more than 7.500 islands so getting from A to B requires planning. There a three main ways to get around:
Ferries
Flights
Vehicles (taxi, tricycle, tuk-tuk, scooter)
Ferries are a great way to get to nearby islands, like Coron and El Nido in Palawan, which can be reached within a few short hours. Boracay, located on the opposite side of the country, requires an international flight, but they're reasonably priced. Flying is the best way to get around quickly.
Once you're on the island, I suggest renting a scooter. It's quite cheap. Getting to and from airports and ferries is done by taxi, tricycle or tuk-tuk.
Best time to visit the Philippines
The best time to visit the Philippines is in the dry season from December to February. I would avoid visiting from August to mid-October as this is Typhoon season.
1. Swim with whale sharks in Donsol
Whale sharks are the world's largest – and most majestic – fish, and you can find them in Donsol, in Southern Luzon island or Sogod Bay in Southern Leyte.
From November to May/June, peaking from February to April, you'll be able to spot them from a boat or have the chance to swim with them.
In Donsol and Sogod Bay (near Bohol), you can visit them responsibly, knowing that the activities are overseen by two local NGOs.
I highly advise you NOT to swim with whale sharks in Oslob, which lies in Cebu. One of the reasons for this is because local fishermen are feeding the whale sharks and thereby disturbing the natural habitat and behaviour of the whale sharks. 
2. Meet the tarsiers in Bohol
Tarsiers are the world's smallest (and cutest) primate, known for their big round eyes. A tarsier is the size of a hand.
Tarsiers are endangered and live only a few places around the world. One of those places is Bohol in the Philippines.
They're the main reason we went to Bohol in the first place and we soon learned that they're a main attraction on this island. Here's how you can visit the Bohol tarsier responsibly.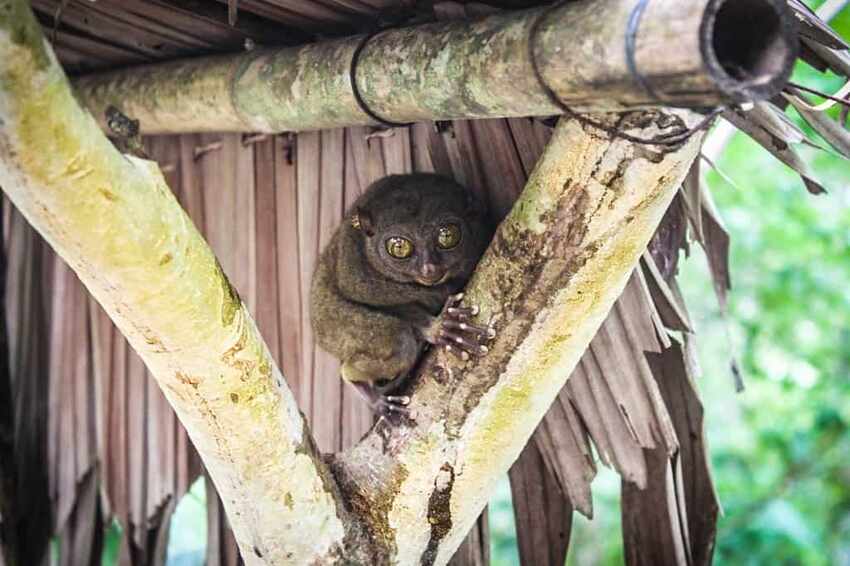 3. Visit a pink beach in Sila island
Have you heard of pink beaches? They're found in Iran, Turkey, Bermuda and Indonesia, just to name a few. And there's one in the Philippines, too.
On Sila island, the sand is pink, which makes it look like it was made for Instagram. Talk about a unique destination!
It got its salmon/flamingo colour from tiny red coral pieces and shell fragments from sea creatures being swept onto the shore and crushed by nature.
Bring your snorkeling gear and jump in the clean and tranquil water.
4. Discover the world's best beach in Boracay
I once saw a photo from Boracay lined with palm trees and thought WOW – I seriously need to go there! So, we booked a trip shortly after and I can honestly say that Boracay is the most beautiful beach I've ever visited. It has spectacular views!
And I'm not the only one who think so. Condé Nast Traveler ranked it in the top 5 of the world's best beaches.
Boracay island has a lot of water activities, and don't even get me started on the insane sunsets. They'll ruin you for life.
5. World-class diving in Palawan
Taking about postcard-worthy beaches. Palawan is another Philippine island with amazing beaches and water. What sets Palawan apart from Boracay is the top diving destinations!
Puerto Princesa and El Nido are the perfect place to find captivating macro wildlife, stunning caverns and vibrant fringing coral reefs below the water.
Whether you're an experienced diver or just beginning, this is one of the best places in the world to go diving.
6. Hike Mount Pinatubo
Have you ever heard of Mount Pinatubo?
It's a volcano 87 km from Manila. In 1991, Mt. Pinatubo erupted and literally created Lake Pinatubo, which is formed by the crater and filled with blue monsoon water.
If you're in Manila, you can join a day tour with off-road driving and hiking in the volcanic landscape. The journey begins with an hour-long jeep ride and continues with a 5.5km trek to the stunning crater lake at the summit.
Depending on your fitness level, this usually takes around 2-3 hours to complete.
7. Go island hopping
With over 7,000 different islands in the Philippines, it's basically impossible NOT to island hop. However, some of the islands are more suitable for it than others.
Island hopping in Bohol is pretty spectacular if you like dolphins and swimming with sea turtles. But the most popular place to visit several tropical islands in a day is Palawan. This is one of the most beautiful places in the world.
8. Swim with sea turtles
Have you ever swum with sea turtles before? I still remember the first time I tried it and it's just one of those things you can never try too many times.
In the Philippines, you might be lucky to spot one when you're out island hopping, snorkeling, or scuba diving.
But if you want to be sure to meet a sea turtle or more, these are the best places to find them (the top spots are Apo and Balicasag Islands, which you can visit on a day trip):
Malapascua
Moalboal in Cebu
Siquijor Island in the Visaya
Anilao in Batangas
9. Explore the mysterious Calbiga caves
Dive into the mysterious depths of the Calbiga Caves – the largest cave system in the Philippines, and second largest in Asia.
Spanning 900 km2 and 11 km long, this karst formation was first discovered in 1987 by a group of Italians in Samar. The cave system has 12 caves.
10. Go surfing in Siargao
With its white sand beaches and raging waves, Siargao island is a premier destination for surfers from all around the globe.
With both small and large reef breaks, along with Cloud 9's world-class waves, Siargao has become known as the Surfing Capital of the Philippines.
You can surf the waves all year, but the peak period for Cloud 9 is from September to November. One of the best things about Siargao is that it's perfect for both novices and pros. Book a surf lesson here.
11. See the Chocolate Hills
The Chocolate Hills of the Philippines are one of the most unique sights on this Philippines bucket list. As such, they're declared a National Geological Monument and dubbed as an 8th Wonder of the World.
With their cone-shaped grassy mounds, they cover the landscape on the island of Bohol.
During the dry season, the hills turn from vibrant green to a chocolate brown – hence the name. They're a good reason to visit the Philippines.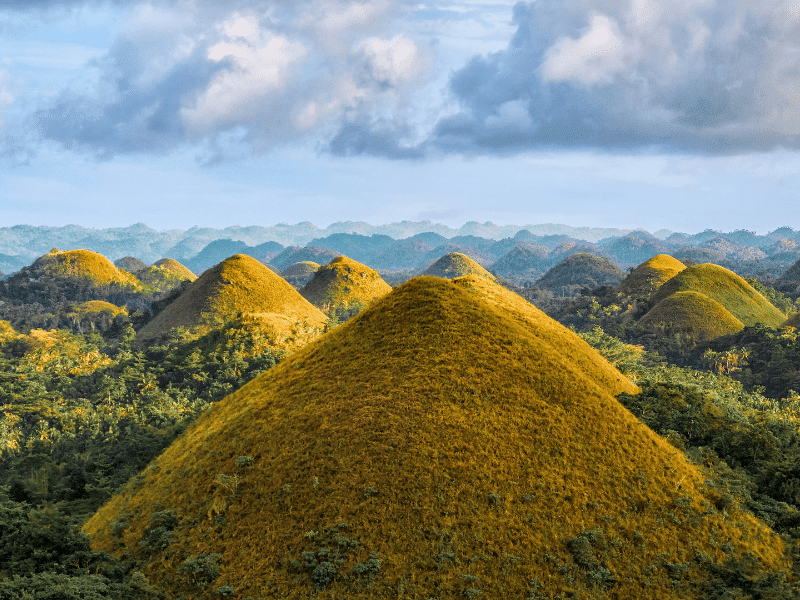 12. Discover an underground river
Did you know that Palawan has a UNESCO-listed underground river?
The Puerto Princesa Underground River emerges from the sea and is one of the longest navigable freshwater rivers in the world.
If the weather permits, you can take a guided tour through the river and see snakes, bats, and swallows that are unique to this ecosystem.
13. Visit amazing waterfalls
You can't visit the Philippines without seeing at least one waterfall.
Every region has minimum one, so they're always within reach. Iligan City even goes so far as to nickname itself the "City of Majestic Waterfalls" because it has no less than 20 waterfalls in its vicinity. Some of these waterfalls are still hidden gems.
These are some of the most beautiful and unique waterfalls in the Philippines (and the rest of Southeast Asia):
14. Dive with thresher sharks in Malapascua
Are you a diver? Then you'll like Malapascua island.
Not only do you get pristine beaches with natural beauty and crystal clear waters, but this small island is the only place in the world where you can dive with Thresher sharks!
These mysterious deep sea dwellers prefer swimming at depths well-below recreational and technical diving limits, which makes Malapascua a rare treat for wildlife watchers!
15. Go cave swimming
In the Philippines, you can swim in grottos!
Explore hidden caves in Panglao or swim in the blue waters of Sumaguing cave in Sagada or the Sohoton Cove National Park.
No matter which cave or grotto you choose, it'll be a unique experience that you won't get from swimming in any of the country's beaches.
16. Discover the WW2 shipwreck of Lusong Gunboat
Lusong Shipwreck is an underwater paradise in Coron. This WWII vessel has been transformed into an incredible dive site, with the nearby Lusong Coral Garden being one of the best reefs in the area.
Both places are great for freediving and snorkeling, too!
17. Visit the Banaue rice terrraces
Nestled on the mountain slopes of Ifugao in Luzon, you'll find the majestic Banaue rice terraces.
They were carved over 2,000 years ago by the Ifugao people and declared a UNESCO World Heritage Site in 1995.
Sadly, the terraces began to deteriorate as many of the villagers migrated to more urban areas. In response, UNESCO listed them as 'World Heritage in Danger' and launched a major restoration project.
This initiative worked, and sustainable tourism is now being promoted so that you can experience the Banaue rice terraces all year round!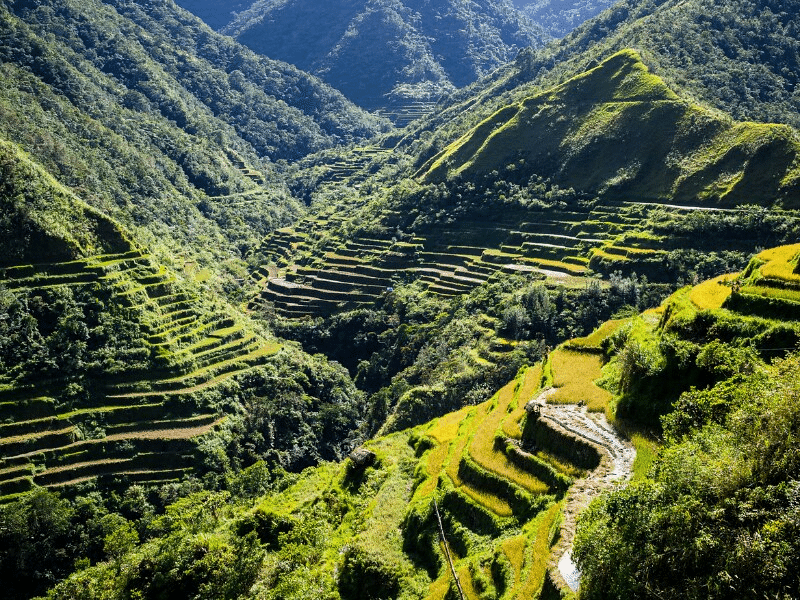 18. Zip lining in El Nido
Zip lining is always fun, and even more so when the surroundings look amazing like in the Philippines.
You can try zip lining many places in the Philippines, but on this tour, you get to zip line over the sea, explore the Underground River I mentioned above, and enjoy a paddleboat tour through a mangrove forest.
19. Visit the hanging coffins in Sagada
Remember how I said the Chocolate hills were one of the most unique things on this Philippines travel bucket list?
Well, this might take first place.
In Sagada, you can experience something truly unique – the hanging coffins of the indigenous people of the Igorot tribe. This ancient burial practice entails placing a deceased relative in a coffin and nailing it to the side of a cliff, because it's believed to bring them closer to their ancestral spirits.
Although this ritual is still practiced by the elders, it has become increasingly rare with fewer and fewer members of the younger generation following this tradition.
Whether you take part in a guided tour or visit on your own, experiencing this uncommon burial ritual and the local culture is one of a kind.
20. See fire flies in Puerto Princesa
Go on a magical journey in Puerto Princesa through a firefly tour. The tour starts around 5:30pm-6:30pm, with pick up at your hotel before embarking on boats to explore the river.
As you glide along the river, you'll can see fireflies that light up the night sky – creating a glowing ambience.
The tour includes dinner and ends between 9:00pm-10:00pm, where you will then be dropped off at your hotel.
Ask me anything about this Philippines bucket list! I'll do my best to answer.
More posts from the Philippines you might like