The perfect 3 day itinerary for Boracay Island
Have you ever imagined how the perfect beach would be like? It probably has lush palm trees, right? And turquoise water, stunning sunsets that leave you speechless, hour-long massages and drinks till you pass out?
Well, I'm on Boracay in the Philippines and I have found a beach like that! This perfect beach is called White Beach and it's so amazing that words can't do it justice.
In this article, I've shared everything I know about Boracay island so you can plan an amazing trip here, too. This itinerary for Boracay includes activities for 3 days, the best beaches of Boracay and much more.
Let's dig in.
Read next: The perfect 10 day Philippines itinerary
This post contains referral links for products I love. Adventurous Miriam earns a small commission at no extra cost to you if you make a purchase through my links. Thank you for your support ♡ Learn more
Is Boracay still closed?
No, Boracay has reopened. After being closed for 6 months in 2018, this Philippine island is finally welcoming visitors back.
3 day itinerary for Boracay Island
Boracay island is only 7 km long and 1-2 km wide which makes walking around easy. On the east side of Boracay, you will find most of the activities such as helmet diving, jet skiing, parasailing and snorkeling.
You can spend weeks on Boracay, just soaking up the beaches and trying some of the MANY activities on the island. Given how small it is, it offers a lot of activities!
However, three days will give you enough time to explore the best beaches in Boracay, the nightlife and the most fun activities.
Best station in Boracay
Boracay is known for White Beach – the best beach in Boracay. White Beach is 3.5 kilometres long and divided into three parts called stations.
The best station in Boracay is Station 1. It has the finest stretch of white sand on the entire island, it's quieter and has the most luxury resorts.
Station 1 – Luxury
Station 1 has many high-end resorts and gourmet restaurants by the beach. Perfect for luxury travel.
Station 2 – Shopping and partying
Station 2 is the heart of White Beach. Accommodation prices range from 1000 to 2000 pesos per person and I strongly recommend booking ahead, especially during peak seasons or holidays. You'll find lots of resorts, shops, entertainment and restaurants here.
Station 3 – Backpacking
Station 3 is a quieter, less crowded area compared to Station 2, where you can find cheaper hotels.
When to visit Boracay
High season is between November and May. Just be aware that the peak season also brings crowds.
From mid-July to October is off-season in Boracay – but don't let that put you off! Although it may be typhoon season in the Philippines, Boracay's great weather and natural shielding make this a safer time to visit than most other places. Plus, you'll still get to enjoy its beauty without all the crowds.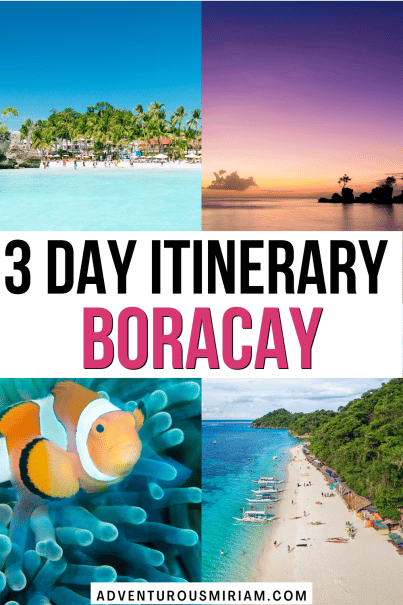 Where to stay in Boracay island
White beach is the best beach on Boracay, so you'll want to be waking up here.
If you're backpacking Boracay, I suggest staying at Surfside Resort and Spa, which is a perfect little Japanese owned hotel. It's in the quiet end of White Beach (Station 3) and it's basically 10 meters from the ocean. When we got there, we were instantly greeted with welcome drinks, necklaces and the owner came by to say hello.
The rooms are clean, spacious and very personalised. We paid 3,000 pesos per night, breakfast included, plus you get 50% discounts on massages and 10% on everything from the restaurant.
Where to eat in Boracay
I'll be the first to admit that I'm not a fan of Filipino food. You will find plenty of restaurants where they serve International food here. Here are a few of the best restaurants in Boracay: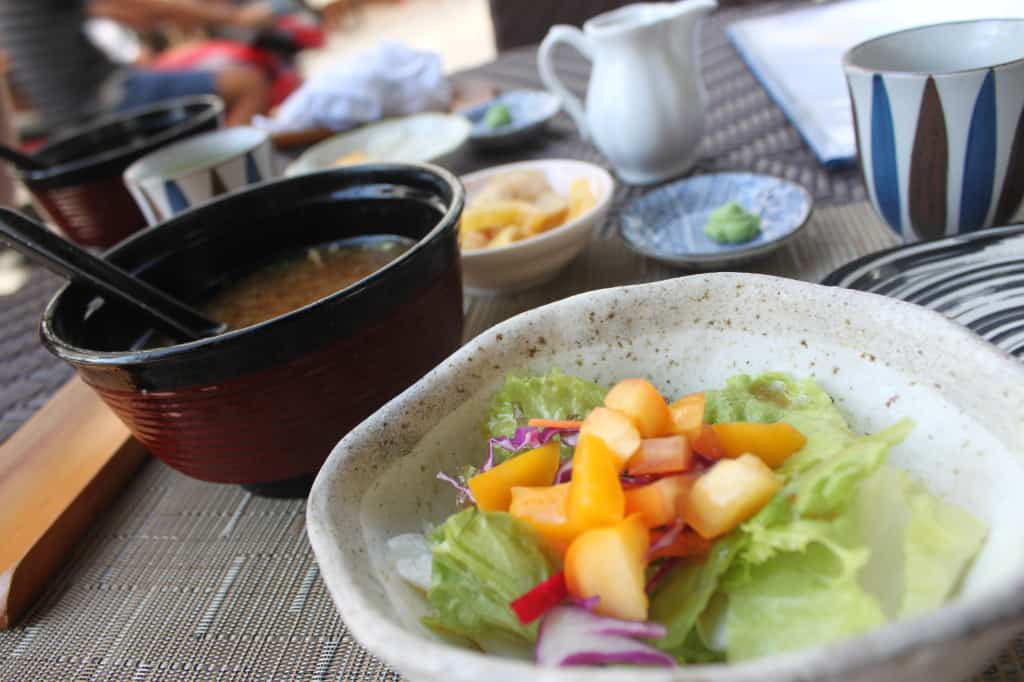 Day 1 Boracay itinerary
On your first day in Boracay, you'll be doing some fun activities. So, pack your swimsuit, sun lotion and a towel. Time to explore Boracay!
Willy's Rock
Start your day at Willy's rock, an ancient volcanic formation that dates back thousands of years.
It's easy to access, and the views from the top – which you can reach by climbing up the stairs – are truly breathtaking. You'll find this unique attraction just one hundred meters offshore of White Beach – Station 1.
Parasailing Boracay
Have you ever tried parasailing? It's a fun activity to add to your itinerary for Boracay.
You'll get unparalleled views of the entire island, its beaches and coastline from a birds-eye perspective. Whether you choose to go solo or tandem, this thrilling activity is sure to get your heart racing.
Scuba diving
The Philippines is world-renowned for its scuba diving. So, this is the perfect place to discover the stunning coral reefs, diverse marine life and crystal clear waters around Boracay.
No matter your level of expertise, you can enjoy a scuba diving experience on the beaches of Boracay. Guided by a PADI-certified divemaster, you'll explore an incredible underwater world with all its wonder.
Book your scuba diving tour here.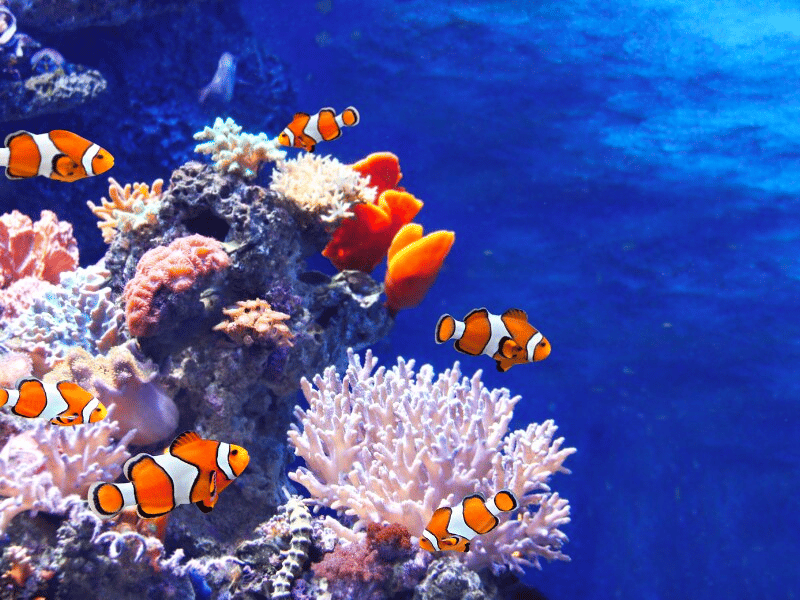 Visit the Bat Caves
Visiting the bat caves of Boracay is a rather alternative thing to do in Boracay. Sure, bats may not be everyone's cup of tea. But here you'll have the unique opportunity to see a variety of rare species that you won't find anywhere else.
You'll find these incredible, eerie bat habitats nestled along the coastline of Puka Shell Beach.
Boracay island hopping
I love island hopping tours, and with more than 7,000 islands, the Philippines are one of the best places for it.
You'll get to explore some of the most stunning beaches, complete with turquoise waters and diverse sea creatures, as well as visit Crocodile Island.
To top it off, you'll be treated to a delicious grilled buffet lunch along the way. With a private tour, you can choose how much time you want to spend at each beach – it's the perfect way to make sure your trip is unforgettable.
Book your island hopping tour here.
Boracay sunset cruise
The sunsets from White Beach are the most stunning I've ever seen. There is no comparison. While watching them from the beach is amazing, seeing them from a boat is just as magical.
During this two-hour journey, you'll get to admire the hues of pink, orange and red paint the sky as you pass by the island's stunning beaches.
Book your sunset cruise here.
Day 2 Boracay itinerary
After breakfast, head to the east side of Boracay to Bulabog beach. You'll be doing a mix of activities, relaxation and partying today.
Bulabog Beach
Bulabog Beach is the watersports hub of Boracay, where you can experience some of the most exciting adventures on the ocean. Windsurfing and kite surfing are two of the most popular activities here, and it's no wonder why – this beach is even considered one of the best kitesurfing beaches in all of Asia!
With 2.5 kilometres of white sand stretching along its coastline – bring your towel and good book, relaxation is up!
UFO and Hurricane watersport
UFO and Hurricane watersport in Boracay involves a secure inflatable spaceship being towed along the best beaches of Boracay at speeds up to 30kph.
All safety gear is provided, so all you need to do is sit back and have fun!
Jet skiing
Next up is jet skiing. With a qualified English-speaking instructor, you can feel secure as you explore the turquoise waters on a jet ski.
From 15 minutes to 60 minutes, there are several package options available to suit your needs.
Book your jet skiing tour in advance.
Bella Isa Spa
After all that excitement, it's time for some pampering.
I recommend adding a luxurious spa treatment to your Boracay itinerary! Bella Isa Spa is one of the best spas in Boracay, offering a range of treatments from full body massage with natural oils and elixirs, hand and foot reflexology treatments, to relaxing hand and foot spa.
Fire show at Station 2
After your massage and dinner, head to Station 2 for relaxation or partying (whatever you're in the mood for). There's fire dancing on the beach and at some of the restaurants with cosy music in the background. This makes it the perfect place to end the day.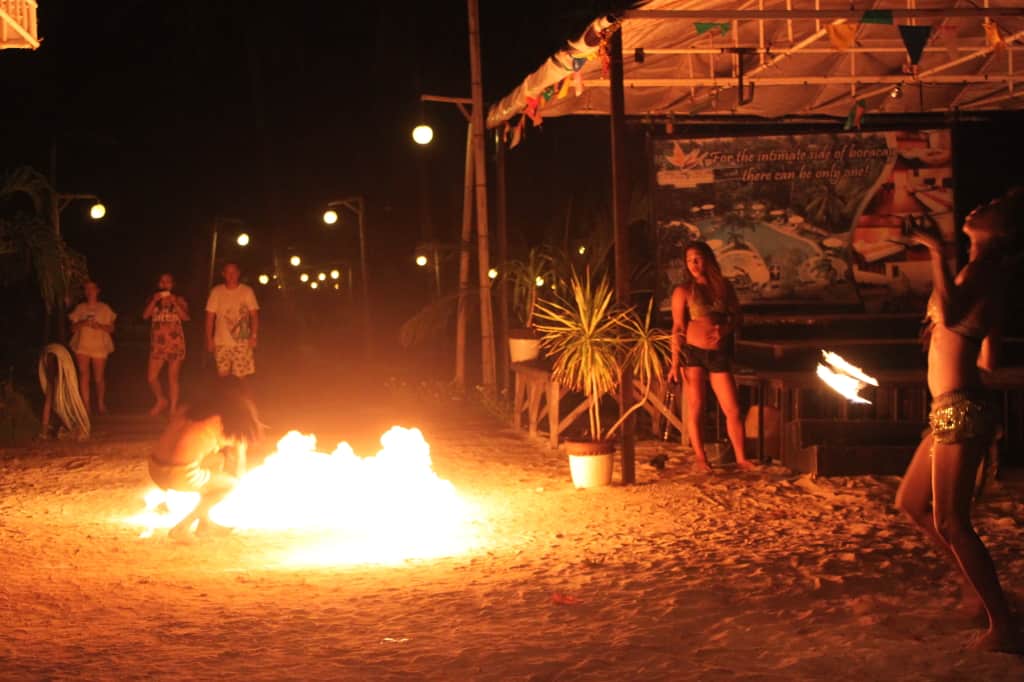 Day 3 Boracay itinerary
On your last day in paradise, you'll be doing some fun adventures, unique to Boracay. At the end of the day, you can relax at White Beach and watch the sunset.
Puka Shell Beach (Yapak Beach)
First stop of the day is Puka Shell Beach!
See if you can find some beautiful puka shells – just remember to leave them behind. You can't take them home.
Cliff diving at Ariel's Point Boracay
An itinerary of Boracay isn't really complete without visiting Ariels point.
Ariel's Point is where you can take your adrenaline rush to the next level! Whether you're a seasoned cliff-diver or want to give it a go for the first time, this is the place to do it.
Even if the heights make you nervous, there are several levels of different heights. Start at the bottom at work yourself up.
Helmet diving
If you're not a certified diver, I recommend helmet diving. You'll be provided with an oxygen-pumped helmet, allowing you to breathe while you're under water. Read about my experience with helmet diving here.
Perfect for both beginners and experienced swimmers. You'll be given a safety briefing before you go in.
Relax at the amazing White Beach
Back on the island, it's time to relax on the amazingly, wonderful White Beach.
I've been looking for the perfect beach for so long, and the more I see, the more picky I get. It's no longer enough that the water is clear and the atmosphere is relaxed – it takes more for a beach to be perfect.
So, what does it take to impress her royal pickiness?
Well, first of all it must be clean with white, soft sand. And yes, the water has to be clear and turquoise with a blue sky in the background. I prefer uncrowded places, but even though White beach is touristy I'm not bothered by it.
The beach feels big enough for everyone and it's not packed with sun chairs or parasols like Patong beach in Phuket or other crammed places. On White beach, they are planting palm trees that you can lie under when you need a shadow. It makes the beach seem much more untouched and uncrowded. Also, there's a walkway with restaurants, stalls and shops, so the beach is reserved for tanning and quietness.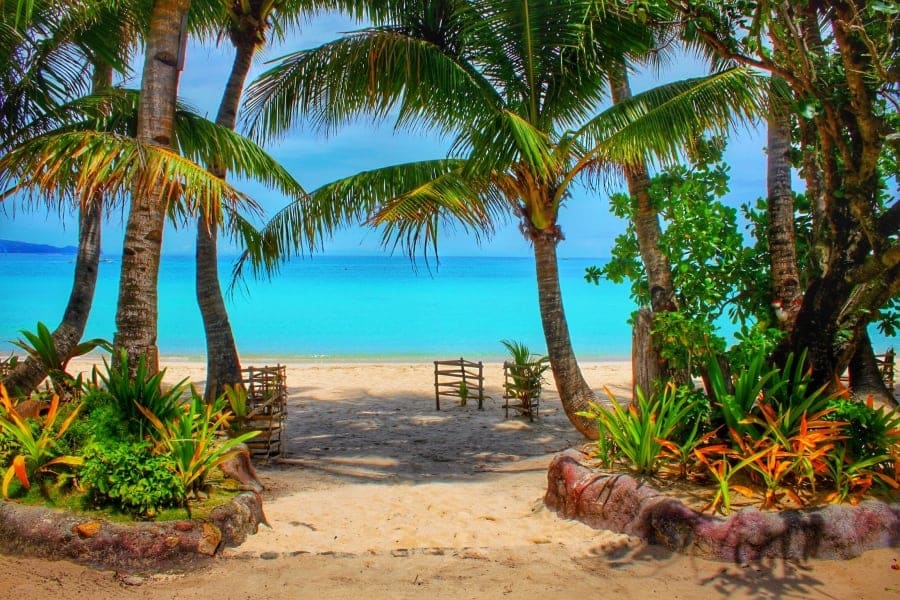 Pub crawl
Last stop of the day is the famous pub crawl in Boracay. You get to visit five different bars with 50 other people from around the world and enjoy special drinks and free shots at every location.
Plus, a professional photographer will capture all of it (so for your own sake, try to behave) 😀
Book here: Pub crawl in Boracay
Final thoughts
It didn't take me long to fall hard for Boracay island.
Koh Tao and Koh Phanang have always been my favourite beach destinations, but I must say that Boracay is better. It has everything I could wish from a beach and most importantly – it makes me happy, serene and relaxed. I'm already planning our next trip here!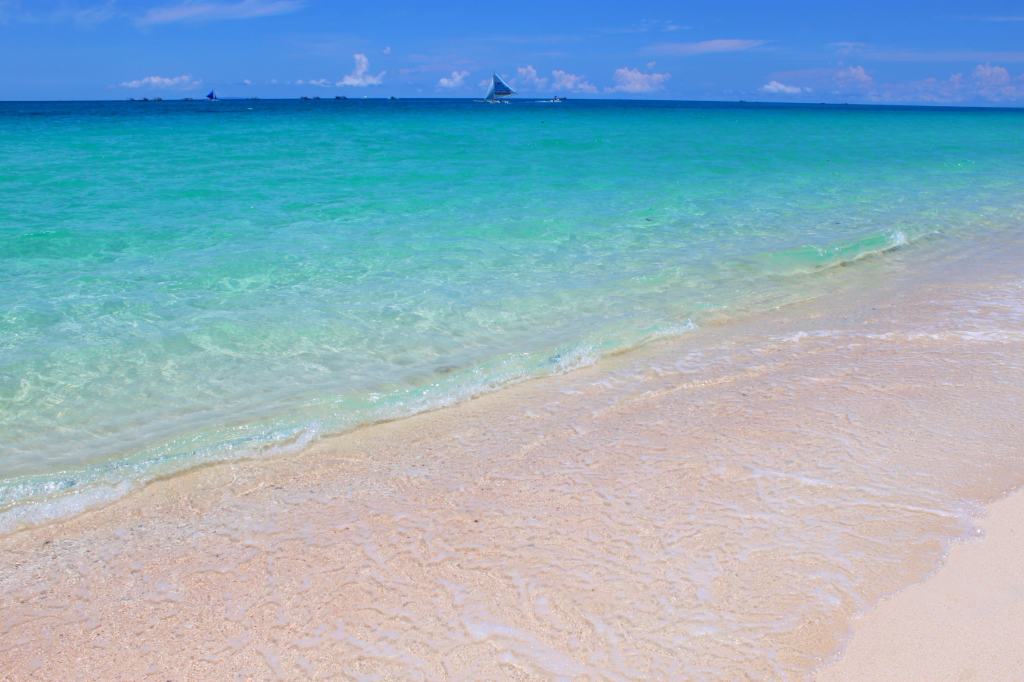 More posts from the Philippines you might like