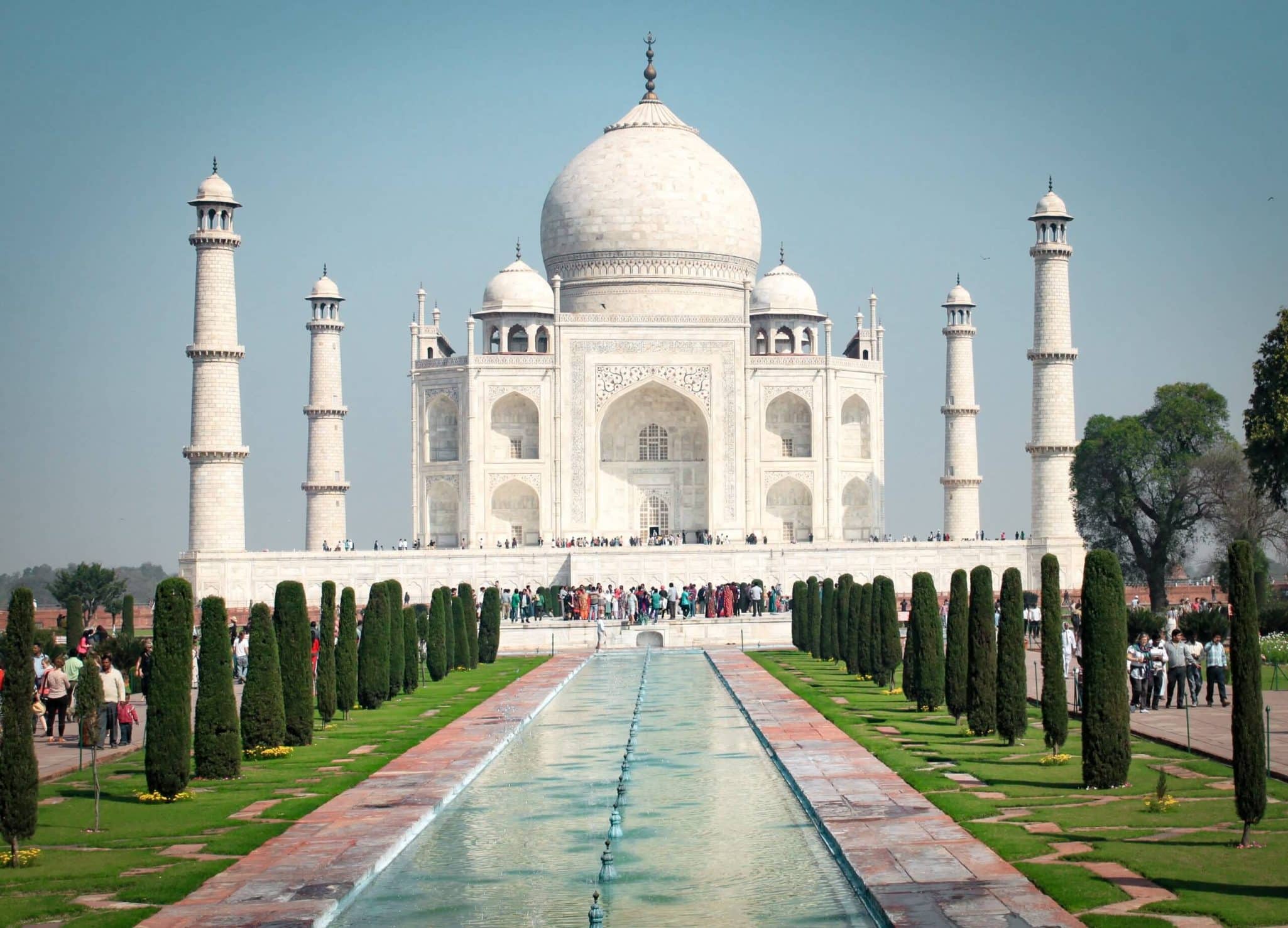 Planning a Taj Mahal visit? Here's everything you need to know.
When I planned a trip to India, Taj Mahal was very high on my list. It might be on yours, too, and for good reason. The Taj Mahal is one of the Seven New Wonders of the World, one of the best known UNESCO world heritage sites, and it tells one of the most romantic love stories of our time.
Taj Mahal is situated on the Yamuna River in Agra, about 3,5 hours south of Delhi. You can get there by air, bus, train or taxi. We did the latter as part of a Golden Triangle tour and it was quite comfortable and easy.
Read next: 10 places to visit in Delhi in one day
Tips for your Taj Mahal visit
I hope these tips will help you with everything you need to know before your visit. First, here are some basic tips for visiting Agra.
How to get there – The Taj Mahal is located in Agra, which is easily accessible in a day trip from Delhi. There are about 115 trains weekly, and the journey takes about 3 to 4 hours. From the train station you can take a tuk-tuk to the Taj Mahal for 150 rupees ($2.50 USD). You can also take a taxi from Delhi, which will cost you 420 rupees one way. Or join an organised tour from Delhi. One day is enough for a Taj Mahal visit.
How to get around – In Agra, you can get around by rickshaw or tuk-tuk. If you're sightseeing Agra, expect to pay around $14-15 USD for all day transportation with the same driver. Just remember to negotiate the price before you get in. Read more tips on how to avoid the 8 most common taxi scams.
Where to stay – If you decide to spend the night or a few nights in Agra, I recommend the Taj Hotel & Convention Centre Agra. It's very close to the East gate and you'll get a beautiful view of the Taj from here. It's a luxury hotel with fitness centre, swimming pool, children's play ground and restaurant at a reasonable price (about $47 per night).
Dangers and annoyances
Taj Mahal is a very popular attraction, also for pickpockets and scammers, so here's what you should be aware of:
Beggars: Be prepared to meet plenty of beggars and touts there. They usually use tricks such as free taxi rides or promise you heavy discounts.
Tuk-tuks: Be sure to tell your tuk-tuk driver which Taj Mahal entry gate you wish to be taken to. Otherwise, he might drop you off at a jewellery store or in the area where expensive tours wait to take tour groups to the west gate. To avoid this, ask your hotel to find a tuk-tuk for you, or use one of the 24 hour official prepaid taxi booths just outside Agra train station.
Guides: You'll see more than 3,000 (often agressive and insisting) touts posing as guides or middlemen outside the Taj Mahal. But only about 60 of them are approved guides. If you want a guided tour, book one ahead or go with an audio-guide. You can download this inexpensive app AudioCompass or this one to explore the palace at your own pace.
Scams: India is specifically notorious for travel scams, so do watch out. Read my tips on how to avoid getting scammed here.
Posing for photographs: When I traveled through India, I was warned by several Indians not to pose for photographs if guys asked me (they'll often post the photo on social media and say you're their girlfriend). While it might seem fairly innocent, it can be intrusive and uncomfortable. You will probably also be asked by local families and women to pose with them in a picture. Nothing dodgy about it, just be prepared for the line that might form.
Know the love story of Taj Mahal
The structures, carvings and calligraphy of Taj Mahal reveal the story of a heart-broken emperor who built the complex for his beloved wife, Arjumand Banu Begum. He loved her at first sight. And when they got married, he bestowed her with the title of Mumtaz Mahal, meaning the "Jewel of the Palace".
In 1631, when Mumtaz was giving birth to their 14th child, she endured severe complications and the emperor rushed to her side. When he realised she could not be saved, he promised never to remarry. Instead he built a peerless monument to immortalise their love.
After her death, the heartbroken emperor began the construction of Taj Mahal in memory of his beloved. It took 20,000 workers, 1,000 elephants and 22 years to construct it. When he died in 1666, his body was placed in a tomb right next to hers.
In 1983, the mausoleum became a UNESCO World Heritage Site. It has been considered a living example of eternal love since its construction more than 400 years ago.
Apart from the love story, the Taj Mahal in India is most renowned for its perfect symmetry and the way it changes colours during the day. In the morning light, the colour of the Taj is pinkish, in the evening it's white and in the moonlight golden. Supposedly, the changing colours symbolise the many feelings this monument captures.
Read next: A travel guide to India
1. Visit early in the morning
You can visit Taj Mahal any time from sunrise to sunset, but I recommend getting there early in the morning. That way you'll avoid the worst crowds, lines and the midday heat. There's also a really nice light there in the morning.
We arrived at 5:30AM; 30 minutes before the ticket booth opened, and there was already a queue.
2. Bring exact change for your ticket
To avoid a hassle for not having exact change, make sure to bring the exact amount, which is 1,000 rupees per person. A foreigner ticket comes with a bottle of water, shoe covers and a tourist map of Agra.
Alternatively, you can buy Taj Mahal e-tickets online on the Archaeological Survey of India's official website. Just remember that e-tickets are non-cancellable. Bring your photo ID along with a printed confirmation of your e-ticket at the entrance gate.
3. Dress appropriately
While there's no dress code at Taj Mahal, remember that this is a mausoleum. The general rule of thumb in India for women is to cover your shoulders and everything above your knees. I suggest bringing a shawl or scarf and wear something light and loose.
Also, India is a vibrant country, so wear something colourful. The bright colours look amazing against the all-white Taj Mahal.
4. Know what you can't bring inside
These are the things you can't bring inside for your Taj Mahal visit. Some are obvious, while others are… well, not so much.
Weapons (such as firearms and explosives)
Matches and lighters
Tobacco and e-cigarettes
Sharp items (such as scissors and knives)
Alcohol and drugs
Snacks and food (not even chewing gum)
Religious offerings (such as flowers and garlands)
Laptop and tripod
Reading, writing and painting materials
Toys and cards
Torch and professional video camera (cameras are allowed)
Large bags or backpacks (small handbags are ok)
Hardcopy of photos and cd's
5. Which gate is best for Taj Mahal
There are three entry gates to the Taj Mahal.
The West gate is the main gate for local Indians, and it has the longest lines throughout the day – except at sunrise.
The East gate is most popular for tourists, as it's closest to some of the best-known hotels. It usually has shorter queues except for at sunrise, when tourist groups arrive.
The South gate is the least-used gate. It's close to a dodgy market area where many of the cheap hotels are situated. Plus, it doesn't open until 8 a.m so you can't enter for sunrise.
6. You only get three hours
As of 2019, you can only visit Taj Mahal for three hours. This is to prevent overcrowding and damage, which makes sense. They're strict about this new rule, and you'll be charged if you stay over the time limit; the amount is equivalent to the original ticket price ($19 for International visitors).
7. Look at the details
The main sight at the Taj Mahal is the white marble tomb which stands on a square plinth, topped by a large dome. This is where the emperor and his wife lay to rest.
The mausoleum is really beautiful! Its interior is rife with intricate carvings and calligraphy of Persian poetry, while the exterior features floral designs and abstract patterns. So make sure to get up close and discover all the details. It's quite amazing.
8. You'll have to wear shoe covers
At the entrance, you'll receive a pair of disposable shoe covers. You'll need to wear them or walk barefoot if you're going inside the mausoleum or standing on the platform. It's to protect the ivory marble floors.
You can choose to leave your shoes outside the mausoleum, but I wouldn't recommend it as it's almost a sure way to get them stolen.
9. No photos inside the main mausoleum
Another thing you can't do inside the mausoleum (the white structure) is taking photos. You can photograph it from the outside as much as you want. You also can't bring a tripod anywhere inside Taj Mahal. Not unless you have a commercial photography permit from the government in advance.
10. View the Taj Mahal from across the river
If you want a great shot of the Taj Mahal, grab a tuk-tuk and go to the other side of the river.
We ended the day watching the sunset from the other side of the Taj Mahal. The complex closes at 6pm, which makes it impossible to watch the sunset from inside. We managed to get a really good view from where we stood.
Important info for visiting Taj Mahal
Opening hours: 6 a.m. to 7 p.m.
Taj Mahal is closed on Fridays!
The best time to visit the Taj Mahal is as soon as the gates open – at sunrise.
Entry fee: Foreigners: 1,000 rupees ($15.40 USD), India nationals: 40 rupees, Children 14 and under: Free.
The best time for your Taj Mahal visit weather-wise is October to March, but it's also most crowded. Avoid the monsoon season from July – September.
Ready for your Taj Mahal visit? Ask me anything in the comments!
Pin it!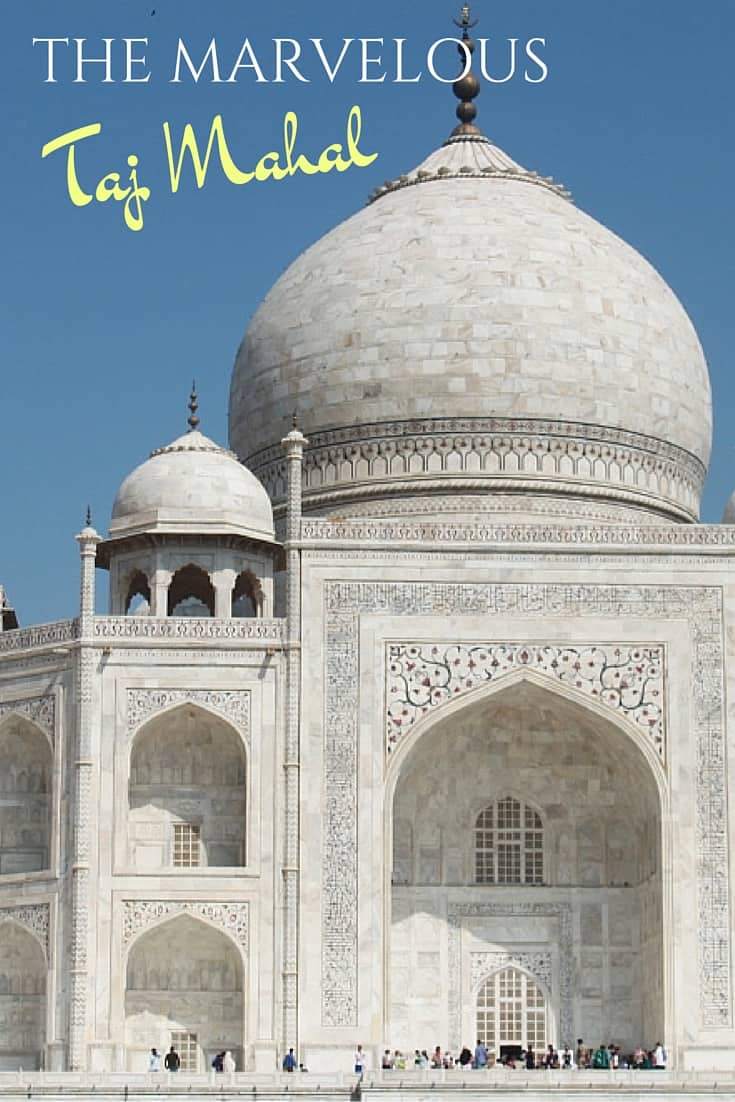 Psst! This post probably contains affiliate links, which means I earn a commission (at no extra cost to you) if you click through and make a purchase. As always, I only recommend products and services I trust.