How to spend fantastic 2 days in Varanasi (Banares) India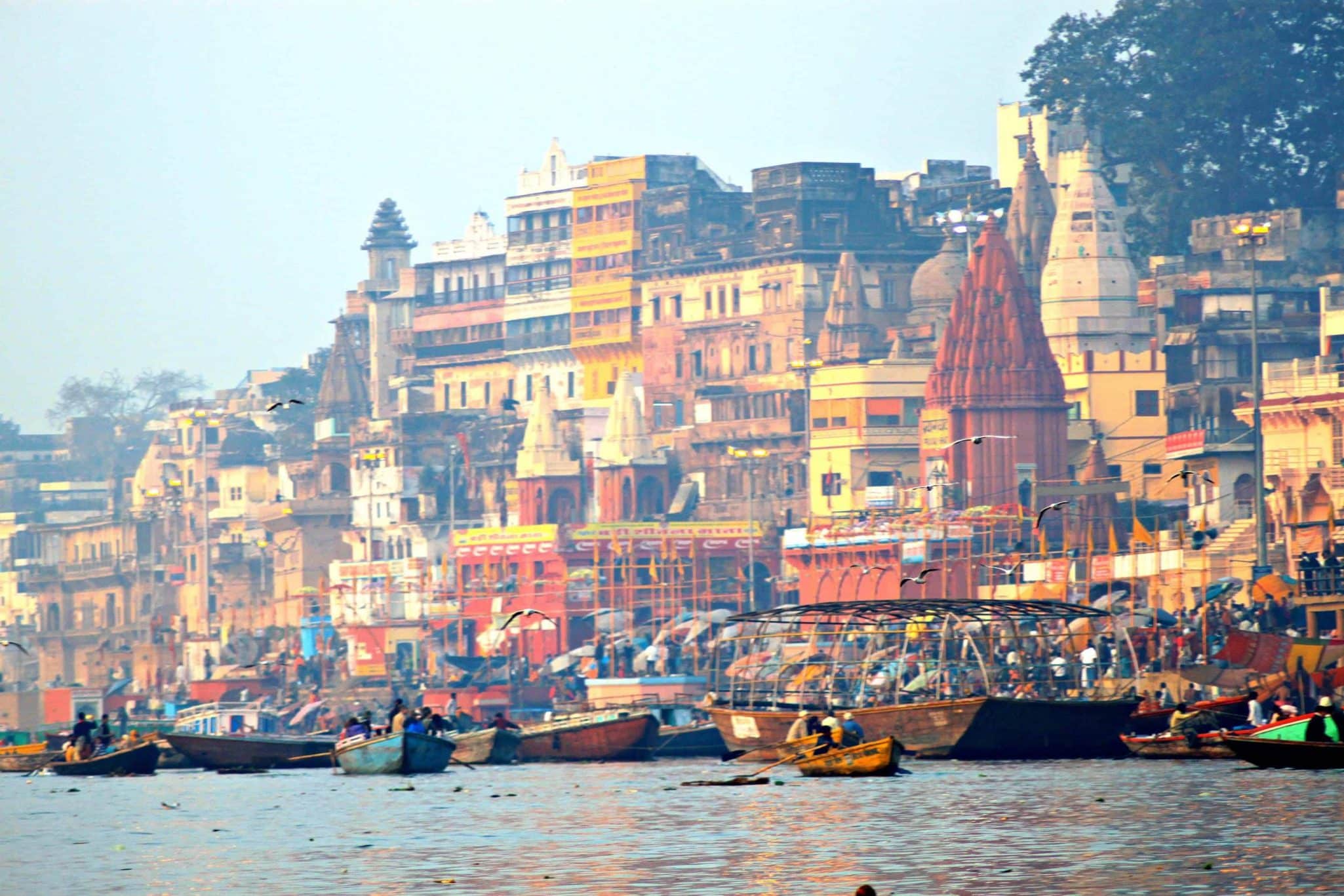 Varanasi (Banares), India is the city of the dead. This is where millions of pilgrims come to pray, meditate, bathe in the River Ganges, and cremate their dead by the banks. Not many places have fascinated and moved me to such an extent. It's packed with extremes and intensity like I've never seen before.
I visited Varanasi before and after joining the Maha Kumbh Mela in Allahabad, so the city was brimming with pilgrims and sadhus.
Are you planning a trip to India's holiest city? In this 2 days in Varanasi itinerary I'll share everything I know to help you explore Varanasi.
Let's begin.
This post contains referral links for products I love. Adventurous Miriam earns a small commission at no extra cost to you if you make a purchase through my links. Thank you for your support ♡ Learn more
Is 2 days in Varanasi enough?
Varanasi is an ancient city steeped in culture and historic sights. It can be overwhelming to try and cram two days of exploring into the bustling area, but it IS possible!
This Varanasi itinerary contains the major sights, attractions and things to do in Varanasi in 2 days. While you can always spend more time in a place, two days are enough to explore the highlights.
First impressions of Varanasi, India's holiest city
Arriving in Varanasi was a bit of a shock to say the least. Apart from the fact that we got scammed within the first hour of arrival, we were met by extremities that made deep impressions, fascinated us or were simply unpleasant.
In the hordes of people, there were holy men devoted to their religion, street children, mutants, prostitutes, the cows and public urinators, just to name a few. 
One of the things I first noticed was people peeing in public. For instance, I was taking the below photo of the cow when a guy entered the frame and relieved himself. Public urination is not at all uncommon in India. I saw many men and a few women urinating in the streets during my time in Uttar Pradesh.
We all have our triggers, I guess. But Varanasi is one of those places that will give you a culture shock. That's for sure.
Typical Varanasi Scams
Before we get on to your 2 days in Varanasi itinerary, I want to give you a warning.
You need to be aware of common scams, so you won't be tricked like I was. These are some the most typical scams in Varanasi:
Read next: 10 common travel scams and how to avoid them
Day 1 in Varanasi
Your first day in Varanasi is all about the ghats. Begin your day at sunrise with a boat ride along the River Ganges. You'll be walking a lot, so wear comfortable shoes.
Boat ride on River Ganges
Varanasi is a very intense place with lots of things to see and do. One of my favourite experiences was the boat ride on River Ganges.
You can take the trip in the morning, experience the most amazing sunrise (it's breathtaking!), and see locals do their morning rituals (bathing, shaving, brushing their teeth and performing puja.
It's only $2 for an hour.
Read next: Why you should take a boat ride on River Ganges
Morning arti ceremonies
From the boat and from shore, you can witness the beauty of sunrise morning aarti ceremonies at several ghats. These processions and morning rituals involve chanting, puja offerings, and small boats carrying colourful flickering lamps.
Two of the most popular sites for this ritual are Dashashwamedh Ghat and Manikarnika Ghat, which draw thousands of devotees from near and far every day.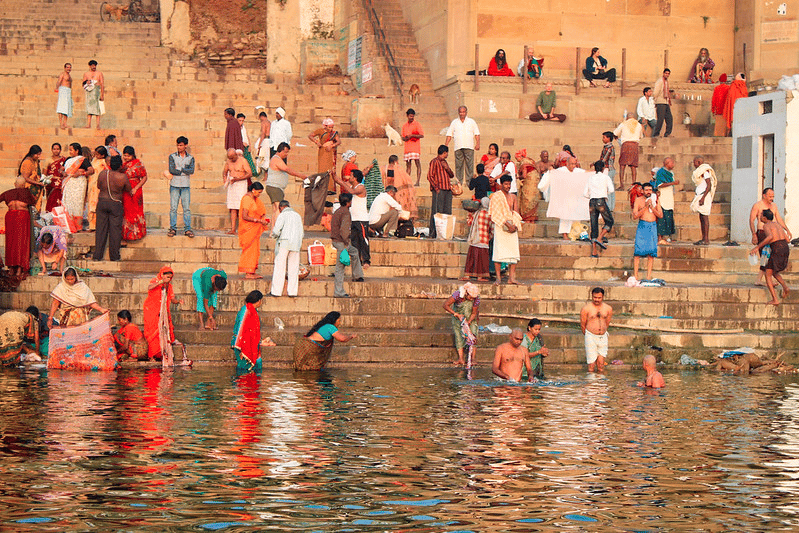 Take a walk in the Ghat area
Once you've seen Varanasi from the lakeside, it's time to explore it from the ground.
Varanasi has almost 100 ghats, which are riverfront steps leading to the banks of the River Ganges. A walk along Varanasi's ghats is a fascinating experience, although you should be prepared for filth and to be hassled by vendors. It takes about 50 minutes to walk from one end to the other.
As you walk along the ghats, you're bound to see sadhus, snake charmers, spices, temples and lots and lots of shops. It's free, and I promise: You won't be bored. 
Some interesting ghats include:
Explore the labyrinth alleys in Banares
When you've walked by the river for a while, head into the maze of labyrinthine alleys where you'll discover bustling bazaars, cows and centuries-old temples.
As you wander the narrow lanes and paths, you never know what you'll find around the next corner
Burning ghats
Varanasi is the holiest city in India, and it is believed that if a person's ashes are scattered here, their soul will achieve nirvana (release from the cycle of rebirth).
At Manikarnika Ghat, which is the largest cremation site in Varanasi, you'll see piles of wood stacked for burning. Up to 300 bodies are cremated at the sacred site every day.
The atmosphere among the male family members is not sad. I saw mourners laugh, chat and play cards as the funeral preparations were carried out. Women are not allowed at the site for fear they will cry.
Varanasi is a place that embraces death and puts it right in your face. I understand that this is not for everyone. 

But the circle of life and celebration of death is the essence of Varanasi. You shouldn't avoid seeing it even if it makes you uncomfortable. It's only when we move beyond our comfort zone, that we will truly understand another culture and gain perspective, and that's the greatest gift of traveling. 
What made the greatest impact about the cremation rituals is the way Hindus handle and view death. It has become a business. You see dead people getting cremated in public and their ashes being tossed in the river.
And just five meters from there, children are swimming, having fun, while moms are brushing their teeth and washing clothes with the exact same water. No one seems to mind. Death is an everyday thing.
The sadhus
Another fascinating thing about Varanasi are the sadhus. They're the holy men and children of India, and normally they reside in caves, in the mountains or the woods. But because of the Kumbh Mela festival, thousands were gathered in Varanasi to take a dip in the holy river.
Some of the sadhus practice extreme asceticism by always being naked, others eat human flesh as part of a holy ritual. They're usually very open and eager to talk, so have a chat with them if you like. Just be cautious and use common sense.
There have been reports of rape, drugging and assaults, especially during the festivals. We visited several naga sadhus and had chai with the ones who seemed nice. Use your intuition to judge if they are friendly or have an ulterior motive.
Ramnagar fort
The last stop of the day is Ramnagar fort. This 18th century fort is located 3.8 km from Assi ghat, across the river, so you might want to take a tuktuk or boat there.
The fort was constructed by Kashi Naresh Raja Balwant Singh and is a prominent example of Mughal architecture with its two entrances, a series of courtyards and gardens, and a number of buildings including temples and pavilions.
You'll also find the Saraswati Bhawan museum inside, which houses various artefacts including old coins, medieval costumes, paintings and sculptures.
Day 2 in Varanasi
Your last day in Varanasi is all about spirituality. Start your day with a yoga class, a healthy breakfast, and then head to Sarnath, just 8 kilometres from Varanasi.
Sarnath is an important place in Buddhist history as it was here that Buddha gave his first sermon after attainment enlightenment.
Join a morning yoga class
Yoga is a great way to begin the day, and what better place to take a class than in India, the birthplace of yoga? You can join a yoga class at the Yoga Training Centre near the Meer ghat. Find it below on the map.
The Yoga Training Centre offers daily yoga classes at 8am and 4pm. Integrated yoga classes are available at 8am & 4pm, and Ashtanga classes begin from 5. 45 pm every afternoon.
Visit Sarnath
Once your yoga class is over, find a tuktuk that can drive you to Sarnath.
Sarnath is where Buddha supposedly held his first sermon after getting enlightened. It's only 10 km from Varanasi, and you can visit on a day trip for only $4 (including tuktuk and entrance fee).  
Sarnath is an important pilgrimage site for Buddhists, so you'll see many other people there. The city is home to ancient monuments, including a stupa, temples and monasteries.
It's definitely worth going, I really enjoyed our trip there.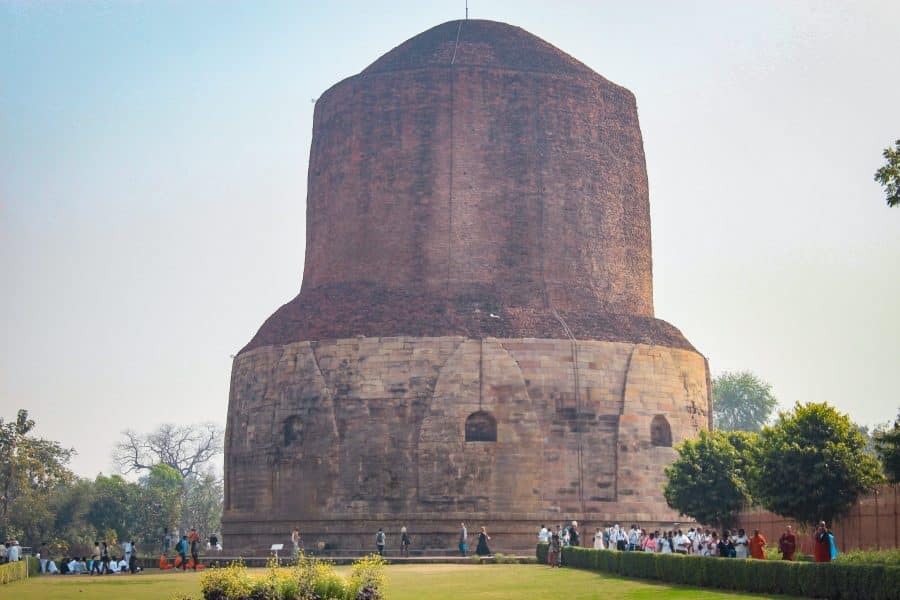 Evening boat ride
When you get back to Varanasi, find an evening boat ride.
At the end of the Varanasi boat tour, you'll be dropped off at Dasaswamedh Ghat where you can experience the Ganga Aarti (evening ritual with fire and music).
Join a Ganga Aarti
The Ganga Aarti is an evening ceremony that takes place at Dashashwamedh ghat every evening at 6.45.
Ganga Aarti is an ancient Hindu ritual of reverence and worship to the sacred River Ganges. The ritual consists of a prayer, performed by priests and accompanied by chants and music.
The main components of the prayer include offering flowers, oil lamps, incense, and camphor. At the end of the service, offerings are made into the river.
Make sure to get there early so you can get a front seat. You can also watch the Ganga Aarti from the boat, but I don't recommend that because you'll be too far away to really witness it.
Read next: What to expect from a Ganga Aarti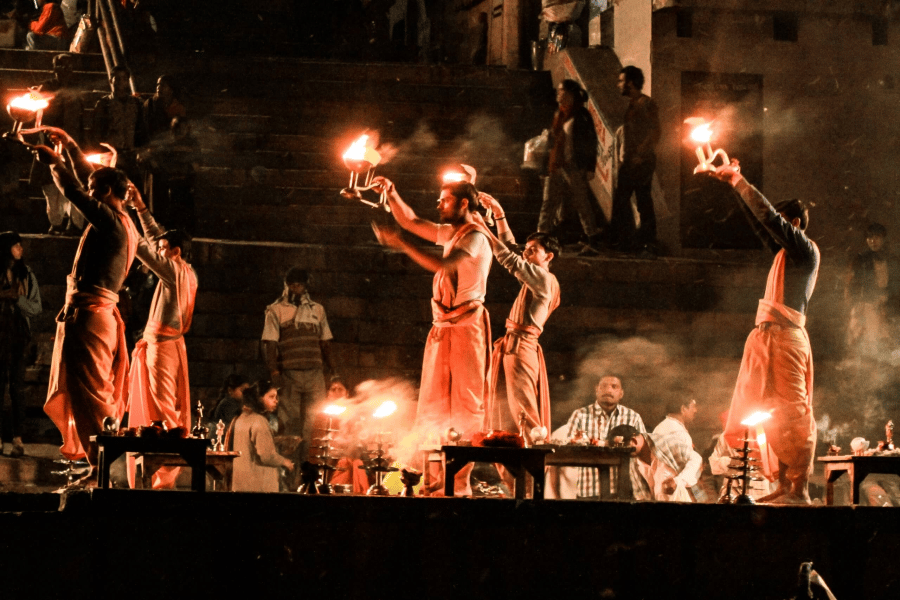 Where to stay in Varanasi
Shiva Ganges View Guest House – Situated in the best rated area in Varanasi, this family run hotel has an excellent location (Kedar Ghat). There's a 24-hour front desk and balcony. Click here to see the latest prices. 
Where to eat in Varanasi
I've listed a few of the best restaurants below, including the Lotus Lounge, although I'm not sure it's still in business.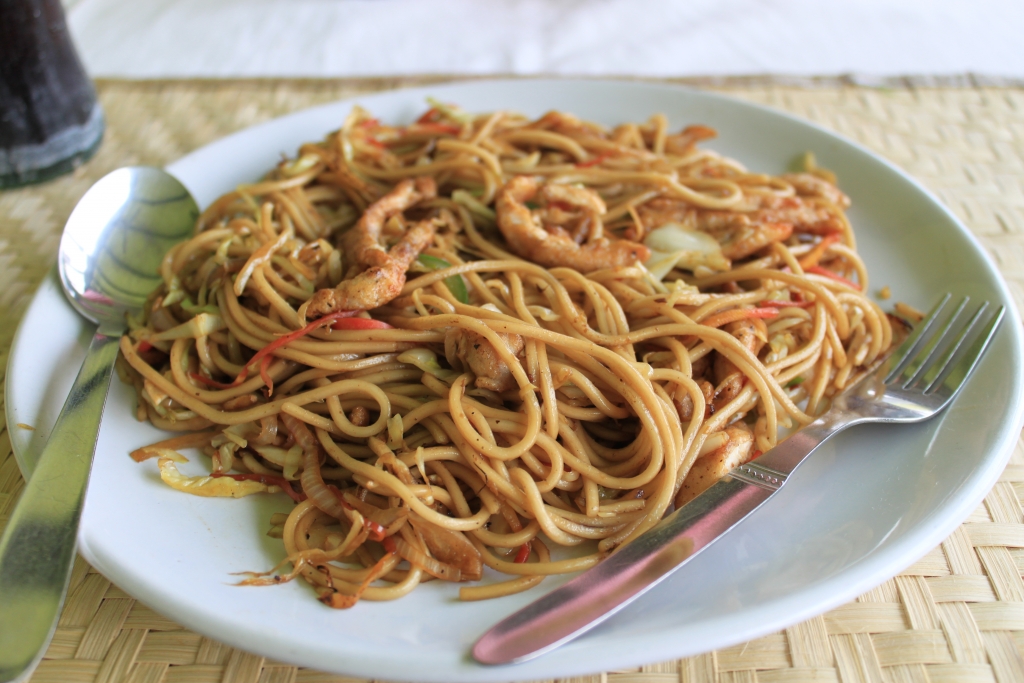 Ask me anything about spending 2 days in Varanasi! I'll do my best to answer.
More posts from India you might like
Save it!