20 best Turkish food: What to eat in Istanbul
All hail flavourful, savoury Turkish food Istanbul!
I just returned from Istanbul and the food was one of the highlights for me! There's SO much to try that it's the perfect destination if you're a foodie or simply want to sample some Turkish dishes.
In this post I'm covering what to eat in Istanbul. Get ready to discover the 20 best and most iconic traditional Turkish dishes.
Let's go.
Read next: The ultimate 7 day Turkey itinerary
This post contains referral links for products I love. Adventurous Miriam earns a small commission at no extra cost to you if you make a purchase through my links. Thank you for your support ♡ Learn more
What to eat in Istanbul?
I feel an urge to say: everything! But if I have to cut it short, you need to try these top dishes if you're a foodie in Istanbul:
Lamb kebab
Testi kebab
Pide
Turkish tea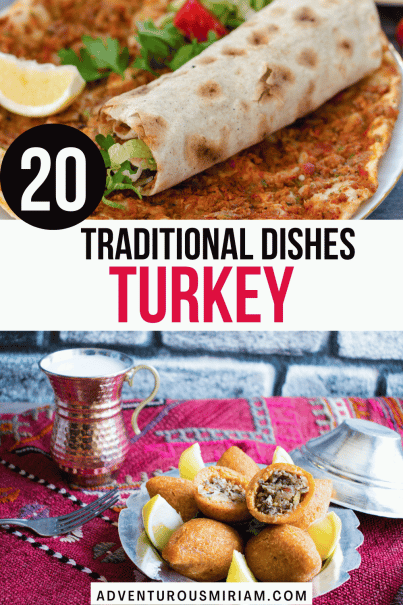 What is typical Turkish food?
Turkish cuisine is a unique and refined combination of flavours from the Middle East, Central Asia, Greece, and Eastern Europe—a legacy of the Ottoman Empire.
From indulgent mezes (tapas) to seasoned kebab and sweet pastries, it has become a source of inspiration for cuisines around the world.
Turkish food is known for its kebabs, which are made with grilled meats such as lamb, beef or chicken served on a skewer. Turkish cuisine also includes many other popular dishes such as meze platters, stuffed vegetables, Turkish ravioli (manti), Turkish flatbreads (pide) and more.
Turkish desserts are also very popular and include baklava, kunefe and sutlac – a traditional rice pudding. In addition to these classic dishes there are many regional specialties that vary from one region to another throughout Turkey.
Find the best food in Istanbul with a food tour
Looking to experience the best of Istanbul's delicious food in one day? A food tour is a great way to do it – no need to commit to an entire dish if you're not sure about it!
I love taking food tours around the world, and there's no better place than Istanbul, with its vibrant culinary scene.
On this food tour in Istanbul, you'll get to taste the foods on both the Asian and European sides of the Bosphorus. You'll have 9 mouth-watering food stops with 14 different kinds of foods. I had my young son with me to Istanbul so I didn't get to try this, but next time I will choose this tour.
20 foods to try in Istanbul
1. Shish kebab
Skewered and grilled cubes of marinated beef or lamb served with grilled vegetables and rice. You absolutely cannot go wrong with kebab.
Turkish şiş kebap is popular throughout the country as well as in the Balkans, Central Asia, and the Middle East. SO GOOD!
2. Doner kebab
Doner kebab is a popular Turkish dish made from meat that is cooked on a vertical rotisserie.
The meat is usually beef, lamb, or chicken, and it's thinly sliced and served in pita bread or rolls with lettuce, tomato, onion, and other toppings.
3. Durum kebab
The best street food in Turkey – ready in a few minutes and loaded with texture and flavour. So yum!
Turkish durum kebab is made with thin, flat pieces of marinated meat wrapped in a wheat tortilla with tomato, onion, pickles and french fries.
4. Iskender Kebab
Lots of delicious marinated kebab, thinly sliced and served with yoghurt and blended aubergine, pita bread and tomato sauce.
5. Ali Nazik kebab
Small marinated pieces of lamb kebab served on top of grilled eggplant puree and yogurt.
Ali Nazik kebab is served cold and a must-try food in Istanbul.
6. Adana kebab
Perfectly spicy kebab made from ground beef or lamb, mixed with herbs and spices such as red pepper, cumin, garlic and salt.
Adana kebab is usually shaped into small cylinders that are grilled over coals.
7. Testi kebab
Take the usual kebab up a notch with testi kebab.
Also known as pottery kebab, this particular kebab is slow-cooked with vegetables and nuts in a sealed clay pot. Once it's ready to be served, the waiter will break open the pot with a hammer in front of you. Sometimes there's also a little fire show, we saw that in Istanbul and really enjoyed it!
Testi kebab is like your Turkish grandma's comfort food. Soooo juicy.
Try it in Göreme – they're known for making the best (which I can attest to).
8. Kuzu Tandir
Another slow-cooked kebab you must try is kuzu tandir. The lamb or goat is roasted on skewers over coals for several hours.
The result? A smoky, tender dish that tastes heavenly with grilled vegetables, yogurt and rice.
9. Manti
This noodle-y wonder is known as manti and it's a must-try food in Turkey.
I was first introduced to manti in Armenia, where the manti is baked instead of boiled. While I prefer the Armenian, I like the Turkish version, too.
Turkish manti is a type of dumpling made from dough filled with minced meat, and served with garlic yogurt and tomato sauce. It's kind of like ravioli or tortellini, only better.
10. Etli Ekmet
Now, in Denmark, Turks have a reputation of making the best pizzas – which you can try at one of the many pizzarias around the country. So when I went to Turkey, of course I had to try the real deal.
Etli Ekmeç is a traditional dish from the city of Konya in Turkey. It translates to "bread with meat" and consists of a thin, crispy flatbread topped with ground beef and vegetables such as onions, tomatoes and peppers.
11. Pide
Another type of Turkish pizza, and perhaps the most popular one, is pide – the boat shaped pizza.
The flatbread is topped with various vegetables, meats, and cheeses before being baked in a traditional stone oven.
This is one of the must-eats if you're wondering what to eat in Turkey!
12. Lahmacun
Lahmacun is a third pizza type – it's thin and crispy.
Made with ground beef, onions, and herbs that are spread on a flatbread before being cooked in an oven, you usually roll or fold it before eating.
13. Islak burger
Intensely greasy burger bathed in tomato sauce. The perfect Istanbul street food or hang-over remedy.
The islak burger has a garlicky taste, with a soft bun covered in a thinned out tomato-like sauce that's made with paprika.
14. Kofte
Juicy, tender and flavourful.
Turkish kofte is a traditional Turkish food dish made with spiced minced meat. Kofte is usually served with rice, while sulu kofte (like below) is a meatball soup.
15. Meze
You'll quickly experience that most restaurants in Turkey serves a small platter of dishes before the main dish. Like tapas.
These are called meze, and they're served as a starter or appetiser – often free of charge. It usually consists of dips, salads and grilled or pickled vegetables.
16. Börek
Moving on to the sweeter Turkish dishes.
Börek is a typical street food or breakfast dish. A sweet pastry made from thin layers of phyllo dough filled with cheese, minced meat, or spinach.
17. Baklava
Ah, yes, you mighty sugar-infused cake!
Imagine the sweetest cake possible, a cake made of layers of phyllo dough filled sugar and honey or syrup. If you can master more than one bite, go you.
18. Gözleme
Gözleme is a traditional flatbread filled with cheese, potatoes, or spinach. A great Turkish street food dish.
19. Halka tatlisi
You know churros, right? Those delicious deep fried dough bites from Spain? In Turkey, they're known as halka tatlisi and they're soaked in syrup. It's often served as a sweet treat during special occasions, such as birthdays or holidays.
20. Katmer
Turkish breakfast often include katmer, a traditional pastry made with layers of flaky dough filled with either savoury or sweet ingredients. You can find katmer in most Turkish bakeries.
Turkish tea
Ah, my favourite after kebab!
Turkish tea, or çay, is a traditional black tea and an important part of Turkish culture. You'll see Turks drink it everywhere and you can get it in most restaurants after your meal. Most times it's on the house, like raki in Croatia and Albania.
Turkish tea is usually sweetened with sugar and served in a tall glass. If you're mixing your own at a hotel in Turkey, here's a tip: only fill the bottom with tea. Then pour in hot water (3/4). The tea is very strong.
Turkish coffee
Turkish coffee, or kahve, is a traditional coffee made with finely ground Arabica beans. It has been part of Turkish culture for centuries and was added to UNESCO's list of Intangible Cultural Heritage of Humanity in 2013.
It's extremely strong and thick, sweetened with sugar, and served with a glass of cold water to aid digestion.
More posts from Turkey you might like