Joining a Thai cooking class (delicious recipes)
You guys, I'm in luuuhve. With red curry, pad thai, and tom yum goong soup topped with fresh chopped cilantro.
Thai cuisine is my absolute favorite so naturally I was THRILLED to join a Thai cooking class and learn how to make the awesomest, most heavenly tasty Thai food from scratch. This was my first cooking class, ever, and by the way self, WHY have I not been on to this activity sooner? ugh. When I saw the option in Bali, I knew I had to join one in Thailand, like, pronto.
This post contains referral links for products I love. Adventurous Miriam earns a small commission at no extra cost to you if you make a purchase through my links. Thank you for your support ♡ Learn more
WHO-HO-HO-HOA. A 5-COURSE MEAL?
The Thai cooking class began with a trip to a local market. Our appointed chef showed us across the street, past small roofed vendors and florists to the bustling market place. The group of nine food-lovers gathered around the chef as he assigned us each a basket and pointed at colorful vegetables and spices.
Lemongrass, tomato, basil, coconut, onion, a good stash of fresh herbs, and, errr, wait, lemme think.
Yeah – I think that about sums up what was in my basket.
After 20 or so minutes, we went back across the street and into the cooking school.
First step of the day was to learn about the Thai ingredients. We prepared curry paste, which is one of the most important aspects of Thai cooking, and learned how to use fresh picked herbs and whole spices to increase aroma –> very important factor.
Aroma, aroma, and more aroma!
PAD THAI
Well, well, well, what do we have here?
To my hungry eyes it looks like fried noodles with bean sprouts and egg otherwise known as SUPERDELICIOUS pad thai. You guys. This dish. It's one of my favorites EV-ER and I could live off of it until the end of the world.
So here I am with my first-ever home cooked pad thai. I was basically the happiest Dane alive.
GREEN CURRY
Green curry-liciousness. Omg, this dish was amaaaaazing.
The curry paste, veggies and chicken is stirred, then the coconut milk and fish sauce is added, and just like that, the green curry is done.
By the way, joining a Thai cooking class or any cooking class for that matter is a brilliant way to meet other travelers. I ended up hanging out with the girl next to me <— who was also a solo traveler.
SNACK
And this, my friends, is why I should not have waited, err, 8 MONTHS to write this post. Dang it.
I simply cannot remember what's in this snack-meal, but I think it was something with minced chicken… ish.
RED CURRY
Hellooo, red curry, I've been waiting for you!
I made red curry with curry paste, chilis, coconut milk, kaffir lime leaves, and fish sauce. And a handful of fresh basil leaves to make the whole thing pretty.
Why oh why oh WHY is this soupy dish so yummy?
MANGO STICKY RICE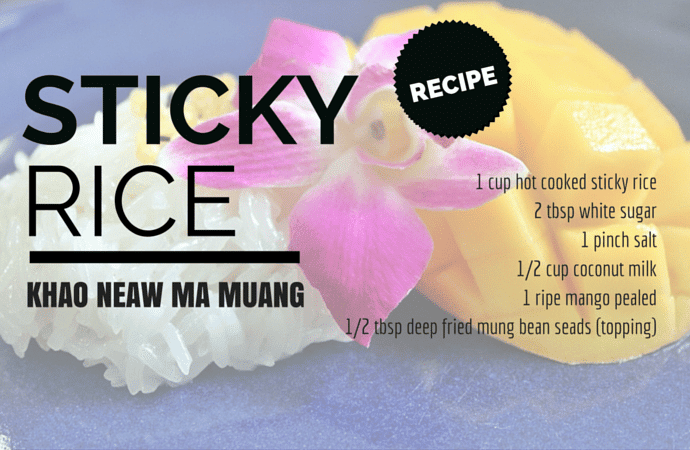 Color! sweetness! All on a plate.
There's so much sweetness in this dish, and I totally fell in love when I tasted it.
Weird fact: I've been to Thailand countless times, but it's the first time I've tried this uber-delicious dessert.
Oh, sticky rice, where have thou been all those years?!
I LOVED THIS THAI COOKING CLASS

Want to join a cooking class?
If you would like to join a Thai cooking class in Bangkok, I highly recommend Silom Cooking School. I paid 1,000 Baht and the class lasted about 3-4 hours. You can read more about them on their website.
This cooking school has three daily classes:
Morning class ( 9 AM – 12:30 PM) market tour is included
Afternoon class (1:40 PM – 5:30 PM) market tour is included
Evening class (6 PM – 9 PM) minimum 2 people
Joining a Thai cooking class is so much fun. And it's a great way to learn the culture and traditions in the country you visit.
Are you as crazy about Thai food as I am? What's your favourite?
More posts from Thailand you might like
Pin it!