An island getaway to Koh Chang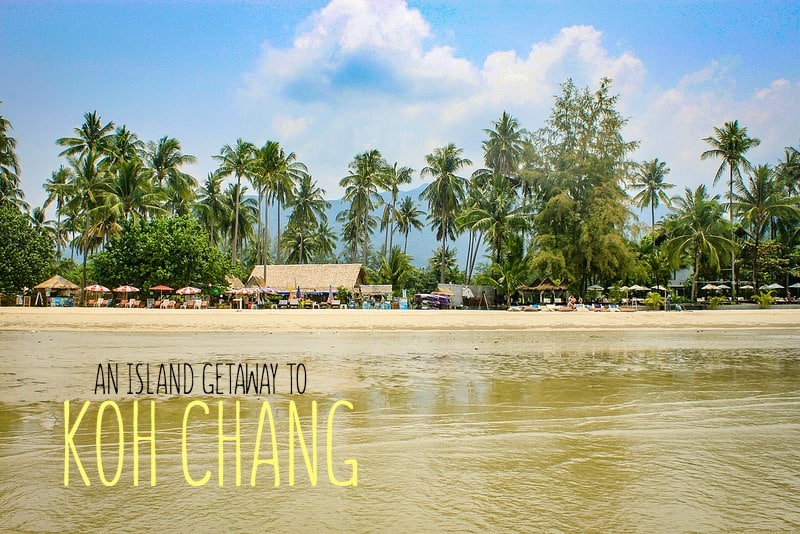 On our last trip to Thailand, we had a few days to spare so we started looking for a quick island getaway from Bangkok. Sadly, my favorite island Koh Tao was 12 hours away so it was out of the question. We needed an island close by, preferable only a few hours by bus. And that's when I thought of Koh Chang.
Koh Chang is the third largest island in Thailand, and it's not located in the south like the majority of Thai islands. Koh Chang is in the east by the border of Cambodia, and you know what its name means in Thai? It means Elephant Island. Just like Koh Tao means Turtle Island and Koh Lipe is Paper Island and so on.
I wanted to get some more information so we went to a tourist office and asked them how long it would take to get to Koh Chang from Bangkok. The tour agent, who looked more than a little irritated to be pulled away from her manicure, looked at us blankly and said it would take two hours.
Two hours. That's perfect! So we bought the tickets right then and there.
But oh, Thailand. If there's one thing you can be sure of, it's that Thais have a completely different concept of time. One hour often means three hours, and in our case two hours were really SIX. By the time we found out, it was already too late to turn around. Don't you just love when travel agents pull a stunt like that?
This post contains referral links for products I love. Adventurous Miriam earns a small commission at no extra cost to you if you make a purchase through my links. Thank you for your support ♡ Learn more
MY IMPRESSION OF KOH CHANG
Once we got to Koh Chang, we found a hostel right across from a massage place. So after a few hours of wellness and proper rejuvenation, we went to the beach. This beach was different from other Thai islands I've been to. The water wasn't crystal clear or turquoise blue like on Koh Tao, Koh Lanta, Phuket or many of the other Thai islands.
In fact, I felt a different vibe on Koh Chang than anywhere else in Thailand. I can't quite put my finger on it, but it didn't strike me as cosy or laid-back like other backpacker places. It might have had something to do with the hordes of tourists, hotels and old men with young Thai girls we saw at the city centre. It always makes me sad to see this side of Thailand. I think it's the most amazing country in the world, but the attitude towards trafficking and prostitution is disturbing.
Aside from that, we did have a nice time there. We spent most days exploring the island or relaxing on the beach, reading a good book and swimming in the warm ocean.
A RAINY TRIP AROUND KOH CHANG
My favorite thing to do in Thailand, besides eating Thai food and getting massages, is renting a scooter with Thomas and drive around the area. I love it! We always rent a scooter on the islands, because it's super cheap (around $9 for a day), you can explore at your own pace, and the traffic isn't as crazy as in Bangkok or Chiang Mai. However, when we set out to explore Koh Chang, it started raining. Anyone who's been to Asia knows how sudden and intense an asian shower is so needless to say, we got soaked within seconds.
On the positive side, the rain shower was short lived and it left the sky in all sorts of beautiful colors.
AMAZING THAI FOOD
Rain showers aside, the food on Koh Chang was sublime. I have a long-standing love relationship with Thai food, and when I'm on the islands, I always go for the seafood. It's fresh and so, so delicious! At most restaurants, you can pick your own fish and they will cook it however you want. I really like this concept.
Love Thai food, btw? Read about when I did a Thai cooking class here.
WATCHING THE SUNSET
The food was great and the views were beautiful, but the best about Koh Chang was the sunsets, which can come as no surprise to anyone who knows me. We spent every evening on the beach with a cool Chang beer while watching the sun set in the distance.
Koh Chang might not be my favorite Thai island, but we sure did have a fun few days there.
What's your favorite Thai island?
More posts from Thailand you might like
Pin to Pinterest