19 super fun things to do in Siem Reap, Cambodia
If you're traveling to Cambodia, you don't want to miss this list of the top things to do in Siem Reap. Considered the gateway to Angkor Wat, it's bound to be on your travel itinerary. In this guide, I'm sharing the best places to visit in Siem Reap.
Plan your trip to Siem Reap
👩🏻 Best guided tours in Siem Reap
🏡 Where to stay in Siem Reap
Many travelers come to Siem Reap, Cambodia just for Angkor Wat. But there are so many things to do in Siem Reap besides temples.
From cooking classes to off-roading with dirt bikes, to horseback riding and butterfly watching, the list goes on.
If you're looking for the best things to do in Siem Reap, you've landed the right place.
I'll also cover Angkor Wat, but I suggest you jump over to my other two posts about the temples if you're looking for a more in-depth guide.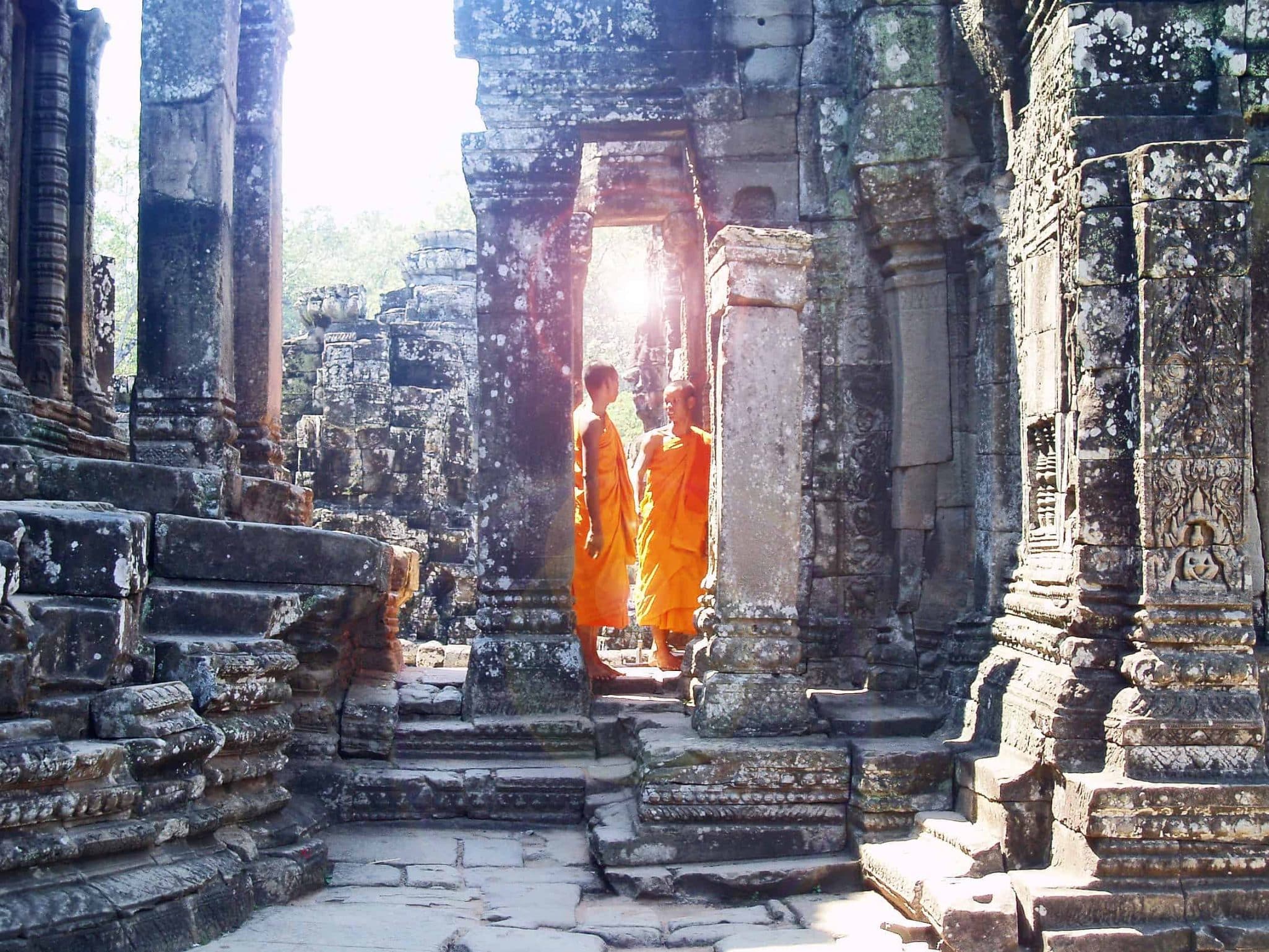 This post contains referral links for products I love. Adventurous Miriam earns a small commission at no extra cost to you if you make a purchase through my links. Thank you for your support ♡ Learn more
How many days to spend in Siem Reap
Siem Reap will keep you busy for at least 2-3 days.
You'll spend one or two days exploring the temples, and then you should, of course, try all of the fun things to do in Siem Reap.
Luckily, it's a fairly small town, so you can easily save yourself the expense and do your own Siem Reap city tour. Simply walk, rent a bike, or get around by tuk-tuk.
In this post, I've included the best sights and activities with links to tours and great hotels. Keep reading to find out what to do in Siem Reap in 3 days.
Wonderful siem reap itinerary
Things to do in Siem Reap, Cambodia
1. Feel like a tomb raider at Angkor Wat
Angkor Wat is the top attraction in Cambodia. And take it from someone who's been there twice: it's worth visiting!
Angkor Wat is the world's largest religious monument, and you can experience stone carvings and ancient structures here.
I've written two separate posts about the temples, including how to visit Angkor Wat from Siem Reap. Both those posts are ideal if you want to visit independently.
However, if you're all about convenience, you can also join a guided tour that includes a photo stop at sunset or sunrise.
The tours are cheap compared to what you get, and you won't have to lift a finger, although you will need to walk a bit to explore the ancient temples of Angkor.
Best day trips to Angkor Wat: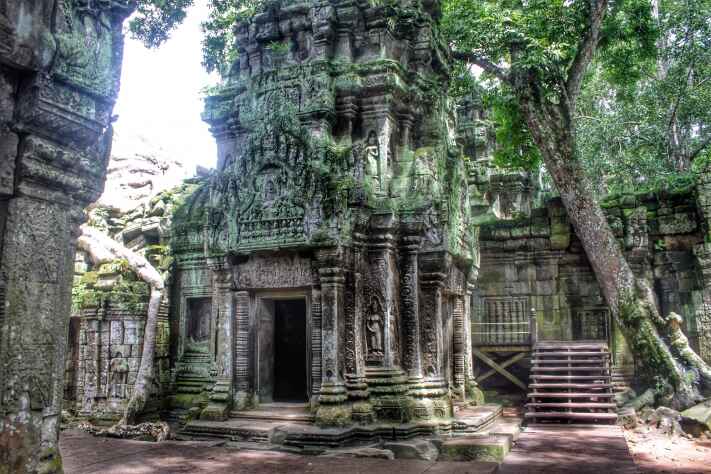 2. Take a ride in a Batmobile
Wondering how to get around in Siem Reap?
You can rent a car or walk, but it's much more fun in a tuk tuk. And in Siem Reap, they have batmobiles and superman tuk-tuks. How cool is that!
Miriam's tip:
To avoid a rip-off, remember to negotiate the price before getting in.
3. Join a Khmer cooking class at a local's home
A Khmer cooking class is an amazing way to learn about local cuisine.
You'll be picked up in a tuk-tuk, buy ingredients at a local market, and then cook a 4-course meal with a local in their kitchen.
The class is small, just six people, so you really get to dive into dishes like tom yam soup and fish in banana leaf.
You can pick from different times to fit your schedule, and the tuk-tuk ride there and back is part of the fun.
Book here – Khmer Cooking Class at a Local's Home (⭐ 5/5)
4. Eat a deep-fried tarantula
If you're looking for adventurous things to do in Siem Reap, you'll find it at the Siem Reap Night Market!
This is the place to taste or photograph fried insects like snakes, roaches, scorpions – and tarantulas.
Fried spiders are a regional delicacy in Cambodia, especially in the Cambodian town of Skuon (Cheung Prey, Kampong Cham Province). There's even a street food tour where you can taste fried insects and spiders if you dare.
My friend Brad recommends the fried spiders, btw. He says they taste just like "soft-shelled crab… but hairy".
Book here: Cambodian Street Food Tours with Insects (⭐ 5/5)
5. Get a massage afterwards
If you just ate a tarantula, or any other bug for that matter, I'd say you deserve a nice, long massage.
And let's face it… a visit to South East Asia isn't complete without a massage.
6. Take a pottery class
If you feel like recreating that famous pottery scene from Ghost, here's your chance.
In a pottery class, you'll get to shape your own masterpiece under expert guidance and add some Khmer ornamentation to your piece.
The class takes two hours.
Book here: Cambodian Pottery Class in Siem Reap (⭐ 5/5)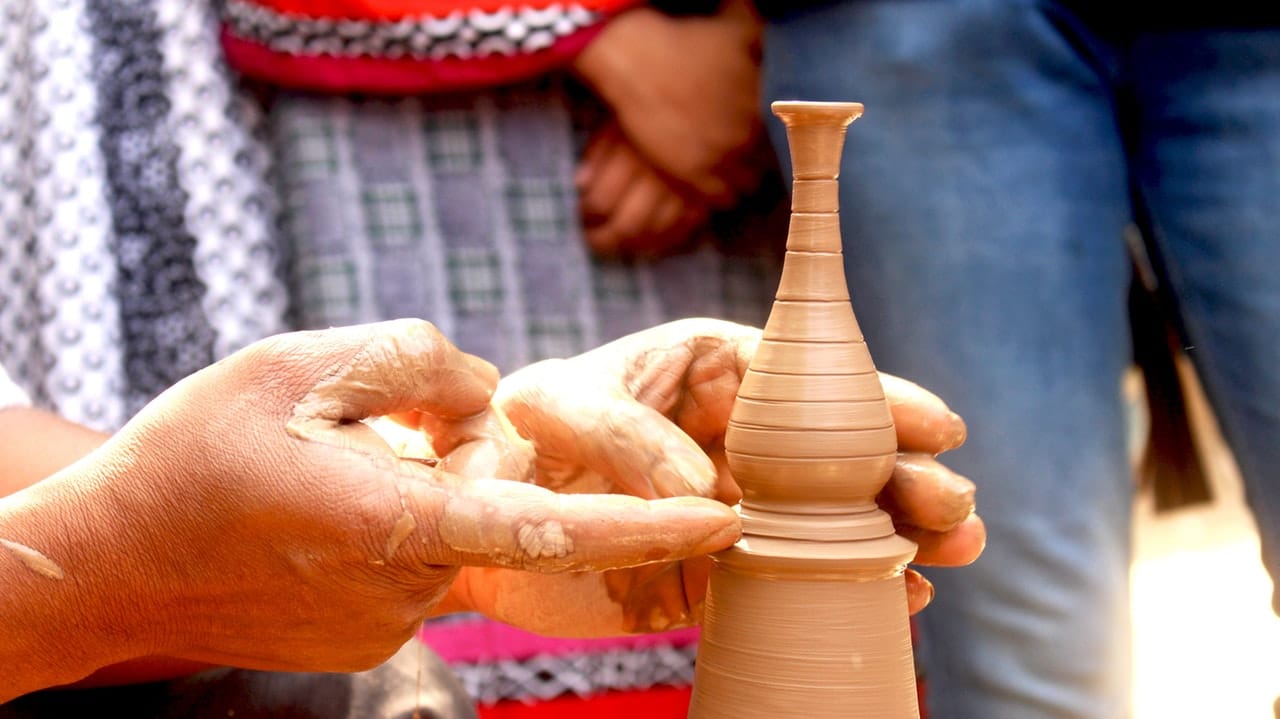 7. Try ziplining
The Angkor Wat Zipline Tour is so much fun!
You'll zip across 21 lines, walk on sky bridges, and do some abseiling, all while soaking up awesome jungle views.
It's like an action-packed adventure right in the middle of Cambodia's famous Angkor rainforest.
You're in a small group, so it feels exclusive and safe.
Book here – Zip Line Adventure in Siem Reap (⭐ 5/5)
8. Drink at Angkor What? Bar
The Angkor What? Bar is famous for its buckets, great tunes, and cool atmosphere, so if you've walked around Angkor Wat all day and need to recharge, this is the place to go.
You'll find Angkor What? at Pub Street.
9. Visit Pub Street
Whether you're going for a drink, having lunch, or meeting new people, Pub Street is where it happens.
Ever been to Khao San Road in Bangkok? Well, it's similar.
During the day, it's a good place for eating, and in the evening all the nightclubs and bars open.
10. Phare circus show
Phare, The Cambodian Circus, was founded in 1994 by former refugees.
It isn't just a show; it's a lifeline for underprivileged kids, offering them training in performing arts.
75% of their profits support the school.
Book here – The Cambodian Circus Show in Siem Reap (⭐ 5/5)
11. Let fish chew on your feet
This is as weird as it sounds.
For $2 you can dip your feet in a water tank filled with toothless Doctor Fish and have them clean off the dead skin of your feet.
FYI, not all operators change the water regularly, which can cause infection so be sure to try this somewhere nice-looking.
12. Explore the bizarre Old Market
The old market "Psah Chas" is right in the center of town. This is the place to buy clothes, food and souvenirs.
Right in the middle, you'll find the food market; a labyrinth of tables with raw meat, local sausages, and grisly pig heads. In the midst of it all is a swirl of local women selling and buying, laughing and negotiating.
Throughout Cambodia's markets, you'll also find tropical fruits aplenty. Most of the markets have tamarind, dragon fruit, jackfruit, mango (mmmm, mango), oranges, pineapple, watermelon, mangosteens, and star fruits, and those are just the ones I can remember off the top of my head.
Fruit tastes better in Asia, so I highly recommend you try some. It's cheap and absolutely delicious.
Pro tip: Remember to bring coins for change.
13. Siem Reap food tour
Food tours are one of my favorite solo travel adventures and it's a great way to get to know the local life and culture.
On this popular food tour in Siem Reap, you'll visit a local market and learn about Cambodian cuisine.
Afterwards, you get to cook home-style traditional Khmer food at Lily & Chris' family house in Siem Reap countryside.
Prepare to make and eat delicious food!
Book here: Old Siem Reap Sunset Food Tour by Tuk-tuk (⭐ 5/5)
14. Visit a floating village (Tonle Sap Lake)
A popular day trip from Siem Reap is the floating village at Tonle Sap Lake.
It's similar to the floating market in Bangkok, although this is a complete village with a school, market, a crocodile farm, and more. It's a great way to watch the locals go about their daily lives.
The 4-hour trip includes an English-speaking guide, a private boat, and round-trip transportation from your Siem Reap hotel.
Book here: Tonle Sap Floating Village Tour from Siem Reap (⭐ 5/5)
15. Visit Phnom Kulen National Park
Phnom Kulen National Park is a real gem, especially if you're into nature.
It's super close to Siem Reap, just a short 1.5 to 2-hour trip. The national park has rainforest trails that take you to old temples, peaceful monasteries, and beautiful waterfalls.
You'll also visit the River of a Thousand Lingas – the carvings there are amazing. Oh, and there's this huge Reclining Buddha that's pretty awesome.
Get your tickets – Kulen Waterfall & National Park by luxury MiniVan (⭐ 5/5)
16. Visit the War Museum or Cambodia Landmine Museum
The War Museum in Siem Reap has a unique collection of landmines and tanks from The Khmer Rouge Regime in 1975 and the Vietnamese occupation in 1979.
Millions of land mines and unexploded objects were left behind by decades of conflict. A few of them are kept for display here.
If you like history, you could also visit The Cambodian Landmine Museum, 25km north of Siem Reap. This tour includes the Landmine Museum and a trip to Kullen Waterfall.
Book here – War Museum, Kulen, and Killing Fields Tour (⭐ 5/5)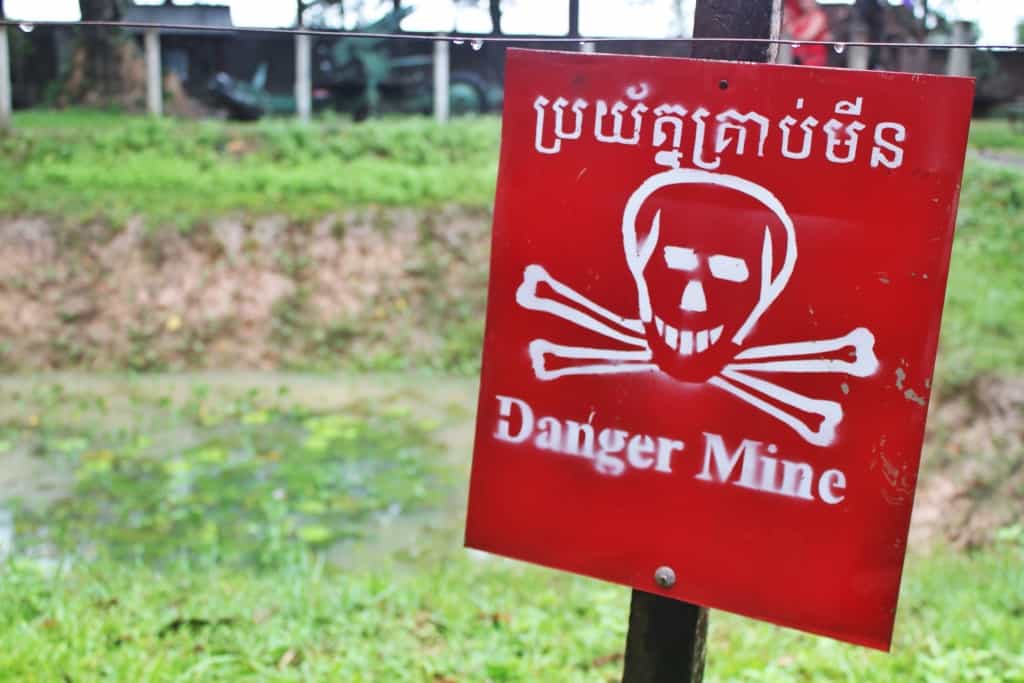 17. Experience an Apsara dance
One of the most exciting things I experienced in Siem Reap was an apsara dance performance.
It's a Khmer traditional dance drama that conveys a story – quite dramatic and really beautiful. If you like culture and dance, this is definitely worth the splurge.
The show is performed in a big theatre with lighting effects and music. The buffet dinner isn't fantastic so you can skip that, but the show is spectacular.
Book here – Apsara Dance Performance – Incl. Buffet & Hotel Pickup (⭐ 4.5/5)
18. Battambang
Ever heard of Battambang?
On this day trip, you get to ride on a traditional bamboo train, and see old French buildings, and an ancient temple. The best part is the Bat Cave – tons of bats flying out is quite a sight.
There's also the Killing Cave, which is a harrowing yet important reminder of Cambodia's past. Up to 10.000 people were thrown to their deaths here by the Khmer Rouge.
Book here – Bamboo Train, Killing Cave & Sunset (⭐ 5/5)
19. Banteay Srey Butterfly Center
If you like butterflies (and who doesn't?), you should visit the Banteay Srey Butterfly Centre.
Here, you can see lots of Cambodian butterflies just fluttering around. They've made the place like a mini rainforest, so the butterflies feel right at home.
Plus, you can take a tour with a guide who'll walk you through the butterfly life cycle – it's super interesting!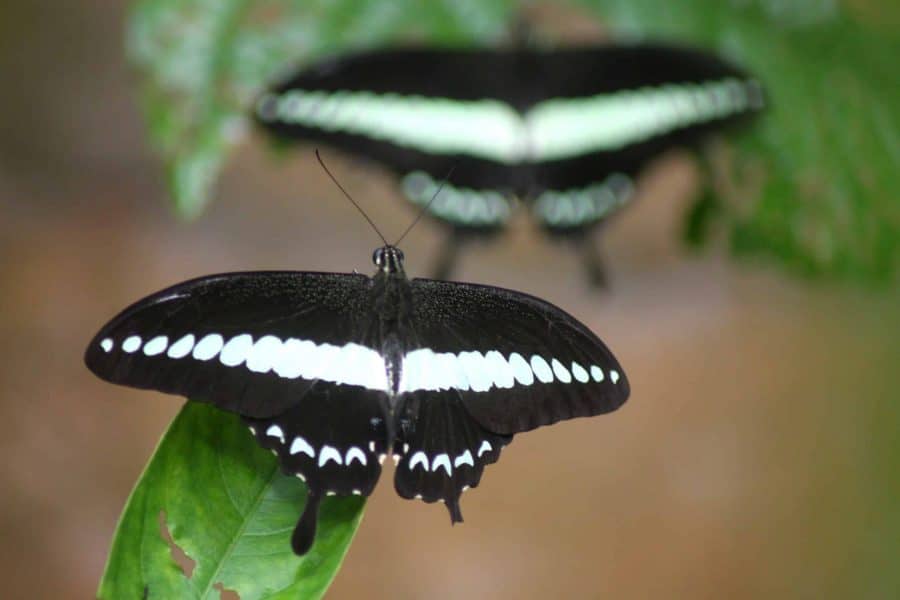 FAQ – Things to do in Siem Reap
How many days in Siem Reap is enough?
3-4 days in Siem Reap is enough to explore the main attractions, including Angkor Wat and other nearby temples.
Is there a lot to do in Siem Reap?
Yes, there's a lot to do in Siem Reap. Besides visiting the famous Angkor Wat, you can explore other temples, enjoy local markets, try Cambodian cuisine, and experience cultural shows and museums.
What is Siem Reap known for?
Siem Reap is best known for being the gateway to the Angkor temples, including the famous Angkor Wat. It's also known for its vibrant markets, rich history, and lively nightlife.
Should I visit Phnom Penh or Siem Reap?
I prefer Siem Reap, mainly because of Angkor Wat.
Siem Reap is famous for the Angkor Wat temple complex and a more tourist-focused vibe.
Phnom Penh offers a deeper look into Cambodia's history and culture, including the Royal Palace and the Tuol Sleng Genocide Museum.
More posts from Cambodia you might like
Save it!