10 best temples in Bali you should visit
A trip to Bali is not complete without visiting at least one temple! With thousands to choose from, however, it can seem like an impossible task to find the ones that are really worth it. So, I've helped you out.
I've found the best temples in Bali – but before we get into that, let's talk about a few important things to keep in mind when visiting Bali temples.
Read next: 20 amazing things to do in Bali
This post contains referral links for products I love. Adventurous Miriam earns a small commission at no extra cost to you if you make a purchase through my links. Thank you for your support ♡ Learn more
The best temples in Bali
Although each of these 10 temples are worth visiting, chances are you're probably not going to see them all. If I'm right and you're just looking for a quick overview of the VERY best ones, these five temples are the must-see temples:
Tirta Empul (water temple)
Ulun Danu (lake temple)
Pura Lempuyang (most Instagrammable temple)
Gunung Kawi Temple (underground temple)
Tanah Lot for sunset (overlooking the ocean)
How many temples in Bali?
There are over 20,000 temples in Bali. A temple is called pura in Balinese; like Pura Tanah Lot, which translates to Tanah Lot temple.
Bali has more than 650 Hindu villages, and each village is required to have a minimum of three temples. The larger villages have even more.
Each family also has their own private temple, plus there are temples at hotels and government offices. That's why there are so many different temples in Bali – some big, some small.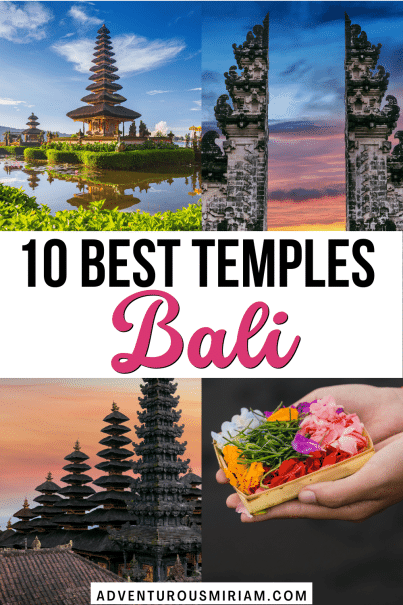 Religion of Bali Indonesia
In Bali, most people believe in a mix of Hinduism, Buddhism, and animism. This means they believe in gods that are part of Hinduism like Vishnu and Shiva, and also in other kinds of spirits.
A lot of rituals are done to thank these gods and spirits for the protection they provide. Rather than focusing on how to properly worship them – they focus on doing good deeds so that the gods will be happy with them.
What to wear to the temples of Bali
A temple is sacred, so there's a dress code required. Women should cover their ankles and shoulders, for instance with a sarong or a scarf.
If you're wearing pants and a T-shirt, there shouldn't be a problem.
If you don't have a sarong, you can borrow one for free at most temples. At Besakih, it's included in your entrance fee so don't let anyone there convince you otherwise.
At some temples, you will also be provided with a temple scarf (selendang) that you tie around your waist.
Bali temple entrance fees
Talking about entrance fees…
The entrance fee for visiting a temple in Bali has recently gone up (from $1-3 to $3-9), and there are different prices for foreigners and locals. You can find the entrance fee and opening hours for foreigners for each temple below.
You should know that some temples will ask for a donation at the entrance and they might be very pushy. But remember that it's a donation. A donation is voluntary and NOT required to enter the temple, regardless of what they say or do to make you feel bad!
Beware of temple scams
I hate to say this, but temple scams are an issue in Bali. I've encountered them several times around the temples, which you can read all about here: How to avoid the most common Bali scams.
Most times, the temple scam is about donations. They will ask you for a donation, show you how much everyone else has paid (which are often huge sums!) and then trick you into paying because you're led to think it's an entrance fee. If you refuse, they will shame and guilt-trip you.
At Besakih temple, I was showed into a small, dark room where four men and a so-called 'temple guardian' tried to bully me into donating. 

I was a solo traveler and it scared the heck out of me, but I didn't budge, because I knew it was a scam. Now you know, too. You do not need to pay a donation. It's up to you if you want to. Not them.
How to visit the temples in Bali
Ok, let's move on to lighter topics. There are three main ways to see the Balinese temples. You either:
Join a group tour
Rent a driver (what I did)
Rent a scooter
The latter is definitely the cheapest, but sitting on a scooter all day is not the most comfortable way to enjoy Bali's temples. If you book a driver and bring a few friends, you can split the costs which makes it cheaper, even though it's actually very affordable to begin with!
What I recommend
The temples are scattered around Bali so it'll take you 1,5-2 days to visit the main ones. I recommend booking a private driver for a day or two and give him a list of the temples you want to visit. That's what I did, and it was the perfect solution. I don't know of any tours that take you to all the main temples in a day, so this is a great way to get the most out of your time in Bali.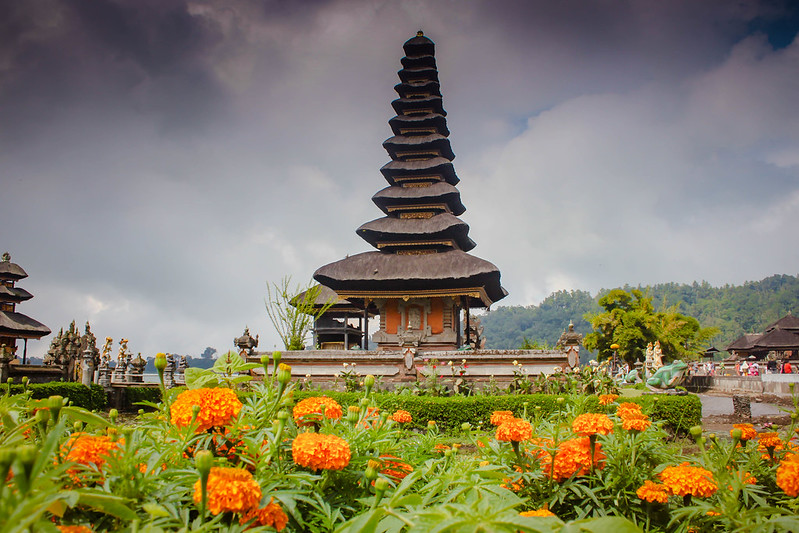 Bali temples map
I've created this map with the 10 best temples in Bali. To locate a temple, simply click on a purple temple icon.
If you click the icon in the upper left corner of the map, a list of the temples will emerge. You can also click on a temple there to see where it's located.
Best Central Bali temples near Ubud
Ah, Ubud. The most amazing place in Bali, I love it so. I spent a month here on a yoga retreat and exploring waterfalls, rice paddies, the infamous Monkey Forest and nearby Mount Batur, which is a popular sunrise hike.! Many of the best temples in Bali are located in and around Ubud, so make sure to add them to your itinerary.
1. Saraswati Temple
The Saraswati water temple (1951-1952) stands out among all of Bali's temples. It's dedicated to the goddess Saraswati and is worth visiting for its captivating ponds filled with lotus flowers and intricate dragons and demon figures.
Entrance fee: FREE
Opening hours: 07:00 – 17:00
2. Goa Gajah Temple
Another temple in Ubud is the Goa Gajah temple, also known as the Elephant Cave in English. Goa means 'cave' and Gajah means 'elephant'.
It's one of the strangest temples with its peculiar doorway to the cave, like walking into its mouth.
Entrance fee: 50.000 INR / $3.3
Opening hours: 8AM-5PM
3. Pura Tirta Empul
Tirta Empul is one of the water temples in Bali and my favourite of the temples in Bali. It reminded me of the devoted pilgrims at Ganges River in India which is a place where many people come to pray and bathe in the holy water.
A local told me that the Balinese come here if they have bad dreams or feel depressed as they believe the water is purifying. Knowing this made it more special seeing the pilgrims move from one water spring to the next while praying.
4. Gunung Kawi Temple
Gunung Kawi temple complex is one of the most impressive temple sites in Bali. It's an 11th century temple carved into a cliff!
Located by the sacred Pakerisan river, which also flows by the Tirta Empul, the temple consists of 10 memorials that stand in 8m-high sheltered niches cut into the sheer cliff side.
Entrance fee: 50.000 INR / $3.3
Opening hours: 8AM-6PM
5. Pura Taman Ayun
The Pura Taman Ayun was built in 1634 and translates to 'beautiful garden'. It's easy to see why, which is also why it was proclaimed the third UNESCO site in Bali 2012. It's surrounded by lush gardens with ponds and trees, and the temple area has those thatched multi-roofed shrines (meru) that characterise Balinese temples.
You're not allowed to enter the temple premises, but you can walk around it while taking pictures and enjoying the view.
Entrance fee: 30.000 INR / $2
Opening hours: 8AM-6PM
Best North Bali Temples
Northern Bali is a less traveled area of the island, but you'll find some beautiful places there like the black sand Lovina beach, Sekumpul waterfall, and the picturesque Pura Ulun Danu.
6. Pura Ulun Danu
Pura Ulun Danu, built in 1633, is one of the most iconic and photographed temples in Bali. It's dedicated to the lake goddess Dewi Danu to ensure plentiful water and bountiful crops. Ulun Danu temple is surrounded and reflected by the lake, and its misty mountain backdrop highlights its serene beauty.
Pro tip: Make sure to get here early in the morning as it gets cloudy around 9.30 (like on my photo below).
Entrance fee: 75.000 INR / $5
Opening hours: 7AM-7PM
Best East Bali Temples
Eastern Bali is home to the unique Tukad Cepung Waterfall, Amed beach and Candidasa lotus lagoon. Make sure to swing by those sights while you're visiting the Eastern Bali temples.
7. Pura Lempuyang
Pura Lempuyang, also known as Heaven's Gate, is no doubt one of the most Instagrammable places in Bali. The iconic photos of its sacred entrance gate are all over the internet.
The grand temple is divided into two levels connected by a long steep staircase. Its walls and shrines are decorated with intricate details, each dedicated to different gods.
Entrance fee: 100.000 IDR ($7 USD) + 50,000 IDR ($3.50) for the shuttle that brings you to the Lempuyang Temple entrance.
Opening hours: 7AM-5PM
8. Pura Besakih
Of all the temples in Bali, Pura Besakih temple, Bali's Mother Temple, is the largest. It consists of more than 86 temples and is perched 1,000 meters high on the slopes of Mount Ahung.
One of its temples, called Pura Penataran Agung, is the oldest temple in Bali – it's been around for more than 2,000 years! It looks like the unique gate with wings at Pura Lempuyang – this gate was built as an entrance for the gods which the Balinese believe often visit Earth.
Besakih is not only the largest but also the most important temple for the Balinese and it's said to be the only temple where a Hindu of any caste can worship. You will even find a temple of all religions.
Entrance fee: 60.000 INR / $4
Opening hours: 8AM-5PM
Personally, I was not impressed by Besakih temple. It has a magnificent view and structures, but the vendors, scammers and overall attitude towards making a profit by bullying, pushing and manipulating ruined it for me. It still is a temple of high importance, so if you do visit, stay alert!
Be aware of the temple scam at Besakih! Don't let anyone pressure you to give a donation at the ticket counter and don't pay for a sarong before you enter – it's already included in your entrance fee.
Best South Bali Temples
In Southern Bali there are lots of beautiful places like Nusa Dua and Canggu, but there are also two of the best temples in Bali here.
9. Pura Uluwatu
Pura Uluwatu is one of the most famous and important temples on the island. Situated 70 meters above sea level on a dramatic cliff overlooking the Indian ocean, its unique location makes it worth visiting.
If you visit for sunset, make sure to experience a Kecak Fire and Dance Show, which is a dramatic performance about prince Sri Rama and his wife.
Entrance fee: 30.000 INR / $2
Opening hours: 7AM-7PM
10. Pura Tanah Lot
Tanah Lot temple was built in the 16th century and translates to "Land in the Sea". Many tour companies offer a trip to Tanah Lot to see the sunset and this is definitely the most beautiful time of day to visit.
I came a few hours before the sun went down and it was perfect to just walk around and exploring. The Tanah Lot temple area is quite big and there are parks where you can sit and enjoy the pretty insane waves.
More posts from Indonesia you'll love