Adventurous Miriam uses affiliate links, which means that if you make a purchase through my links, I may earn an affiliate commission.
A trip to Bali is not really complete without visiting at least one temple. There are over 20,000 temples in Bali (pura in Balinese). Even though it's impossible to visit them all, a few of them are really worth the time and effort. Plus, many of them are close to each other, so you can visit several in one day. I visited these 5 temples in Bali over two days and managed to see rice terraces, a butterfly farm and other Bali sights, too.
Read next: 20 amazing things to do in Bali
TIPS FOR VISITING TEMPLES IN BALI
How to dress : Remember to bring a sarong if you visit a temple. Most temple guards will ask that you cover up your shoulders and ankles, but if you're wearing pants and a T-shirt, there shouldn't be a problem. If you don't have a sarong, you can borrow one for free at most temples. At Besakih, it's included in your entrance fee so don't let anyone there convince you otherwise. Unfortunately, the place is crammed with people trying to rip you off!
Prices : Visiting a temple in Bali is cheap (cost is between $1-3), but there are different prices for foreigners and locals. You can find the prices below.
Read next: How to avoid the most common Bali scams
HOW TO VISIT THE TEMPLES IN BALI
There are three main ways to see the Balinese temples. You either sign up for a group tour, you rent a driver (what I did) or you rent a scooter. The latter is definitely the cheapest, but sitting on a scooter all day is probably not the most comfortable way to enjoy Bali's temples. Remember, if you bring a few friends, you can split the costs which makes it a lot cheaper.
The temples are scattered around Bali so it'll take you a whole day to visit the main ones. I recommend booking a private driver for the day and give him a list of the temples you want to visit. That's what I did, and it was the perfect solution. I don't know of any tours that take you to all the main temples in a day, so this is a great way to maximise your time.
Book a private driver: Bali Full-Day Private Customized Tour
You might also love: Mother Temple of Bali and Lempuyang's Gates of Heaven Tour
1. PURA TAMAN AYUN
Entrance fee: 15,000 Rupiah ($1,28)
The Pura Taman Ayun, built in 1634, literally translates to 'beautiful garden' and that's exactly what it is. It is surrounded by green gardens with ponds and trees, and the temple area has those thatched multi-roofed shrines (meru) that signifies Balinese temples. Visitors are not allowed to enter the temple premises, but you can walk around it while taking pictures and enjoying the view.
Taman Ayun is a UNESCO site and truly worth the visit.
2. PURA ULUN DANU
Entrance fee: 30,000 Rupiah ($2,5)
Pura Ulun Danu, built in 1633, is one of the most iconic and photographed temples in Bali. It's dedicated to the lake goddess Dewi Danu to ensure plentiful water and bountiful crops. Ulun Danu temple is surrounded and reflected by the lake, and its misty mountain backdrop highlights its serene beauty.
Read next: Where to stay in Bali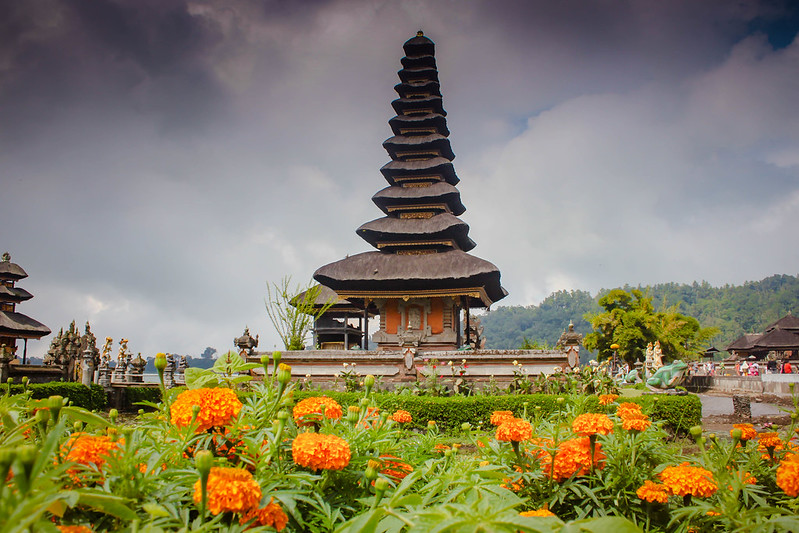 3. PURA TIRTA EMPUL
Entrance fee: 15,000 Rupiah ($1,28)
Tirta Empul is my favorite of the temples in Bali. It reminded me of the devoted pilgrims at Ganges River in India which is also a place where many people come to pray and bathe in the holy water. A local man told me that the Balinese come here if they have bad dreams or are feeling depressed as it is believed that the water is purifying. It was a beautiful sight to see locals and foreigners move through every water spring to make a prayer.
Book a tour to Tirta Empul here: Bali: Sacred Temples and Sunset Tour
4. PURA BESAKIH
Entrance fee: 15,000 Rupiah ($1,28)
Be aware of the
temple scams
. Don't let anyone pressure you to give a donation at the ticket counter and don't pay for a sarong before you enter – it is included in your entrance fee.
Of all the temples in Bali, Pura Besakih temple, Bali's Mother Temple, is the largest. It consists of more than 86 temples and is perched 1,000 meters high on the slopes of Mount Ahung. It's not only the largest but also the most important temple for the Balinese and it's said to be the only temple where a Hindu of any caste can worship. You will even find a temple of all religions.
Personally, I was not impressed by Besakih temple. Sure, it has a magnificent view and marvelous structures, but the vendors, scammers and overall attitude towards making a profit just ticked me off. It still is a temple of high importance, so if you do visit just stay alert.
5. PURA TANAH LOT
Entrance fee: 30,000 Rupiah ($2,5)
Tanah Lot temple was built in the 16th century and translates to "Land in the Sea". Many tour companies from Ubud offer a trip to Tanah Lot to see the sunset and this is definitely the most beautiful time of day to visit. I came a few hours before the sun went down and it was perfect to just walk around and exploring. The Tanah Lot temple area is quite big and there are parks where you can sit and enjoy the pretty insane waves.
Book a sunset tour here: UNESCO Sites: Bedugul, Jatiluwih and Tanah Lot Full-Day Tour
Haven't decided which temples to visit yet? Let me help in the comments
Pin to Pinterest