How to spend an amazing day at the Butterfly Park Bali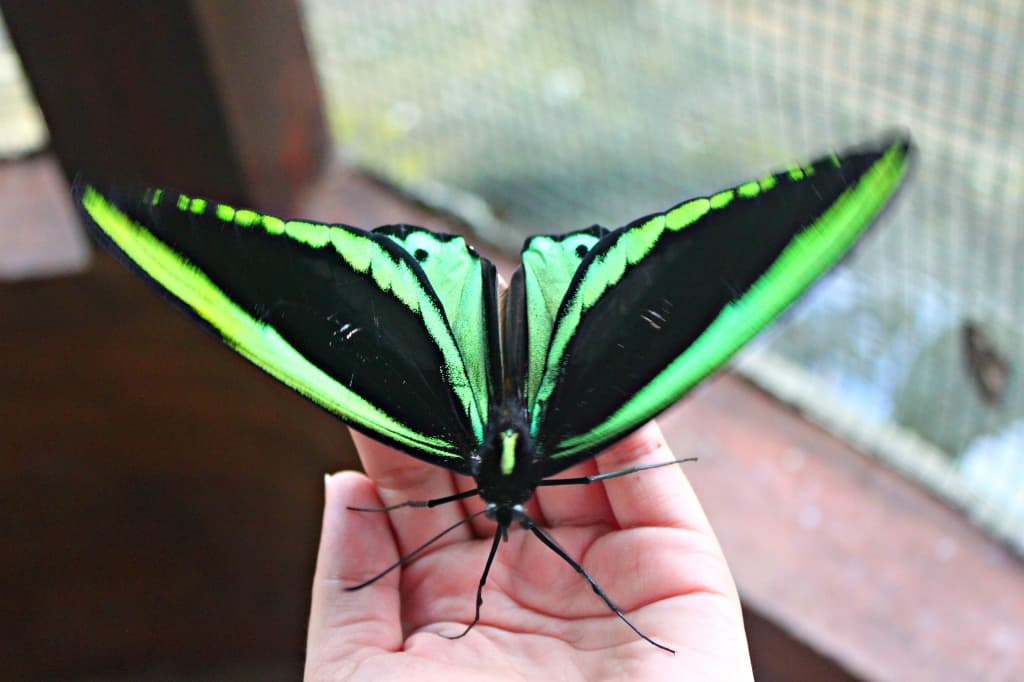 The Butterfly Park Bali is a must-see if you want to get up close and personal with Indonesia's amazing insects and butterflies. I loved visiting, so much actually that it was a highlight of my trip to Bali.
I went as a solo traveler, and it's an amazing experience for both adults and kids.
Get all the info you need in this post, including which animals you can see, entrance fee and how to get there.
Let's dig in.
This post contains referral links for products I love. Adventurous Miriam earns a small commission at no extra cost to you if you make a purchase through my links. Thank you for your support ♡ Learn more
Introduction to Bali butterfly farm
The Bali Butterfly Park – or Taman Kupu-Kupu in Balinese – is an enchanting place worth visiting while you're in Bali.
With several walking paths and hundreds of active butterflies, including over a dozen Balinese species, you can experience a full tour of the park in just 30-60 minutes. It's really amazing.
The highlight for me was the the indoor hatchery where you can get up close with giant stick bugs from Borneo or even the biggest moth in the world – Atlas moths! You can also see butterflies hatch and learn about their life cycle.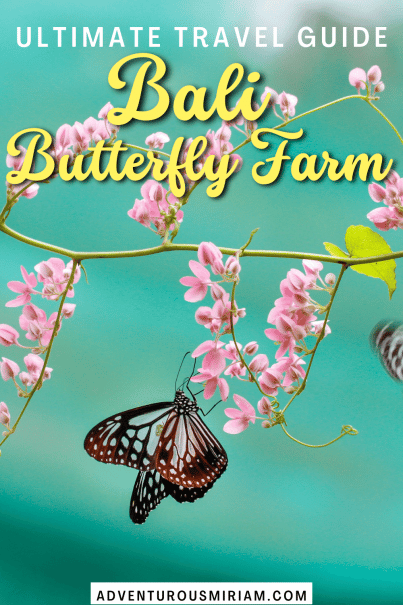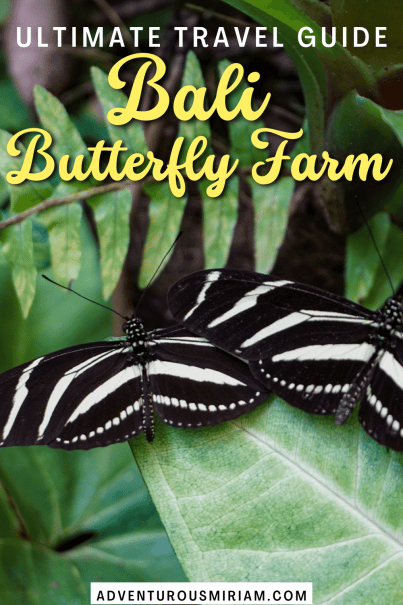 How to get to the butterfly park Bali
There are several ways to visit the Bali butterfly park. If you have a rental scooter, drive there yourself. You can also hire a driver to take you there. It's around $34.50 for 6 hours (2 persons) so it's a great idea to add more to your itinerary.
Another option is joining a trip that includes the butterfly farm and several other Bali highlights. This is the tour I recommend. It includes the Butterfly Park Bali, several main temples and rice fields.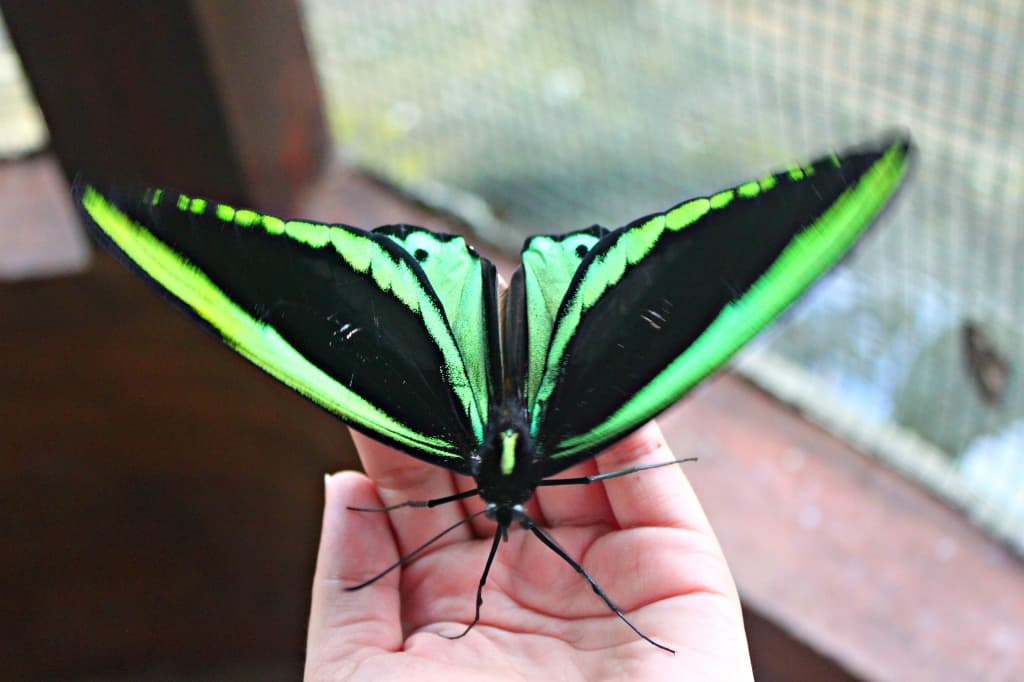 See butterflies and more
Rare insects
Bali temples
Rice fields
When to visit Butterfly Park Bali
Butterflies and other Bali insects are most active in the morning, so make sure to get there early. Another benefit of arriving early is that you'll have it mostly to yourself. I was the only one there when I visited at around 8.15.
Opening hours: 08:00 – 17:00
Butterfly park ticket price: 50,000 rupiah ($6)
What to expect
At the butterfly farm, you can expect to see butterflies, of course. But there are also lots of other Bali insects and a flower garden. You will get up close with the animals and can even get to hold some of them. It's truly a fun and uplifting experience.
These are some of the Asian insects you can expect to meet:
Butterflies
Walking sticks
Scorpions
Camouflage beetles
Rhinoceros beetle
Atlas moths
Leaf insects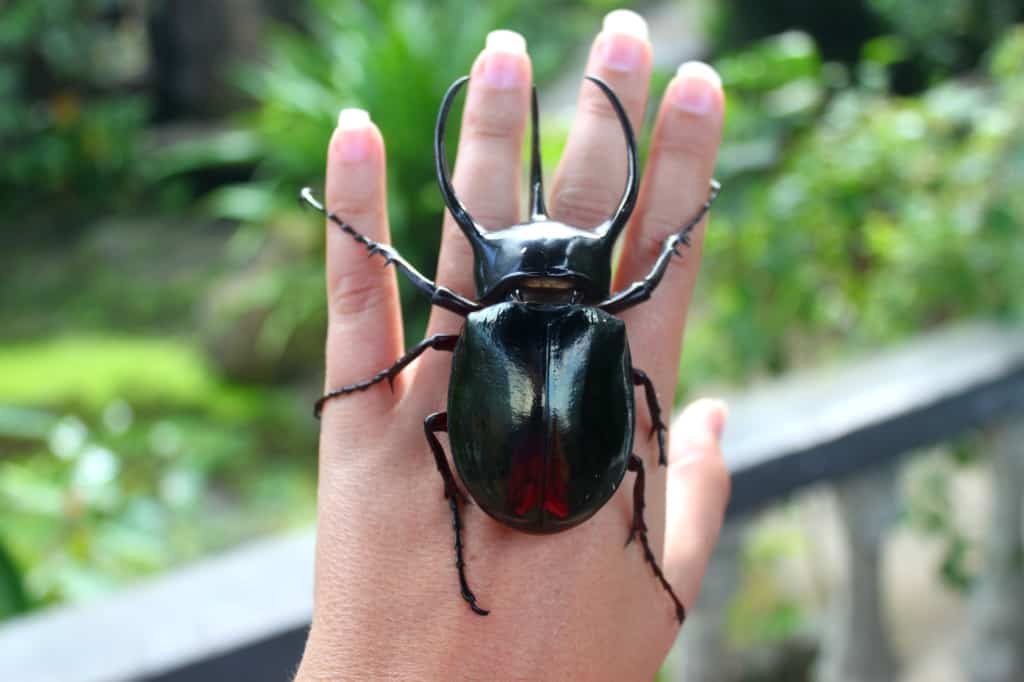 My experience at Butterfly park Bali
I got to the Butterfly park Bali first thing in the morning, but when I got there, there were no butterflies in sight. Not a single one.
I went around the gorgeous garden, snapping photos of flowers, petals and I even found a grasshopper, but there were no butterflies. After walking around restless for 20 minutes, I gave up and headed for the exit, but then I heard someone calling…
Miss. Miss. Over here.
The butterfly nursery
I looked behind me and saw an employee waving at me to come inside a little house. As I found out, the house served as a nursery for the butterflies, and new ones were being hatched there every day.
She explained how their breeding program helps them get from caterpillar stage to full-grown butterflies. When they break free, they cannot fly until their wings are dry, which can take up till 3 hours.
I was studying a butterfly, when the guide called me over: hurry, hurry, she whispered!
At the end of her pointing finger was a cocoon cracking and suddenly a butterfly came into sight! It clinged on to the cocoon for a while before it slowly spread its wings and showed us its many colours. It was such a fascinating thing to witness and I'm so glad I was there.
Several of the butterflies in the nursery had just been hatched that same morning and many of them couldn't fly yet. That didn't stop them from trying though and before I knew it, I had these sweet fluttering creatures placed all over me, sticking on to my hair, arms and hands. They were so adorable that I couldn't stop smiling.
Lifespan: 5 weeks!
These beauties only live for five weeks and the smaller ones only two weeks. But I think that's one of the reasons I am so fascinated by butterflies - they represent the beauty of life: that nothing is constant and that we have to cherish the gift that life is.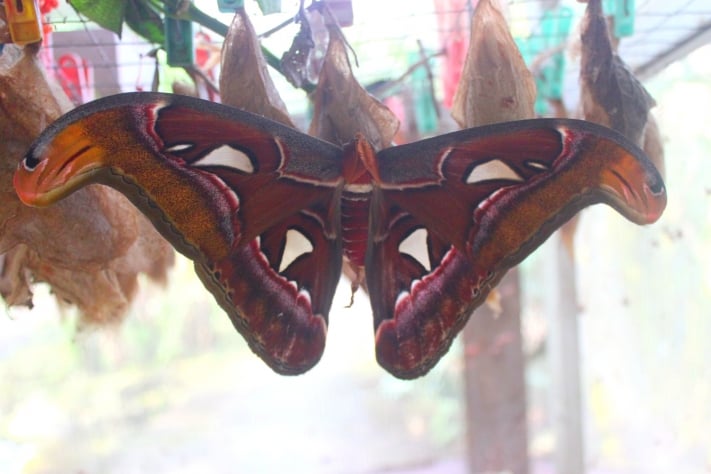 Can you see how the wings look like a snake head? That's for camouflage and protection.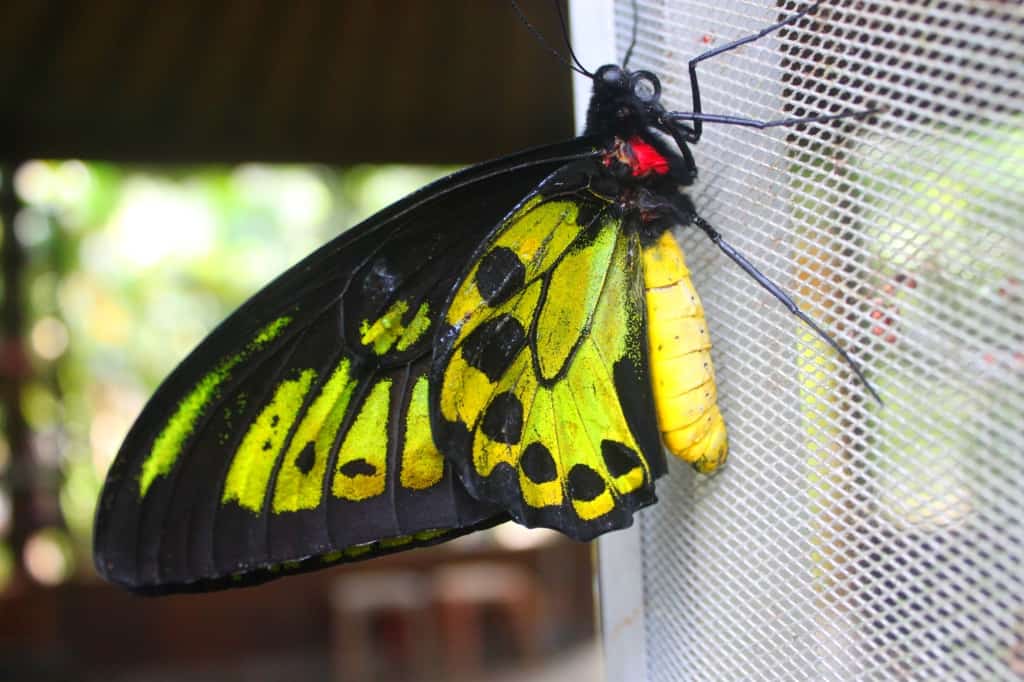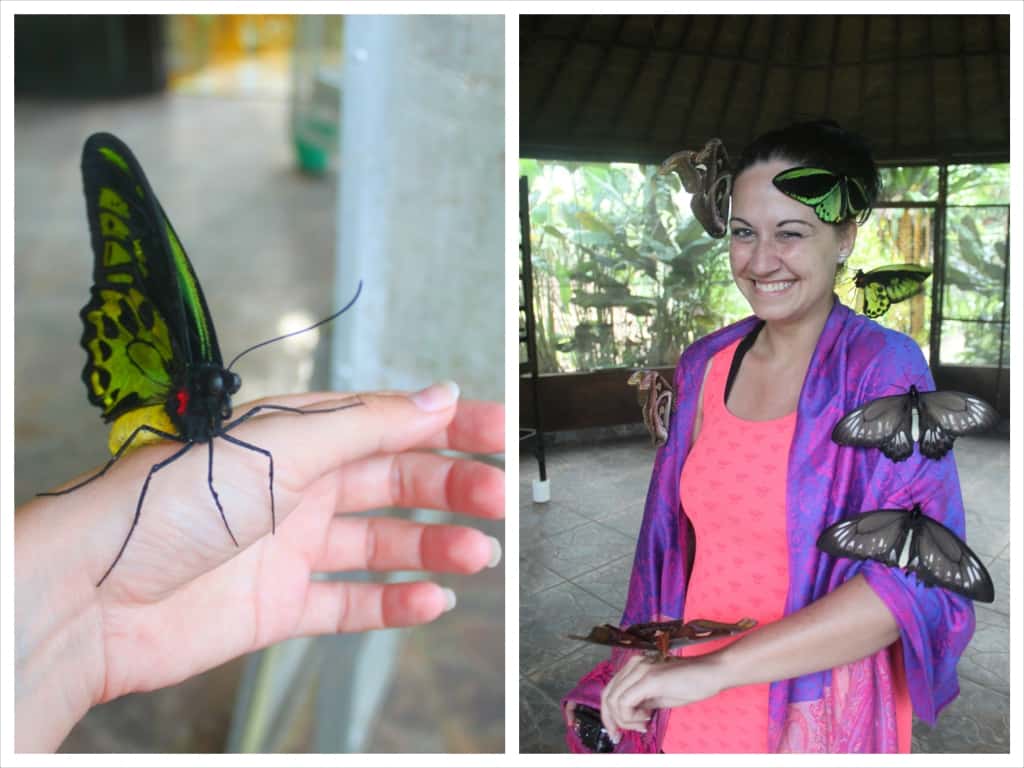 Beetles, walking sticks and other insects
Right next to the indoor hatchery, there were more insects that you could hold. including the largest, fattest Indonesian beetle I have ever seen (a Rhinoceros Beetle), huge walking sticks, sweet little leaf insects and the most adorable little critter. At first I wasn't particularly thrilled about having them crawl on me, but the guide insured me that they were harmless.
I didn't want to touch that enormous beetle, but when holding the other insects, he was just standing there all alone looking up at me, so what else could I do? I picked him up, and you know what – he wasn't nearly as scary as he looked. In fact, he turned out to be the cutest of all the Bali beetles.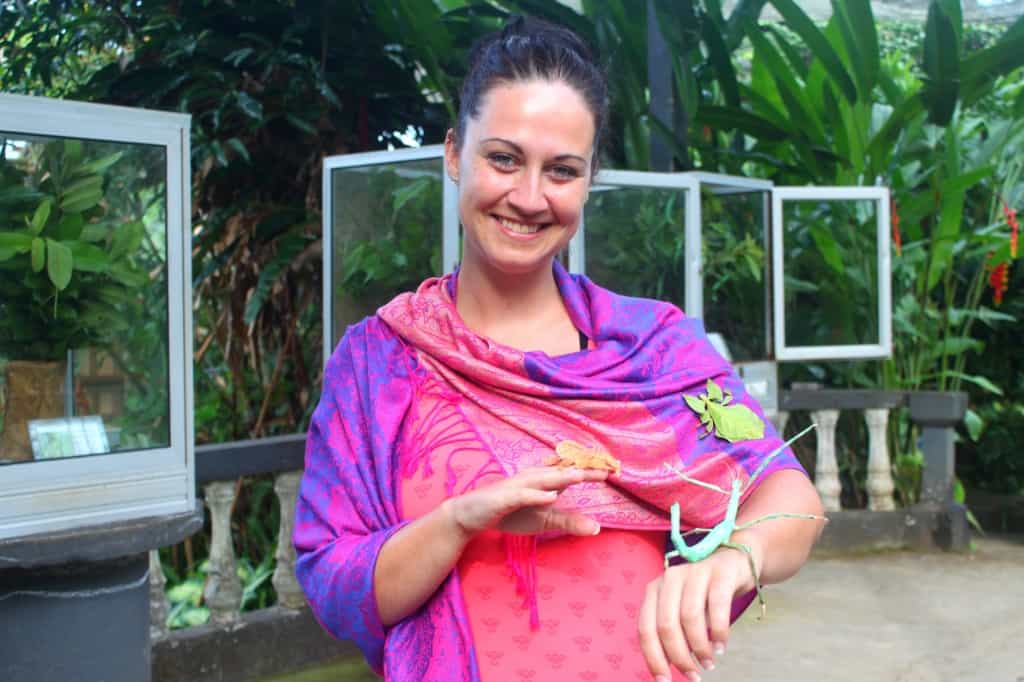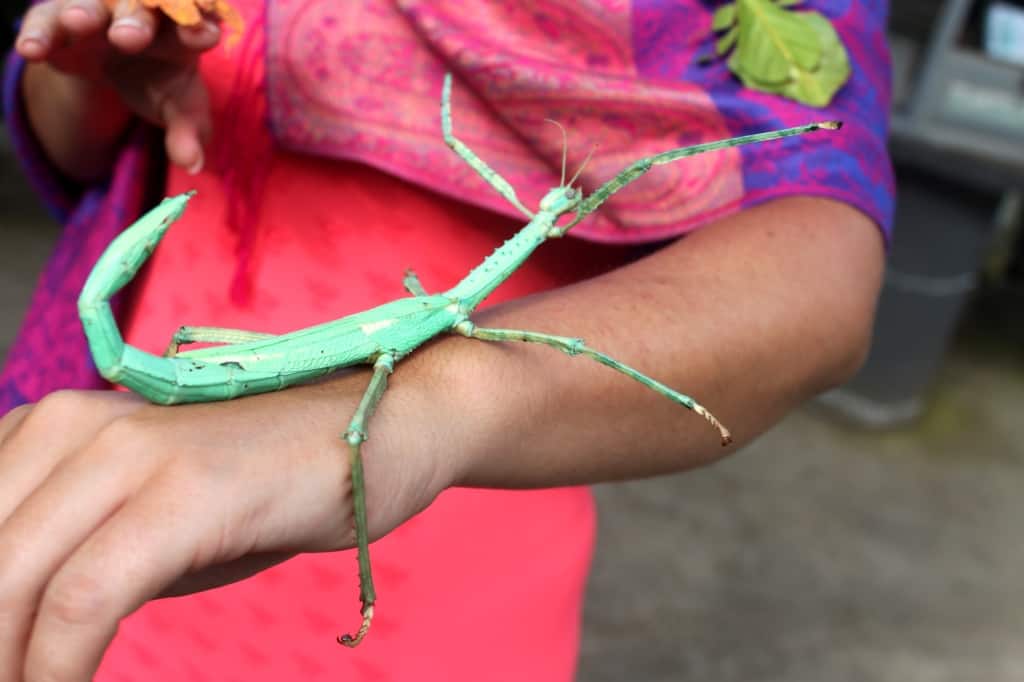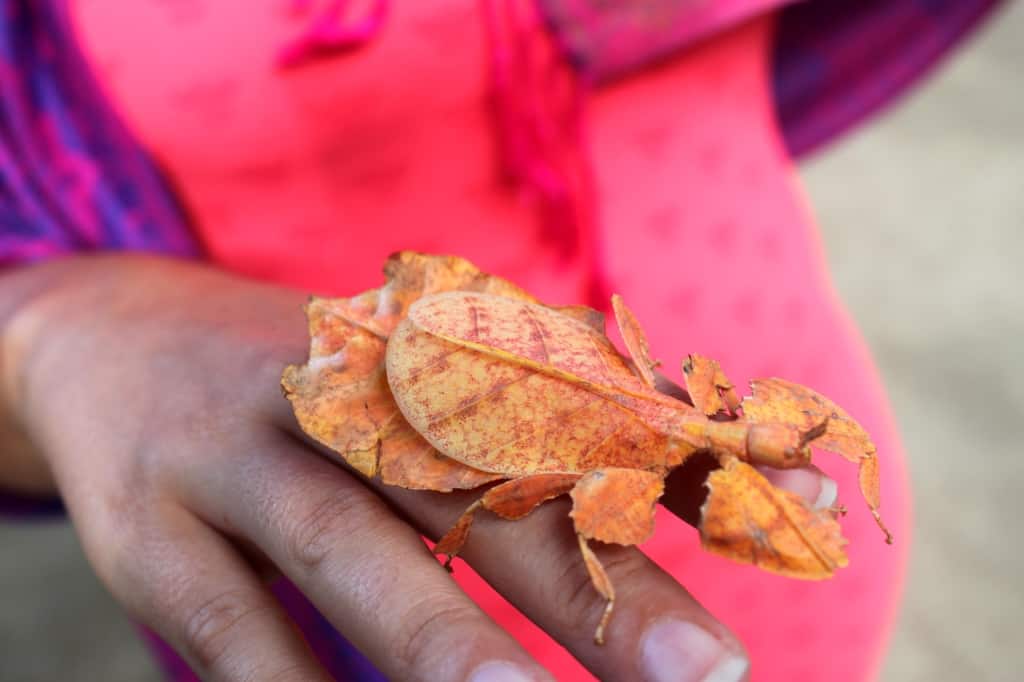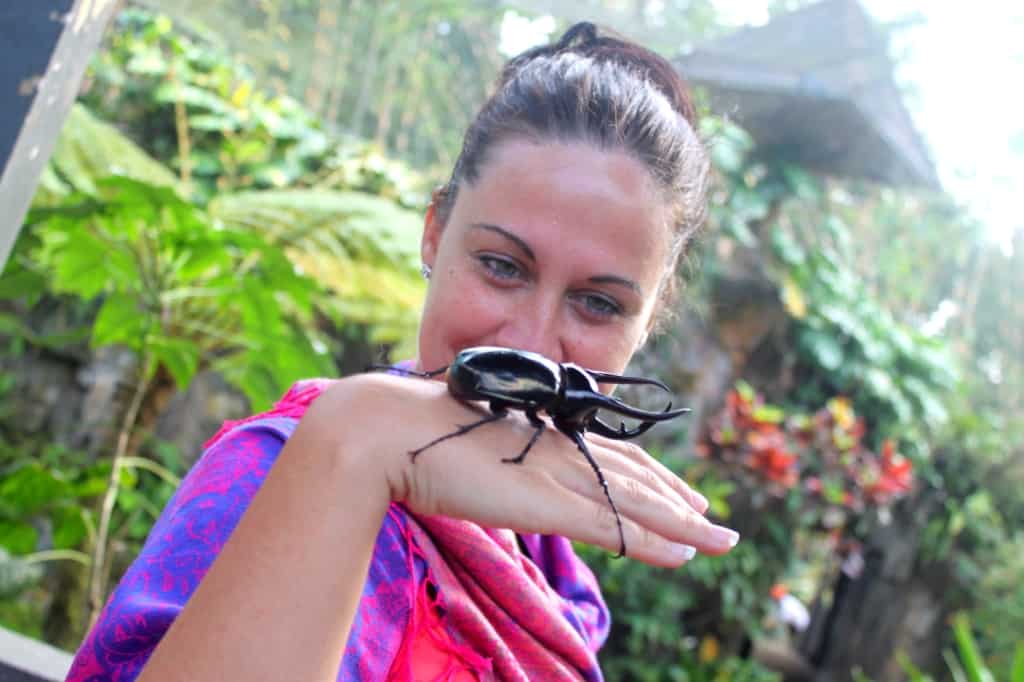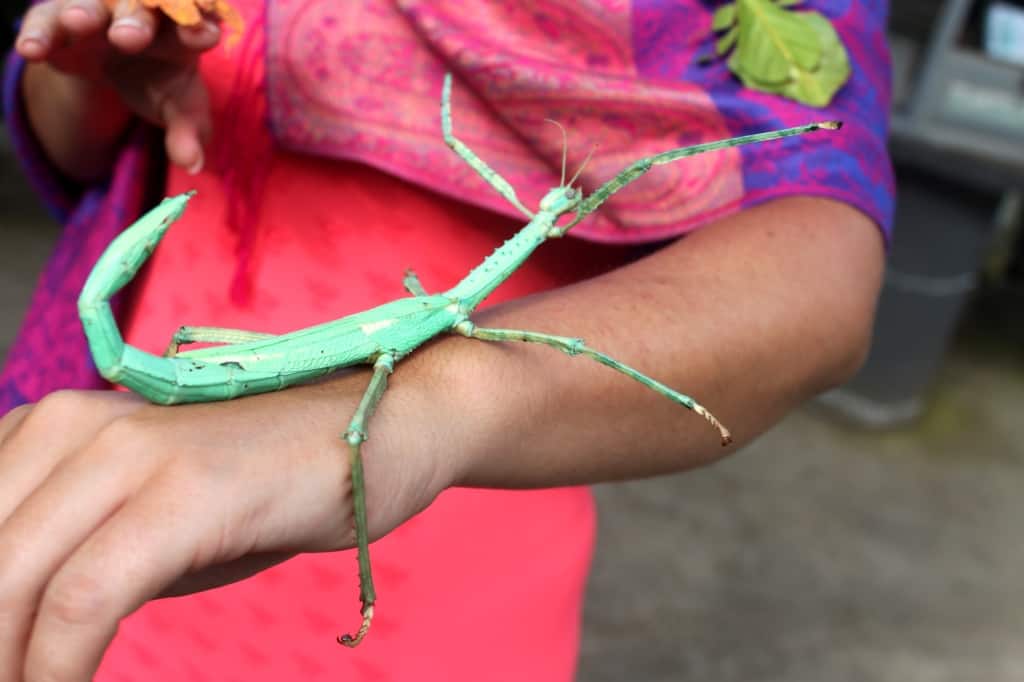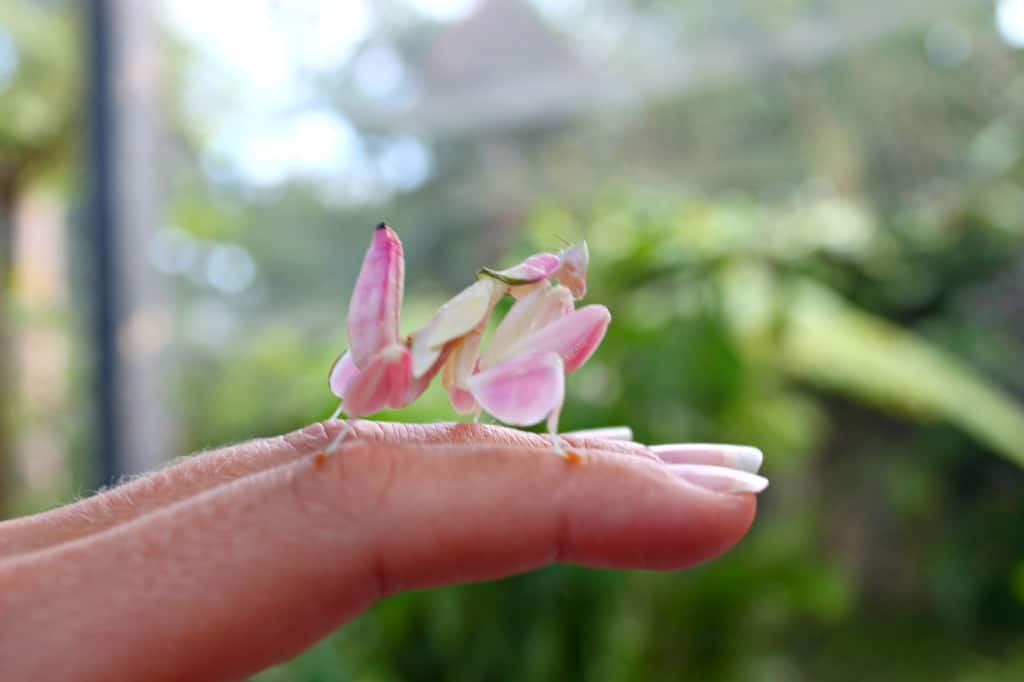 Where to stay in Bali
Ubud: Purana Suite Ubud (⭐9.5) Outdoor swimming pool, a spa and wellness centre awaits you at this amazing hotel. If you're looking for that classic Bali hotel experience you're seeing on Instagram, this is it. Book here.
Canggu: Ecozy Dijiwa Canggu (⭐9.2) Friendly staff and great location close to the beach and amazing restaurants. This 4-star hotel is the perfect place to stay in Canggu. Book here.
More posts from Bali you'll love