3 best Komodo island tours from Bali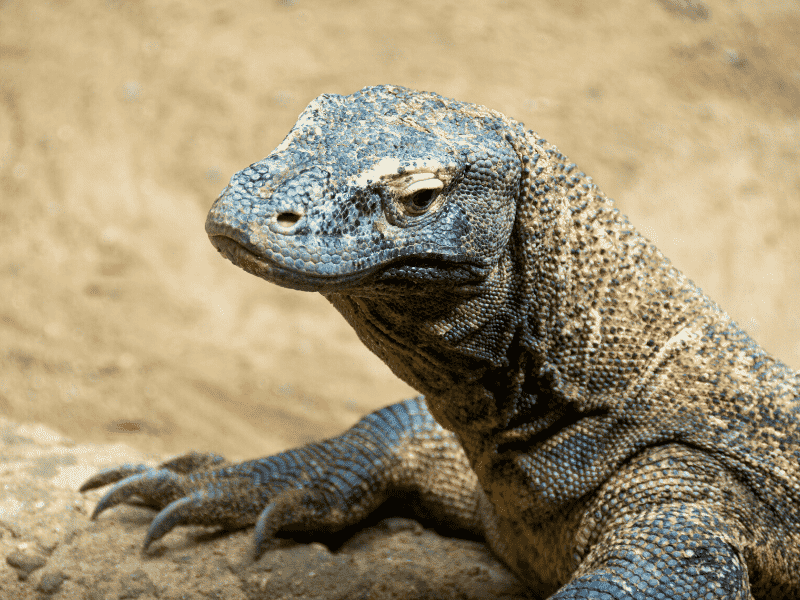 Are you looking for Komodo island tours from Bali?
I've put together a list of the best tours on the market from Viator and Get Your Guide, perfect for completing your Indonesia holiday.
We are also going to look at the difference between the tour itineraries and talk a little about the various activities you can do on these tours.
This post contains referral links for products I love. Adventurous Miriam earns a small commission at no extra cost to you if you make a purchase through my links. Thank you for your support ♡ Learn more
Intro to Komodo National Park
If you're a nature lover looking for an adventure, Komodo National Park is THE place to unleash your inner "Khaleesi".
Here, you'll find over 5,700 of the world's largest lizards – the giant Komodo dragon. It's the only place to see them in their natural habitat.
But that's not all – Komodo National Park is also home to beautiful nature, pink sand beaches, stunning forests, and incredible diving opportunities.
In fact, its three major islands (Rinca, Komodo, and Padar) and the smaller volcanic islands is a UNESCO World Heritage site. When you get there, you'll see it's one of the most beautiful places in Indonesia.
Map of Komodo National Park
Below is a map of Komodo National Park so you can get an idea of where it's located.
To use the map, click the plus or minus sign in the left corner to zoom in or out.
What are komodo dragons?
Komodo dragons (varanus komodoensis) are the world's largest lizards. These creatures can grow up to 2-3 meters long and weigh more than 200 pounds! They can only be found in Komodo National Park, mostly on its two main islands: Komodo and Rinca.
Komodo dragons have a fierce reputation due to their size and shark-like teeth, but they're also incredibly intelligent and adaptable. They're apex predators that can take down prey as large as water buffalo or deer with ease.
Interestingly, the famous komodo dragons have a unique way of hunting that involves using their keen sense of smell to locate prey from miles away. Once they've found their target, they'll wait patiently until it's close enough to attack. They can reach speeds of up to 18 miles (nearly 30 kilometres) per hour.
Safety for you: When you visit their natural habitat, a local ranger will be with you at all times. He knows how to behave around the animals and will make sure proper precautions are taken. Visiting Komodo island is perfectly safe as long as you follow the guidelines.
3 best Komodo island tours from Bali
Below, I've found the best komodo tour packages from Viator and Get Your Guide. Those are the tour operators I always use myself because they're reliable and hassle-free. I know what I get 🙂
You can choose between a 2-day, 3-day or a 4-day tour. All tours are with a local tour guide. Please note that flights are not included in the rates!
This 2-day tour to Komodo island with Viator begins in Bali where you'll fly with a direct flight to the island of Flores. You'll be picked up at the airport and then board a private motorboat to the idyllic Rinca Island for a hike.
Here's you can get up close with wild Komodo dragons, which are the largest lizards in the world, and gain fascinating insights into their behavior from your local guide and ranger.
After exploring Rinca Island, you'll head to Bidadari Island where you can snorkel in crystal-clear waters. The perfect way to end your komodo trip!
This 3-day Komodo National Park Tour with Get Your Guide gives you one more day in the land of Komodo dragons. This is the best komodo island tour, because you'll get to see komodos, beautiful beaches, marine life and the best of the komodo archipelago. It's overall a great tour program with the perfect duration.
On the first day, you'll get to snorkle at Bidadari island before heading to Rinca Island for a guided tour with a local ranger. You'll be able to see komodos here along with other wild animals.
The next day takes you to Komodo island where you'll see more komodo dragons and visit the Pink beach and then go snorkeling at coral reefs around Kanawa island and Kalong island.
On your last day, you'll visit the mystical Mirror Cave before returning to Labuan Bajo Airport for your flight back to Bali.
The 4-day tour starts with a trip to Bidadari island. You'll return to your hotel in the evening for an early night's rest.
On day 2, you'll sail to Rinca Island and trek through the dry forest to see Komodo dragons and other unique animals. Lunch on Kalong Island before snorkeling and observing flying foxes. You'll spend the night on board the boat.
Day 3 begins with another trek, followed by a visit to Pink Beach for swimming and snorkeling. You'll sail towards the famous dive site, Manta Point, which is the best place to see mantas before heading back to Labuan Bajo for dinner and overnight stay at your hotel.
The final day includes a visit to Batu Cermin Cave and a local market before returning to the airport.
Komodo island tour from Bali
What to expect on a Komodo tour
These three komodo island tours from Bali island differ in length and itinerary, so let's go through the different activities and stops you can expect on a tour.
Rinca island
Rinca island is one of the three main islands in Komodo National Park.
With fewer than 2,000 residents and an impressive population of 2,500 Komodo dragons, Rinca island is the perfect destination to reconnect with nature and see the world's largest lizard.
Though you're not guaranteed to see Komodo dragons (they're wild, after all), there are often some Komodo dragons hanging out near the entrance. Make sure to have your camera ready!
Pink Beach (Pantai Merah)
As if komodo dragons were unique enough, there's also an actual pink beach here.
With its soft, pink sand and crystal clear waves, it's a must-see destination that also offers amazing diving spots. Take your time here to enjoy lunch, snorkeling, and hiking up the nearby hill for panoramic views overlooking the beach.
While Pink Beach is stunning, it's sadly not as pink as it once was because visitors are taking sand as souvenirs. Please don't take any sand with you – it will be thrown away at the airport security, and the beach will loose it's unique colour.
Diving and snorkeling
If you like diving, you will love Manta Point, which is considered the best diving and snorkeling spot in Indonesia.
You'll be treated to crystal clear water, colourful coral and an array of sea life like giant manta rays, sea turtles and colourful fish.
Manta rays can be spotted in Komodo National Park year-round, but the chances of seeing them during May and June are lower due to their migration south to cooler waters. The peak tourist season in the area is from June to August.
Snorkeling gear is included in the price, BUT I highly recommend that you bring your own. Covid-19 and all.
Bidadari Island, Kanawa island and Kalong island
Komodo National Park is a haven for divers, nature lovers and wildlife enthusiasts.
Depending on which tour you choose, you'll visit one or several of the smaller islands in the park, which are all volcanic islands.
While Kalong island is mostly known for the flying foxes, you'll find long stretches of white sand beaches and beautiful aquatic adventures on all them.
Both Bidadari, Kanawa and Kalong island are excellent spots to relax, explore and soak up some sun.
Mirror Cave Batu Cermin
If you're on a 3-day or 4-day tour, you'll also get to visit Batu Cermin, known as Mirror Rock cave.
This site is actually a tunnel or cave that receives sunlight through a hole and reflects it on the stone walls to create small lights that look like mirrors. Hence the name "Mirror Rock".
It's located four kilometres east of Labuan Bajo, surrounded by lush forests. Here, you might also be lucky to spot long-tailed monkeys and wild boars on your trek to the cave.
Frequently Asked Questions
Has a Komodo dragon eaten a human?
Yes, there has been incidents of fatal attacks in the last 35 years (2009, 2007, 2000 and 1974). However, attacks are rare!
Can you do a day trip from Bali to Komodo?
Yes, but I don't recommend it. It would be a long and tiring journey as the two islands are located quite far apart. And you won't get to see all the main highlights. The fastest way to get there is by taking a flight from Bali to Labuan Bajo on Flores Island, which is the gateway to Komodo National Park. From Labuan Bajo, you can take a speedboat or a liveaboard boat to visit the Komodo dragons on Komodo Island.
How much does it cost to go to Komodo Island?
Overall, a day trip to Komodo Island from Bali can cost anywhere between $500-1000 USD per person. The more time you want to explore the park and its surroundings, the more costly it will be.
What happens if a Komodo dragon bites you?
If a Komodo dragon bites you, it can cause serious injuries and even death due to the bacteria present in their saliva. The bacteria can lead to sepsis, which is a potentially life-threatening condition. In case you get bit, it's important to seek medical help as soon as possible.
Is Komodo Island worth visiting?
YES! Komodo Island is definitely worth visiting. The Komodo dragons are the largest lizards on earth and they can only be found in Indonesia! Aside from that, you'll also get to see pristine beaches (one of which is pink), crystal-clear waters, corals and other animals.
How many days do you need in Komodo?
I recommend spending 3 days in Komodo island. This will give you enough time to take a boat tour to Rinca Island or Komodo Island to see the dragons, visit Pink Beach, enjoy some hiking around Padar Island, and go snorkeling or diving at some of the park's best spots.
More posts from Indonesia you might like