A wonderful 3 days in Seminyak itinerary
Are you spending 3 days in Seminyak and need a little help with planning?
If this is your first visit, you can find anything you need in my Seminyak itinerary. I spent a month in Bali with almost a week in Seminyak, and I've included the main things to do, where to stay and how to get around.
If you still have questions at the end, reach out in the comments, and I'll do my best to answer!
Let's dig in.
This post contains referral links for products I love. Adventurous Miriam earns a small commission at no extra cost to you if you make a purchase through my links. Thank you for your support ♡ Learn more
The perfect Seminyak itinerary
So, what is the perfect Seminyak itinerary?
Well, it's an itinerary that includes all the best things that Seminyak has to offer. Such as luxury hotels, beach clubs, shopping, surfing, yoga and massage.
As opposed to Kuta, a party hub for the younger crowd, Seminyak is upscale. It's more suited for couples, families and solo travelers who are not looking to party all night.
In Seminyak, high-end stores lie side by side with exclusive hotels, rooftop bars and fancy beach clubs, so this is the perfect place for luxury and pampering.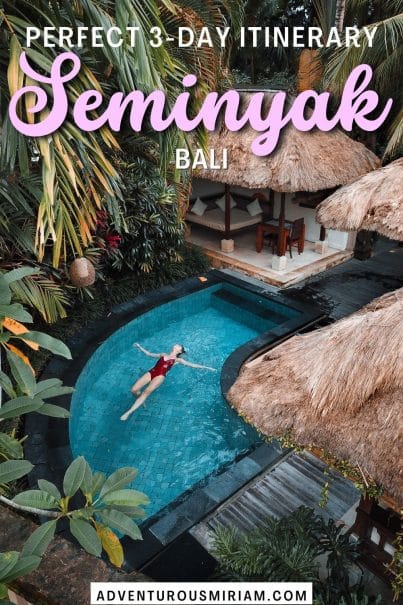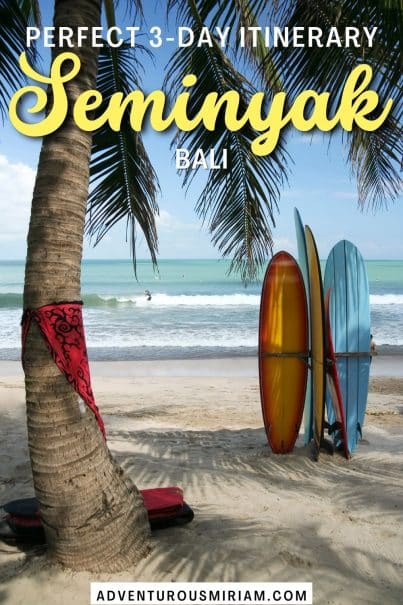 How to get to Seminyak
Seminyak is located on the western coast of Bali, a quick 20 minute ride from Canggu and just 1,5 hour from Ubud.
If you arrive by plane, Denpasar airport (also known as Ngurah Rai International Airport) is only 30 minutes away. I always book a private airport transfer in advance, but you can also get around with taxis or Bali Uber called BlueBird. Just be aware of the common scams in Bali that often involves taxi drivers.
Best restaurants in Seminyak
Ah, the food in Bali. Not only does it taste amazing, but it's also some of the most Instagram-worthy food you'll find.
Below are some of my favourite spots you should check out:
The Shady Shack: Local produce for breakfast or lunch.
Revolver Coffee: This is the trendiest coffee shop in Seminyak!
Cafe Organic: Go here for an acai bowl.
Mama San: Delicious Southeast-Asian fusion food! It's one of the hottest places right now so you'll need to book in advance and dress nicely.
Sea Circus: A funky space with a Mexican-inspired menu. It has some of the best breakfast in Seminyak.
Nook cafe: Enjoy a fresh acai bowl and local dishes surrounded by lush rice fields.
Best time to visit Seminyak
Bali, the island of the gods, has a wet season and a dry season.
The dry season / high season runs from May to September. It's warm and sunny with little rain. The dry season is the perfect time to visit Seminyak and the rest of Bali.
The wet season / low season, between October and April, is pretty wet. Some days it'll rain non-stop, although most days have showers that rarely last more than a few hours. There are fewer crowds in the rainy season and still plenty of chances of getting a tan in-between storms.
Where to stay in Seminyak
If you love luxury hotels, you'll adore Seminyak. I stayed in Petitenget, which according to most guide books is the best beach in Seminyak:
The Akasha Boutique Hotel (⭐8.7) is a unique luxury hotel. Each room has its own unique theme, from ocean blue to a flamingo-themed room with a hand-painted mural. Add to that a 24-hour mini gym, stunning swimming pools and even a rooftop garden with swing chairs, and you've got yourself the perfect hotel in Seminyak. Check rates and availability at Akasha Boutique Hotel.
Day 1
On your first day in Seminyak, you'll be taking it easy. Your first stop is a morning yoga class, then shopping and pool time.
Join a yoga class
If you're in search of that zen feeling during your 3 days in Seminyak, why not try a yoga class!
Jiwa Bikram Yoga is a great studio if you want a bikram class.
Another renowned yoga studio is Yoga Shala, which even has an awesome raw food cafe onsite. Whether you want to try something new like Ashtanga or Mysore, or stick to your favourite type of yoga, there are options available every day.
Shopping
In the heart of Seminyak, you'll find Jalan Raya Seminyak – the place to go shopping.
This road is the epicentre of small boutiques, while Jalan Kayu Aya road and some corners along Jalan Petitenget complete the list of the most fashionable places for shopping, from designer boutiques to famous brand outlets.
The best places to shop:
Uma and Leopold
Gooseberry Intimates
Jetset Gypsy
Lulu Yasmine
Frockk Boutique
Relax by the pool at Potato Head
After a few hours of shopping, head back to your hotel and grab your swimsuit, a towel, your sunnies and a book. You'll be spending the afternoon, unwinding and relaxing by the pool at Potato Head beach club.
Potato Head is one of the glamorous beach clubs in Seminyak and it's a great choice for spending the rest of the evening. It has a chic atmosphere, infinity pools and a wide selection of drinks and food, so you're sure to have a great time here.
I sure did!
Day 2
After breakfast, pack your swimsuit and head to the beach. You'll be doing a mix of activities, relaxation and cocktail-drinking today.
Surf lesson at the beach
It wouldn't be a proper Bali travel guide without surfing, amirite?
And Seminyak just so happens to be the perfect place to book a surf lesson. You can choose from several courses all designed to improve your surfing whether you're a beginner or advanced.
Relax at the beach
There are four beaches in Seminyak:
Batu Belig beach (best for relaxation)
Petitenget beach (best for surfing)
Seminyak beack (best for day drinking and hangouts)
Double Six beach (best for swimming)
All lined with palm trees, bean bags, and salty ocean air. After your surf lesson, pick a bean bag and relax. If you want to swim, be aware that the waves at Petitenget beach can be pretty insane, even in the dry season.
I might get dramatic on you for a second here, but the first day I visited, they were monstrous. And I'm not talking about cute little splashes here. I'm talking meter-high waves that slammed onto the beach with a giant roar, each embodying a destructive power nearly beyond measure.
Bottom line, if you see a 'no swimming sign', obey. Don't get in the water.
Visit a Hindu temple
On your way back, you'll walk past Pura Petitenget, which is a Hindu temple and one of six important sea temples that line the coast in Bali – from Uluwatu temple to the more famous Pura Tanah Lot.
Petitenget beach is named after the temple. Make sure to add it to your Seminyak itinerary.
Enjoy a Balinese massage
Now it's time for my favorite activity (if you can call it that) on this 3 days in Seminyak itinerary:
A massage.
I got a massage almost every day when I was in Bali and it complemented yoga perfectly – so peaceful and relaxing. You can get a massage here or enjoy a lovely wellness experience at the rooftop Spring Spa or the popular Bodyworks Spa!
With a range of treatments available, there's something for everyone – whether it's Balinese massage, aromatherapy or reflexology.
Beach club
After your massage, go freshen up and put on a nice dress. You're going out 🙂
One of the must-have experiences in Seminyak is visiting a beach club. And since you've already been to Potato Head, go to Ku De Ta tonight.
Their signature cocktails and resident DJ keep the party going all night long – and you can also relax on one of their bean bags or lounge chairs while you enjoy the best views of the ocean!
Pro tip: Arrive early or make a reservation for sunset to avoid waiting in line at the entrance.
Day 3
On your last day, this Seminyak itinerary takes you on a culinary and cultural journey. Ready to see what I have planned for you? Let's take a look.
Join a cooking class
Your day starts with a cooking class. I love taking cooking classes when I travel, it's such a fun way to get to know a culture and to eat local food.
Book your cooking class with an expert chef and choose from three menus, including a vegetarian option, and learn to make Balinese dishes like coconut pancakes, papaya soup and fried banana.
Snap photos at the Bamboo tunnel
Next, head to the W Bali hotel. Upon arrival, you enter this beautiful bamboo tunnel which leads you to the hotel entrance and lobby. I ended up going to the rooftop bar for lunch, but you can just go here for the natural beauty of the tunnel.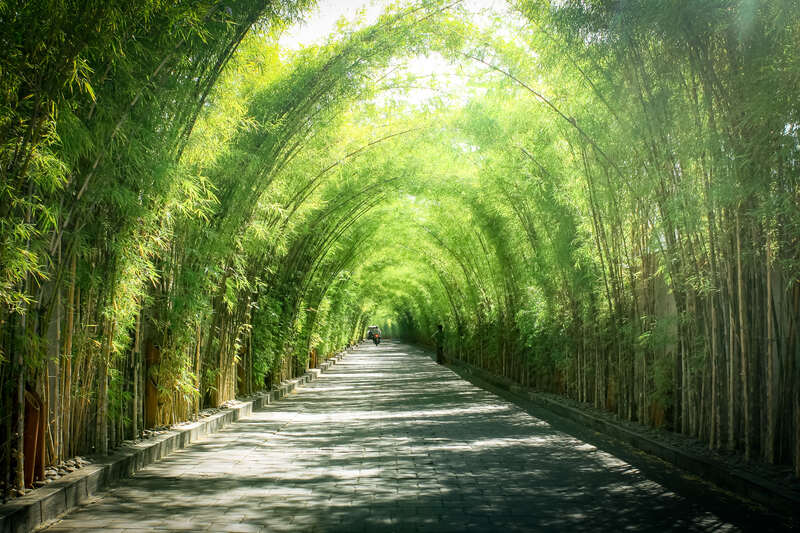 Sunset at Tanah Lot
The afternoon is reserved for a little tour out of town. You'll be going a little further north to Tanah Lot temple.
Tanah Lot is the most popular sunset spot in Bali and you can easily go there on a tour, by taxi or with a private driver.
I recommend arriving a few hours before the sunset so you have enough time to walk around and explore the site. It's quite big.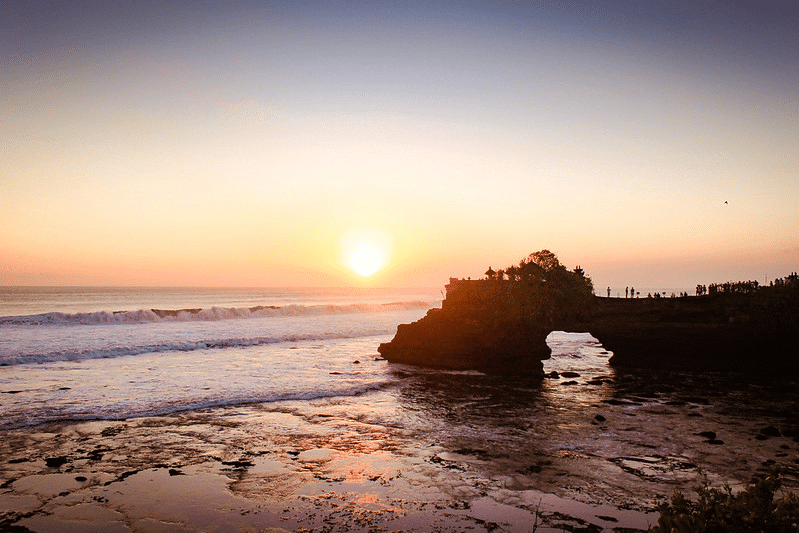 Day trips from Seminyak
If you have more than 3 days in Seminyak, I highly recommend taking a day trip to Ubud and Nusa Penida.
With a private driver you can make your own perfect Bali itinerary with your favorite things to do – you decide when and where to go. That's what I recommend.
Ubud is all about rice paddies (especially Tegallalang rice terraces), the Ubud Monkey Forest, the spiritual atmosphere and temples.
If it's beautiful beaches you're after, Nusa Penida is blessed with white sand beaches and the iconic dinosaur-shape that makes it so unique. Both places are worth visiting, and if you start early you can visit both places in one day.
More posts from Indonesia you'll love