12 epic things to do in Leon Nicaragua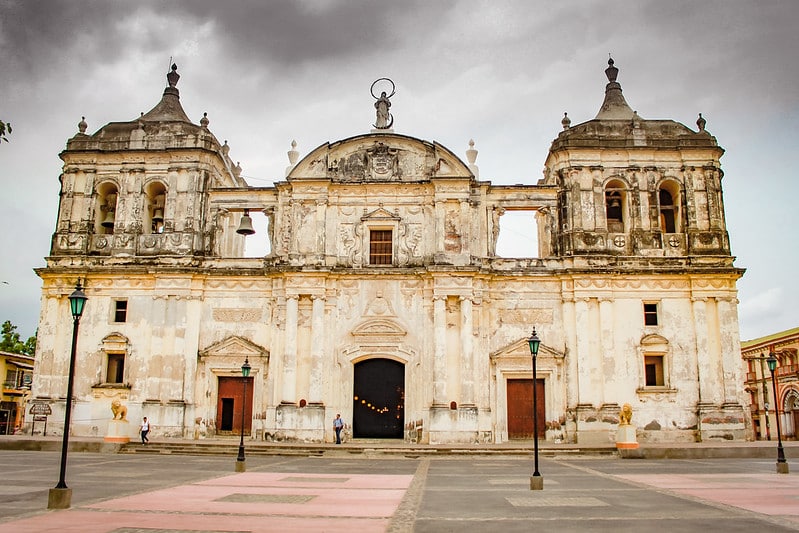 From volcano boarding to the largest cathedral in Central America, Leon Nicaragua has it all. Read my guide on the best things to do in Leon.
Leon Nicaragua is hot. It's 45°C degrees. Not a single breeze is felt, and the sizzling sun dominating this sleepy town stands mockingly high on the sky.
We have arrived in Leon from El Salvador, and it's on our itinerary for one simple reason: we want to board down an active volcano (which I'll get into in a minute).
Volcano boarding is just one of the epic things to do in Leon Nicaragua. Leon is also full of awe-inspiring churches, beautiful art collections, colourful streets, delicious eats, vibrant student life, and an active nightlife (all week).
Let's take a look at what to do in Leon.
This post contains referral links for products I love. Adventurous Miriam earns a small commission at no extra cost to you if you make a purchase through my links. Thank you for your support ♡ Learn more
Things to do in Leon Nicaragua
Leon is located in the Northern part of Nicaragua with a population of nearly 200,000. It's a university city with political activity and history, which is seen on murals around town. Among travelers, though, Leon is best known for volcano boarding, its authenticity and artistic value, and the dozens of colonial churches, including the largest cathedral in Central America.
How to get around Leon
Luckily, Leon isn't a huge town, and most of the sights are within walking distance. If you need to get across town or simply find the heat unbearable, you can take a rickshaw or taxi. Just remember to negotiate the price, especially in taxis. They will try to rip you off for sure.
How long to stay in Leon
Leon can easily keep you busy for days. We stayed for 4 days, which gave us enough time to relax, do all the activities on this list and then some.
1. Volcano boarding at Cerro Negro
So, the first thing I'll mention on this list of epic things to do in Leon is volcano boarding.
Volcano boarding is by far one of the most fun, thrilling and über-adventurous things you'll ever try. And it's possible to try it right outside Leon Nicaragua.
It takes about an hour to get to the base of the volcano, where you'll pay a $5 entrance fee before beginning the 1-hour hike to the top. The tour company provides equipment and a board (7 kg), which you can either carry yourself or have a local carry for you for $5. The most acclaimed company to go with is Bigfoot as these guys invented the activity back in 2004. Make sure to book directly through their hostel.
If you feel like throwing yourself down Nicaragua's most active volcano Cerro Negro, read my post about volcano boarding.
2. Learn the history of the City of Lions
Okay, back to the city of Leon.
Leon means lion in Spanish. It lives up to its name with the imposing lion statues that guard several of the town churches, the tomb of Nicaraguan national icon, Darío, and the main entrance of the city's religious and cultural centre… the cathedral.
Leon is Nicaragua's second-largest city and is known as the intellectual centre of the country. It's an old Spanish colonial town that's somehow modern, but doesn't compromise with tradition and local life. For instance, you'll find no McDonalds or 7-elevens here, and the local markets and overall street life has an authentic feel, very untouched by tourism.
This makes Leon a sharp contrast to Granada, another popular Nicaraguan city, also known as 'the historical rival to Leon'. Granada is considerable wealthy with lots of North American expats and the occasional chain restaurant. Leon has students, artists, poets, and a dislike for multinational companies.
Celebrated poets Salomón de la Selva and Alfonso Cortés are from Leon, as is Rubén Darío, who initiated the Spanish-American literary movement known as modernismo (modernism) that flourished at the end of the 19th century.
Read next: 10 amazing things to do in Granada
3. Leon Cathedral
Leon Cathedral, also known as Basílica de la Asunción, is the most magnificent structure in town. It's not only the largest cathedral in Central America, but also one of the best known in the Americas due to its architecture and cultural importance. It was built in 1814 and has for good reason been declared a UNESCO World Heritage Site.
Leon cathedral also showcases the best of Nicaraguan culture. You'll find the tombs of noteworthy, local poets Rubén Darío, Alfonso Cortés and Salomón de la Selva, as well as Miguel Larreynaga.
4. Climb the roof of Leon cathedral
One of the great things to do in Leon includes climbing the roof of Leon Cathedral. You'll get a fantastic view of the city and volcanos in the distance, plus the roof itself is quite beautiful as its recently been restored.
The ticket office is at the eastern side of the cathedral towards the market, and you enter through the tower in the northwest corner. It costs $3 to enter.
5. Explore the colonial churches in Leon
Leon has more colonial churches than any other city in Nicaragua. We went to Iglesia de la Recolección on one of our first days in town, and it's just as pretty at night with all the lights. This church is considered the most beautiful in town with its baroque columns and bas-relief medallions that portray the life of Christ.
If you feel like seeing more churches, I recommend these ones:
Iglesia El Calvario
Iglesia de San Francisco
Iglesia de San Felipe
6. Find street art of the Sandinista Revolution
During our time here, I couldn't help but notice the many bullet holes and colourful murals of the Sandinista revolution and its heroes around town. They're relics of the revolution and commemorate the fall of the militarised Somaza family dictatorship who ruled the country for more than four decades.
Somaza was overthrown when the National Sandinista Revolution (radical poets, students, farmers and guerillas) joined forces and defeated the dynasty in 1979.
7. Visit three important museums
If you want to know more about Nicaraguan history, you should visit some of the city's museums – each of them has a different story. These are the most important museums to learn about the social and political history of the country.
Museum of Legends & Traditions
This museum is housed in a former prison, known as Prison XX1, during the Somoza dictatorship. It's decorated with murals graphically depicting torture methods by the Guardia Nacional. You'll also find life-sized papier-mâché figures of Rubén Darío and others.
Contemporary Art Museum
The Museo de Arte Fundación Ortiz-Gurdián is known as one of the most important museums in Central America. The collection includes works by Picasso, Chagall, Miró and a number of noted Nicaraguan artists.
Museum Of The Revolution
This museum was a central location during the Sandinista revolution. Here, you can get an overview of the Nicaraguan revolutionaries who stood up against the Somoza dictatorship, from the devastating earthquake of 1972 to the Sandinista overthrow. It's a $2 entrance and one of the important things to do in Leon.
8. Walk the colourful streets of Leon
On top of the vibrant political murals, the rest of Leon Nicaragua is also splashed in colours. Every street house has a different colour, which adds a relaxed and informal vibe to the streets. Go for a walk to explore the traditional Nicaraguan houses.
9. Hit the beach
If you feel like cooling off in the ocean, you're in luck. Las Peñitas beach is just 30 minutes chicken-bus ride out of town. Just make sure to stay at the southern end of the beach where the rip current is less vicious.
10. Go to the market
Leon's central market is a fun place to discover new fruits and vegetables. It's also a great way to watch local life and talk to people.
11. Take a Nicaraguan cooking class
Cooking classes are so much fun and one of the best things to do in Leon Nicaragua. You'll learn how to cook authentic Nicaraguan dishes such as fresh corn tortillas, jalapeño chicken, tostadas con queso, plantains and rice and bean (gallo pinto).
12. Go out – Backpacker alley
Backpacker Alley is the place to be if you're looking for hostels, bars, tours or laundries. If you're in a party mood (think lava shots and backpacker crowd), BigFoot is the place to hang out, although there are numerous calmer options available: the relaxed Surfing Turtle is one of them and I personally prefer ViaVia León, which also offers live music every Friday night.
Where to eat in Leon
The food in Leon is really great with lots of restaurants to choose from. I've included my top food & drink tips below so you can try the best of Leon's cosmopolitan eateries.
Best breakfast – For a lovely morning meal, I recommend El Desayuno and Pan y Paz.
Lunch and dinner – Best places for healthy food is Coco Calala (try the homemade kombucha and mango bowls) and Tacubaya Latin Food for great burritos and tacos.
Local beer – There are only two beers worth drinking in Nicaragua: Toña and Victoria Clásica. Toña is popular with travelers (and one of my favorites), whereas Victoria is a bit stronger and cheaper.
Street food – You can find great plates of cheese pancakes, grilled meat ($3) and vegetable snacks with rice ($1) behind the Cathedral at night.
Where to stay in Leon
There are several great places to stay in Leon for all budgets. Although the political crises in 2018 forced some of the hotels to close due to lack of guests, the situation is slowly getting better. Here are my top choices (all with a pool):
Is Nicaragua safe in 2023?
In general, Leon Nicaragua is safe to visit. Issues like pickpocketing and scams are something to be aware of, but common sense will take you a long way. Like, don't walk alone after dark and avoid flashing your belongings (expensive watch, camera and jewellery). Read my general travel safety tips and common taxi scams because many of them will apply here as well.
Local protests: Since 2018, Nicaragua has had outbreaks of violent protest against the government. The situation is more stable today (2023), and although protests still take place, they are rare and always prearranged with police forces around. If you decide to visit Nicaragua, my advice is to watch the news and avoid the protests if you happen to run into one.
For female travelers: Be aware that Leon is dominated by machista: men with an exaggerated sense of masculinity. This isn't something to worry about, but be prepared to be stared at, catcalled and get unsolicited attention.
How to get to Leon Nicaragua
Leon is at the north of Nicaragua, making it easy to reach by international bus from Guatemala and El Salvador. From within Nicaragua, I recommend shuttle busses.
Shuttle bus. It's easy to get a shuttle bus from Granada, San Juan del Sur or Managua to Leon Nicaragua. Simply ask at your hotel or one of the travel agencies. Shuttles are air-conditioned, safe and have friendly drivers; at least in my experience.
International busses. Getting to Leon from Guatemala, El Salvador or Costa Rica is also pretty straight-forward. Take one of the international bus lines like Ticabus. We traveled with them through all of Central America and always found them reliable and comfortable.
Granada to Leon. A shuttle from Granada to Leon Nicaragua will cost from $15 per person and the journey takes 2.5 hours.
Managua to Leon. The shuttle bus costs $2 and takes 1.5 hours. Most are air-conditioned and relatively comfortable.
San Juan del Sur to Leon. It costs $25 with shuttle bus and takes about 5.5 hours.
Going to Leon Nicaragua? Ask me anything in the comments!
More posts from Nicaragua you might like
Pin it!