10 days in Costa Rica: The ultimate Costa Rica itinerary
From the lava-bubbling volcanoes and jaw-dropping cloud forest in Monteverde, to the tropical wildlife and the cascading waterfalls, here's how to spend amazing 10 days in Costa Rica.
10 days in Costa Rica is the perfect amount of time to get a real feel for the country. You'll have time enough to get deep into the jungle, get up close with the wildlife, soak up the beaches and get active with zip lining and white water rafting.
I've made this Costa Rica itinerary for you with tips from my time there. I've selected the best from my trip and suggested how long to spend in each place. Although distances are fairly short, you might a few extra days to see it all. But – if you're keen on seeing it all, it is possible, you'll just be busy.
Here's how to spend 10 days in Costa Rica.
This post contains referral links for products I love. Adventurous Miriam earns a small commission at no extra cost to you if you make a purchase through my links. Thank you for your support ♡ Learn more
10 days in Costa Rica: The best Costa Rica itinerary
Costa Rica is so different from its neighbouring countries in more than one sense. We traveled overland from Nicaragua and found the contrast quite stark. It has an amazing biodiversity, a stronger focus on sustainability and the way of life here is more relaxed.
No wonder it's one of the most popular destinations around the world, both for solo travelers, families with kids, seniors and even backpackers, despite the higher prices.
I know most of you would want to spend ten days to two weeks in Costa Rica, which is ideal. Luckily, most roads are in good shape and well signed, so you won't spend a lot of time getting lost.
Costa Rica is more or less ALL about nature. So, this Costa Rica itinerary includes a nice mix of the best and different types of nature and scenery.
Arenal and La Fortuna: 2 days
First stop: Arenal.
Arenal Volcano is one of the most significant landmarks you can visit during your 10 days in Costa Rica.
Imagine this looming 1,670m high volcano and picture yourself staying at the base of it. Sounds adventurous (and warm), doesn't it?
I recommend basing yourself in La Fortuna, which has a great variety of accommodation for all budgets. From there, you can visit the 65m high La Fortuna waterfall, soak in the nearby hot springs, go white water rafting, zip lining, hike around the volcano or canoe, SUP or kayak on Lake Arenal. As you can hear, there's a lot to do in Arenal!
Read next: How to visit Costa Rica on a budget
Monteverde: 2 days
Next stop on your Costa Rica itinerary should be Monteverde.
When planning our trip, I wanted to experience the best nature Costa Rica has to offer, and Monteverde came up as a winner. What makes Monteverde special is that it's a cloud forest. Now, this is similar to a rain forest, except it's located higher in the mountains and is almost always covered in white fog. It feels like a real jungle with the mossy trees and super intense vibe. I loved our trip there!
Plus… Monteverde has a whole bunch of activities, including zip lining, walking above the cloud forest on hanging bridges, wildlife and much more.
Here are some helpful posts on the most essential things to do in Monteverde:
Rio Celeste or Llanos de Cortez waterfall: 1 day
No doubt you'll be visiting waterfalls during your 10 days in Costa Rica, and Rio Celeste (quite possibly the bluest waterfall on earth) and Llanos de Cortez waterfall are two of Costa Rica's most impressive.
You can visit on a day trip from Arenal or on your way to Tamarindo.
Llanos de Cortez is the most beautiful waterfall in Costa Rica. It's wider than it's tall, with streams of water cascading over a rock wall. The pool at the base of the falls is clear and perfect for a refreshing swim. Just by the waterfall, there's a little white sandy beach where you can relax in a hammock or on a towel.
Absolute heaven!
Read next: How to visit Llanos de Cortez waterfall
Tamarindo: 2 days
Tamarindo is all about relaxation.
This is the place to unwind, swim in the blue ocean, surf and go out at night. If you visit from October 20 – February 15, you can book a night tour to watch the leatherback turtles lay eggs (at a safe and non-intrusive distance, of course).
Definitely worth doing!
You can also visit Playa Negra, a volcanic black beach, just 23 km south of Tamarindo. It's not a pure black sand beach like Reynisfjara Black Sand Beach in Iceland, but it's still worth a visit.
Tamarindo is a lot of fun, and it makes a nice change from the hiking and exploring that you'll no doubt be including in your Costa Rica itinerary.
Read next: The ultimate guide to Tamarindo
San Jose and Poas Volcano: 1 day
After a few days by the beach, it's time to head to San Jose to visit Poas volcano.
For me, San Jose isn't a great city, but you'll probably end up here when you fly in or out of the airport. Plus, from San Jose, you can visit the steaming Poas volcano.
The beauty of this specific volcano is that the main crater is an easy 15 mins walk from the visitor centre, and that you can look straight down into the crater. The crater of the volcano is over 1.6 km across and 320 m deep, which makes it one of the largest geyser craters in the world.
It's an easy day trip from the capital (1,5 hour drive). Just jump in your rental car or take the public bus there. That's what we did.
Read next: How to visit Poas volcano
Corcovado National Park: 2 Days
Your 10 days in Costa Rica are nearly up, except for one last destination: Corcovado National Park.
Corcovado is one of the best places to spot wildlife in Costa Rica. From monkeys, snakes and macaws to whales and turtles, this is the place for a unique experience. You can't visit Corcovado National Park without a guide, so you'll need to book one. Your hotel will be able to recommend local guides.
Corcovado is also one of Costa Rica's most remote destinations and farthest from the capital. But if you don't mind the cost, you can catch a flight directly from San Jose. It takes 40 minutes and will cost you from $111 to $155 USD. Otherwise, you're looking at between 7-9 hours transportation by car, shuttle or public bus.
How to travel around Costa Rica
Unless you only come for the beaches in Guanacaste, you'll be traveling around during your 10 days in Costa Rica. You've got four options: to go by public bus, shuttle bus, rental car or air.
Busses
The cheapest way to get around in Costa Rica is by local busses (it costs as little as $2 from one town to another). That's how we traveled through Costa Rica, and I found the busses reliable and comfortable. Buses are not that modern and they lack air-condition, which can be challenging, but overall, public buses were a great way to get around the country.
Shuttle busses
Another option is to travel by shuttle bus. Local companies run their shuttles between tourist destinations, and you can book services online or without prior reservation in all major towns.
Rental car
Renting a car is a great way to explore the country at your own pace. Roads are generally well maintained (although still far from perfect) and distances are pretty short. I recommend renting a 4×4 car as you'll be driving on gravel roads (with potholes) in the national parks, small towns and near waterfalls. Also, don't leave your belongings in the car, and always use a secured parking lot to avoid thieves. 
Domestic flights
If you're short on time, you can also fly with the local airlines, Skyway, Aerobell, Air Caribe and Sansa, between the main cities. If you book in advance you can get flights down to $50. 
Safety in Costa Rica
Costa Rica is a safe country, and I felt very safe traveling around.
Petty theft (including bag snatching) is the most common type of crime you'll face in Costa Rica. And that can be avoided if you follow these safety tips:
Don't wear flashy items
Don't leave your items unattended
Be alert of petty theft when using public transportation
Avoid isolated areas
Always take authorised taxis and be aware of taxi scams, particularly in San Jose. Read my guide on how to avoid taxi scams.
Is Costa Rica safe for (female) solo travelers? 
Yes. It's the safest country in Central America and a good destination for your first solo trip. Just avoid isolated locations and don't travel alone after dark.
There's a lot of cat calling in Central America (Nicaragua in particular), and if you happen to experience harassment from strangers on the street, be confident, avoid eye contact, and walk away.
Read next: 20 solo female travel safety tips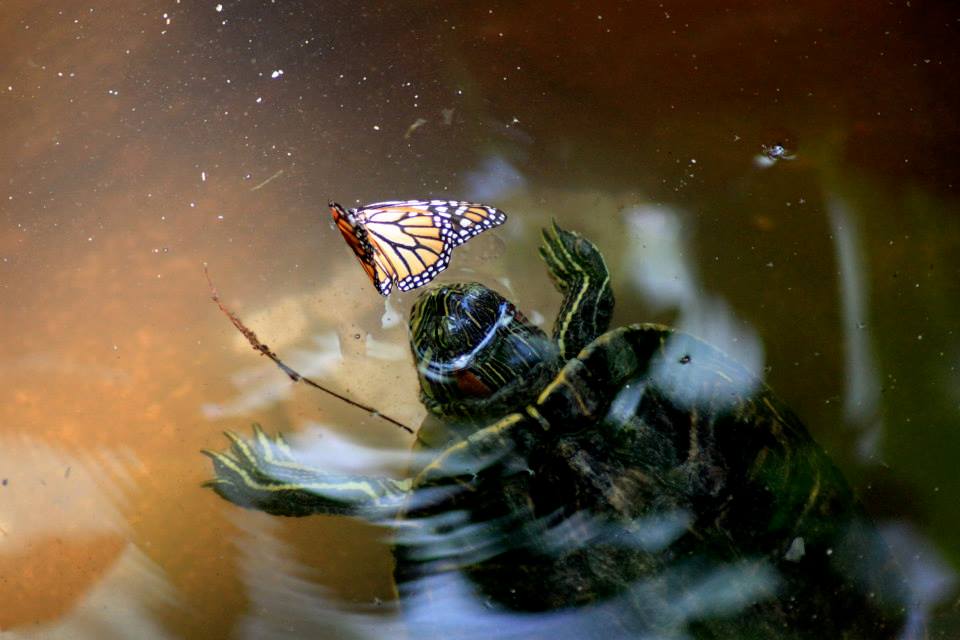 Pura Vida
One of the things that make Costa Rica so likeable is the friendly locals and their way of life. They have a saying in Costa Rica – pura vida – which translates to "pure life" and means something along the lines of "take it easy", "hakuna matata" or "c'est la vie".
It represents Costa Ricans' relaxed attitude towards life. Like, to always take time to relax, don't worry about the small stuff, and remember to enjoy life's simple pleasures, like your morning cup of coffee or to feel the tropical sand in between your toes.
Pura Vida is a big reason why Costa Rica is such a peaceful, laid-back place.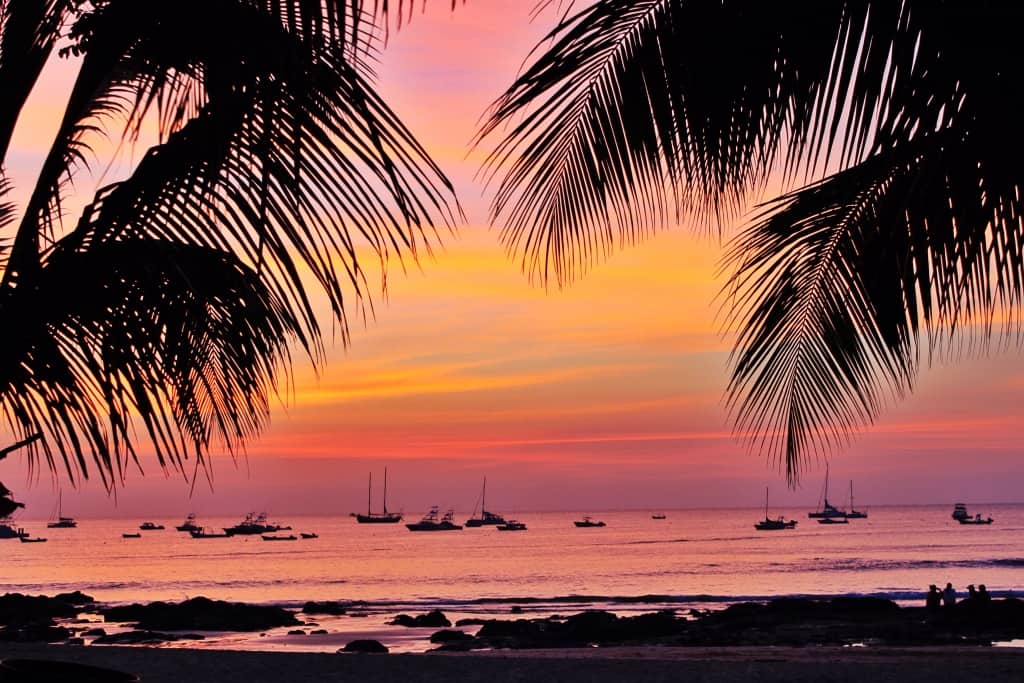 What to pack for Costa Rica
Last order of business today is packing. And with so many different trips possible in Costa Rica, you'll need to pack carefully. While some of you visit for a relaxing holiday (and won't need hiking boots), others enjoy a few adventurous activities, too. If you're visiting several places in Costa Rica over a few weeks, my main advice is to pack LAYERS!
For 10 days in Costa Rica, this is what you need to pack:
Shorts and/or skirts
T-shirts
Leggings and light trousers
Dresses
Sweater
Sports bra, socks and underwear
Swimsuit
Light jacket
Rain jacket
Insect repellant and sun screen
Sunglasses and a hat
Sneakers (and hiking boots depending on your activities)
Water shoes (perfect for white river rafting and waterfalls)
Daypack and dry bag
And your camera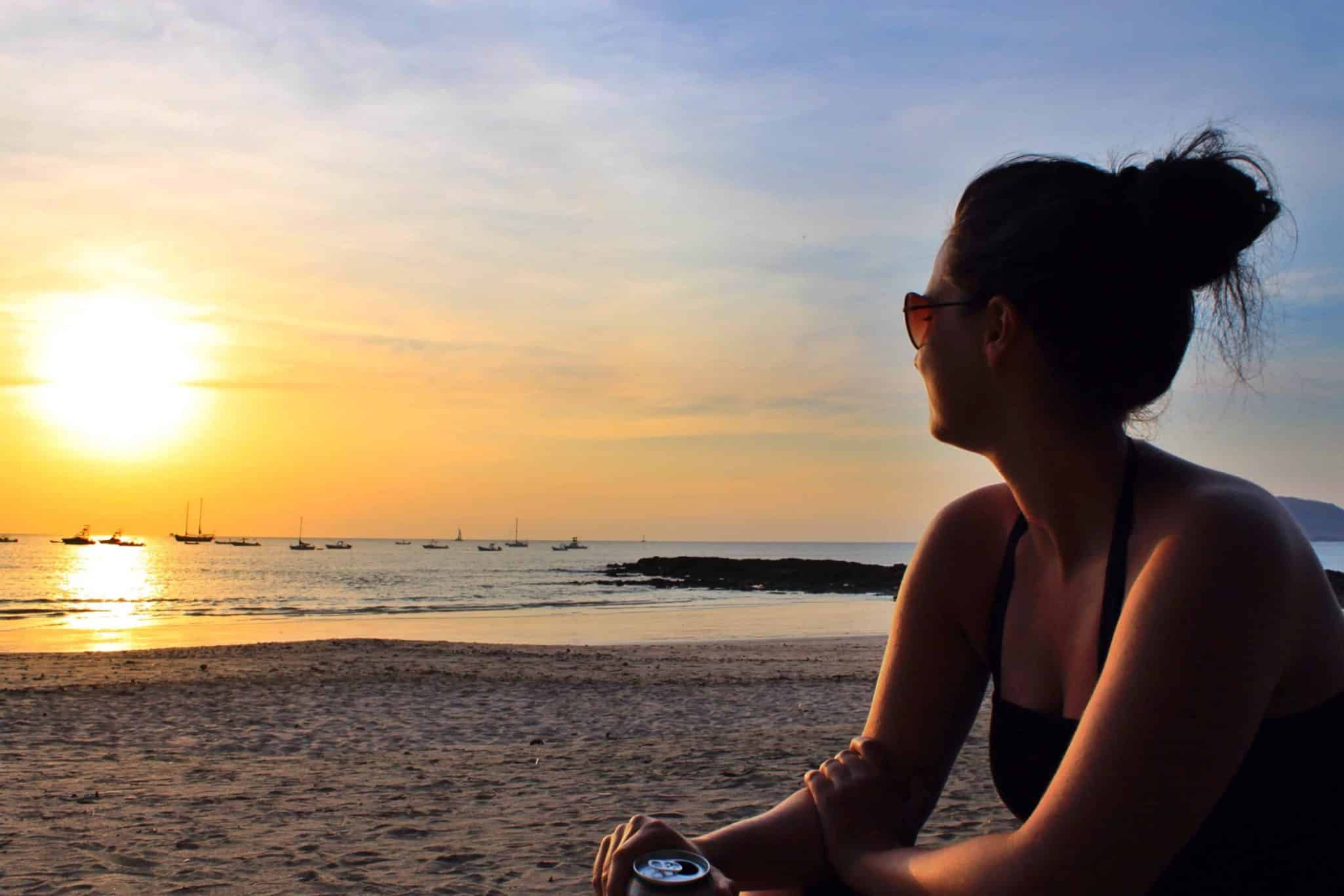 Got more than 10 days in Costa Rica? Ask me anything in the comments!
Save it!