How to visit Poas volcano Costa Rica
Costa Rica is a hotspot for active volcanos. There are around five active volcanos and even more inactive in the tiny country. Poas volcano in Costa Rica is one of the most popular ones, especially because it's within easy driving distance of the capital, San José.
In this post, I'll share with you the best tips and how to get the best out of a day trip from San José to Poas volcano Costa Rica.
Read next: How to visit Costa Rica on a budget
This post contains referral links for products I love. Adventurous Miriam earns a small commission at no extra cost to you if you make a purchase through my links. Thank you for your support ♡ Learn more
Poas volcano, Costa Rica
Poás volcano, (Spanish: Volcán Poás), is an active 2,708-metre stratovolcano. The beauty of this specific volcano is that the main crater is an easy 15 mins walk from the visitor centre, and that you can look straight down into the crater. The crater of the volcano is over 1.6 km across and 320 m deep, which makes it one of the largest geyser craters in the world.
Another interesting fact is that Poas is located inside a cloud forest. If you want to know more about the magical cloud forests of Costa Rica, check out my link below ↓
Read next: 10 things to do in Monteverde Cloud Forest
Poas volcano is located inside Poas Volcano National Park, which was created in 1971 to protect the volcano and surrounding flora and fauna. It's a small, but significant park that's home to one of Costa Rica's largest and most active volcanoes.
What about eruptions?
Poas volcano has erupted 40 times since 1828, and a few times during the last seven years:
In 2013 without causing any major damage.
Several times in 2017. Roads and buildings were damaged, and the national park was forced to close for nearly 1,5 years.
In 2019, two smaller eruptions prompted the park to close for a few days.
In general, it's safe to visit Poas volcano national park. But I strongly suggest that you check up on the current conditions at the park before you visit.
These recent eruptions have caused a heightened security. You now need, for instance, to purchase entrance tickets in advance and to wear a helmet inside the park. I'll get into this in more detail below.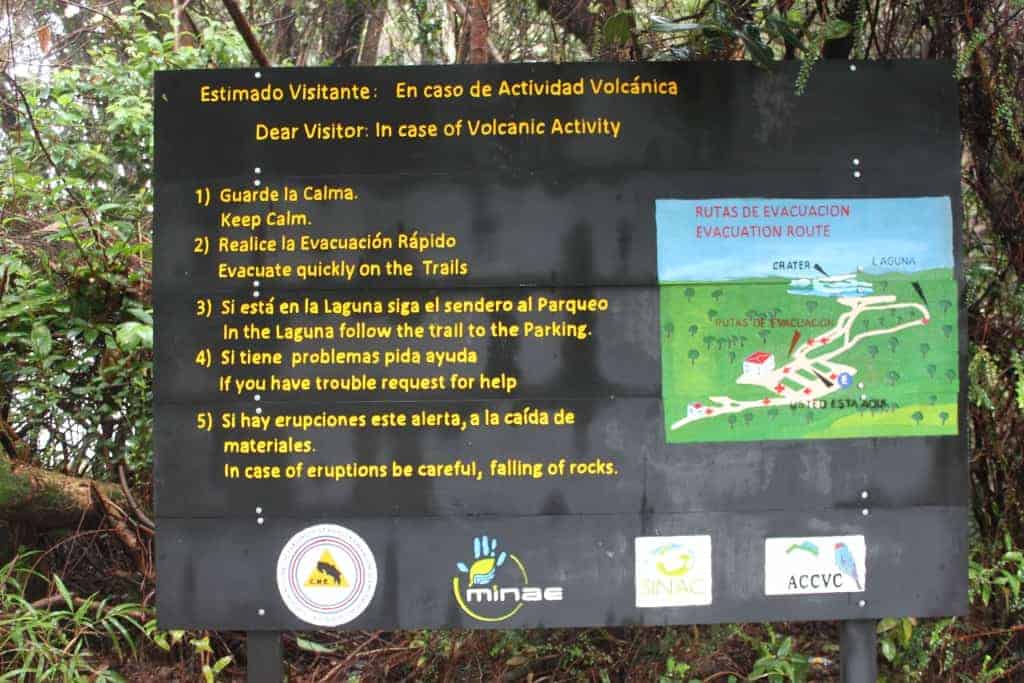 How to get from San José to Poas volcano
Getting from San José to Poas volcano is pretty straightforward. Poás Volcano National Park is located just 1,5 hours from San José and therefore a very popular day trip. These are the best ways to visit:
By bus
From San José bus station, take the bus towards Alejuela. Once you're there, change bus to Poás. The first bus leaves San José once a day, at 8am. It leaves the park at 2:30 pm. A return ticket costs $10.
By car
Poas Volcano National Park is about 50 km from San José and a 1.5 hour drive. The road is paved all the way, so you don't need a 4×4. At the park, you'll find a large parking lot, which costs $3.4 per car.
By organised tour
You can also go with an organised tour, which is more expensive, but also the easiest and most convenient way to visit. As always, I recommend GetYourGuide, which has this great day tour that includes a trip to a waterfall and coffee plantation.
Poas volcano Costa Rica map
Best time to visit
The best time to visit Poas volcano Costa Rica is in the morning (before 10am) from January to April. Weekends are usually crowded and clouds roll in around mid-afternoon, which makes it difficult to enjoy or sometimes even see the scenery.
How to buy park tickets (read this!)
Price: $15 for foreign adults and $5 for children ages 2-12.
First off, you need to buy your ticket in advance. Like, you really HAVE TO. Unlike previously, you can't just arrive at Poas volcano Costa Rica entrance and buy a ticket. Nowadays, they only allow a certain number of people in the park a day.
Here's how to do it:
Go to the government website: SINAC.
Create an account and sign in.
Now register, enter your passport number (ID), choose the day you wish to visit, and buy your ticket.
Pay online and you will get an email confirmation with your ticket.
Print this and voila – you have your Poas volcano ticket.
Note: I recommend purchasing tickets at least a few days in advance. The government website is unreliable and may go down for a day or longer at a time.
Things to know about the park
Poas Volcano National Park is open everyday from 7:00 a.m. until 2:00 p.m. every day
You can only visit for 20 minutes
You need to wear a helmet
It's wheelchair and baby carrier friendly
There are bathrooms and a restaurant at the entrance
Dress properly! (bring warm clothes and rain gear)
Weather
Average temperature is 16°C.
Since Poas Costa Rica is located in a cloud forest, you can expect rain and cold weather, even during the dry season (January-April), which sees an average of 24°C. In the rainy season (May to December), temperatures hit 16°C.
When we left San José, the temperature was around 22 degrees. Just one hour later, the skies went from grey to looming black and eventually culminated in heavy rains. The higher up we got, the colder and rainier it got. When we reached the top, I was freezing so much that we actually considered driving back down immediately.
Brrrr.
So, long story short – bring warm clothes even if it's warm in San José.
What to bring
My best advice: Dress in layers!
And that brings us to packing.. Because what should you bring? After having visited in the completely wrong clothes, this is what I recommend that you bring and wear:
A warm sweater
Scarf
Rain jacket or poncho
Closed shoes (sneakers or boots)
Camera (or your phone)
Water and snacks
Other volcanoes in Costa Rica
As mentioned, Costa Rica has several active and even more dormant volcanoes. While Poas is the most active of the bunch, the others are super interesting as well. These are the five must-see Costa Rica volcanoes.
Arenal volcano
With its nearly perfect cone-shaped structure, Arenal volcano is the most iconic volcano in Costa Rica. It's been inactive since 2010 and remains a very popular visit (including the nearby rainforest, zip line, hanging bridges, waterfall and more)
Irazú Volcano
This is one of the few volcanoes in Costa Rica where you can drive almost all the way to the top. Irazu has two main craters and is just 1.5 hour's drive from San José.
Tenorio Volcano
The Tenorio volcano is made up of two craters and four volcanoes. It's mostly known for the nearby Rio Celeste waterfall, the hanging rainforest bridges, and Lago Dante. It's located 3.5 hours drive from San José.
Rincón de la Vieja Volcano
This volcano is home to nine volcanic craters. It's located in Guanacaste and the national park hosts tropical rainforests and cloud forests.
Turrialba Volcano
Turrialba is close to San José, but more challenging to reach. Hiking to the top can take between 1 and 3 hours, and the views are supposed to be stunning! NOTE: It's closed at the moment.
Our trip to Poas Volcano
The weather was very bad the day we visited.
We decided to be sports about it and retrieve some extra clothing asap. Our first stop was therefore the souvenir shop to buy two rain ponchos. I figured best to get the thickest as they would keep in the warmth so we bought the only ones they had… for $40.
The fact that the shop assistant handed me our new accessories with a smirky grin on his face didn't exactly add to the fun. But one could argue that we pinned it on ourselves.
As we walked up to the crater, everyone laughed at Thomas (he did look like Green Riding Hood). But I guess the joke was on them too, because when we got to the top, everyone was met by a thick wall of white fog.
Yep.
We couldn't see a darned thing.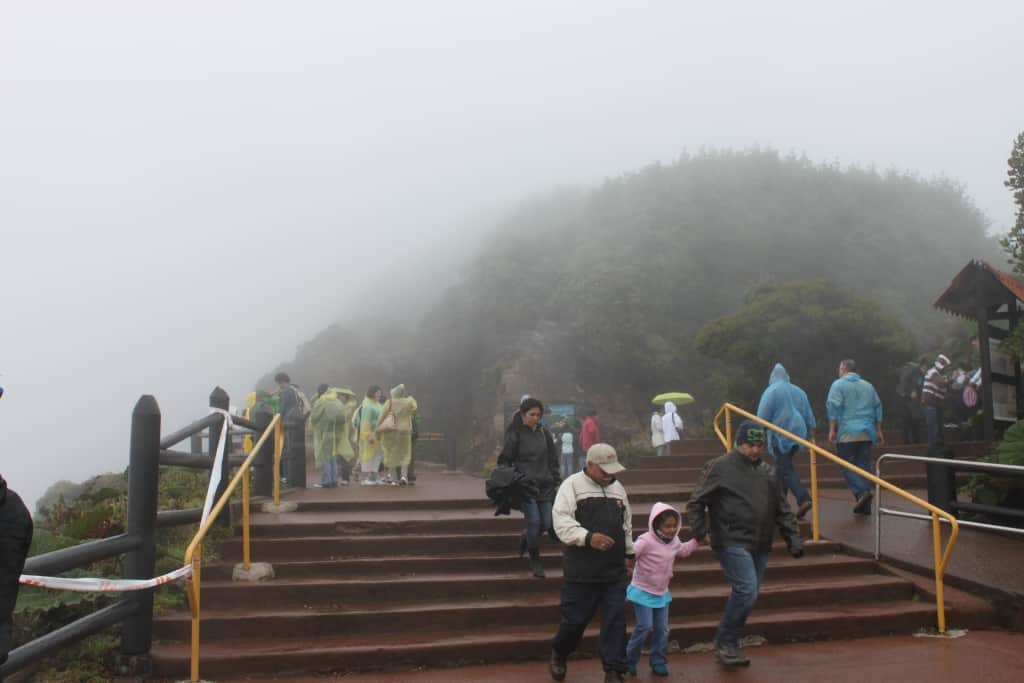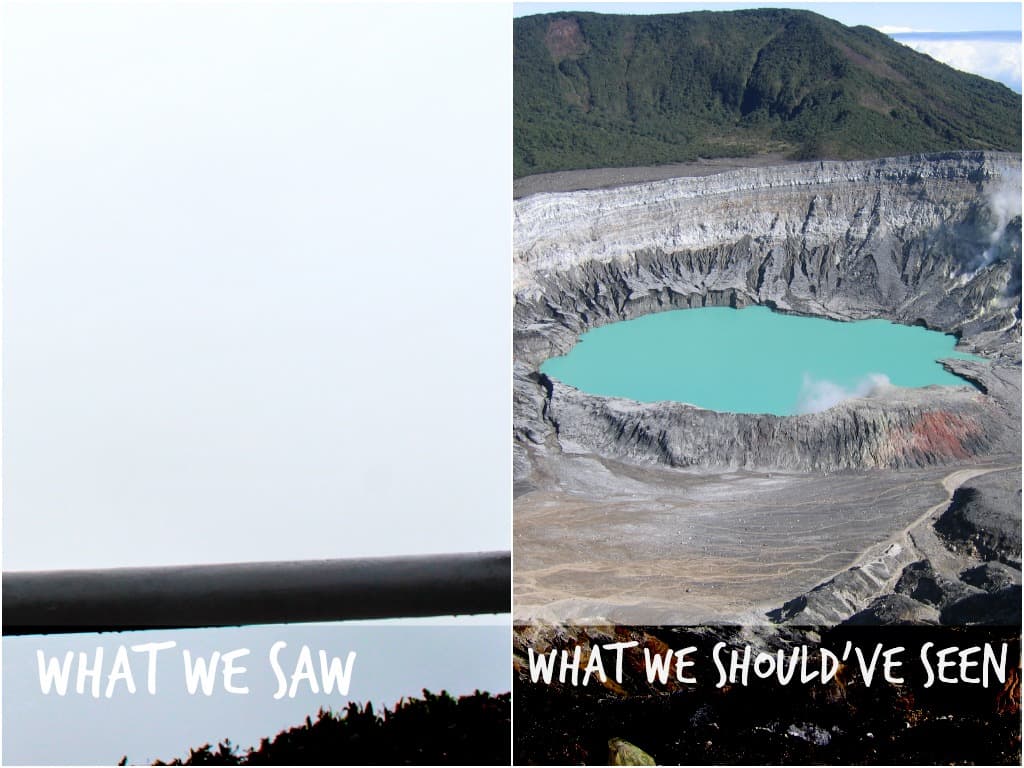 This was rather ironic – not only because we'd been freezing our behinds off for the last two hours, but even more so because the bus wasn't leaving until 4,5 hours later. The rain poncho could only do so much for the cold, so we tracked down our bus and found the driver sitting in his seat.
Oh, thank you God for having mercy on us!
I knocked on the door window and waved at the driver. He glanced at me from his warm and comfortable fur front seat.
"Could you please open the door, sir?" I begged while we both put on our pretty-please smiles.
No reaction.
"Um. HELLO! Can you hear me?" I knocked again. This time a little harder.
Still no reaction.
Not in a sharing-your-warm-bus mood, huh?
Ok, fine. We walked back to the souvenir shop and found two empty seats in the diner that had no doors. This was our shelter until we could return to the city in 270 very looong minutes.
So, the moral of this rather lengthy story? Bring warm clothes even though you're visiting a lava spitting volcano.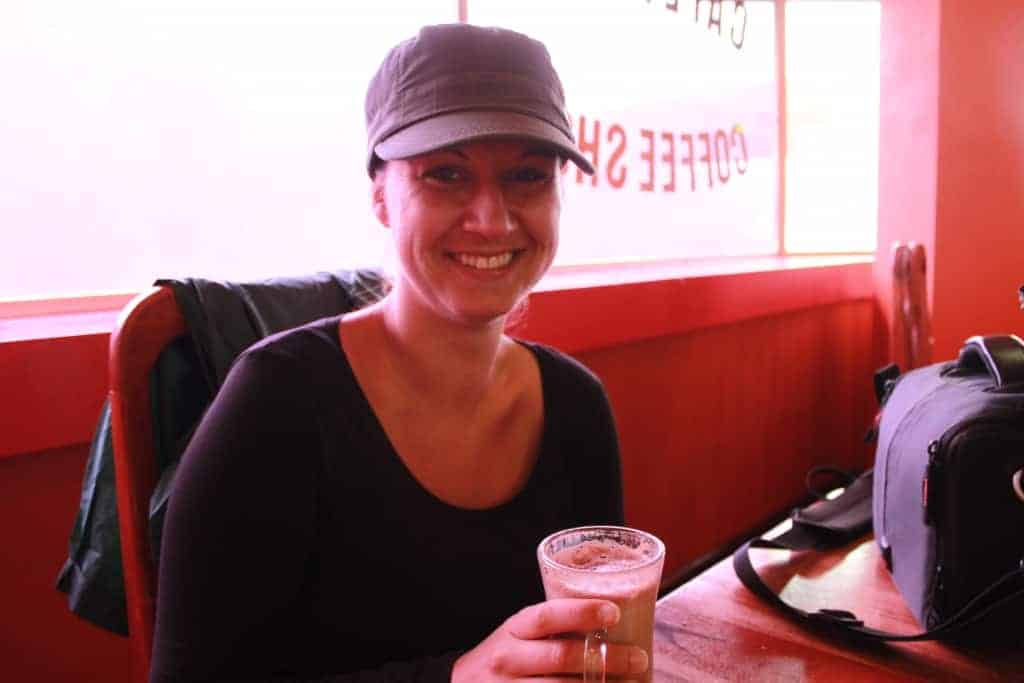 Is it worth visiting?
The bad
Since the recent eruptions, the park has gotten several restrictions. As mentioned, you can only visit for 20 minutes, the entrance fee is not super cheap, and the weather can be unpredictable. If you're a family of four, this can quickly add up. I'm only saying this to ensure you adjust your expectations.
The good
How often do you get to say that you've looked into the crater of an active volcano!? If you've never seen a volcano before, this is an easy and convenient way to do it (where you can also bring your kids). Even though we were unlucky with the weather, I'm still glad we went. Visiting a volcano could be a once in a lifetime experience (even if it's only for 20 minutes), and there's a live crater webcam that you can check in the morning to make sure the weather is OK.
Have you visited Poás volcano? Do you have any questions?
More posts from Costa Rica you might like
Save for later