Hotel review | The luxurious Hotel Granada Nicaragua
Hotel Granada Nicaragua is a great place to stay in Granada. We absolutely loved our time at the hotel. Staying here gave me the chance to leave all thoughts behind and simply relax – to swim in the pool and surround myself with the peaceful and natural atmosphere that leaves you feeling refreshed and ready for travel adventures.
Nicaragua is one of – if not the – most humid country I've visited, so we quickly learned that air condition was an absolute must wherever we stayed. Even if that meant paying a little extra for a good and chilly nights sleep. There were lots of shade throughout the hotel, and the room was nice and cool when we arrived.
Just perfect.
Read next: A quick Nicaragua travel guide
This post contains referral links for products I love. Adventurous Miriam earns a small commission at no extra cost to you if you make a purchase through my links. Thank you for your support ♡ Learn more
Our room at Hotel Granada
We were welcomed to Hotel Granada Nicaragua by a friendly staff member at the reception. After checking in, we were shown to our room; an elegantly decorated suite, equipped with wooden furniture and a flat screen TV.
The bathroom was large with a tub, and beside the bed was a sofa and table. Not the comfiest of sofas, but it was nice to have a sitting area in the evening.
The room was also very quiet. We heard no noise from the streets, the hallway or neighbouring rooms.
Hotel Granada Nicaragua
Hotel Granada is huge. With long paths and hallways, this place was easy to get lost in, and of course that's exactly what I did on our first day here.
I don't know if it was due to the season (May), but it was really quiet around there and almost no one at the pool. It certainly didn't take me long to fall head over heels with this luxury hotel with lush gardens and a relaxed atmosphere.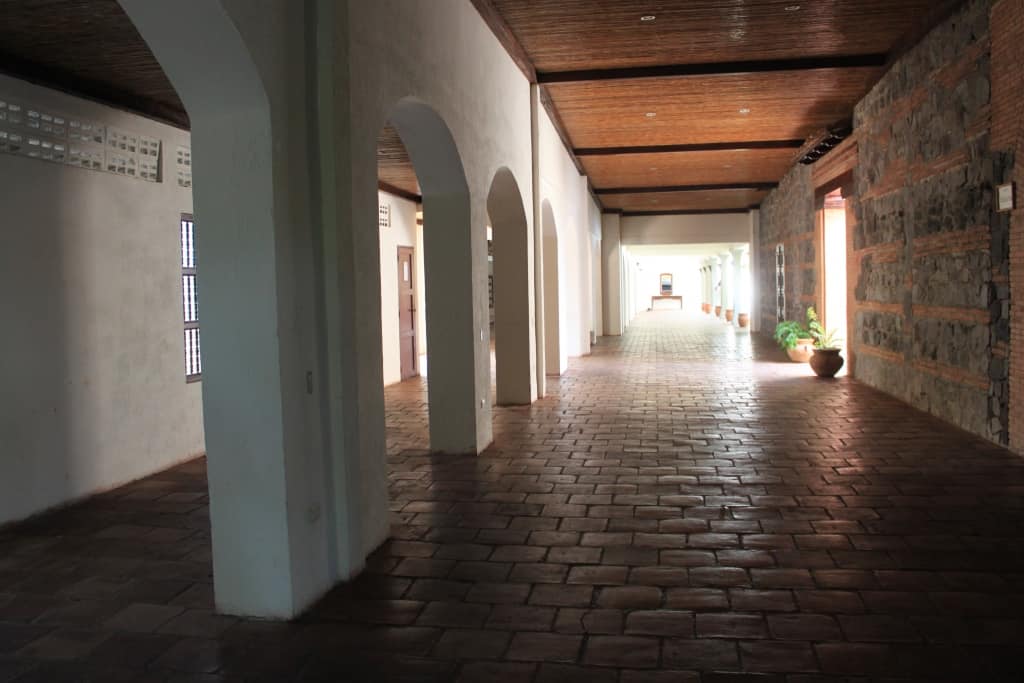 The pool
Aah, the pool. It was large and absolutely amazing with a swim-up bar. There was also a jacuzzi.
Right next to the pool was a restaurant and lounge bar that made some really good (although pricey) sandwiches. This was the perfect getaway as a couple: romantic, charming and relaxed.
Great location in Granada
Hotel Granada Nicaragua is situated in a good and safe area at the end of Calle La Calzada, a popular street with restaurants and bars. It's right across from the Iglesia de Guadalupe and only 10 minutes walk from the town centre and Granada Cathedral.
Granada is one of Nicaragua's oldest cities with lots of Spanish colonial charm. It's lined with colourful streets, beautiful churches, and for the adventurous – an active volcano where you can see bubbling red lava nearby.
Read next: Things to do in Granada, Nicaragua
Why stay in Granada
So, why stay at Hotel Granada Nicaragua? Or why stay in Granada at all? What is it about this city that makes it so ideal for anyone visiting Nicaragua? For a start, it's the ideal base for exploring the country.
Besides the things to do in Granada, you can also do day tours from here. One of the popular day trips are the islets of Granada and laguna de Apoyo. You could also opt for a day trip to Leon, although I would recommend to spend more than a day there. There's so much to see and do.
Final thoughts on Hotel Granada
Hotel Granada is a lovely hotel in every sense of the word. I forgot the world outside completely during my entire stay.
The pool allows you to spend as much time in the water as out of it without getting restless for even a second. The beautiful surroundings of lush palm trees and beautiful decór add an even more relaxed ambience to your stay.
The hotel offers free Wi-Fi, and a large breakfast buffet is included in the room price. If you're looking to splurge on your visit to Nicaragua, this is the place to do so.
— PRACTICAL INFO —
Book here: Hotel Granada
Location: Granada, Nicaragua
Type of accommodation: Luxury hotel
Price range: $$$
Would you stay at Hotel Granada Nicaragua? Ask me anything in the comments!
More posts from Nicaragua you might like
Pin it!