How to visit Chichicastenango Market – all you need to know
Chichicastenango market (Chichi) is the perfect place to get a sense for the local Mayan culture. Find out how to get there, how long you should spend and other tips.
Each Thursday and Sunday, Mayan vendors from around Guatemala walk up to hundreds of kilometres to the highland town of Chichicastenango. Here, at the biggest native market in Central America, they set up small stalls with textiles, handicrafts, wood carvings, pottery and jewellery in the streets around the main square.
Although you can get the same things in markets all around Guatemala for cheaper and with less chaos, Chichicastenango Guatemala is still a great day trip where you can immerse yourself in the Mayan culture. 
This post contains referral links for products I love. Adventurous Miriam earns a small commission at no extra cost to you if you make a purchase through my links. Thank you for your support ♡ Learn more
Chichicastenango market
Chichicastenango market is a highlight of many people's trips to Guatemala. Mine, included.
It's pretty incredible. A true mecca for culture-interested travelers (like yours truly) and I loved walking around the lively, crowded market lined with handicraft stalls and local Mayan women in traditional clothing.
The market is huge. To the south, you'll find tourist-oriented handicraft stalls with masks, textiles and pottery. Things locals need, like food, clothing, soap, sewing stuff and toys, are at the north end of the square.
Read next: 15 magical things to do in Antigua
What to buy at the Guatemalan market
Aside from being a large native market packed with culture, Chichicastenango market is the ideal place to find Guatemalan handicrafts.
Think art, pottery, jewellery, colourful blankets and clothing, wooden masks, not to mention flowers, animals, fresh produce, and much more. Everything is cheap and if you remember to bring small bills and coins, you'll most likely find something you like.
Chichi market is first and foremost for locals, but nowadays it also caters to tourists. So it's also a great place to find souvenirs for your friends and family or to interact with the local people.
Read next: 17 unique things to do in Lake Atitlan
Don't miss Santo Tomas church
In the middle of Chichicastenango market is Santo Tomás, a 400-year old church built on a Pre-Columbian temple platform. Its 18 stairs each represent one month of the Mayan calendar, and this is where to find more vendors along with Mayan priests, incense and ceremonial candles.
Read next: Visit Santiago Atitlán and its chain-smoking saint
When to visit Chichi market
Thursdays and Sundays
I recommend visiting Chichicastenango on a Thursday.
Sunday is the busier of the two market days, when tourists, locals and weekenders from Guatemala City go to Chichi. We went on a Sunday and found it quite busy.
Whichever day you choose, go early in the morning to avoid the crowds. Tourist busses arrive around 10, so if you can be there before that – perfect.
Important tips
To have a great experience at Chichicastenango market, there are a few things you should be prepared for. Here are some tips to help you get the best day at the market:
Bargaining
In all of Guatemala's markets, haggling is a way of life and vendors expect it. As a general rule, ask half of the price and then take it from there. Also, you can often get price reductions simply by walking away and pretending you're not interested. There's one thing I try to remember when haggling, though: I don't want to get ripped off, but if I happen to pay a few extra dollars, I'm still getting a good deal (by my standards in Scandinavia), and a local Guatemalan vendor gets a couple of extra bucks. It's a win-win.
Payment
Remember to bring small bills and coins. And make sure to withdraw enough money before heading to Chichicastenango Guatemala. While there are a few ATMs around the market, they often run out of cash on market days or simply don't work.
Adjust your expectations
While Chichi market is a local market originally for locals, it has become a magnet for tourists. Some find it extremely exciting and giving both culture and handicraft wise, while others think it's touristy and crowded. So my advice is this: be aware that the market can be extremely busy, vendors can be pretty intense when trying to close a sale, and products are pricier compared to smaller markets in Guatemala. Knowing this beforehand will hopefully help you adjust your expectations so you can still enjoy a trip to Chichicastenango Guatemala.
Photography
In general, Guatemalans don't like having their picture taken without permission. The market is a very photogenic place and I get that you want to have photos of the locals as well. And you can. Just be respectful and ask first or make sure to take it from a reasonable distance. I've seen tourists putting their cameras in people's faces like they were attractions, which is not the way to do it.
Pickpockets
As with all crowded places, beware of your belongings and carry your purse or backpack at the front for safety.
How long to spend in Chichicastenango
We spent about 4-5 hours at Chichicastenango market. That gave us enough time to explore the market, bargain a little, buy some souvenirs, visit the church of Santo Tomas, and have a light breakfast and lunch.
Read next: A quick Guatemala travel guide
How to get there
Even though the market is held for locals, many tourists visit the town on market days. These are the three main ways of going to Chichicastenango, although I would only recommend the first option – taking a shuttle bus.
Shuttle bus. It's easy to get a return shuttle bus from Lake Atitlan (Panajachel or San Pedro la Laguna), Xela or Antigua to Chichicastenango. Shuttles are air-conditioned, safe and have friendly drivers; at least in my experience.
Organised trip. You can also opt for an organised trip where transport and a tour of the market is included. It's more expensive, though, and you can easily wander the market yourself, so it's not really worth the extra price.
Chicken bus. A third option is taking a chicken bus (local transportation) which is the cheapest option. I wouldn't recommend it though, as they're poorly maintained and involved in more accidents.
Antigua to Chichicastenango
A return shuttle bus from Antigua to Chichicastenango market costs around $20-25 per person. The trip takes 3 hours each way.
Lake Atitlan to Chichicastenango
You can take a shuttle bus from several of the villages around Lake Atitlan. The most comfortable and straight-forward departure points are San Pedro la Laguna and Panajachel to Chichicastenango. I would avoid taking the bus from San Marcos as the roads are less maintained and kind of sketchy. The price is around $20 for a return ticket and it takes 2 hours.
Xela to Chichicastenango
A shuttle bus from Xela to Chichicastenango will set you back $30 for a return trip. It takes around 3 hours each way.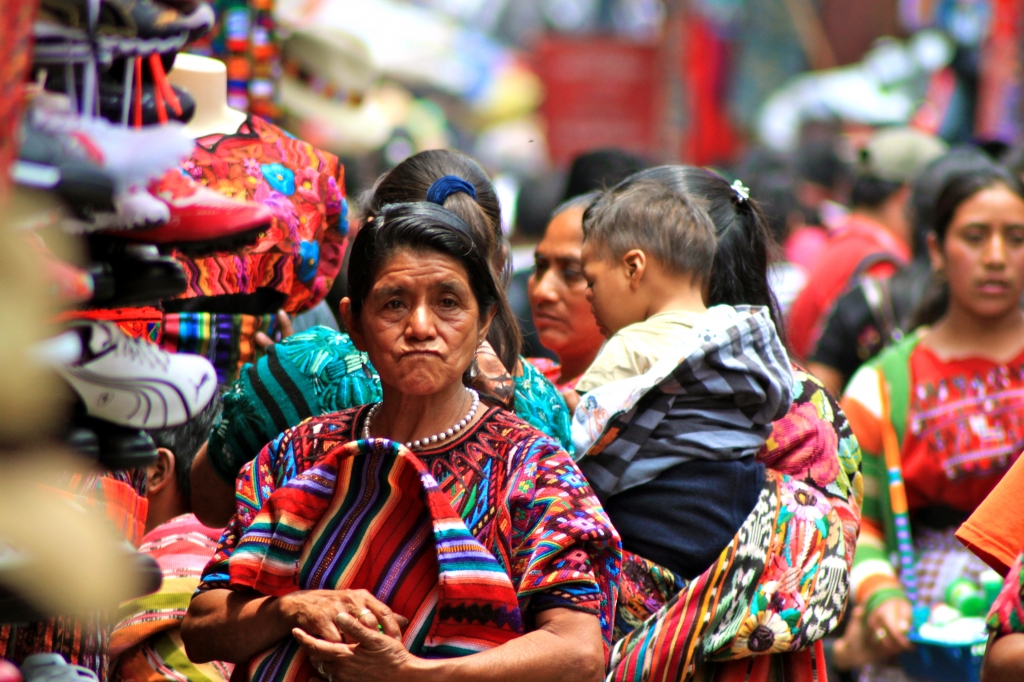 What else to see in Chichicastenango?
If you have some time left before you're shuttle leaves, I highly recommend visiting the cemetery in Chichi.
It's a quick 15 minutes walk from the market and worth the trip. The cemeteries in Guatemala are very different from the ones in North America or Europe. They're very colourful and almost cheerful, which shows how differently our cultures view death. The tombstones in Guatemala are vividly painted with bright pastel colours as a way of honouring and remembering lost loved ones.
I always try to visit cemeteries on my travels as they tell a lot about other cultures. Even if you're not interested in culture or religion, it's a beautiful place and very photogenic.
Read next: Why you should visit a colourful Guatemala cemetery
Planning to visit Chichicastenango market? Ask me anything in the comments!
More posts from Guatemala you might like
Pin it!