How to visit Santiago Atitlán and Maximón (the chain-smoking saint)
Get the most essential tips and information for your visit. Here, you'll find the best things to do in Santiago Atitlan, how to get there and where to eat.
Santiago Atitlan is one of the 11 villages surrounding Lake Atitlan. It's also known as Santiago la Laguna or just Santiago (not to be confused with the capital of Chile).
All the villages around the lake have their own character. Whereas San Marcos is popular for yoga and San Pedro for its backpacker vibe, Santiago Atitlan is home to the largest indigenous population of Tzutujile Mayans and the mischievous deity Maximón.
In many ways, Santiago is similar to nearby San Pedro la Laguna, but I didn't see as many travelers here and it is, in my opinion, less lively and cosy. It's a great place for a day trip, though, and easy to reach from San Pedro and Panajachel (more on that below).
This post contains referral links for products I love. Adventurous Miriam earns a small commission at no extra cost to you if you make a purchase through my links. Thank you for your support ♡ Learn more
Things to do in Santiago Atitlan Guatemala
Santiago is worth a trip for several reasons. You can spend your time finding the liquor-drinking and chain-smoking Maximón, watch a weaving demonstration, go bird watching, explore the local market or enjoy the colourful murals in the central park.
Here are the 7 best things to do in Santiago Atitlan, Guatemala.
Read next: 17 unique things to do in Lake Atitlan
1. Find Maximón
One of the most memorable (border-lining odd) things to do in Santiago Atitlan is finding Maximón, a Mayan and Spanish-Catholic deity.
Maximón is considered a trickster – both a womanizer and protector of virtuous couples. Also known as San Simón, he's known to answer prayers that might be too taboo for Catholic saints (such as miracles, good health, and love make).
Locals respect and worship him, and his statue is ceremonially moved to a new home every year. His cofrades, or followers, spend their days performing ceremonies and smoking by his side, and it's considered the highest honour to host him.
Travel tip: You can find him by asking around, local taxis and locals will know where he is. Tourists are generally welcome, but go prepared with an offering (like a pack of cigarettes or a couple of veladoras (glass pillar candles)). Don't be surprised to find him in a dimly lit room or down an alleyway.
2. Santiago Atitlan market
Just like in San Pedro la Laguna, Santiago Atitlán is populated by Tz'utujil-speaking Mayans. Many of them come to the town market to sell goods, shop and to socialise. This is great place to get a sense for the local culture and see local women in their colourful huipiles and purple-striped skirts and older men in white-striped embroidered pants (like you'll see up in Todos Santos).
Santiago Atitlan market is the place to find paintings and handicrafts, baskets, flowers, fruits and vegetables. The best days to visit are Friday and Sunday, the main market days, but any day will do.
Photo tip: Guatemalans don't like having their picture taken without permission, so remember to ask before taking a photo of someone.
3. Learn traditional Mayan weaving
Weaving is a huge part of Mayan culture.
Traditionally, Mayan women grow their own organic cotton and dye the thread with natural colours from cactus, beetroot, avocado, guava, carrots, insects, basil and cinnamon.
In Santiago Atitlan, you can visit Cojolya Association, that offers a two-hour tour to learn about Mayan weaving. During the tour, you'll learn the process of dyeing, using the foot loom, doing backstrap weaving, and much more. They'll also explain how this differs from design and craftsmanship in other countries.
Read next: The ultimate guide to San Pedro la Laguna
4. Birding Atitlan expeditions
Just outside Santiago Atitlan, you can join a birdwatching tour with local company Birding Atitlan Expeditions. The trained guides will help you find lots of different birds like the Resplendent Quetzal, yellow-naped parrots, emerald Toucanet, hummingbirds and many more.
Read next: A quick Guatemala travel guide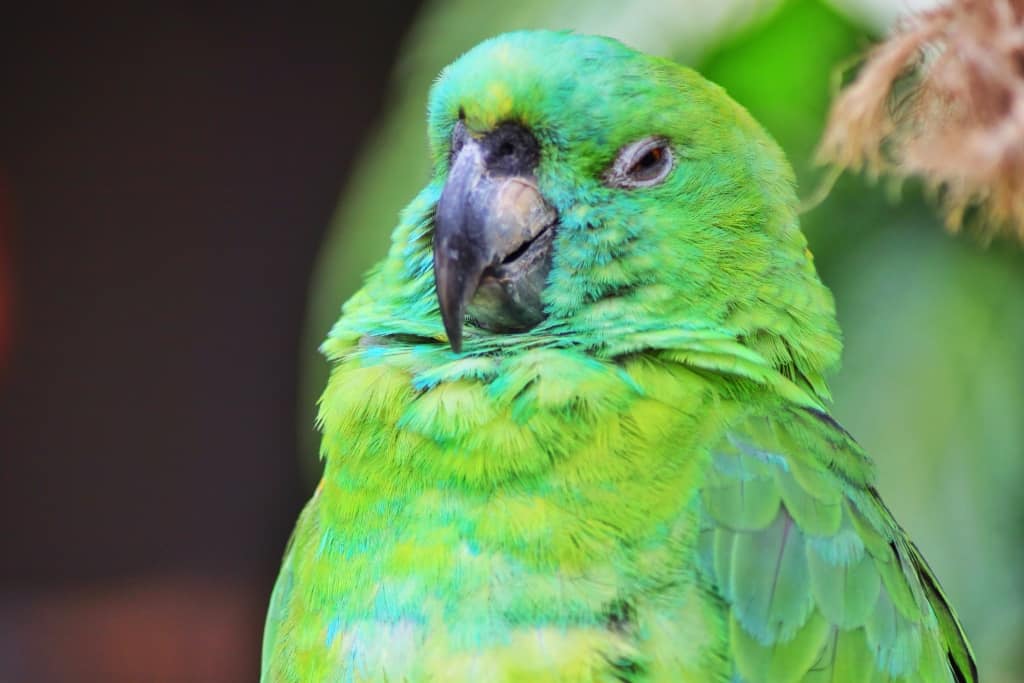 5. The mystical yoga farm
While I didn't go to the mystical yoga farm and therefore can't recommend it personally, it gets nice reviews. It's a secluded yoga school with vegan food where you can join weekly or monthly retreats and yoga teacher training. As far as I know, they don't offer drop-in classes.
6. Iglesia Parroquial Santiago Apóstol
The Parroquial Santiago Apóstol church was built by the Franciscans in the 16th century. Just inside the entrance is a memorial plaque in memory of Father Stanley Francis Rother, a beloved American missionary who was murdered by ultrarightists in 1981.
Along the church walls are wooden saint statues, whom are dressed in new clothes by local women every year.
7. Parque Central
Parque Central is the plaza in Santiago Atitlan. You'll find a stone monument of Concepción Ramírez, the woman on the back of the 25 centavo coin, who was born in Santiago. There are lots of colours and murals around the plaza, which makes Santiago Atitlán one of the most colourful destinations around Lake Atitlán.
How to get to Santiago Atitlan
I recommend taking the ferry. It costs $3.35 from Panajachel or $2 from San Pedro La Laguna. From Panajachel, the boats operate roughly every hour from around 6am until 5pm.
There are roads around Lake Atitlan, but they're in desperate need of repair, the going is very slow and there have been reports of robberies on some stretches. So, in short, take the ferry. It's safe, reliable and runs on time.
Great restaurants in Santiago Atitlan
Santiago Atitlan has several good restaurants to choose from. Whether you're looking for local Guatemalan food, vegetarian, or a familiar flavour from back home, you'll likely find it. Here are my favourite restaurants in town:
Germinación Cocina-Bistro. Delicious fresh food, and fast, friendly service. Great vegetarian options (try the vegetable burritos).
Posada de Santiago. Fresh International dishes and also good vegetarian option, all in sizeable portions. Try the chicken enchiladas.
Las Lagartijas Restaurante Y Tienda. Run by American ex-pats, this restaurant serves fresh, flavourful food in a cosy atmosphere.
Planning a trip to Santiago Atitlan Guatemala? Ask me anything in the comments!
More posts from Guatemala you might like
Pin to Pinterest