The ultimate guide to San Pedro la Laguna Guatemala
There are lots of things to do in San Pedro la Laguna Guatemala, and I'm going to share my favourites so you can experience the best Lake Atitlan has to offer!
Ask any Guatemalan and they'll call San Pedro la Laguna: Hippie Central.
Why?
Well, somewhere along the way the small lake village has become a magnet for backpackers with dreadlocks, lip piercings and bare feet. You'll find one yoga and meditation class after the other, and in-between are Spanish schools, lakeside bars and cute restaurants.
San Pedro has character and it's the perfect place to just relax and hang out – even if you're not a barefoot hippie with dreadlocks. 
This post contains referral links for products I love. Adventurous Miriam earns a small commission at no extra cost to you if you make a purchase through my links. Thank you for your support ♡ Learn more
San Pedro la Laguna Guatemala
San Pedro la Laguna is one of the 11 small villages surrounding Lake Atitlan in Guatemala. It has a population of approximately 13,000, primarily of Tzutujil Mayan descent.
Each village has its own vibe and attracts a different crowd. You've got San Pedro, which is backpacker friendly and great for partying. Then there's San Marcos, which is the spiritual mecca, Santiago Atitlan with the chain-smoking saint, or Panajachel; the largest and most developed village of them all.
We stayed in San Pedro la Laguna, which we instantly loved. And while we visited some of the other villages, this was, for us, the perfect place and size for our lake trip.
Read next: 17 unique things to do in Lake Atitlan
What's San Pedro la Laguna like?
So, apart from being a backpacker hangout, San Pedro la Laguna Guatemala is also inhabited by Christian locals. At first, I was somehow stumped to see indigenous people in traditional dresses along with Biblical murals around town.
I first noticed the contrast at a travel agency in San Pedro. Behind the desk sat a Mayan woman in traditional clothing listening to Christian gospel music. It just seemed unusual until I found out that Guatemala is actually 99% catholic/protestant, and only 1% indigenous Mayan.
Still, everyone lives peacefully side-by-side, and there's room for everyone here, it seems. That's one of the things I really liked about San Pedro la Laguna.
Although it's a small village, there's no shortage of things to do in San Pedro la Laguna, Guatemala.
From learning Spanish to kayaking and going out to hiking the nearby San Pedro volcano – this village is super charming and easy to fall in love with.
1. Learn Spanish
Make sure to book ahead
One of the most popular things to do in San Pedro la Laguna Guatemala is learning Spanish. In fact, it's Guatemala's secondary Spanish school capital after Antigua Guatemala.
Not only does San Pedro has a good selection of schools with 1 on 1 classes, but Guatemala is known as the best place in Latin America to learn Spanish. That's because Guatemalans naturally speak slowly, which makes it much easier to understand and learn.
You can either commit to it and take a 4-week course, which also includes a homestay and 3 meals a day, or do a week course where you'll just learn the basics. Speaking from experience – even a little Spanish gets you a long way. It can be really helpful when you're traveling through Latin America or Spain.
2. Do yoga
Although San Marcos is the place most people go for yoga and spiritual healings, practices and ceremonies, you can also find it in San Pedro la Laguna Guatemala. There are plenty of options whether you're looking for a yoga retreat or just want to try it for an hour.
3. Kayak on Lake Atitlan
What better way to explore Lake Atitlan and nearby towns than kayaking between them? You can rent kayaks from various lakefront properties for either a couple of hours or a day. Some hotels also lets you rent or borrow them for free.
4. Take a dip in the thermal pools (los Thermales)
Take in the incredible view of Lake Atitlan while soaking in solar-heated pools! The thermal pools in San Pedro la Laguna are volcano-fed pools; nothing fancy, but there's a hot bath and a cold pool to cool down in afterwards. Very nice owners and a great view.
5. Learn local history at the Tzunun' Ya' museum
Cost: Q35
This little museum focuses on the history of the Tz'utujil people. In fact, Tzunun' Ya' is the former Mayan name for San Pedro.
You can learn about the town and traditional customs & beliefs through a film and interesting photos of San Pedro in earlier days. As a bonus, the staff will identify your nahual (animal counterpart), based on your birth date in the Maya calendar.
Read more: How to plan an easy day trip to Santiago Atitlán
6. Go out
San Pedro la Laguna Guatemala is known as the best place for nightlife around Lake Atitlan, along with Panajachel. And there are several bars here if you're looking to meet people or have a night out.
The Alegre pub and Bar Sublime are two of the most popular bars, located near the main dock. You can find smaller pubs with happy hour and nightly events, all throughout town.
7. Visit a local market
I love visiting markets and seeing the authentic – the real – place and people. Especially in countries like Guatemala, where locals wear traditional clothes from techniques that have been passed down through centuries. Also, the local language here, Tz'utujil, is fascinating to listen to. It's all glottal stops & clicks, and it sounds a bit like Hebrew or Arabic.
The market in San Pedro is local and therefore doesn't have many souvenirs, but it's still worth visiting to experience the culture and meet locals. If you do decide to buy something, remember to haggle!
The market is most busy in the morning until around 1pm.
8. Visit the cemetery
Another way to get a feel of Guatemala is visiting the cemetery in San Pedro.
It's quite unique and beautiful. Unlike Western cemeteries, the tombs are painted in bright, vibrant colours and decorated with unique sculptures, statues and portraits.
If you visit, please be respectful and quiet. It's still a sacred place where people come to mourn and remember their lost loved ones.
Read next: Exploring a colourful cemetery in Guatemala
9. Stay with locals
Yes, you can stay with a local family while you're in San Pedro la Laguna Guatemala. It's a brilliant way to experience local life up close, and you might be invited to partake in your host family's daily routines (like cooking, sewing or shopping).
If you sign up for Spanish school, meals and accommodation with a local family are often included in the total price.
10. Hike San Pedro volcano
Lake Atitlan is surrounded by three volcanos, all of which you can climb. San Pedro volcano is, at 3,020 meters, the easiest to climb and it takes 3 hour to reach the summit.
Safety tips
Go with a guide
Whatever you do, bring an experienced guide. Thieves, animals, weather or a simple misstep can quickly lead to serious injury, and it's important to have a person with you who knows the terrain and what to do. 
Robberies
Hiking to the summit is no longer recommended (as of summer 2019). There are several reports of armed bandits at the summit, and even with a guide, robberies can't be avoided. There's a viewpoint on the way up where you can still get a good view and pictures. 
Altitude sickness
If you've never been in high altitude, prepare yourself for the difficulty breathing, the nausea and the elevated heart rate it can bring. Altitude sickness can be a serious issue and affects everyone differently, regardless of how fit or unfit you are. 
Read next: 10 easy ways to treat Altitude Sickness (AMS)
Where to stay in San Pedro la Laguna
San Pedro la Laguna Guatemala has a decent selection of accommodation for all budgets.
We stayed at Hotel Sak'cari and really liked the lake view and location. Even though San Pedro is a pretty small town with only 10 minutes from north to south, Sak'cari was close to the centre, Internet cafés and several great restaurants. Plus, it's practically next door to a volcano!
Best restaurants
San Pedro's shore is dotted with restaurants! Whether you're looking for local Guatemalan food, International dishes, vegetarian, or a familiar flavour from back home, you'll likely find it at a restaurant in San Pedro.
Here are my favourite restaurants in San Pedro la Laguna Guatemala:
The Clover. An Irish tavern at the lake that serves delicious meals. Loved their breakfast.
Hummus-Ya. An Israeli restaurant with the best falafel.
Taco-Mex. Go here for delicious tacos (Q15 for three) cold beer and low prices.
The Fifth Dimension. Fresh, vegetarian-friendly meals & drinks, and there's a great lake view (try the beet burgers).
Sababa restaurant. Healthy, vegetarian-friendly food, also with a fabulous view.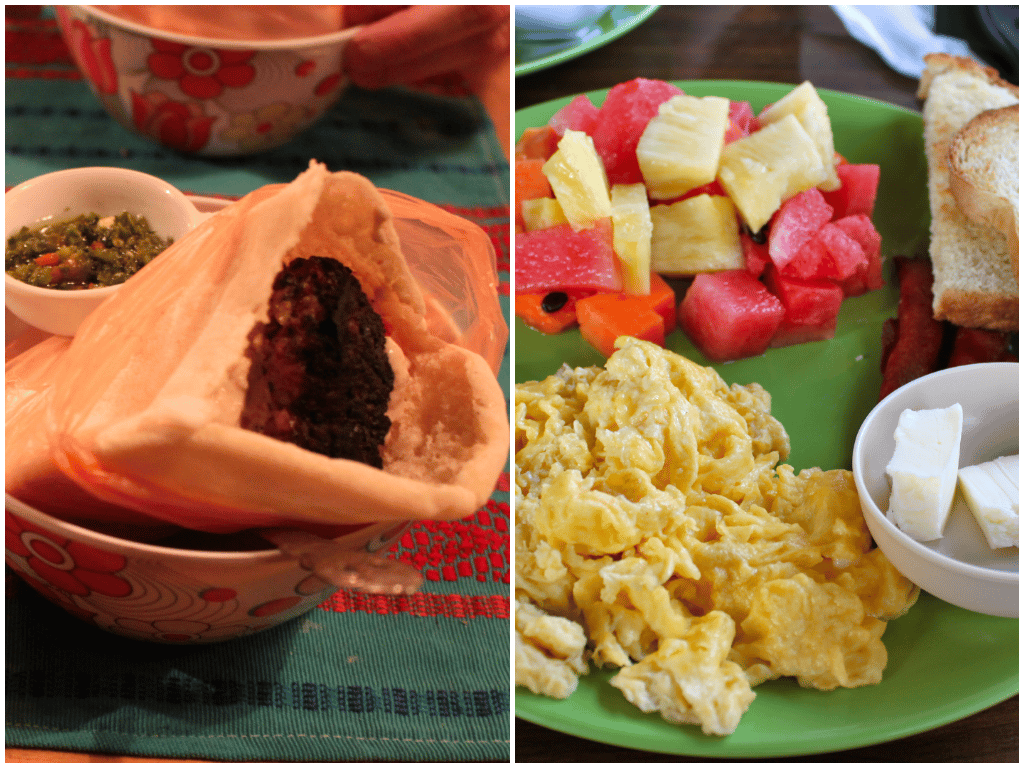 How to get there and away
From Antigua
San Pedro la Laguna is easy to reach from Antigua. Personally, I avoid chicken busses (due to lack of safety and comfort), so my recommendation and preferred way of transportation is by direct shuttle bus. It takes 2,5-3 hours and costs $10 per person. The busses are often air-conditioned and leave about 4 times a day.
From Guatemala City
If you're coming from Guatemala City, I recommend taking a shuttle bus to Panajachel. It takes about 3 hours. Once you're there, it's fairly easy to get around the lake. Simply take a ferry or book with a private boat company to get across the lake. Boat service runs between 6:30am and 7:30pm.
From Panajachel (by boat)
Panajachel to San Pedro: 25Q
San Pedro to San Marcos: 10Q
San Pedro to Santa Cruz: 20Q
San Pedro to Santiago: 10Q
When to visit
You can visit San Pedro la Laguna Guatemala all year round, but you'll get the most clear blue skies and fresh sunny days from November to April (dry season). December and January are the coolest months, but they offer the best views and landscapes. This is when I recommend visiting. The wet season is from May to October.
We went there in late April/early May, which was at the end of the season. We had most of the place for ourselves but were a little unlucky with the weather.
Going to San Pedro la Laguna Guatemala? Ask me anything in the comments!
Pin it!