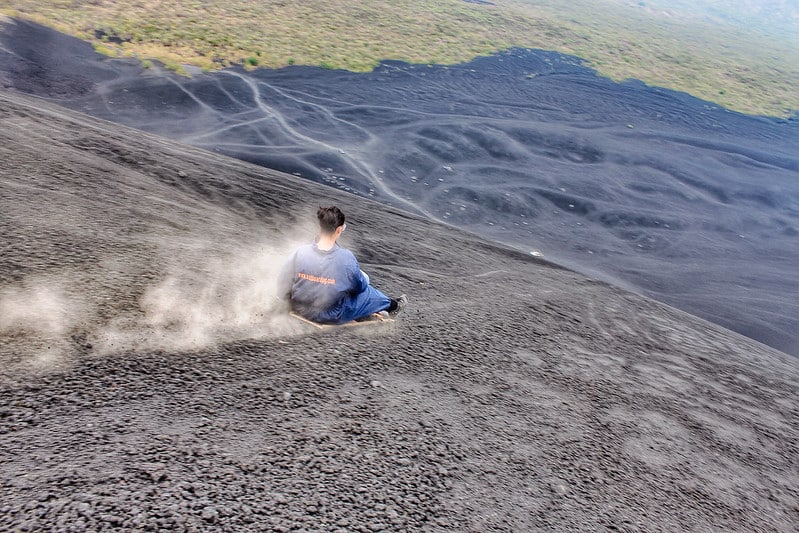 Welcome to Nicaragua
The country of lakes and volcanos
This Central American beauty of a country is a land of lakes and mountains, with an ocean on either side. There isn't much more you could want from a country. But, in case you do, there's also an abundance of volcanos as well as Spanish colonial towns.
Amazing experiences in Nicaragua
Volcano boarding
There is a total of 19 volcanoes in Nicaragua! And one of the coolest, most unique, and most ridiculous things you can do is to board down one of them. This is exactly what it sounds like: dry sledding down the side of an active volcano! There aren't many people who can say they've done this, but if you head to Cerro Negro in León, you can be one of them.
Colonial cities
Nicaragua is one of the best countries in Central America to see the gorgeous colonial architecture that has stood for hundreds of years. Spanish colonial architecture is colourful and bright, with big, open windows and intricately designed doorways and balconies. Even ordinary town houses in places like León and Granada are completely gorgeous and worth visiting to photograph and admire.
Diverse wildlife
The wildlife in Nicaragua is spectacular. You can find amazing animals like sloths, jaguars, ocelots, and monkeys. To wander the wilderness and see these creatures in their natural habitats is an amazing, unforgettable experience. If there's one reason to visit (besides volcano boarding), it's this one.
Hidden islands
When we think of Nicaragua, we often imagine the volcanoes, the Spanish colonial towns, and the diverse wildlife. But it also has some lesser-known offshore islands which you can visit. The Corn Islands were once British colonies. Today, they are quiet islands completely ringed by soft, white sand beaches. They're fantastic little bite-sized paradise islands to relax at and forget your troubles.
Best sights in Nicaragua
Managua (capital)
An abandoned cathedral, the tomb of Carlos Fonseca, and the National Palace of Culture are just a few of the splendid places you can discover and explore in this historically exciting capital city.
León (93 km from Managua)
A pretty blend of neoclassical and baroque architecture defines the aesthetic style of León, along with the volcano boarding at Cerro Negro right outside the city.
Granada (42 km from Managua)
Granada sits at the edge of Lake Nicaragua and has one of the country's most colourful cathedrals, as well as many stunning colonial buildings that you can photograph and explore.
Ometepe (128 km from Managua)
Lake Nicaragua is a seemingly unending natural landmark. It's so large that Ometepe, an island within the lake, is itself a fantastic place to visit that has its own active volcano!
Corn Islands (347 km from Managua)
A pair of islands off the coast of Nicaragua which are, fittingly, known as Little Corn and Big Corn. Historically British colonies, they are now two richly green islands with a coastline of nothing but white sand.
Masaya Volcano (22 km from Managua)
Nicaragua's first and largest national park is home to a colossal and complex active volcano of multiple craters and open lava lakes. It's a dramatic and epic place to explore, to say the least!
How to get around
I always use Rome2Rio for finding transportation. This site/app is so easy to use. It quickly comes up with a variety of transport options to suit your time and budget. All costs are shown, even taxis.
Best time to visit
Nicaragua begins its dry season in November, and from then – through the new year – until March or April, the country is in a perfect state of ideal temperature, no rainfall, and blue skies. This is the best time to visit and explore Nicaragua.
If you pick any other months, it's possible to be hit by heavy rainfall. If that doesn't bother you, go for it! But you're definitely at your safest from November to March.
Practical info
Language: Spanish
Currency:

Cordoba

Plugs: Nicaragua uses standard US type A plugs with a voltage of 120V. If you're not coming from the US or Canada, get a universal adapter
Population: 6.2 million
Important telephone numbers: 911

for all emergencies

Visa: US citizens don't need a visa to stay in Nicaragua, and can stay for up to ninety days
Rough Budget
Hotel:

$15-50

Food:

$5-20

Activities: e.g.

$30 for volcano boarding

Transportation:

$2-10 for a bus
Spanish Phrases
Hello: Hola
Thank you: Gracias
Yes: Si
No: No
Bye: Adios
Cheers: Salud
Posts from Nicaragua